Printers Row Lit Fest
 Author Appearance Opportunity
 Saturday June 10 and Sunday June 11, 2017
10 am until 6 pm
Printers Row Park
600 South Dearborn*
(Between Harrison and Polk)
Chicago, Illinois
 Reserve via EventBrite.
Selling tips from Cynthia Clampitt
*We will be located in Jones College Prep,
first floor, 700 S State St, Chicago, IL
Chicago Tribune Food Stage on second floor
Location map (pdf)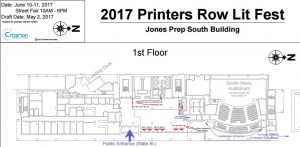 Tips on Selling at Printers Row from Cynthia Clampitt
Greater Midwest Foodways Alliance is dedicated to celebrating, exploring and preserving unique food traditions and their cultural contexts in the American Midwest. In this effort, we wish to support those who write books documenting our culinary heritage.
We will have a representative table at the Printers Row Lit Fest for a second year.
On a first-come first-serve basis, we have available to our members an eight-foot table and two chairs to accommodate two authors for a two-hour shift. You may sell your books, though collection and payment of any sales taxes are your responsibility.
On Saturday and Sunday, we have time slots for two people for:
Saturday, June 10, 2017
10 am until Noon
Noon until 2 pm
Kantha Shelke: Pasta and Noodles: A Global History
Alice Weinreb: Modern Hungers: Food and Power in Twentieth-Century Germany
2 pm until 4 pm
Cynthia Clampitt: Midwest Maize: How Corn Shaped the US Heartland
Michael Gebert: Mike Gebert: The Fooditor99: Where to Eat (and What to Eat There) in Chicago
4 pm until 6 pm
OPEN
OPEN
Sunday, June 11, 2017
10 am until Noon
OPEN
OPEN
Noon until 2 pm
Robert Dirks: Food in the Gilded Age: How Ordinary Americans Ate and
Come and Get it: McDonaldization and the Disappearance of Local Food from Central Illinois

OPEN
2 pm until 4 pm
4 pm until 6 pm
Your registration is your annual members fee of $35. You may initiate or renew your membership when signing up for a time slot. If you are already a fully paid member, we will reimburse your fee and keep your time slot.
Memberships are non-refundable. Any cancelled author appearance reservation will go to whomever is next on the waiting list.  Any questions, please call 312/380-1665 or e-mail: GreaterMidwestFoodways@gmail.com