Greater Midwest Foodways Alliance
FAMILY HEIRLOOM RECIPES
Contestants entered their best scratch family heirloom recipe suitable for a family or community dinner.  Recipe should originate before 1950. 
Contestants brought a prepared dish along with a brief story of who passed the recipe down to them, ethnicity, if relevant, number of years the recipe has been in their family and any interesting information about their recipe.
JUDGING CRITERIA
Taste: 50%
History: 40%
Appearance: 10%
Premiums sponsored in partnership with The Spice House 

1st place – $150.,  2nd place – $100.,  3rd place – $50 

Pampered Chef is sponsoring additional prizes for our winners:
First place: Reversible Bamboo Carving Board (Value = $72)
Second place: Cool & Serve Square Tray, Outdoor Mini Spoons & Tongs Set (Value = $49)
Third place: Food Chopper (Value = $31)
Competition was conducted on August 5th , these are the results: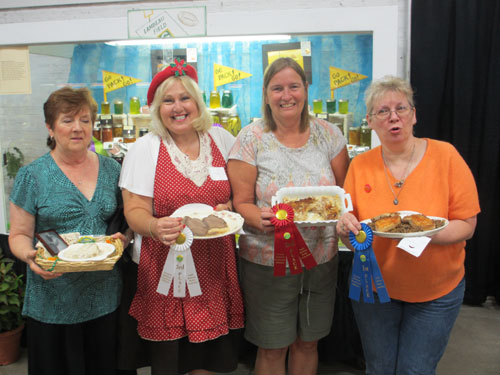 Winners circle (image by Catherine Lambrecht)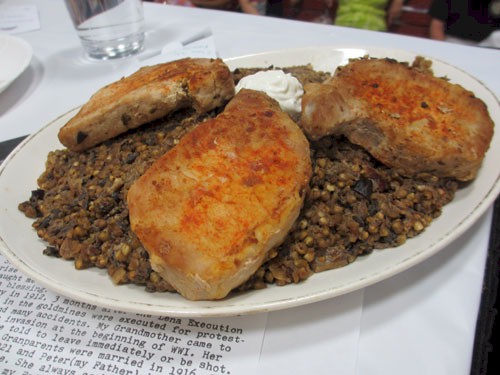 Pork chops baked with kasha and wild mushrooms (image by Catherine Lambrecht)
First Place
PORK CHOPS BAKED WITH KASHA AND WILD MUSHROOMS
SVININA ZAPECHYONNAYA S KASHEI
BYELORUSSIAN
Terri J. Magestro, Oak Creek, Wisconsin
As a small child. the one thing I remember about my Baba(Grandma), was that she loved to cook for people. She would bake something like a cake and then walk to someone's house to surprise them. That inspired me to surprise someone on a birthday or holiday. She taught me family and friends are a gift to have and to cherish that. To cook is a blessing.
My Grandfather came to this country in 1912. 3 months after the Lena Execution in N.E. Siberia. Miners that worked in the goldmines were executed for protest¬ing over 16 hour days, rotten food and many accidents. My Grandmother came to this country in 1914 during the German invasion at the beginning of WWI. Her family along with the whole village were told to leave immediately or be shot. Both families traveled to Kenosha and my Grandparents were married in 1916. They had 3 children: Helen in 1918, Leana in 1921 and Peter(my Father) in 1936. As a farming family, food was always in abundance. She always cooked from memory, because I never saw a single cook book. When my Father married, my Mother be¬came a constant pupil. When my Grandfather passed away. we moved in. I began my love from that day on.
I remember Sundays were very special for the family. Friends and family would come over after church. My Granmother opened up the special livingroom used only on Sundays.  It had burgundy red velvet furniture and the whitest doilies I had ever seen. The men would be outside talking about the latest news and the women would be in the kitchen setting the table and helping Granma. My Granma's pork Chops and kasha were always the main course, along with her root vegetable salad. I would go in the root cellar to get the vegetables for her.

After my Grandmother passed, my Mother carried on the tradition till we were all grown and had our own families. I also did the same. I still make this for my brothers when they stop over.
I know my Great-grandmother taught my Granmother this recipe, but if she had a written recipe in Europe is unknown. The war probably took that. I am glad that she came to this country and I got to enjoy life with her. Her recipe is all I have of her besides a few pictures. As she always told me "Food is a blessing."
The only changes I have made are that my Grandmother butchered a pig for the chops and bacon, in which I buy from the butcher. My grandmother made her beef broth and I by canned. My Grandmother had a secret place to get her mushrooms and I buy dried. My Granmother made her own sour cream and I buy in a store. I know she would be so upset that I changed her recipe, because it would not taste right.
PORK CHOPS BAKED WITH KASHA AND WILD MUSHROOMS
SVININA ZAPECHYONNAYA S KASHEI
BYELORUSSIAN
Terri J. Magestro, Oak Creek, Wisconsin
4 pork chops, boneless, cut 3/4″ thick
1/2 t. paprika
salt, to taste
2 C. beef stock, canned
1.41 oz. dried wild mushrooms, well rinsed
4 slices bacon, chopped
1 medium onion, Chopped
1 C. whole kasha, (buckwheat)
1 t. caraway seeds
1/3 C. sour cream
Rub the pork chops with paprika and salt and set aside.
Bring 1 C. of beef stock to a boil in a small saucepan over high heat.  Remove and add mushrooms. Soak for 1 hour. Remove the mushrooms from the liquid, pat dry. chop fine and set aside. Strain liquid through a filter and set aside.
In a heatproof casserole large enough to accommodate the pork chops in one layer, cook bacon till it renders the fat. Remove bacon and set aside.
Brown pork chops well on both sides in the bacon drippings, about 15 minutes total.  Drain.
Pour off all but 2 T. of the fat from the casserole. Saute the onion in the remaining fat over remaining fat over medium heat till softened and colored, 8 minutes. Add mushrooms, kasha and caraway seeds and saute for 5 minutes more.
Preheat oven to 325 degrees.
Combine the mushroom liquid and remaining beef stock.
Season the kasha with salt and stir in bacon. Add liquid and bring to a boil.
Arrange the pork chops on top of the kasha and bake, uncovered, till the pork chops are tender and the kasha has absorbed the liquid, about 25 minutes. Stir in the sour cream into the kasha and serve.
Serves 4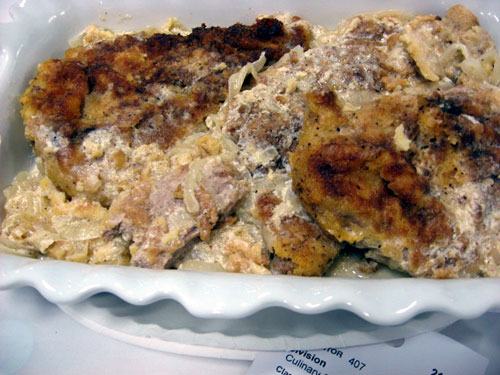 Dutch baked meat (image by Ronnie Hess)
Second Prize
Dutch Baked Meat
Susan Kelley, New Berlin, Wisconsin
My grandfather was born in Uden, Holland, and my grandmother's parents also were from that area, although she was born in Little Chute, Wisconsin. They were married in 1913 and raised 10 children on a 5-acre farmette in Kimberly, Wisconsin. Still living are my dad, two sisters and one brother.
A family delicacy was "Baked Meat." My aunt (now 83) told me the story. In the 1930's, every spring my grandmother would purchase 2 or 3 piglets which were housed in a pen near the chicken coop. The kids were in charge of feeding the pigs (table scraps and other feed), and treated the pigs as pets. They became very attached to the pigs. In late fall, as it became cold, a Dutchman named Pete Van Leeuwen, who spoke no English, came and butchered the pigs on site. For his pay, Pete took one of the pigs, and the family kept the rest. The kids were upset that their pets were gone, but their mother would use every part of the pig to create delicious meals. My aunt reported that, if it survived the butchering without getting punctured, they even used the pig's bladder as a balloon to play with.
Some of the meals she mentioned were cracklings, brey (a type of scrapple), sausage and head cheese. But the greatest delicacy of all was "baked meat" using steaks from the pork. After a light saute, the steaks were layered with onions (grown by the family), covered with fresh milk from their cow and baked.
My aunt said that when she got married and had her in-laws over for their first meal, she served baked meat. My mom (a great cook of many gourmet recipes) recently made baked meat for my dad, and she said his eyes glazed over with happiness at the taste and wonderful memories.
Although I bought my pork steak at Sendik's (no pets were sacrificed), I did use onions fresh from my garden to recreate this heirloom family recipe.
Dutch Baked Meat
Susan Kelley, New Berlin, Wisconsin
1 1/2 Ib. pork steak, trimmed and cut into serving size pieces
Salt and pepper
2 eggs beaten slightly
1/2 cup flour
2 cups dried bread crumbs, rolled "oh so fine"
2 tablespoons vegetable oil
1 onion, sliced thin
1 1/2 cup milk
Salt and pepper
Preheat oven to 350°.  Dip pork steak into beaten egg, then into flour, then into beaten egg, and finally into bread crumbs.  Add salt and pepper to taste. Heat oil until shimmering and brown pork steak in batches until golden brown on both sides.
As pieces are browned, place in casserole dish. Between layers of pork, add onions. Pour milk over, cover the casserole and place in the oven. Bake for 1 to 1-1/2 hours until tender. Serve with baked potatoes and corn pudding.
Serves 4 – 6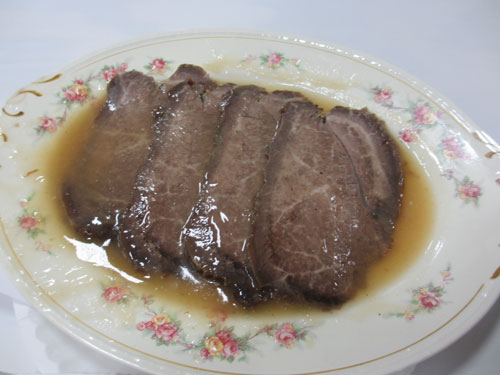 Sauerbraten (image by Ronnie Hess)
Third Prize
Mary Wolfahrt Grillhoesl's Sauerbraten
Laura Faust, Greendale, Wisconsin
My grandmother, Mary Wolfahrt Grillhoesl, was the eldest of 8 children.  She grew up in Wegscheid, Germany (Bavaria). When she was 18 years old she immigrated to the United States. She traveled to New York and then to Milwaukee. Her uncle had secured a job for her, but when she arrived it had fallen though. Fortunately for her, she was hired as a cook for the Henry Harnischfeger family in their new home on 35th and Wisconsin Avenue around 1905. Henry Harnischfeger was educated in Germany at the Order of Saint Francis by monks and considered joining the brothers as a monk. He eventually decided to become a locksmith apprentice. He moved to America and then to Milwaukee. In Milwaukee he worked at the Whitehill Sewing Machine Company from 1881 to 1883 (when it closed). In 1884 he and his partner began what eventually would become the Harnischfeger Corporation.  As I was growing up, my grandma told me how kind the Harnischfegers were to her. She talked about going to the Pabst Theater and sitting in the high balcony with her girlfriends. Eventually she married my grandfather. In 1923 they decided to move back to Germany. All she took with her was her White sewing machine. A couple of years later they moved back to Milwaukee because they preferred the United States. Again she only brought her White sewing machine with her. It is dated 1880. Before she died she gave her machine to me and I still have it because I know it was important to her. I am cooking my grandma's sauerbraten recipe. It is the recipe she used when she prepared family meals for the Harnischfegers and for her own family. My mom and my aunt used her recipe and taught it to me. It is a simple recipe compared to other sauerbraten recipes. There are no gingersnap cookies or juniper berries or wine. It does take more than 3 days to prepare though…definitely not "fast food". I use grass fed beef because their cows were grass fed in the 1900s. I have to order it a couple days in advance so some preplanning is necessary. My grandma liked to use sirloin tip roast which seems to be different than some other recipes. We always serve red cabbage and potatoes or dumplings with it. The fun part of keeping an heirloom recipe true to the original recipe is remembering my grandma through my sense of taste.
 
Mary Wolfahrt Grillhoesl's Sauerbraten
Laura Faust, Greendale, Wisconsin
Ingredients:
4 lb. sirloin tip roast
2 cups water
2 cups white vinegar
1 lemon sliced
2 bay leaves
1 onion sliced
1 tsp. pepper
1/2 tsp. salt
3 tbsp. sugar (divided)
3 tbsp. corn starch dissolved in 1/2 cup water
1. Boil the water, vinegar, lemon, bay leaves, onion, pepper and salt.
2. Pour the brine over the beef, cover and place in the refrigerator.
3. 2 times a day turn the meat so that all of the beef is marinated.
4. After 3 days of marinating, remove the meat and brown in a covered pot.
5. Strain the brine and pour over the meat so that the brine is 1 inch deep in the pot.
6. Cover and simmer on top of the stove for 3 hours. Turn the meat a couple of times and add more brine if needed.
7. Remove the roast from the pot and keep warm. Add 1 tbsp. of sugar (at a time) to the brine. Taste it before adding more sugar to adjust to your taste. Mix 3 tbsp. of cornstarch in 1/2 cup water and whisk 1/2 into the brine. Whisk and cook until the gravy is bubbling and thickens. If needed add the other 1/2 of the corn starch and cook until bubbling and thickens.
8. Slice the meat and pour some of the gravy over it before serving. Put the rest of the gravy in a gravy boat for flavoring potatoes or dumplings.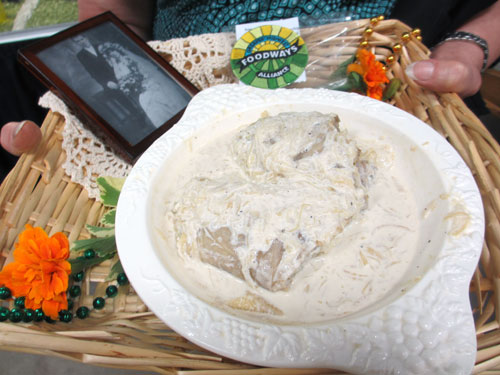 UKRAINE HALABSY (Cabbage Rolls) & ONION GRAVY (Image by Catherine Lambrecht)
Fourth Prize
UKRAINE HALABSY (Cabbage Rolls) & ONION GRAVY
Barb Strahler, Reedsburg, Wisconsin
This recipe is a family favorite from my Grandma who came to this country from the Ukraine. She didn't read or write English, so there is no recipe. One had to watch and learn how to make this traditional treat.
We always make this for special occasions–Weddings–Christmas– Easter.
They were very poor in money, but rich in having produce and good (reusable) food so they made with what they had.
She taught my Mom and Aunts, and then me.  I have continued this tradition with my children so it is always requested for special occasions.,
      Hope you will enjoy also.
UKRAINE HALABSY (Cabbage Rolls) & ONION GRAVY
Barb Strahler, Reedsburg, Wisconsin
(Cabbage Rolls)
Rolls- Filling:
2# Ground Beef
1 tsp. salt
1/2 tsp. pepper
2 cloves garlic (minced)
2 cups cooked white rice
1/4 c. half and half cream
1 beaten egg
1 cup chopped onion
Mix together and place handful into softened cabbage leaves; roll tight. Place in large roaster pan.
Cabbage leaves: 1 large cabbage head
Place in large kettle of boiling water; cover and steam until outer leaves can be removed. Shave the hard center stem from each leaf.
Layer tops with strips of bacon and extra cabbage leaves.  Cover and bake @ 325 degrees 2-3 hours until tender. Pour a small amount of combined 1 cup water and 1/2 cup vinegar over cabbage rolls. Serve with Onion Gravy (See recipe) Serves 6-8
(ONION GRAVY)
2 to 3 onions peeled and sliced thin
Add to frying pan with 1 tbsp. canola oil
Saute onions on medium heat until caramelized (browned); add 1 tsp. salt and 1/2 tsp. pepper.
Add: 1 qt. half and half cream (more if necessary), stir, simmer to a nice gravy.
Serve over Cabbage Rolls.
                   Enjoy the Goody!