Greater Midwest Foodways Alliance
FAMILY HEIRLOOM RECIPES
Contestants entered their best scratch family heirloom recipe suitable for a family or community dinner.  Recipe should originate before 1950. 
Contestants brought a prepared dish along with a brief story of who passed the recipe down to them, ethnicity, if relevant, number of years the recipe has been in their family and any interesting information about their recipe.
JUDGING CRITERIA
Taste: 50%
History: 40%
Appearance: 10%
Competition was conducted on July 31st, these are the results: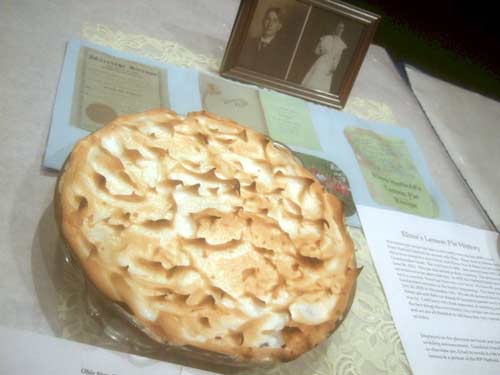 Elma's Lemon Pie (image by Peter Engler)
First Prize 
Elma's Lemon Pie History
Amy Kent, Mount Vernon, Ohio
This lemon pie recipe has been in the family since the 1800s when Peter Harbold married his second wife Elma.  There were 6 children before Elm from Peter's first wife Josephine and 6 more from Elma.  One of these was my Great Grandmother Sarah.  She was born in 1892. She married Jesse McClain on June 26, 1912.  This pie was served at their wedding.  The pictures included are believed to be taken that day.  In 1925 the Harbold family decided to have a reunion.  There has been one ever since!  We have 85 years of handwritten minutes on the family happenings.  The latest look place on July 25, 2010 in Alexandria. Ohio.  We are all pictured there holding Elma's lemon pie and then we shared it!  Grandma passed away in 1983 when I was 14.  I still have very fond memories of watching and helping her bake the best things that ever existed.  Her recipes are too numerous to mention and we are all thankful to still have this very special piece of her still with us today.
Displayed on the placemat are Sarah and Jesse's marriage license and wedding announcement.  Grandma's handwritten recipe of Mom's lemon or chocolate pie, (I had to tweak it a bit too much water and not enough lemon) and a picture of the 85th Harbold family reunion attendees.
Elma's Lemon Pie History
Amy Kent, Mount Vernon, Ohio
Crust
5 cups flour
2 tsp salt
1 tsp baking powder
1 lb. lard, cut in pieces
1 egg
2 TBS vinegar
5 TBS ice cold water
Pie
3 Lemon, zested and juiced
2-1/4 cups sugar, divided
3 TBS corn starch
3 eggs separated
2 TBS butter
2 cups water, boiling
½ tsp cream tartar
1.  Preheat oven to 425 degrees F.   In a large bowl mix together flour, salt and baking powder, cut in lard with pastry blender until it resembles small peal like pieces.  In a 1 cup measuring cup place egg and vinegar, beat well with fork. Add in enough ice cold water to measure one cup.  . With a fork slowly mix in egg water mixture till combined. Divide into 4 balls refrigerate or freeze till needed. Each ball should make a crust. Roll out one ball and place in deep pie pan with weights and bake for fifteen minutes. Remove weights bake another five or six minutes till nicely browned. remove turn oven down to 375F and crust let cool.
2. In large saucepan whisk together lemon zest and juice, cornstarch and 2 cups sugar and egg yolks. Place on burner on medium high heat and Slowly add boiling water. bring mixture to a boil and stir till thickened about 15 minutes. Remove from heat stir in butter and pour into baked pie crust.
3. In large mixing bowl place egg whites, cream of tarter and whisk with electric mixer till frothy. add in sugar and beat till stiff peaks form. Spread on hot filling and bake till nicely browned about 8 – 10 minutes. Let cool at room temperature till cool then place in refrigerator overnight. Slice and enjoy.
This pie was my Great great Grandmother's recipe that was served at my Great Grandmother's wedding in 1912.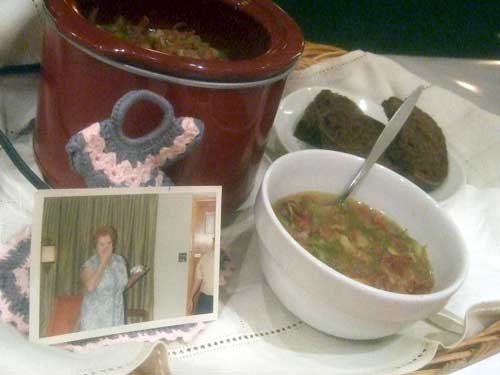 German Pork & Green Bean Stew (image by Peter Engler)
Second Prize
German Pork & Green Bean Stew
Lisa Alessandro, Groveport, Ohio
My grandmother, Annalise Martha Maria Fetz, came to the United States from Germany in 1948 with my then 4 year old mother in two.  She came from the town of Wuppertal which even today is considered a green belt: woods, meadows, gardens and fields.  My mother's father died in the war (his last communication with his family was that my mother was on her way into the world) and my grandmother remarried a merchant seaman and it was he that brought them here.  She spoke little English and shopped by pointing at the things she wanted. She also had no clue as to how to use an oven.  Most of the cooking she had done in Germany had been on a stove top.  Things like bread and cake were purchased in town.  My favorite picture of my grandmother is of her in the kitchen with her very first Thanksgiving turkey she had roasted. She was in her 50s.
I remember her telling me that her uncle farmed and that this dish came to her with her aunt.  They like hearty food and I guess today this would be called a stoup*. It is a fall dish made with the first of the new potatoes and the last of the green beans and a smoked pork butt or picnic ham. It is especially good when the weather gets cold.
In 1988, my grandmother came to live with us.  She had ovarian cancer. She made this dish for me so that I would have piece of our family heritage.  It was the first year I canned vegetable and we used the green beans from my garden.  I stood by her side while she made it.  "This is very simple she said, the smoked butt flavors the whole thing… all you need is pepper. Serve it with a hearty grain bread."
[edit: *Stoup – thicker than a soup but not quite a stew]
German Pork & Green Bean Stew
Lisa Alessandro, Groveport, Ohio
Yield: 8-10 Servings.
1 smoked pork butt or smoked picnic ham (2.5 to 5 lbs) I used a smoked picnic ham that was 5 lbs.
2 pounds of fresh Ohio green beans, cut into 2 " lengths
2 1/2 pounds red potatoes cut into 1 " cubes
1/2 tea white pepper
8 cups water (depending on size of ham)
1.    Put smoked butt or picnic in 8-qt stock pot and cover with water.
2.    Put on the stove and bring to a boil. Watch the pot, once the water begins to boil, turn the heat down to a simmer.
3.    Add the green beans and simmer for 90 minutes. Check the pork, it should be starting to fall off the bone, if not, continue simmering for another 45 minutes.
4.    Add the potatoes, bring back to a boil then lower heat to a simmer again and cook another hour.
5.    Remove the meat from the pot; it should be very tender and falling off the bone.  Allow to cool for 5 to 10 minutes.
6.    Remove any bones from the meat and shred it.
7.    With a potato masher, mash the potatoes and green beans in the pot to form a stew like consistency.
8.    Add the pork to the pot and stir.
9.    Stir in the white pepper.
10.  Serve with a hearty bread for dunking.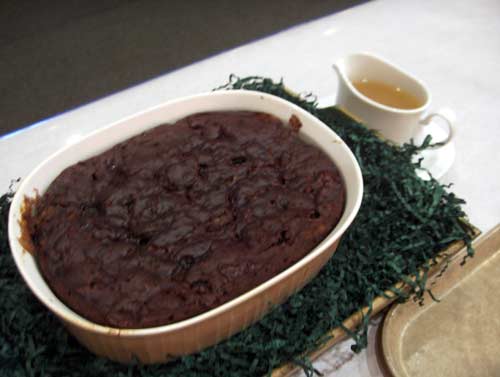 Great Grandma's Suet Pudding (image by Catherine Lambrecht)
Third Prize
Great Grandma's Suet Pudding
Marjorie Zalewski, Toledo, Ohio
When I was growing up, we always had Suet Pudding for dessert on Christmas. Mother was given the recipe by my father's mother when she married my father in 1927 and was told she had to serve it every Christmas.  Often grandma joined us for dinner and supervised while mother prepared dessert. I would help mother prepare the Suet Pudding and was given the recipe when I got married in 1966.  I continue the tradition of serving Suet Pudding every Christmas.
Grandma had been given the recipe by her mother who brought it over with her from Ireland.  My great grandparents came to the United States by ship and came through Ellis Island in 1832. The family settled in Milan, Ohio.  The men worked for the railroad and the women stayed home.  When grandma married my grandfather they moved to Toledo where they raised their family.  Of course she would make Suet Pudding every Christmas.
Great Grandma's Suet Pudding
Marjorie Zalewski, Toledo, Ohio
Pudding
1 c. molasses
1 t. baking soda
1 c. milk
1 c. ground suet
3 c. all-purpose flour
1 t. salt
1 t. cinnamon
1 t. nutmeg
1/2 t. ginger
1/4 t. cloves
1-1/2 c. raisins
1 c. chopped English walnuts
Brandy Sauce
1 c. granulated sugar
1/8 t. salt
2 Tbsp. cornstarch
2 c. water
2 cups water
2 Tbsp. butter
1/2 c. Brandy
For Suet Pudding:
1.  Preheat oven to 350 degrees F. Butter a 2 1/2-quart baking dish; set aside.
2.  Combine molasses with soda, add milk and suet; thoroughly mix and set aside.
3.  Sift together flour, salt, cinnamon, nutmeg, ginger and cloves.  Add raisins and nuts; stir. Blend into the molasses mixture.
4.  Turn into prepared dish and cover tightly. Wrap in heavy duty aluminum foil and place in a roasting pan.  Pour boiling water into the pan half way up the sides of the dish. Cover the roasting pan and steam for 3 hours.
5.  Serve with Brandy Sauce.  Yield 12 Servings
For Brandy Sauce:
1.  Combine sugar, salt and cornstarch in a 2-quart saucepan. Gradually stir in water and bring to a boil over medium-high heat, stirring constantly. Cook until mixture is thick and clear.
2.  Remove from heat and stir in butter and Brandy.  Serve warm.  Yield: about 3 cups