Greater Midwest Foodways Alliance
FAMILY HEIRLOOM RECIPES ENTREES OR SIDE DISHES
Contestants entered their best scratch family heirloom recipe suitable for a family or community dinner.  Recipe should originate before 1950.
Contestants brought a prepared dish along with a brief story of who passed the recipe down to them, ethnicity, if relevant, number of years the recipe has been in their family and any interesting information about their recipe.
JUDGING CRITERIA
Taste: 50%
History: 40%
Appearance: 10%
Competition was conducted on August 17th, these were submissions: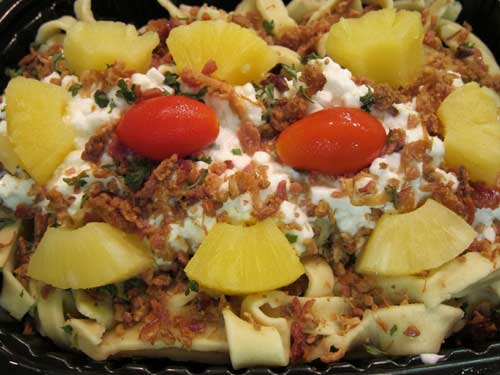 Cheese Noodles (image by Barbara Kuck)
Cheese Noodles
Pat Banks, Greenwood, Indiana
My Grandmother would make this recipe with chicken almost every time we would visit. The Cheese Noodles recipe comes from her taking some noodles, mixing cottage cheese and fried bacon pieces all together. I see this recipe as a main dish, side dish, or if arranged on a plate, salad; by adding pineapple or some other type of fruit, served cold.

One thing I remember is that as a child, Grandma would whip this recipe up quickly to satisfy hungry children and grandchildren alike!
Cheese Noodles
Pat Banks, Greenwood, Indiana
Ohio State Grange Cook Book 17th Edition October, 1957 (first additiion compiled in 1938) Page 60 Egg Noodles
2 cups flour
2 tsp baking powder
1/2 tsp salt
3 eggs
Mix in bowl with fork until in mass, then finish with fingers. Dough should be quite stiff, not crumbly. If needed add tsp cream If soft work in flour.
Place on floured board and knead until smooth. Divide into 3 portions and roll each one to a thin paper-like sheet. Lay on clean paper until all are rolled. A few minutes drying helps. Smooth flour over top sheet, roll up and cut in slices about 1/8″ wide with sharp knife. Shake apart with fingers and spread to dry. Cook noodles in chicken broth or water.
Especially good with chicken and will serve a large family.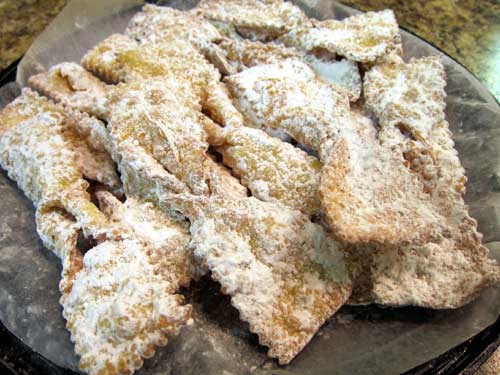 Chrusciki (bow ties)  (image by Barbara Kuck)
Chrusciki (bow ties)
Christine Rienecker, Indianapolis, Indiana

This is a recipe for the Polish "bow tie" cookie that is made for Easter, Christmas and other celebrations. My babu (grandmother), my mom and my aunts always served these cookies at our family reunions.
My babu, who came from Krakow to New York in the early 1900's, passed down the recipe to my mom and my aunts. The recipe includes brandy, and my babu made excellent brandy. She kept that part of the recipe a secret and took that wonderful knowledge to the grave. My mom gave the chrusciki recipe to me, but I have to buy the brandy!
The aroma of these bow tie cookies frying permeates the house with such wonderful memories of family celebrations filled with love and laughter.
Chrusciki (bow ties)
Christine Rienecker, Indianapolis, Indiana
Ingredients:
2 cups flour
2 tablespoons sugar
6 egg yolks
6 tablespoons sour cream
2 tablespoons brandy
shortening or lard for frying
3 to 4 cups powdered sugar to sprinkle on cookies
In a large bowl, combine flour and sugar. Combine egg yolks, sour cream and brandy. Stir welI with a spoon. On a lightly floured surface, knead dough gently until dough is smooth. Divide in 4 parts. Wrap other 3 while rolling and cutting first part. On a lightly floured surface, roll out dough to 1/8-inch thick. Slice into 1 1/2-inch-wide strips. Cut strips into 5-inch lengths. Cut a 1-inch slit lengthwise in center of each strip. Pull one end of the strip back through the slit so slit resembles a bow tie. Repeat with remaining dough.
In a large skillet heat 1-inch deep shortening or lard until a 1-inch bread cube turns golden brown in 50 seconds (using an electric skillet, heat to 325 degrees). Deep fry strips 1 minute or until golden brown, turning cookies once. Drain on paper towels, cool. Sprinkle with powdered sugar.
Yield: 4 dozen cookies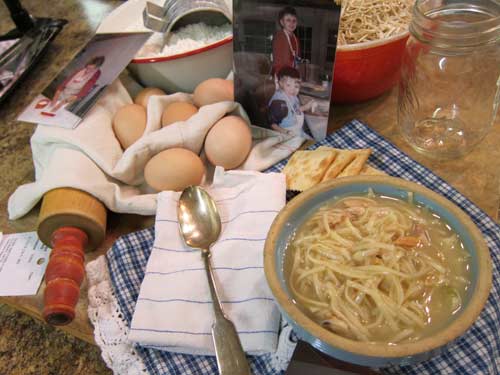 Generation Noodles (image by Peter Engler)
GENERATION NOODLES
Carolyn Hysong, Jamestown, Indiana
This noodle recipe came from my daughter-in-Iaw's aunt, who passed it down to her mother. There are a lot of recipes for noodles. They are not hard to make, but they do take a bit of trial and error. Don't get discouraged. Joyce's dad said that if they had patented their first noodles her mother had ever made to Goodyear for synthetic rubber, they would be independently wealthy.
Grandma Williams made her noodles with whole eggs and let them dry. The amount of flour in noodles is variable, depending on the size of the eggs. The recipe hasn't changed, but we have gotten more modern than our grandparents that used sharp knives or a type of noodle cutter. We have electric kitchen aid mixers that uses a dough hook, rollers and pasta cutters.
We enjoy taking our noodle soup to church, family gatherings and to sick people. We believe the best recipes are those passed along as family favorites.
GENERATION NOODLES
Carolyn Hysong, Jamestown, Indiana
""'Homemade Noodles""'
6 to 8 cups of flour
6 eggs
Beat the eggs until mixed well. Stir in the flour. (If you can't stir in as much as you think you need, don't worry, you can knead the rest of it in.) I don't add salt as I think that it makes the noodles tough. Turn the noodle dough onto a floured board and knead until smooth and easy to handle, adding flour as needed. Divide dough into pieces about as big as a lemon. Being generous with the flour, roll the dough very thin. (Mother said, "thin enough to read a newsprint through") Place on a tea towel, old sheet or paper towels as you finish rolling the dough. By the time you finish, the first piece will be ready to cut into noodles. Use a very sharp knife. Mother coated each piece with flour and rolled it up like a jelly roll, then cut in very narrow strips. The noodles need to be dried completely.
*"""Homemade Chicken Noodle Soup"""*
8 cups of water or enough to cover chicken
1 large chicken
3 small cans of chicken broth
3 chicken bouillon cubes
2 ribs of celery, chopped into pieces
3 carrots sliced into wafers
Diced onion is optional or onion powder
Pour the water into a large soup kettle. Place chicken into the water and cook until the chicken is done. Save broth for later use.
Shred chicken
Add the canned broth and bouillon cubes to homemade broth Add 2 1/2 cups of homemade noodles and cook until tender Add celery, chicken, carrots and onion, and cook until vegetables are tender.
Serves 8 to 10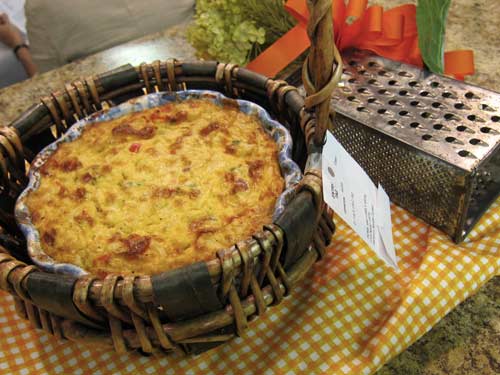 Cheese Pie (image by Peter Engler)
The grater in the display was a housewarming gift when my now 90-year¬old mother set up housekeeping back in the forties.
Grandma Mary's Cheese Pie
Beverley Rossell, Morgantown, Indiana
Years before quiche became trendy, my grandmother was making it sans piecrust. Back in the 40s, she called it cheese pie. When our family opened a 13-table cafe in the early nineties, the recipe became our modest eatery's signature entree.
An award-winning cook herself, my mother, then in her late seventies, turned out hundreds of these cheese pies during the cafe's three-year venture. We served Broccoli Swiss, Chicken Cheddar, Spinach, Cauliflower, Wild Mushroom, Reuben, BLT, Green Onion, Sage Sausage, and Turkey Divan to name a few.
Thirteen years after the cafe's closing, we still are asked by former patrons, "When are you going to open another restaurant? We miss those cheese pies." This is one of the popular recipes .
Grandma Mary's Cheese Pie
Beverley Rossell, Morgantown, Indiana
3 large eggs
1 cup cheddar cheese 1/4 cup sour cream
2 tablespoons mayonnaise
1-1/2 cups fresh cauliflower florets
1 spring onion, chopped
2 tablespoons pimento, chopped 4 to 6 slices crispy bacon
salt and pepper to taste
Combine all ingredients in large mixing bowl. Pour into buttered baking dish and bake at 350°F for 35-45 minutes or until bubbly and top of pie commences to turn golden. Serve hot, at room temperature, or chilled.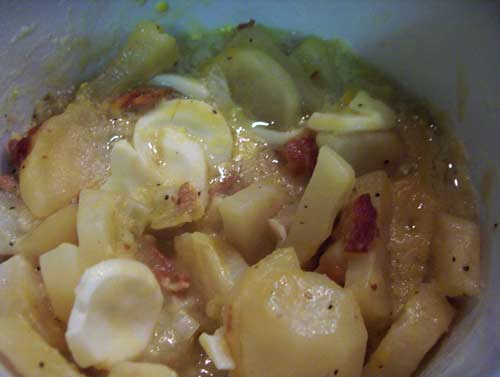 Hot German Potato Salad (image by Catherine Lambrecht)
Hot German Potato Salad
Elaine Dinnage, Indianapolis, Indiana
My mom was raised in a German community on the near southside of Indianapolis. She learned to cook from her mother and grandmother.
Mom's German Potato Salad was always requested at family gatherings; however, the recipe was not written down. With the help of my sister
and brothers, I believe this is it. Enjoy.

Hot German Potato Salad
Elaine Dinnage, Indianapolis, Indiana
Servings: 24
5 pounds Idaho potatoes
10 eggs, hard cooked
1 large onion, peeled, diced
4 ribs celery, diced
1 pound bacon DRESSING
2/3 cup bacon fat
1/2 cup flour
1 cup sugar
1 1/2 cups cider vinegar
1 cup water – or enough to make a saucy consistency
1 teaspoon salt
1/2 teaspoon pepper
Cook potatoes and eggs in gently boiling water 25-30 min. or until potatoes are fork tender. Cool potatoes and eggs on wire rack.
Rinse cook pot.
While warm, peel and slice potatoes, put in large bowl. Peel and slice eggs and put in bowl; add onion and celery.
Remove bacon from package. Make 1″ cuts across the pound of bacon. Put bacon in cookpot and cook over med. low heat till crisp; stir occasionally.
Remove bacon and drain on paper towel; add to potato bowl. Measure bacon fat into clean saucepan; stir in flour and cook 2-3 min.
Add water, stirring constantly. Add vinegar, sugar, salt & pepper. Add a little more water if necessary.
Taste dressing; if too sweet, add a little vinegar; if too tart, add a little sugar.
Pour dressing over potato salad and gently stir to combine. Serve hot.