Greater Midwest Foodways Alliance
FAMILY HEIRLOOM RECIPES
Contestants entered their best scratch family heirloom recipe suitable for a family or community dinner.  Recipe should originate before 1950. 
Contestants brought a prepared dish along with a brief story of who passed the recipe down to them, ethnicity, if relevant, number of years the recipe has been in their family and any interesting information about their recipe.
JUDGING CRITERIA
Taste: 50%
History: 40%
Appearance: 10%
Premiums sponsored in partnership with Feedstuffs FoodLink.com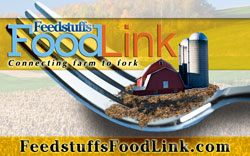 Competition was conducted on August 21st, these are the results: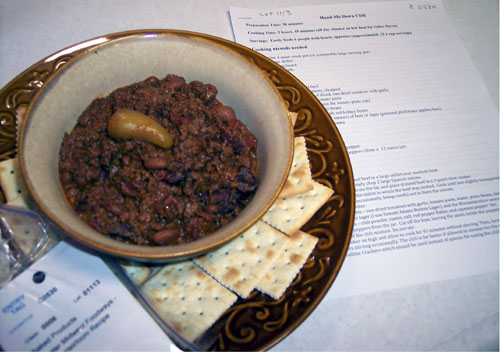 Hand-Me-Down-Chili (image by Mary Gunderson)
The History of Hand-Me-Down Chili
Davd Stewart, St. Paul, Minnesota
Chili is a versatile dish. Like soups or stews, it stretches to feed many. However, unlike soups or stews, which can be created from many ingredients – either fresh or leftover, chili is a simple dish of relatively few ingredients, complex only in its rich and hearty flavor. Chili is a hearty meal in and of itself. In tough times, like the depression, or under rough conditions like travelling by covered wagon to settle the West, people gathered to share comfort foods, like chili, that could be stretched to feed a lot of people at one time, or a few people for many days. The best chili I have ever had is the family recipe of my soon to be wife.
Her great grandfather's chili recipe is at least as old as the Great Depression of the 1930's, because her grandmother, born in 1932, remembers having it many times as a child. She remembers watching her father bring home the onions and tomatoes, and whatever meat was both inexpensive and available.
These are fond memories for my future grandmother-in-Iaw – helping to prepare dinner. Her parents were both migrant farm workers when she was a child. When she was a very young girl, she was often sent to live with other relatives so that her parents could follow the harvest schedule up and down the length of California.
My fiancee's great grandfather didn't come to California during the mass migration created by the immense dust storms in the mid-west. His own great grandfather, Harmon Higgins, had migrated to California from Illinois, by way of Oregon, in 1860. He settled near EI Monte, California, at first, renting land for four years on which to farm. He worked hard and saved his money. When the San Pedro Rancho, an old Spanish land grant, was divided up for sale, he bought 80 acres of land at $5 an acre. He later sold that land for $200 an acre. That parcel of land, along with that of his neighbor, became the city of Compton, California. Compton used to be referred to as The Hub City. As it was located at the very heart of the growing city of Los Angeles, it was a primary hub of trade and commerce. Harmon Higgins went on to buy 160 acres of land in San Diego County, where he lived for a year before returning to Compton.
I can't understood how, within three generations, her ancestors moved from fairly well-to-do land owners to migrant farm workers. But, as I look around today, and see families losing their jobs and their homes to the current recession, I'm beginning to see how such things are possible.
Her grandmother grew up in the 1930's wearing hand-me-down clothing, donations from strangers. By the time her mother was born, in 1952, America was riding the wave of a growing post war economy. Hand-me-downs took on a negative connotation. People seemed to have forgotten the wisdom of re-using and re-purposing.
Hand-me downs are things judged just too good to toss out. They hang around a while, developing character.

Hand-me-downs come with a history all their own. You can see that history in family photos or treasured quilts. You can hear about it whenever friends and family gather for special occasions.
Life can be hard, and sometimes making ends meet can seem next to impossible, That's how great grandpa's chili was born – out of necessity.

I never met her great grandpa; but from the stories her mom tells, It seemed like he was very special to my future mother-in-law. In the family photos, he's the man with only one arm and a wonderful smile. He always wore overalls. His prize possession was an old pocket watch, which he would hold up so that her mom could hear it ticking loudly against her ear. She told me that it was like feeling his heart beat in her ear whenever she climbed up and sat on his lap.
Over the years, their family's Hand-Me-Down chili evolved. When her great grandpa made it, it usually was not ground round or ground chuck that went into the pot. At times, he had to improvise, and utilize whatever meat came his way. The onions weren't store bought and the tomatoes didn't come from a can. They were picked that day, and added to the pot that evening. Spices were traded among field hands and neighbors, making the end result even tastier, and, I think, probably more satisfying for the simple act of sharing.
Her mom made her own changes, substituting less expensive beer for a favorite lager. It was also her mother who added the little yellow chili peppers as the last step before letting the mixture simmer. 

That's the great thing about chili, it is both highly adaptable and utterly recession proof.
Hand-Me-Down Chili
Davd Stewart, St. Paul, Minnesota
Preparation Time: 30 minutes
Cooking Time: 2 hours, 45 minutes (all day simmer on low heat for richer flavor)
Seryings: Easily feeds 6 people with hearty appetites (approximately 12 1 cup servings)
Cooking utensils needed
One 4 quart crock pot (or comparable large stewing pot) Large skillet
Cutting board
Sharp knife
Ingredients
2 pounds ground beef
2 large Spanish onions, chopped
2 (15 ounce) cans of diced, sun-dried tomatoes with garlic
1 (6 ounce) can of tomato paste
6 ounces of water (from the tomato paste can)
2 ( 15 ounce) cans pinto beans
2 ( 15 ounce) cans of dark red kidney beans
1 can or bottle (12 fluid ounces) of beer or lager (personal preference applies here)
1/4 cup Worcestershire sauce
1/4 cup chili powder
1 1/2  tsp. of cumin
1 1/2  tsp. of salt
1 tsp. of red pepper flakes
1/2  tsp. of ground cayenne pepper
6 Embasa Brand guerito peppers (from a 12 ounce jar)
1 Box Saltine Crackers
 
Directions

1) Crumble and brown ground beef in a large skillet over medium heat.
2) While beef is browning, finely chop 2 large Spanish onions.
3) When beef is browned, drain the fat, and place drained beef in a 3 quart slow cooker.
4) Add chopped onions to the skillet in which the beef was cooked. Cook until just slightly transparent over medium heat. Stirring occasionally, being careful not to burn the onions.
S) Add onions to slow cooker.
6) Add the wet ingredients – sun-dried tomatoes with garlic, tomato paste, water, pinto beans, dark red kidney beans, beer or lager (I use Samuel Adams Boston Lager), and the Worcestershire sauce.  Stir.
7) Add dry ingredients – chili powder, cumin, salt, red pepper flakes, and cayenne pepper. Stir.
8) Remove 6 yellow peppers from the jar. Cut off the tops, leaving the seeds inside the peppers. Place the peppers on top of the chili mixture. Do not stir.
9) Set the slow cooker on high and allow to cook for 45 minutes without stirring. Then, turn to low heat for at least two hours stirring occasionally. The chili is far better if allowed to simmer for the entire afternoon.
10) Serve with Saltine Crackers which should be used instead of spoons for eating the chili.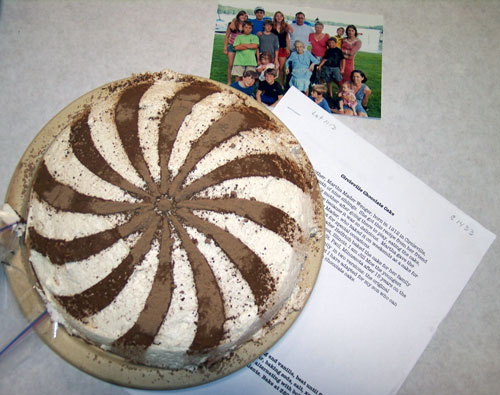 Circleville Chocolate Cake (Image by Mary Gunderson)
Circleville Chocolate Cake
Jill Moe, St. Paul Minnesota
My Grandmother, Martha Mader Wenger, born in 1912 in Circleville, Ohio, was the seventh of nine siblings. She got this recipe from her friend Margaret Hunsicker's mother after going there to play, eating the cake, and asking for the recipe because it was so delicious.  Martha gave the recipe to her mother Nelle Mader, who baked it on weekends as a cake for the family to enjoy.  It was not for special occasions.

Martha's daughter Suzie Mader Helfrich baked the cake for her family of three girls living in River Forest, lllinois.  I am Jill Moe the youngest daughter of this family.  Living in St. Paul, Minnesota after 15 years on the west coast, I now bake it for my family .in two versions: the original version and a gluten-free version that I have adapted for my son who can not tolerate gluten — or missing out on chocolate cake.
Circleville Chocolate Cake
Jill Moe, St. Paul Minnesota
Recipe makes one single layer cake.
1/3 C. Crisco Shortening 1 C. Sugar
1 Egg
2 Squares Baker's Chocolate 1 1/3 C. Brown Rice Flour
1 tsp. Xanthan Gum
1 tsp. Baking Powder 1/4 tsp. Salt
1 tsp. Baking Soda 1 tsp. Vanilla
1 C. Water, boiling
Cream the shortening and sugar. Add egg and vanilla, beat until fluffy. Add melted chocolate. Sift together flour, baking soda, salt, xanthan gum, and baking powder. Add mixture alternating with boiling water, beginning and ending with dry ingredients. Bake at 360 for 30-45 minutes.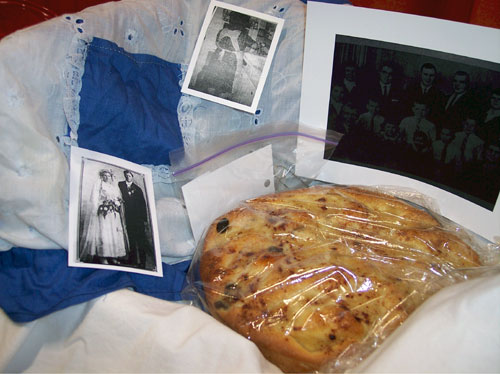 Grandma Wiener's Coffee Cake (Image by Mary Gunderson)
Grandma Wiener's Coffee Cake
Kaitlyn Wiener, Minneapolis, Minnesota
My paternal Grandmother Elda Wiener was the mother of fifteen children. Her husband Albert was a farmer and therefore Elda was able to use ingredients right from the farm, including meat, eggs, milk and cream.  She was an excellent cook and baker, probably due to her mother's and grandmother's teaching. It was a rare site to walk into my Grandma's house and not see her wearing an apron. It seems like she was always in the kitchen but that is understandable after raising so many children and doing all the cooking and baking from scratch. After many years of her children trying to get her to write down the recipes that were in her head, some of them decided to stand next to her to measure as she dumped, poured and scooped. A family cookbook was created, including Grandma's recipes, other recipes enjoyed by the family, and stories to go along with many of the recipes. Even now, some of the recipes in that cookbook do not include exact measurements or even exact baking temperatures and time, but it will be a treasured keepsake for many generations to continue on the Wiener family food traditions!
There are many recipes that mean a lot to our family and have a lot of memories associated with them, but this is probably the recipe that Elda made the most. The exact time this particular recipe dates back to is unknown, but is probably somewhere in the late 1800's or early 1900's. My Grandma learned from her Grandma Ludwig how to make homemade bread. Elda received a coffee cake recipe from Albert's mother, but she adapted it to be able to use it with her bread dough recipe. After Elda was married and had kids, bread making was at least a bi-weekly activity in the household because it wasn't convenient to go into town to get bread. Elda soon had to increase her "recipe" for enough dough to make 7 or 8 loaves of bread plus 6 to 8 pans of breakfast rolls or coffee cake after most of the kids were born. The bread making event would start in the morning and she would use a large granite dishpan to mix up the dough. She would remove a part of the dough and use it to make this coffee cake. The dough would be put on the back of the cook stove to rise. Later on, after she stopped making bread she would still continue to make the coffee cake for weekends when many of the family would come back to the farm.

My Grandma died when I was young, so I didn't really get the chance to enjoy baking with her. I loved going to her house, because it always had the smell of something freshly baked. Although I wish she could be here to teach me directly how to make her recipes, I am thankful for my aunts and being able to ask them questions about how exactly her recipes are made. I hope that I can continue to pass on her recipes to future generations. Even though bi-weekly bread baking is probably an event that I won't continue, it is fun to make it when I can and be able to remember her and honor her legacy. 
Grandma Wiener's Coffee Cake
Kaitlyn Wiener, Minneapolis, Minnesota
1 small potato, peeled and diced
2 1/12 cups reserved potato water
1 packet active dry yeast
1/3 cup water
1 tsp sugar
1 1.4 cup sugar
2 T lard
1/2 cup softened butter 
 
2 eggs
1 tsp salt
1 cup raisins
7 – 8 cups flour
1/2 cup applesauce
2 tsp cinnamon
2 tsp sugar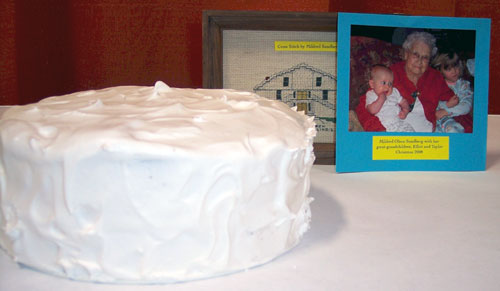 Devil's Food Cake (Image by Mary Gunderson)
Almeda Olson's Devil's Food Cake
Diane Combites, New Brighton, Minnesota
The Bishop Hill Colony,  Henry County, Illionis
In 1846, a group of Swedish immigrants seeking religious freedom left their native land under the guidance of their charismatic spiritual leader, Erik Jansson. The site for their new utopia, later called Bishop Hill, was described to them as a "land of plenty, brimming with milk and honey," and they struggled to make it so.

These Janssonists built a successful communal society based on economic and religious principles. Many of the structures erected during this building campaign still exist. The colony grew and flourished for fifteen years before disbanding in 1861.

The colonists' first homes in Bishop Hill were simple dugouts and the winter of 1846-1847 was harsh.  On December 27, 1846, Mary Malmgren was the first baby born in the colony. She later married Olaf Olson and they had a son Henry.  He had four children, the youngest, Mildred, arrived on September 7, 1913.  Although she left Bishop Hill as a young woman, she settled with her husband, Howard Sundberg, in Geneseo, Illionis, where she had a long career as a teacher.

Mildred was my husband's grandmother and passed away a few years ago at the age of 95. Mildred was very proud of her Swedish heritage and her family's connections to Bishop Hill.  In 2007, four generations of colony decendants of Mary Malmgren marched together in the Old Settlers Day parade, including our daughter, Taylor.

I am happy to have a Bishop Hill Methodist Church cookbook from the late 1930s in my collection, even though I'm not a colony decendant myself. Mildred's mother, Almeda Olson, conctributed a recipe for Devil's Food Cake, which features the unusual method of boiling the cocoa with water. I've frosted it as she suggests, with Seven Minute Frosting, but her recipe was not included in the cookbook.

Two additional items are worth noting. It must be put on record that Mildred was know as good cook and her family would all agree that her best dish was her fried chicken. As for Mary Malmgren Olson, she did have one recipe in the Ladies Aid Society Cookbook, which was published near the time of her death at the age of 90. But I wasn't sure where to get the two quarts of blood requried for Blod Kaka.

Portions taken from bishophill.com 

 
Almeda Olson's Devil's Food Cake
Diane Combites, New Brighton, Minnesota
1/2C cocoa
1/2C hot water
2C sugar
1/2 C shortening
3C flour
1 t baking powder
1 t baking soda
1/4 t salt
lC sour milk
2 eggs
1 egg yolk
Combine hot water and cocoa in a small saucepan and bring to a boil. Set aside to cool. Meanwhile, cream together butter and sugar until light and fluffy. Add cooled cocoa mixture. Sift together dry ingredients and add half to the batter. Add the milk, then the rest of the flour mixture. Beat thoroughly and add the eggs. Beat again. Pour into two greased and floured dpans and bake at 375 degrees for 25 minutes, or until a tester comes clean.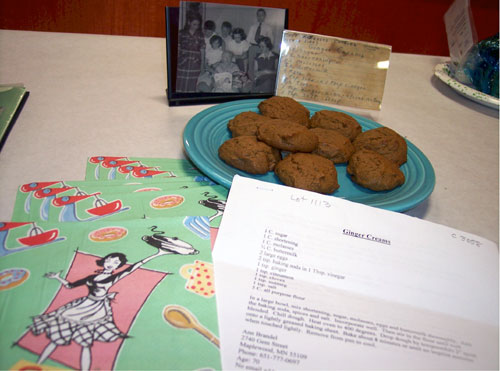 Ginger Creams (Image by Mary Gunderson)
 Ginger Creams
Ann Brandel, Maplewood, Minnesota
My grandma was a good baker, but I guess back in those days most grandmas were. There weren't many bakeries and just about everything had to be made from scratch.
My favorite thing that my grandma made was her Ginger Cream cookies.  I still remember going up the steps to my grandma's big, white house in Stillwater and smelling the molasses and spices before I even got the door open.  Even in the winter thatt smell managed to sneak under the door.
Grandma said she got the recipe from her mother. It was grandma's favorite recipe too and it soon became the favorite of her grandchildren.

The picture in the frame is me and some of my cousins. That's me sitting on the arm of the chair to grandma's right. We were probably hoping grandma would put the magazine down and go bake some cookies.
1 C. sugar
1 C. shortening
1 C. molasses
1/2 C. buttermilk
2 large eggs
2 tsp. baking soda in 1 Tbsp. vinegar
1 tsp. ginger
1 tsp. cinnamon
1 tsp. cloves
1 tsp. nutmeg
1 tsp. salt
5 C. all purpose flour
In a large bowl, mix shortening, sugar, molasses, eggs and buttermilk thoroughly.  Add the baking soda, spices and salt.  Incorporate well.  Then stir in the flour until well blended. Chill dough.  Heat oven to 400 degrees. Drop dough by teaspoonfuls 2″ apart onto a lightly greased baking sheet. Bake about 8 minutes or until no imprint remains when touched lightly. Remove from pan to cool.
My grandma died 45 years ago at the age of 90. Her recipe for Ginger Creams lives on through her grandchildren. I have made them for my children since they were small. Two of my children still ask for Ginger Creams for their birthday instead of a birthday cake.
My grandchildren like the soft cookies too. Soon I will be able to give a Ginger Cream cookie to my first great grandchild who just celebrated his first birthday. 
 
Ginger Creams
Ann Brandel, Maplewood, Minnesota
1. Boil potato in 4-5 cups water until soft.  Remove potato plus 2 1/2 cups water from pot. Mash potato a little and mix to cool to below 115 degrees F.
2. Meanwhile, place 1 pkg of yeast in 1/3 cup water that is 110-115 degrees F.  Add 1 tsp sugar and stir to dissolve.
3. Once potato/water mixture is cool, add 1 1/4 cup sugar, lard, butter, eggs, salt and flour until a stiff dough forms.
4. Let rise until double in size – Punch down and form into 2- 9 inch round or square pans. Let rise again.
Form wells in dough using a spoon. Spoon applesauce into the wells and then sprinkle with cinnamon and sugar. (Note- 1/2 cup of thick cream or sour cream is also supposed to be a topping on the coffee cake, but it was omitted due to the rules.)
5. Bake at 350 degrees F for 25-30 minutes or until golden brown