Greater Midwest Foodways Alliance
FAMILY HEIRLOOM RECIPES
Contestants entered their best scratch family heirloom recipe suitable for a family or community dinner.  Recipe should originate before 1950. 
Contestants brought a prepared dish along with a brief story of who passed the recipe down to them, ethnicity, if relevant, number of years the recipe has been in their family and any interesting information about their recipe.
JUDGING CRITERIA
Taste: 50%
History: 40%
Appearance: 10%
Premiums sponsored in partnership with Feedstuffs FoodLink.com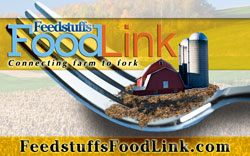 1st place – $150.,  2nd place – $100.,  3rd place – $50 

Pampered Chef is sponsoring additional prizes for our winners:
First place: Reversible Bamboo Carving Board (Value = $72)
Second place: Cool & Serve Square Tray, Outdoor Mini Spoons & Tongs Set (Value = $49)
Third place: Food Chopper (Value = $31)
Competition was conducted on August 11th, these are the results: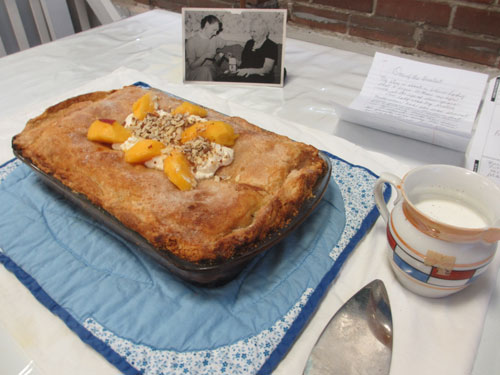 Peach Cobbler (image by Catherine Lambrecht)
Grandma Bowers Peach Cobbler
Maxine Griggs, Sedalia, Missouri
One of the Greatest
My story is about a blind lady that I begin to share my life with at the age of eleven years.
This lady was my sister's Mother-in-law and she was almost fifty years old.  She had lost her sight and was totally blind in her early twenties.
I stayed with her when the family was away.  She so efficient in every way but she lacked knowing nite from day.  The years passed and as I grew up she taught me how to cook and make pies and cakes and candy, she was excellent in bread making.
She never complained about her not being able to see.
I will always remember how she could cook on a wood stove and tell by putting her hand in the oven to know the temperature.
One year in the '50 she said I am going to the fair & be in a contest, making candy, angle food cake & bread.  She was happy to win the bread making contest and her picture was in the daily news of her winnings.
She had an iron skillet that she baked bread in also she made her cobblers in she was loved by everyone that knew her.  As the years passed my daughter grew up, old enough to bring her to the fair.  They rode all the rides, she had a full day, at the fair with my daughter and friend.  Everyone call her "Grandma Fellie."
One of the most enjoyable days, after baking her bread and cakes and pies, she visited "Minnie Pearl" and Minnies Mother was blind also it was such a day in her life and she greeted "Minnie" with her hands on her face and said "Minnie I am so glad to see you."
This lady touched many lives, she was always cheerful and smiling and made wonderful delicacies and shared them, with all who needed or wanted them.
This lady's writeup on winning the bread contest in in the home ec building this year.  I thought she deserved one more trip to the Mo State Fair.  She passed away at the age of 90+
I forgot to tell you her name was Ophelia Bowers.
 
Grandma Bowers Peach Cobbler
Maxine Griggs, Sedalia, Missouri
Cobblercrust to fit a 6-12 pyrex dish
3 cup flour
1 tsp salt
2 tsp sugar
1 tsp b[aking] power
1 cup shortening
Enough water to mix
Butter bottom o dish
Filling
6 c fresh peaches
1 cup sugar
3/4 cup brown sugar
1/2 stick butter
1/4 cup flour
1 tsp nutmeg
1 tsp almond extract
Roll out enough to fit the dish.
Put ½ butter in bottom of crust.
Mix all ingredients together & fill dish.
Make a top crust.
Bake 375 degrees for 20 min.  Turn down to 350 to finish baking.
"Whip cream"   "Ice cream"
"Enjoy"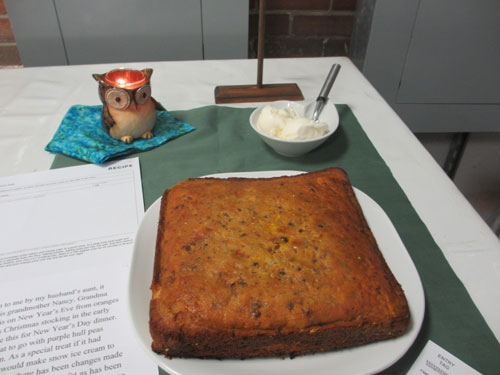 Orange Pudding (image by Catherine Lambrecht)
Grandma Nancy's Orange Pudding
Pam Steen, Leeton, Missouri
This recipe was given to me by my husband's aunt, it originally belong to his grandmother Nancy.  Grandma Nancy would make this on New Year's Eve from oranges left over from the kid's Christmas stocking in the early 1920's; she would serve this for New Year's Day dinner.  This was their sweet treat to go with purple hull peas (black eye peas) and ham.  As a special treat if it had snowed she and the kids would make snow ice cream to top their pudding.  Over time there has been changes made to her original recipe, she had down to use fat as has been changed to Crisco, and she chopped the raisins and orange rind witch has been changed to grinding them.  These changes were made by her daughter in the 1950's.  Since that time that is how her grandkids are preparing it today for her great-great grandkids.  After learning this history I have started this same tradition.
Grandma Nancy's Orange Pudding
Pam Steen, Leeton, Missouri
1/2 cup sugar
1/2 cup butter flavored crisco
1 cup buttermilk
2 eggs
2 cups flour
1/2 tsp. baking powder
1/2 tsp. baking soda
1/2 tsp. salt
1/2 cup raisins
peel from 1 orange
juice from 2 oranges
Juice the 2 oranges and set aside. In a food processer pulse raisins and orange peel, to a good chop. In a large bowl beat sugar and crisco. Add buttermilk and eggs, mix well. In a separate bowl mix flour, baking powder, baking soda and salt, mix well. Add flour mixture to buttermilk mixture. stir in raisins and peeling mixture. pour into a 8 x 8 baking pan. Bake in a 350 degree oven for 45 minutes or till wooden toothpick comes out clean. Remove from oven and pour orange juice over top and let set over night.
Yield: 8 servings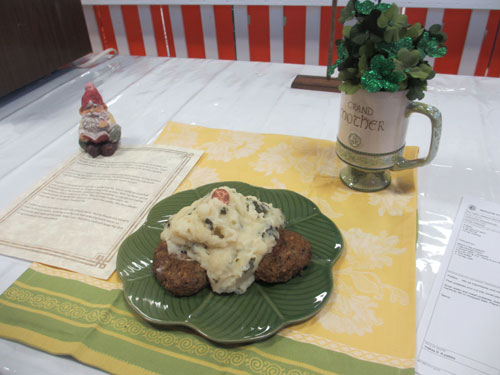 Grandma's Shepherd's Pie (Image by Catherine Lambrecht)
Grandma's Shepherd Pie
Stacy Robs, Sweet Springs, Missouri
My great grandmother immigrated to America from Ireland around 1900.  She brought with her many Irish recipes and traditions.  Trying to fit in to the "new" homeland society, many of her recipes were adjusted to fit her new lifestyle.
Colcannon is a traditional Irish way to prepare mashed potatoes.  During holidays a coin or ring was hidden in the potatoes.  The person who got the ring would soon be wed or good luck would follow those that found the coin.
Shepherd's pie made with lamb was a family favorite.  This is similar to meat loaf with mashed potatoes on top.  It takes a long while to bake.  With the faster paced American way of life, Grandma would get very frustrated, soe she started making lamb patties which cooked a lot faster.  Then to make it seem more like shepherd's pie she served the colcannon on top of the patties.  We have always called this "Grandma's Shepherd Pie"
Traditional Irish food does not use a lot of spicy herbs.  Hearty flavors but bland to most American tastes.  Lamb became hard to find at local grocery stores so eventually beef replaced lamb.  When I can find lamb I will still make this dish using Grandma's first adjustments.
Grandma's Shepherd Pie
Stacy Robs, Sweet Springs, Missouri
Patties:
2 lbs ground lamb
1 tsp thyme
1/2 tsp nutmeg
Colcannon:
About 2 lbs potatoes
1 tsp minced onion
1 bunch kale – chopped
1/2 cup  1/2 & 1/2 – more if you like a thinner consistency
4 Tbs butter
1 1/2 tsp. salt
Patties: Mix all ingredients and make into patties.  Cook in skillet on med. Low heat until done in middle.
Peel potatoes and cut into small pieces.  Boil in water until soft.
Drain water and mash potatoes.  Add butter, onion and 1/2 & 1/2.   Mix until you get a soft mashed potato consistency.  Cook kale in butter till soft.  Carefully stir in chopped kale.  Place large scoop of potatoes on top of patties.