Greater Midwest Foodways Alliance
FAMILY HEIRLOOM RECIPES
Contestants entered their best scratch family heirloom recipe suitable for a family or community dinner.  Recipe should originate before 1950. 
Contestants brought a prepared dish along with a brief story of who passed the recipe down to them, ethnicity, if relevant, number of years the recipe has been in their family and any interesting information about their recipe.
JUDGING CRITERIA
Taste: 50%
History: 40%
Appearance: 10%
Premiums sponsored in partnership with Feedstuffs FoodLink.com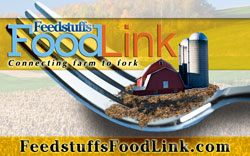 Competition was conducted on August 14th, these were the submissions: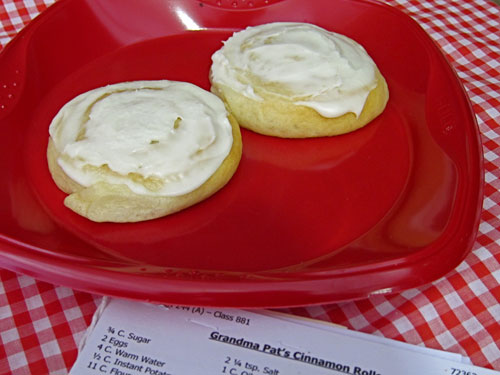 Grandma Pat's Cinnamon Rolls (Image by Peter Engler)
Grandma Pat's Cinnamon Rolls
Lisa Brown, Swisher, Iowa
Ahh, the elusive cinnamon roll recipe. Many have attempted, but all have failed. Even the best family bakers have succumbed to the idea that Grandma did indeed take this recipe to the grave with her in 2001. I recently dug out this recipe that was in use every Saturday as long as my uncle could remember (Donald Lefebure was born in 1936), blew off the dust and rolled up my sleeves. To give you some background, these cinnamon rolls are so highly regarded among my father's siblings and all of the grandchildren, that even the slightest difference in whatever "it" is that makes these rolls so special is instantly noticed. Everyone knows that Grandma Pat's Cinnamon Rolls are holy and are blessed by the trinity of butter, cinnamon, and that perfect frosting.
When I was 14 years old I decided that I would try my hand at these rolls since it was the gold standard that all family bakers tried to reach. After dough was flung all over the kitchen, many hours of rising, followed by forceful kneading, I turned out my first attempt at Grandma Pat's Cinnamon Rolls.  They we set out all neat and pretty with homemade frosting, waiting for my father to come home and to hopefully praise his young baker-in-training on how these were "just like mom made them". However I come downstairs from resting from this all day baking event and they were all gone! I couldn't believe my eyes – where they that good?!?  Then I saw my father and anxiously asked – "did you like them"?  And the response that made me realize that I committed a sin against the family recipe: "They were not fit to eat, so I-threw them out into the com field." So until now, I admitted defeat and moved on to practicing my baking skills on other less holy items.
Only after starting to bake more and taking up an interest in more complex recipes during 2011, did I decide that it was time to try the recipe again.  With the dust cleaned off the family cookbook that contained this elusive recipe, the studying began.  Reading and re-reading the recipe and constructing a play by play on how each step should proceed if it was done perfectly.  After an all day affair trying to replicate the cinnamon tolls, they were packaged up so they could be taken to Sunday brunch with my family – then my stomach started to turn … would I get the same response that I got from my dad when I was 14 years old?  So I anxiously watched his first bite and then he said "That is as close as anyone has gotten to replicating the recipe."  And with those words, a big smile appeared on my face!

While conquering this recipe has brought great satisfaction, the best part of this endeavor was recreating the smell and taste of Grandma Pat's kitchen. A piece of my childhood has been brought back to life and I know that she is smiling down on me now as I attempt to share the happiness and memories of her at the Iowa State Fair. 
Grandma Pat's Cinnamon Rolls
Lisa Brown, Swisher, Iowa
Dumplings with Apple-Cider Syrup (Image by Peter Engler)
3/4 C. Sugar
2 Eggs
4 C. Warm Water
1/2 C. Instant Potatoes
11 C. Flour
2 1/4 tsp. Salt
1 C. Oil
1 C. Powdered Milk
3 pkgs. Rapid Rise Yeast
1 C. Melted Butter
1 1/2 C. Sugar
2 tsp. Cinnamon
Soften the yeast in 1/4 C. water and a 1/2 tsp sugar.  Beat sugar, eggs, salt and oil together and add warm water.  Mix in powdered milk and instant potatoes and then add 5-6 cups of flour gradually.  Beat well and let rest for a few minutes.  Add the remaining flour gradually and beat well until elastic and a bit shinny.  The dough will be elastic, but not sticky.  Place in a large container and let rise until double in bulk.  Then place on a floured table and roll into an oblong that is 1/2 inch thick. Brush on 1/2 C. of the melted butter and sprinkle with cinnamon and sugar.  Roll into an oblong, cut into 1/2-3/4 inch slices, place on oiled pans, brush with the remaining butter.  Let rise until almost double and then bake in a 375 degree oven for 10-14 minutes or until light brown.
 
Frosting:
4 C. Powdered Sugar
6 T. Butter Melted
1/3 C. Half & Half
2 tsp. Vanilla
Mix together ingredients and spread on cinnamon rolls.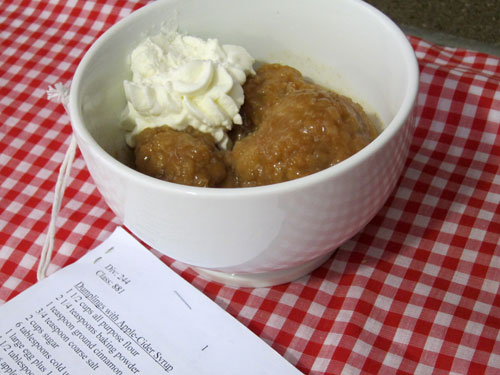 Dumplings with Cider Syrup (Image by Peter Engler)
Dumplings with Apple-Cider Syrup
Suellen Calhoun, Des Moines, Iowa
My husband's grandmother was a great cook. She lived in Birmingham, Iowa. When we married (over 34 year ago) I was just learning to cook but she inspired me to get out of my comfort zone and try new things.  I only got to spend three years with her before she passed away but this recipe we would make over a campfire stove or fire while camping out.  Since this recipe requires few ingredients and no baking time it was an easy one to do for a wonderful dessert while enjoying the outdoors.  Since the cider is found most often in the fall while apple harvest is prime this recipe is like September on a spoon.  They also make a great breakfast! 
Dumplings with Apple-Cider Syrup
Suellen Calhoun, Des Moines, Iowa
1 1/2 cups all purpose flour
2 1/4 teaspoons baking powder 1 teaspoon ground cinnamon
3/4 teaspoon coarse salt
2 cups sugar
6 tablespoons cold unsalted butter, cut into 1/2 inch pieces
1 large egg plus 1 large egg yolk
1 1/2 tablespoons whole milk
4 cups apple cider
Whipped cream
Sift flour, baking powder, cinnamon and salt in a medium bowl; set aside. Stir together sugar and 3/4 cup water in a large saucepan over medium heat. Cook, without stirring, until sugar begins to melt and turns light amber, about 14 minutes.
Continue to cook, stirring occasionally, until sugar has melted and mixture turns medium amber, about 2 minutes more. Meanwhile, work butter into flour mixture using your fingers or pastry blender until flour is incorporated but mixture is still crumbly. Whisk together egg, egg yolk and milk in a medium bowl. Form a well in the center of flour mixture; pour in egg mixture. Stir gently with a fork until combined. Remove sugar mixture from heat; slowly whisk in cider. Return to heat; bring to a simmer. Using your hands divide the dough evenly into 12 pieces, and roll into balls. Carefully drop 6 balls of dough into the simmering cider syrup. Cook, turning once or twice to coat, until dumplings have tripled in size and are deep golden brown, about 20 minutes. Using a slotted spoon, transfer dumplings to a platter, and cover. Repeat with remaining balls of dough. Divide dumplings among 6 bowls and drizzle with cider syrup. Serve with whipped cream.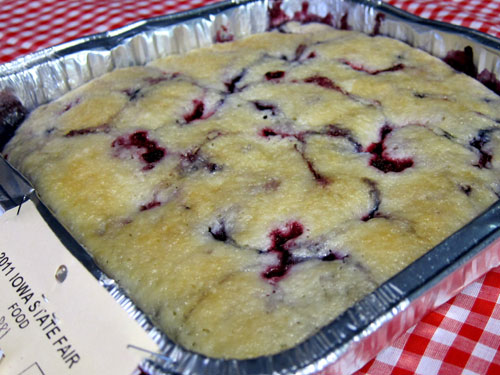 Fruit Pudding (Image by Peter Engler)
Fruit Pudding
Angie Richard, Perry, Iowa
Fruit Pudding is a recipe that has been passed down through my mother's maternal grandmother Lura (Thornton) Haughton who was born in 1896 and passed away in 1963. This recipe has been documented in my family since 1943. It is unknown where Lura found the recipe. Her mother passed away when she was only a few months old so it is unlikely that the recipe was in the family earlier than that as many early family recipes were handed down mother to child. Lura was a Kansas farmwife and used many of the things raised on her farm such as fresh eggs, milk, fresh fruits and vegetables from her garden and orchard in her cooking. She was also active in the early 4-H, county extension and homemaking clubs as a leader and member. Many of these clubs always had social gatherings like summer picnics, Thanksgiving dinners, and Christmas parties. A lot of the women in the clubs swap recipes after the meals while socializing. This is very likely how she obtained her recipe.
This recipe is very basic and the fruit portion of the recipe can be adapted to individual taste or what fruit one has on hand. Traditionally, Lura and my grandmother Elizabeth (Haughton) Gasche made this recipe using sour cherries from their farms. My mother Cindy (Gasche) Richard has used sour cherries and blackberries from her farm. When I was a teenager living on the farm, I used fresh wild mulberries from trees in our pastures as the fruit. I now usually use fresh blueberries, raspberries, or mixes of these fruits in my adaptation of the recipe. This recipe is timeless and will continue to be passed on to future generations of my family.
Fruit Pudding
Angie Richard, Perry, Iowa
Part 1:
1 c. all purpose flour
¾ c. sugar
1 t baking powder
1 t salt
2 T unsalted butter
½ c cold water
For part 1:  blend flour, sugar, baking powder and salt in a small mixing bowl.  Use a pastry blender to cut in butter to flour mixture.  Stir in the cold water to form a batter.  Pour batter in greased 8"x8"x2" baking pan.
Part 2:
1 c. fresh or frozen berries or sour cherries
1/2 c. sugar to taste
1 1/2 c boiling water
Spread fruit over batter in baking pan.  Sprinkle 1/2 cup sugar to taste (depending on sourness of fruit over fruit and batter.
*If recipe is doubled, use 9"x13" baking pan.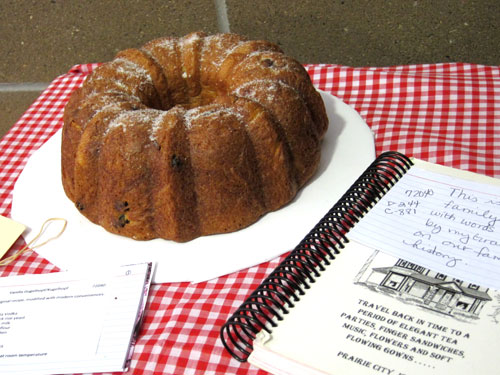 Vanilla Gugelhopf aka Kugelhopf (Image by Peter Engler)
Vanilla Gugelhopf/Kugelhopf
Cristen C. Clark, Runnells, IA
The texture of this bread most resembles a delicate, buttery French brioche. In its bundt shape with the addition of raisins it categorically falls in with Gugelhopf (German)/ Kugelhopf (French) names for this type of yeast bread that is typically served with tea or coffee.
Within my family the history of this recipe is very vague as far as how long it dates back, it is definitely pre-1900. (Last name: Herbold- German) (Last Name: French- French)
Their version is called Gugelhopf, they did not immigrate until 1911 to the USA. The recipe isn't quite as elaborate and you don't use a stand mixer, vanilla vodka, or as much butter but it is a dough that with much care can be made by hand. It is a beautiful silken mass studded with raisins at the completion of mixing and before the first rise.
My Great Grandma French (French in ethnicity) has a similar bread recipe (Buttery, delicate French Brioche) that the basics of this recipe most resemble. She was an amazing baker so I have to name this yeasted treat on the recipe by the proper French term too.
Vanilla Gugelhopf/Kugelhopf
Cristen C. Clark, Runnells, IA 

This is an original recipe, modified with modern conveniences.
Ingredients:
1/2 C raisins
3T Absolut Vanilla Vodka
2 tsps instant quick rise yeast
1/2 C warm whole milk
2 1/2 C all purpose flour
2 tsp vital wheat gluten
1/4 tsp salt
3 XL eggs
2 tsp pure vanilla extract
1/4 C sugar
12 TBSP unsalted butter, at room temperature
Finishing the bread:
4 tablespoons unsalted butter
2 T vanilla sugar (Vanilla Bean pods resting in sugar in container for many weeks, or you can buy this at Penzey's.)
Powdered sugar, for dusting
Put raisins and vodka in a small bowl.  Microwave for 60 seconds.  Set aside.  Proof yeast with milk in bowl of a stand mixer until yeast is dissolved, approximately 10 minutes.  To the stand mixer with the dough hook, add flour and salt until it is a combined mixture.  In a separate bowl, gently beat eggs.
On low speed, stream in eggs.  Add vanilla. Add sugar, beat on medium high speed for 4-5 minutes.  Reduce mixer speed to medium.  Add the butter 1 TBSP at a time until each is incorporated.  Dough will be silken and smooth. Knead in mixer for 9 minutes on medium high speed. Add raisins, knead for another minute. Scrape dough into well oiled glass bowl and oil top of dough mass. Cover with cling wrap. Let rise until double. 1 hour.
Deflate the dough, pick it up and drop it (with some force) back into the bowl.  Cover and place in the refrigerator.  Deflate the dough every 20 minutes while in refrigerator until it stops rising.  (4 times)  Cover the bowl again and put it in the refrigerator.  Let dough rest in refrigerator overnight.
Butter and flour a ten cup bundt cake pan.
*(There are molds for this creation specifically but I don't have one, they tend to be expensive.  If I ever make it to France – as I haven't heard of the intricate ones in Germany – I'll get a beautifully decorated Terra Cotta mold.)
Remove dough from bowl in refrigerator.  Make a hole in the center of the dough.  Place dough into the bundt pan putting hole in dough over the ring.  Cover with cling wrap sprayed with nonstick spray and let rise for 3 hours.  When dough has almost fully risen, center a rack in the oven and preheat the oven to 375 F.  Remove the paper and bake for 10 minutes uncovered then bake another 16-18 minutes covered lightly with a foil tent.  It will be golden brown and will have risen nicely.
 
Melt the butter right before kugelhopf is out of the oven.  Meanwhile, line a baking sheet with foil and place a rack over it. Wait 5 minutes and unmold kugelhopf onto the rack.
Gently brush the hot cake with the butter so it soaks in gently Sprinkle lightly with vanilla sugar and cool to room temperature.
 
Right before serving, dust lightly with powdered sugar through a fine mesh strainer.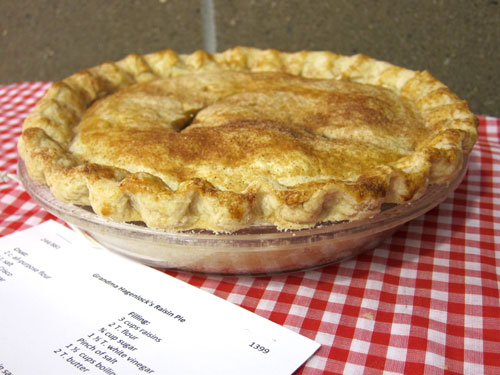 Raisin Pie (Image by Peter Engler)
Grandma Haaenlack's Raisin Pie
Lana Ross, Indianola, Iowa
My mother just found this recipe few years ago in her giant recipe box. My dad did the math and based upon when my great grandmother was born, we think it is 127 years old. My mom's copy of the recipe had already been converted to the measurements found here so I did not have to do that task.
Raisin were a staple in my great grandmother's pantry and was often made in the fall, alternating with apple. The dish is an old pie pan I found at an antique store and it is much like what my grandmother used.
My grandmother taught my mother how to bake pies and my mother taught me. The design on the top is the same design as my great grandmother, grandmother and mom.
When I make this pie, I usually adapted the recipe by using craisins and golden raisins along with regular raisins. And, I don't use as much sugar as my great grandmother! For this competition, I made the recipe as I remember my grandmother making it. She always put cinnamon and sugar on top of almost every pie, she was not very fussy about how it looked and she did not use lard. I'm not sure why she used Crisco, maybe it was because she lived in town, was not a farm girl and it was just easier to buy Crisco at the store.

When I make this pie it reminds of my great grandmother.
Grandma Haaenlack's Raisin Pie
Lana Ross, Indianola, Iowa
Crust:
2 c. all-purpose flour
1/2 t. salt
2/3 c. Crisco
2 tsp. vinegar
5-7 T. ice water
 
Filling:
3 cup raisins
2 T. flour
3/4 cup sugar
1 1/2 T. white vinegar
Pinch of salt
1 1/2 cups boiling water
2 T. butter
Filling:
Mix raisins, craisins, flour, sugar and vinegar in saucepan and pour boiling water and salt over mixture. Cook until thick, about 10 minutes. Add butter and cool.
Crust:
Mix the flour and salt. Cut in the fat. Mix vinegar into water and gradually add to flour mixture until the crust sticks together. Divide the crust into two equal parts and roll out.
Place half of pie crust in bottom of pan. Pour filling into shell. Top with remaining crust.  Brush pie top with egg wash and sprinkle with cinnamon and sugar.  Bake at 350 degrees (F) for approximately one hour or until lightly browned.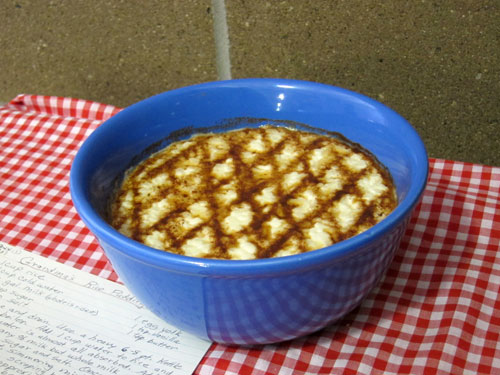 Swedish Rice Pudding (Image by Peter Engler)
GRANDMA'S SWEDISH RICE PUDDING
Kay L. Peterson, West Des Moines, Iowa
My rice pudding was handed down to me by my mother who learned it from her mother.  It came from Sweden from her sister. It has been used by my ancestors here in the midwest since 1900 and in Sweden before then.  That makes it over 110 years that I am aware of here is America.
I always make it for all our family gatherings, on both sides of the family. Even for all gatherings on my husbands side of the family.  It is always the first request everyone wants me to bring, and I am most happy to do so.  This is a good dessert any time of the year but is always a must at Christmas.  A SWEDISH TRADITION!  I almost always make a double batch.  There rarely are any leftovers and if there are, some want to take it home with them!
This recipe uses ingredients that we always have on hand, so it can be made at the last minute (hour).  It doesn't use any heavy cream like many recipes and is easy to make but does need constant attention so it doesn't burn (a tragedy).
It does take some practice to know WHEN it is done and not too dry. Practice to get it right! 
 
 

GRANDMA'S SWEDISH RICE PUDDING
Kay L. Peterson, West Des Moines, Iowa
1 cup rice
1 cup cold water
1/2 gal. milk
1 cup sugar
1 tsp salt
1 egg yolk
1 tsp vanilla
1 tsp butter
Rinse rice and drain.  Use heavy 6-8 qt. kettle or double boiler.  Add 1 cup water to rice and cook until water is almost all absorbed.  Add milk (you may use any % milk but whole milk makes the creamiest, richest rice), sugar and salt. Once milk is hot, cook over low heat, simmering mixture, stirring often – every 5 minutes, scraping bottom to keep from sticking, It takes approximately 1 – 1 1/4 hours total, to cook. The rice should be about done when almost all of the liquid is absorbed by the rice.
Temper some of this liquid into the beaten egg yolk, vanilla and butter mixture. After stirring together, add it back into the rest of the rice and cook 1 minute longer.  Remove from heat, and pour into bowl.  After it has cooled awhile, I decorate the top with a cinnamon/sugar mixture Sometimes I like to serve with sweetened strawberries as a topping.
Makes 11 1/4 cups or serves over 20. 
This is a good dessert any time of the year, but is always a must for Christmas. almost always double the recipe.
A SWEDISH TRADITION.
Serves 6