Greater Midwest Foodways Alliance
FAMILY HEIRLOOM RECIPES
Contestants entered their best scratch family heirloom recipe suitable for a family or community dinner.  Recipe should originate before 1950. 
Contestants brought a prepared dish along with a brief story of who passed the recipe down to them, ethnicity, if relevant, number of years the recipe has been in their family and any interesting information about their recipe.
JUDGING CRITERIA
Taste: 50%
History: 40%
Appearance: 10%
Premiums sponsored in partnership with Feedstuffs FoodLink.com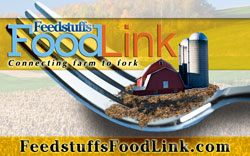 Competition was conducted on August 14th, these are the results: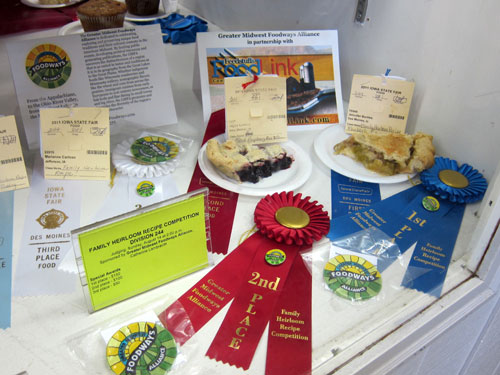 Winners displayed at the Iowa State Fair (Image by Peter Engler)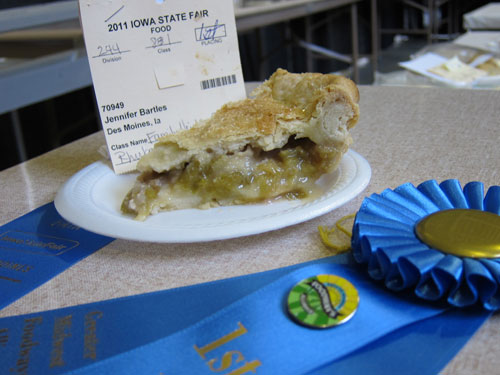 Rhubarb Pie (Image by Peter Engler)
First Prize
The Chronicles of the Marjoris Lingard's Rhubarb Pie
Jennifer Barties, Des Moines, Iowa
This recipe is the only rhubarb pie my family makes. The beating of the eggs creates a cake like layer between the flakey crust and rhubarb custard. It was originally made by my Great-Aunt Marjorie (Ungard) Thomas. My Grandma, Beulah (Lingard) Ballantyne remembers her sister Marjorie making this pie while Grandma was working as a one room school teacher in Vale, Iowa.  Marjorie also had the honor of making it as a desert for Bill and Beulah Ballantyne's wedding reception in 1946.

Great Aunt Marjorie taught my Aunt Becky Ballantyne to make this pie, who then taught me. I have been making this pie since high school. It is best prepared with the old fashion green rhubarb. As the winter gives way to spring, my family eagerly waits for the Rhubarb to be ready so we can have this pie along with my mother's homemade vanilla ice cream.
Marjoris Lingard's Rhubarb Pie
Jennifer Barties, Des Moines, Iowa
Oven temp: 375 Time: 60-50 minutes
4 cups chopped Old Fashion Rhubarb
1 1/2 cups sugar
2 eggs
1/3 cup flour
1 tsp lemon zest
Whip eggs and lemon zest until thick, fluffy and lemon colored.  Slowly add in sugar.  Fold in flour and chopped rhubarb.  Pour into prepare pie shell.  Top with top crust.  Pinch edges to seal and cut 3 vent holes in the top center of pie. Brush crust with milk and sprinkle with large crystal raw sugar.  Bake in oven.  If top of pie browns too quickly, cover lightly with foil and continue baking.  Cool completely before serving.
 
Pie Crust
3 cups sifted flour
1 tsp salt
1 cup cold lard
7-9 Tbsp Ice water
Sift flour and salt together.  Cut in cold lard.  Sprinkle with water, sans ice cubes, one tablespoon at a time, lightly tossing with a fork after each addition until adequately moistened.  Divide dough in two and gently form into discs.  The less the dough is handled the better, similar technique as biscuits.  Wrap discs in plastic wrap and chill in the fridge for 2 hours.  Roll out dough and place in 9" pie pan.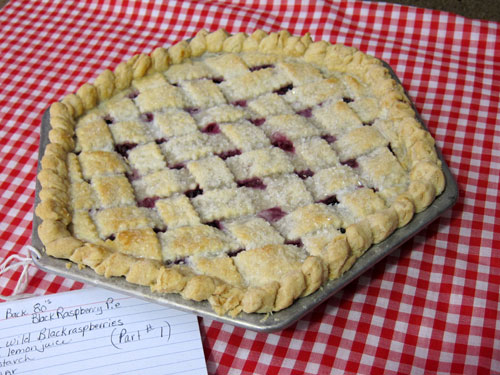 Black Raspberry Pie and Ice Cream (not pictured) (Image by Peter Engler)
Second Prize
Back 80's
Pappa's Black Raspberry Pie and Ice Cream
Joyce Larson, New Market, Iowa
My Grandfather would let me help make his Special Black Raspberry Ice Cream.  First you had to go down to the South 80's to pick the best black raspberries in Taylor County.  I was about 4 or 5 years old the first time I was allowed to help.  This was in the late 1950's.  He would have Grandma save some of her good Gurnsey cream, it make the best homemade ice cream.  She would cook it up and the next day, we would take the eggs and cream to town.  Before we came home Pappa would buy 2 50 lb blocks of ice from our local ice house.  He kept them cold by putting the in the Grandma's big copper boiler.  He layered gunny sacks over the top to help them from melting.  I was allowed to help chip the ice with his ice pick.  (very very carefully)
He would pack his White Mountain ice cream frezzer and put 2 gunny sacks on top.  And start to crank.  My job was to set on top and help hold down the ice.  I think I had the best job of all.  My Grandfather made this ice cream long before I was born.  And long after my children were born.  It's still the best ice cream I ever ate!
Grandma always made a pie in her special pie tin.
 
Back 80 Black Raspberry Pie
Joyce Larson, New Market, Iowa
6 c. fresh wild black raspberries
1 tsp fresh lemon juice
6 T cornstarch
1 1/2 cup sugar
Mix together and place in a pie crust.  Make a lattice or regular top.  Brush with cream and sprinkle with sugar.  Bake 350 degrees for 40 mins.
Pie Crust
3 c. flour
1 c. lard
1 egg beaten
1 tsp vinegar
7 T cold ice water
Mix up dry ingredients.  Cut in lard.  Now add liquids.  Mix and chill.
Make 4 – 9" pie crusts

 
Pappa's Back 80's Black Raspberry Ice Cream
Joyce Larson, New Market, Iowa
3 c. milk
1 1/2 c. sugar
8 egg yolks beaten
3 cups cream – Gurnsey if possible
1 T pure vanilla
1 t salt
In a large sauce pan combine milk, sugar and salt.  Stir in eggs.  Cook and stir over medium heat just until 1 mixture comes to a boil.
Quickly cool!  By placing sauce pan in a sink filled with ice water for 1 or 2 minutes.  Stir constanty.  Pour custard mixture into a glass bowl.  Cover the surface with plastic wrap.  Chill overnite.  Now stir in cream and fresh black raspberries.
Freeze ice cream in a 4 or 5 quart freezer.  White Mountain if possible.
Hold ice cream for at least 4 hours before serving.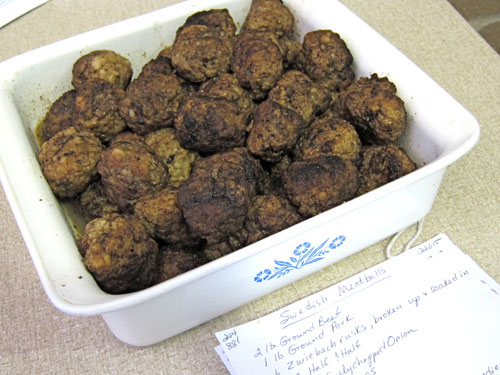 Swedish Meatballs (Image by Peter Engler)
Third Prize
Swedish Meatballs
Marianne Carlson, Jefferson, Iowa
This recipe for Swedish Meatballs came from my husband's uncle, Ernest Carlson. He was born in Sweden and came to the United States as a 6 year old child. There were 13 children in the family, including my father-in-law, Emrik. This recipe is over 100 years old. I was given the recipe in 1965, when I was dating my husband. At Christmas, the Carlson clan had a big smorgasbord on Christmas Eve. They served a big meal which included many Swedish foods such as Swedish meatballs, potato sausage, red beans, and Swedish rye bread. I loved the meatballs, and was pleased when Ernest gave me the recipe. My family has eaten lots of these meatballs, along with other of the Swedish foods. It is important to me that the heritage of the Carlson family endure, so I continue to prepare this dish, along with others, for my family now.
Swedish Meatballs
Marianne Carlson, Jefferson, Iowa
2 lb. Ground Beef
1 lb. Ground Pork
6 Zwiebach rusks, broken up and soaked in:
1 c. Half & Half
1 Tbsp. finely chopped Onion
2 eggs, beaten
3/4 tsp. Allspice
1 tsp. salt
1/2 tsp. Pepper
1-16 oz. can Beef Broth

Combine all of above ingredients in a large bowl, except for the beef broth.   Mix well to have it uniformly mixed.  Form into small balls the size of a walnut. Roll in flour and brown in shortening.  Pour the Beef Broth over all of the browned meatballs and simmer for an hour.  Recipe makes about 70 meat balls, enough to serve 10 people.