Greater Midwest Foodways Alliance
FAMILY HEIRLOOM RECIPES
Contestants entered their best scratch family heirloom recipe suitable for a family or community dinner.  Recipe should originate before 1950. 
Contestants brought a prepared dish along with a brief story of who passed the recipe down to them, ethnicity, if relevant, number of years the recipe has been in their family and any interesting information about their recipe.
JUDGING CRITERIA
Taste: 50%
History: 40%
Appearance: 10%
Premiums sponsored in partnership with Feedstuffs FoodLink.com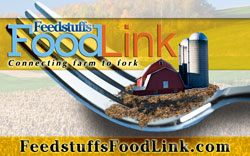 Competition was conducted on August 1st, these are the results: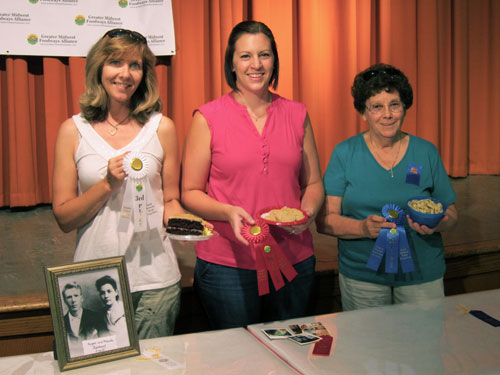 Winners: Nancy Radke, Jennifer Merritt and Catherine Blackwood (Image by Peter Engler)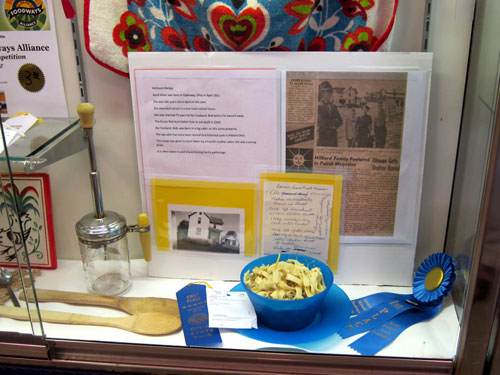 German Sauerkraut Casserole  (Image by Peter Engler)
First Prize
German Sauerkraut Casserole
Catherine Blackwood, Columbus, Ohio
Aunt Helen was born in Galloway, Ohio in April 1911.
She was 100 years old in April of this year.  [2011]
She attended school in a one room school house.
She was married 73 years to her husband, Bob before he passed away.
The house that Aunt Helen lives in was built in 1914.
He husband, Bob, was born in  a log cabin on this same property.
The log cabin has been moved to a historical park in Hilliard Ohio.
The recipe was give to Aunt Helen by a friend's mother when she was a young bride.
It is often take to and shared at family gatherings.
German Sauerkraut Casserole
Catherine Blackwood, Columbus, Ohio
1 lb sausage
1 qt sauerkraut
1 can chicken broth (extra if needed)
1 (12 oz) pkg noodles
Salt & pepper to taste
Roll sausage into balls; makes 12 balls. or crumble into small pjeces.
Brown in skillet.
Cook sauerkraut in 1 can chicken broth.
Cook noodles till tender.
Mix sausage, sauerkraut and noodles.
Season to taste with salt and pepper.
Add extra chicken broth if needed.
Layer starting with noodles and end with sausage.
Bake 325 degrees (slow oven) for one hour, covered.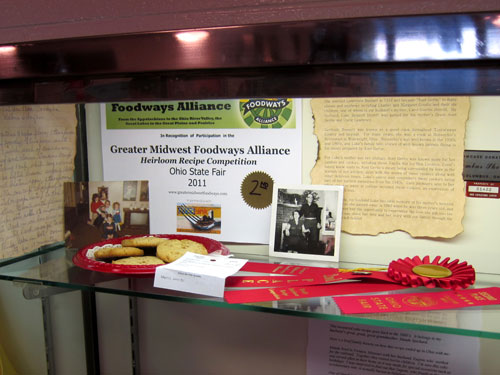 Vanilla Nut Ice Box Cookies (Image by Peter Engler)
Second Prize
Vanilla Nut Ice Box Cookies
Jennifer Merritt, Grove City, Ohio
Gertrude Bennett was born March 17, 1906 in Tuscarawas County, Ohio. She married Lawrence Bennett in 1922 and became "Aunt Gertie" to many nieces and nephews including Charles and Margaret Goodin and their six children, one of whom is my husband's mother, Carol Goodin Merritt. My husband, Luke Bennett Merritt was named for his mother's Great Aunt Gertie and Uncle Lawrence.
Gertrude Bennett was known as a great cook throughout Tuscarawas County and beyond. For many years, she was a cook at Bonvechio's Restaurant in Wainwrigh't, Ohio. Bonvechio's was well known in the 1950s and 1960s, and Luke's family tells stories of well-known patrons flying in for dinner prepared by Aunt Gertie.
For Luke's mother and her siblings, Aunt Gertie was known more for her candies and cookies, including these Vanilla Nut Ice Box Cookies. Carol's family knew visits to Aunt Gertie's meant being surrounded by love in the warmth of her kitchen, alive with the aroma of these cookies along with other delicious treats. Luke's oldest aunt remembers these cookies being part of her earliest memories from the 1940s. Care packages sent to her when she was away at college included these cookies, an expression of Aunt Gertie's love.
Unfortunately, my husband Luke has little memory of his mother's beloved Aunt Gertie as she passed away in 1983 when he was three years old, and while he never had the opportunity to experience the love she put into her cooking, he can share her love and her story with our family through the recipes she left behind.
Vanilla Nut Ice Box Cookies
Jennifer Merritt, Grove City, Ohio
4 cups flour
4 t baking powder
1/4 t salt
1/8 t cinnamon
1/8 t nutmeg
1/8 t cloves
1 cup shortening
1 cup sugar
2 cups sifted brown sugar
2 well beaten eggs
1 t vanilla
1 cup grape nuts
1 – Sift together flour, baking powder, salt, cinnamon, nutmeg, and cloves. Set aside.
2 – Cream together shortening, sugar, and brown sugar.
3 – Add 2 well beaten eggs, vanilla, and grape nuts.
4 – Blend egg mixture with flour mixture.
5 – Shape into rolls 1 1/2 inch in diameter.
6 – let stand jn ice box over night or until hard enough to slice thinly.
7 – Bake in hot oven of 425 for 10 minutes. *
*For crispy cookies bake for 10 minutes at 425, for softer cookies bake for 7 to 8 minutes.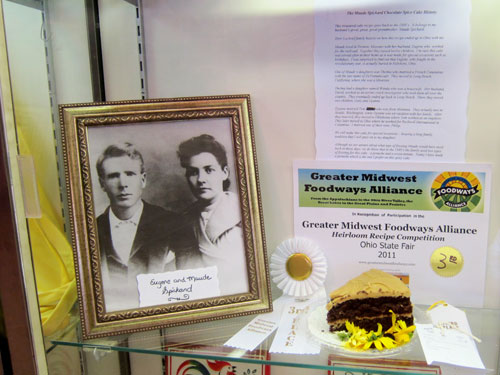 Chocolate Spice Cake (Image by Peter Engler)
Third Prize
The Maude Spickard Chocolate Spice Cake History
Nancy Radke, Gahanna, Ohio
This treasured cake recipe goes back to the 1880's. It belongs to my husband's great, great, great grandmother, Maude Spickard.
Here's a brief family history on how this recipe ended up in Ohio with me:
Maude lived in Trenton, Missouri with her husband, George who worked for the railroad. Together they raised twelve children. I'm sure this cake was served often in their home as it was made for special occasions such as birthdays. I was surprised to find out that George, who fought in the revolutionary war, is actually buried in Hillsboro, Ohio.
One of Maude's daughters was Jenoa. She married a man named Eugene in Missouri and had several children, her oldest was named Thelma. Thelma married a French Canadian with the last name of DeTonnancourt. They moved to Long Beach, California, where she was a librarian. They raised five children including Wanda.
Wanda married John Demmere, an airplane crash investigator, which took them all over the country with a brief stay in Hawaii. They raised two children, Gary and Dyanne. The family eventually ended up back in Long Beach.
Wanda's daughter married Tom Radke of Montana. They actually met in Seattle, Washington, while Dyanne was on vacation with her family. After they married in Long Beach, they moved to Oklahoma. They later moved to Ohio where he worked for Rockwell International in Columbus. They had two sons. I married the youngest one, Philip.
We still make this cake for special occasions – keeping a long family tradition that I will pass on to my daughter.
Although we are unsure about what type of frosting Maude would have used back in those days, we do know that in the 1940 's the family used two types of frosting for this cake: a penuche and a seven-minute. Today I have made a penuche which is the one I prefer on this spicy cake.
Chocolate Spice Cake
Nancy Radke, Gahanna, Ohio
LIST OF INGREDIENTS:
Cake:
2 cups sugar
1/2 cup shortening
2 eggs
1/2 cup cocoa powder
1/2 cup buttermilk
1 teaspoon soda
2 cups flour
1 teaspoon cinnamon
1 teaspoon nutmeg
1 teaspoon vanilla
Penuche Frostings:
1/2 cup butter
1 cup brown sugar
1 cup milk
3 cups sifted powdered sugar

Instructions:
1. Preheat oven to 350 degrees. Greased & flour two 9-inch round cake pans.
2. In a large bowl, mix together sugar & shortening; mix in eggs. Measure cocoa powder into a large measuring cup; add enough water to cocoa to make a total of 1 cup; add to sugar mixture along with buttermilk. Blend well.
3. Mix flour, cinnamon & nutmeg together; add to cake batter. Stir in vanilla. Evenly divide batter into prepared pans & bake. Cool on rack.
4. For frosting, melt butter in a sauce pan; stir in brown sugar. Cook & stir until bubbly. Remove from heat. Add milk; beat until smooth. Beat in enough powdered sugar by hand to make of spreading consistency. Quickly frost the top of each cake.