Greater Midwest Foodways Alliance
FAMILY HEIRLOOM RECIPES
Contestants entered their best scratch family heirloom recipe suitable for a family or community dinner.  Recipe should originate before 1950. 
Contestants brought a prepared dish along with a brief story of who passed the recipe down to them, ethnicity, if relevant, number of years the recipe has been in their family and any interesting information about their recipe.
JUDGING CRITERIA
Taste: 50%
History: 40%
Appearance: 10%
Premiums sponsored in partnership with Feedstuffs FoodLink.com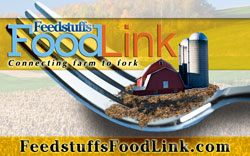 1st place – $150.,  2nd place – $100.,  3rd place – $50 

Pampered Chef is sponsoring additional prizes for our winners:
First place: Reversible Bamboo Carving Board (Value = $72)
Second place: Cool & Serve Square Tray, Outdoor Mini Spoons & Tongs Set (Value = $49)
Third place: Food Chopper (Value = $31)
Competition was conducted on September 7th, these are the results: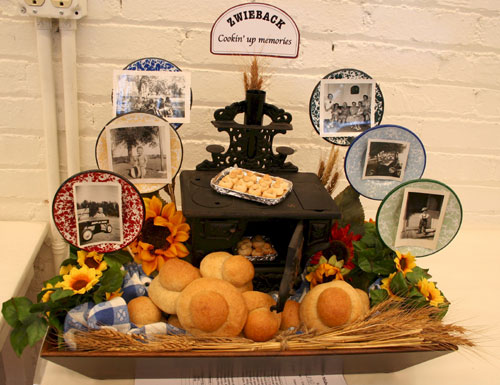 Zwieback  (Image by Karen Keb Will)
First Prize
Zwieback
Cooking up family memories
Jane Fry, Elk Falls, Kansas
Zwieback or "double buns" are great favorites among the "Russian" Mennonites. These buns are usually baked on Saturday to be served for Vaspa or lunch on Sunday. Years ago Zwieback were always served for weddings and the fellowship hour following funerals. To some extent, this custom is still kept up in some Mennonite communities, and Zwieback are making a come back in other circles of Mennonite ethnic groups.
The dough for Zwieback must be kneaded well to give a good texture to the buns.  Zwieback are usually served with cheese, lump sugar, and coffee or barley coffee (prips).  Dunking them is also a special treat! (from the Melting Pot of Mennonite Cookery 1874 – 1974)
I don't remember when I first had zwieback. I just grew up knowing about them and I sure enjoyed eating them. The double balls just made it very fun to eat and bread was always big in my Mennonite background. Baking bread just seemed to be ingrained in me, using the Turkey Red Wheat of my Mennonite heritage.
I have been making Zwieback for over 40 years using my grandmother Annie's recipe.  I made them as a special treat for my children and also because they are so good and fun to eat! The proper way to eat a Zwieback was to pull off the top ball, whether you ate that first or saved it till last was a personal preference. Then with the ball removed, it left a rounded indention for jelly or honey or just plain butter. I remember as a child having guests for dinner when someone who had never eaten Zwieback before took a knife and just cut it in half.  There were several gasps and the children quickly told the guest the proper way to enjoy the double bun.
Many years ago while making Zwieback, I must not have properly made the indentions before placing the small ball into it and while they were baking, the balls started rolling off the buns. My young daughter saw what was happening and quickly informed me that all the "zwie's" had rolled off of the "back's"! It was indeed a very funny sight.
I always like to add some whole wheat to most bread recipes and this one is no exception. I think most breads of sixty or more years ago would have used more whole wheat and not be totally made of white flour. There are many variations of Zwieback recipes, some with shortening, some with lard (I think that lard is the best for Zwieback). The original recipe called for 1 yeast cake. I use 1 tablespoon of dry yeast and it has always worked very well for me. My recipe also called for 2 eggs as an option, and I suppose in earlier days, eggs may not have always been available. I have made it both ways and the addition of eggs makes a very tender bun that also seems to keep better.
Family recipes become family traditions and are perfect for passing on to a new generation. I now enjoy letting my young grandsons help make the little "snowman" rolls.  Zwieback will always be one of my special memories.
ZWIEBACK
Jane Fry, Elk Falls, Kansas
2 cups scalded milk
1 cup warm water
2 teaspoons sugar
2 teaspoons salt
4 tablespoons sugar
1 cup lard (or shortening)
2 eggs (optional)
I yeast cake (1 tablespoon dry yeast)
1 3/4 cup whole wheat flour
8 1/4 cup sifted bread flour
Scald milk, add lard, salt and 4 tablespoons sugar.
Crumble yeast in a small bowl, add 2 teaspoons sugar and 1 cup lukewarm water.
           Set in a warm place until spongy. (I did this with 1 tablespoon yeast)
Add yeast mixture and beaten eggs to lukewarm milk in mixing bowl.
Mix well and stir in flour gradually.
Knead dough until very soft and smooth.
Cover and let rise in a warm place until double in bulk (1 hour)
Pinch off small balls of dough the size of a small egg. (2 oz)
Place these 1 inch apart on a greased pan.
Put a similar ball, but slightly smaller, on top of bottom ball. (1 oz.)
Press down with thumb.
Let rise until double in bulk.
Bake at 350 – 375 for 15 to 20 minutes
Yields approximately 3 dozen.
This is a very old recipe which I have been using for over 40 years. (I have made some changes.) Using the lard makes a very nice and easy dough to work with. This makes a good size bun. If a smaller roll is desired, cut back each measurement by 1/2 oz. This is a fun recipe to teach children to enjoy making bread dough.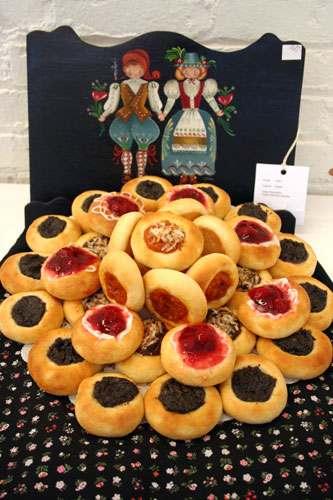 Kolache (Image by Karen Keb Will)
Second Prize
Mom's Kolache Recipe
Wilma Olds, Wilson, Kansas
I am 100% Czechoslovakian and Czechs are famous for their baking. My grandmother Pejsha, my Grandmother Mattas as well as my mother, Rose, plus my mother-in-law, Gladys, my sister Alma and dearest friend, Albina, were or still are great at making the Czech specialty bread known as the kolache, a sweet dough, fruit filled roll. I grew up knowing the alluring smell of fresh baked kolaches and I've spent hours along side these ladies trying to copy their methods for making kolaches. I love to bake but there is a knack to baking kolaches and to be as good at making kolaches as the other women in my life, well it's hard to be that good, but I'm working on it.  It's true, without work, there are no kolaches!
I inherited my kolache recipe from my mother over three decades ago and most likely it was what her mother used. The kolache is an authentic Czech creation dating back as far as the 1700's in eastern Europe and came to America when the Czechs settled here. I've been told the original recipe used the metric weight system and long, tedious working methods, but this recipe has been adapted for our modem kitchens and equipment. I now possess the kolache recipe to carry on my Czech heritage and the tradition of the women in my life to bake kolaches. I feel very fortunate to have a recipe that was in my family as some of my baking idols had no written recipe to pass on to me. Their measurement for the sugar was one cup equals the ironstone, ecru coffee cup in sugar canister that no longer had a handle on it. The measurement for the flour was about four or five heaping seed scoops which utensil was in the flour bin and then there was a pinch of this and a pinch of that, and about that much scaled milk!
The name kolache comes from Kola (Czech for wheels) because the shape is round and it looks like a pretty decorated wheel. In the early days my Grandmother said they were made only for holidays and it is my understanding in the old country instead of making them round they were made square with a filling in the center with the corners of the square brought to the center and pinched leaving little peek holes in the side. My family likes them filled with fruit fillings such as apricot, cherry, prune, or cottage cheese and poppy seed but the popular chain-restaurant, Kolache Factory, says its most popular kolache is its sausage and cheese kolache. You can also find kolaches with ham, vegetables or jellies. Kolaches are versatile, self-contained and neat to eat for people on the go, like my family. It's our family tradition to have these tasty treats as often as I have time to make them and especially for the holidays. They are a favorite at family dinners and community gatherings.
I was raised and I live in Wilson, Kansas, the Czech Capital of Kansas. For the past 52 years Wilson has hosted an After Harvest Czech Festival. I am a member of a church organization which prepares a Czech meal for visitors to enjoy. Every year our organization bakes over 3,000 fruit filled kolaches to serve with the Czech meal and to sell. People come from near and far for the Czech specialty bread, the kolache.
I'm a collector of recipes. I have boxes of them. However, this kolache recipe is very special to me … .it's family … .it's tradition .. .it's my Czech heritage … .it's an heirloom which did not cost me a dime but is beyond treasurer. I would like to pass this kolache recipe on to my children with hopes they will learn the art of making kolaches and pass it down to their children to be enjoyed by future generations.
Mom's Kolache Recipe
Wilma Olds, Wilson, Kansas
Prepare fillings – or – purchase prepared kolache fillings.
Fruit fillings:
Apricot Filling 
1 1/4 cups dried apricots, pitted, cooked and drained.
1/2 cup sugar
1/4 tsp. cinnamon
2 tablespoons butter
Grind or mash cooked apricots into a fine pulp. Add remaining ingredients and stir until sugar is dissolved and butter is melted. Cool.
Poppy Seed Filling
2 cups ground poppy seed
2 cups cream
2 cups sugar
4 eggs, beaten
2 teaspoons vanilla
Simmer poppy seed, cream, sugar and eggs 10 minutes stirring constantly. Cool. Add vanilla. If filling gets too thick white-syrup can be added.
Prune Filling
1 1/4 cups prunes, pitted, cooked and drained
1/4 cup sugar
2 teaspoons grated lemon rind
3 tablespoons lemon juice
Mash or grind prunes into a fme pulp. Blend in remaining ingredients. Cool.
Cherry Filling
1 21-oz. can prepared cherry pie filling
2 tablespoons sugar
1/2 teaspoon almond flavoring
1/2 teaspoon cherry flavoring
Add sugar and flavoring to prepared pie filling. Stir well being careful not to mash cherries.
 Mom's Kolache Dough Recipe
2 potatoes. peeled and cubed (enough potatoes to yield 1 cup mashed potatoes)
2 cups water
3 cups bread flour
2 packages dry yeast
2 cups whole milk
2/3 cup butter flavored shortening
2/3 cup sugar
1 teaspoon salt
2 eggs, beaten
1 cup mashed potatoes
4-5 cups bread flour
In saucepan cook potatoes, covered, in the water till tender, 10-15 minutes. Drain. Mash potatoes and measure 1 cup mashed potatoes; set aside.
In large mixing bowl combine 3 cups bread flour and the yeast, set aside.
In saucepan heat together milk, sugar, shortening and salt just till warm (115° – 120°) stirring constantly till shortening almost melts. Add to dry mixture in mixing bowl; add eggs and mashed potatoes. Beat at low speed of electric mixer for 1/2 minute, scraping sides of bowl constantly. Beat 3 minutes at high speed. By hand, stir in enough of the remaining flour to make a soft dough. Turn out onto lightly floured surface and knead till smooth and elastic, 6 to 8 minutes. Shape in a ball. Place in lightly greased bowl, turning one to grease surface. Cover and let rise in warm place till double, about 1 hour.
Punch down; turn out on lightly floured surface. Cover, let rest 10 minutes. Cut off pieces of dough about 1 1/2 inches in diameter. Shape each piece into a round roll. Place on greased baking sheets. Grease tops of balls lightly. Cover; let rise about 15-30 minutes in a warm place or until an indention in the dough remains. Push centers of balls down and fill with filling of your choice. Let rise again another 15 minutes. Bake at 400 until brown, about 10 minutes. Makes about 6 dozen kolaches.
Kolaches may be topped with coconut, frosting, cookies crumbs, etc.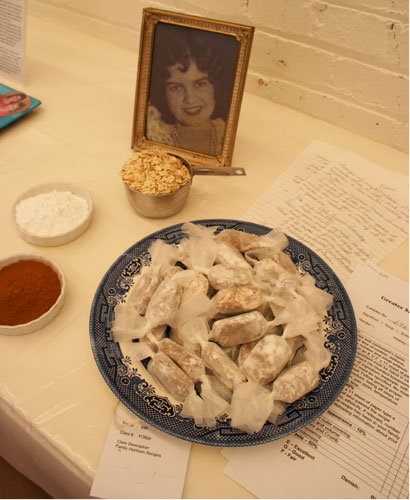 Oat Meal Candy (Image by Karen Keb Will)
Third Prize
OAT MEAL CANDY
Veronica Miller, Wichita, Kansas
Recipes of my Grandmother's.  She made this a lot, and my Mother & her sister really liked it, too.
Then my Mother made it when I was a little girl.
I don't know how good it will be, so you may want to make a "batch" & see if it is a good one.
We kids like it so much that we ate it soft with a spoon!! (Crazy kids)!
My great-aunt Rose gave my Mother this recipe.
I made it quite often too, but my family doesn't remember so they much have been quite young. 
Stores began selling candy then, so I didn't make it much.
Oat Meal Candy
Veronica Miller, Wichita, Kansas
 
1/2 cup salted butter
1 cup light com syrup
2 1/2 cups light brown sugar
2 cups quick-cooking oats (uncooked)
2 tablespoons all-purpose flour
1 teaspoon cinnamon
1 teaspoon vanilla extract
Powdered sugar, for rolling
Bring butter and com syrup to a boil in a large saucepan. Remove from heat and stir in brown sugar, oats, flour, and cinnamon, and mix well. Return to heat and turn burner to medium heat. Cook slowly, stirring often, until mixture comes to softball stage, 240F. You can check if it's ready by dropping in cold water, if it forms a ball, it's ready. Remove from heat and stir in vanilla Pour into a 9×13″ buttered dish and cool completely, about 4 hours or more. Cut into squares, roll in powdered sugar and wrap in waxed paper.
Notes: You can see that this differs slightly from Grandma's hand-written recipe. Butter was likely salted during the time this recipe originated, as it acts as a preservative, so that's what I used. I used com syrup, and though I'm not sure that's what is meant by "white syrup," it seems to work quite well. And while I know from personal research that quick-cooking oats did not exist until the 20s, I thought rolled oats to be too chewy and took the liberty of updating the recipe with quick-cooking oats, and adding in some cinnamon and vanilla. Those were probably expensive or maybe less common during the time my great-great-grandmother was making this candy, but I hope I'm doing her proud with these additions since they are easily accessible now and add a nice flavor.