Greater Midwest Foodways Alliance
FAMILY HEIRLOOM RECIPES
Contestants entered their best scratch family heirloom recipe suitable for a family or community dinner.  Recipe should originate before 1950. 
Contestants brought a prepared dish along with a brief story of who passed the recipe down to them, ethnicity, if relevant, number of years the recipe has been in their family and any interesting information about their recipe.
JUDGING CRITERIA
Taste: 50%
History: 40%
Appearance: 10%
Premiums sponsored in partnership with Feedstuffs FoodLink.com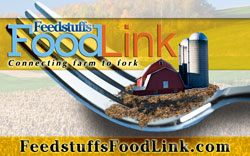 Competition was conducted on August 13th, these are the results: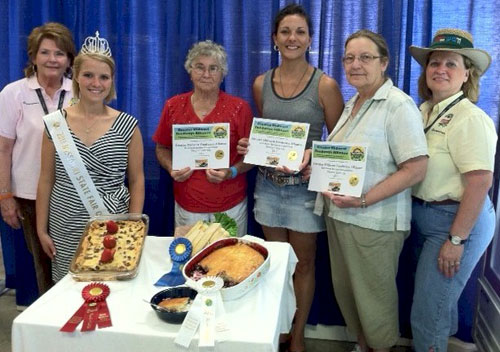 From left to right (Image by Josephine Hyde):
Barbara Hayden, Vice Chairman, Missouri State Fair Commission;
Meredith Jones, 2011 Missouri State Fair Queen;
Maxine Griggs, Second Place Winner;
Brenda Bustillos, First Place Winner;
Barbara Clark, Second Place Winner;
Elizabeth Schlueter, Chairman, Missouri State Fair Commission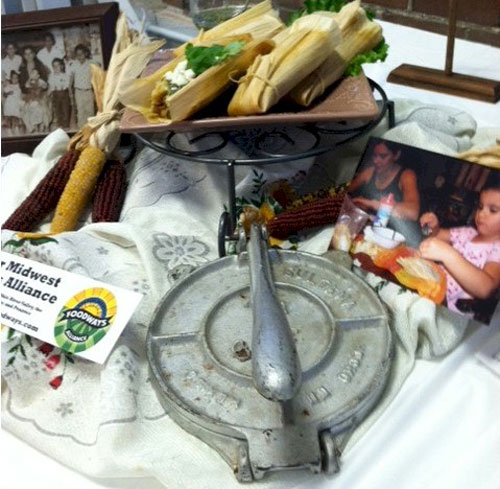 Pork-Chile Tamales with Tomatillo Salsa Verde (image by Josephine Hyde)
First Prize
Texicans, Traditions & Tamales
Brenda Bustillos, Crocker, Missouri
I was born a Texican; the adopted and endearing term used to describe someone who is both Texan and Mexican. I attribute my warm Southern upbringing to my Texan mother and my assiduous and obedient values to my Mexican father. 
Though it was difficult leaving Texas, I joined the US Army and moved to Missouri in 2009. My first visit to the Missouri State Fair took me back my roots. Though I took many trips to the State Fair of Texas with my family throughout my life, I speak of my occasional childhood vacations to the village where my father grew up in Durango, Mexico. At the fair, I walked past a vendor roasting fresh corn on the cob; the smell of melted butter and heated kernels took me back to my Mexican grandmother's kitchen. I remember waking every morning to the scent of fresh ground masa and warm corn tortillas cooking on the comal (flat-topped iron skillet). My abuelita (grandmother) would grind the dried corn from her harvest on a molcajete (grinding stone made of volcanic rock) and make her corn tortillas, tamales and gorditas by hand and by sheer grit.
During one of our summer visits, we planted rows and rows of corn with bare feet, busy hands and seed sacks. My abuelita harvested all her corn-and still does-by hand; the dried product destined to create one of her many fabulous corn-based creations. The traditions and sensory influences passed down by my abuelita, and by the women before her, will continue to live in our hearts, minds and bellies for generations to come.
Tamales are a generational family favorite for every occasion.  In honor of my abuelita, we carry on this tradition by gathering in a tamalada (tamale-making party; a term cited back to 1873).
**One of the pictures in my display was taken at our tamalada last Christmas where three generations of tamale makers where hard at work.  In the other photo, my abuelita is seated in the center surrounded by the eldest of her 14 children. My father, Simon, to her immediate left.

Pork-Chile Tamales with Tomatillo Salsa Verde
Brenda Bustillos, Crocker, Missouri
Pork-Chile Filling:
2 c. shredded, cooked pork loin
1/2 c. diced onions
1 T. canola oil
1 T. minced garlic
1 t. dried oregano leaves
2 c. seeded and diced red tomatoes
1 poblano chile pepper, roasted, seeded, and diced
2 T. fresh-squeezed lime juice
Salt & pepper, to taste
1/2 c. chopped fresh cilantro leaves

Masa Tamale Dough:
9 T. (4 oz.) lard (I use cold vegetable shortening)
1 stick cold unsalted butter
2 t. table salt
1 t. baking powder
3 1/4 c. masa harina (ground maize)
2 1/2 c. chicken broth
24-30 dried corn husks
Cook onions in oil in a saucepan, uncovered, over medium-low heat until softened. Add garlic and oregano; cook mixture 3 minutes more. Stir in tomatoes and poblano; bring mixture to a simmer. Simmer sauce 10 minutes, stir in lime juice, and season with salt and pepper. Transfer sauce to a blender. Blend sauce until it's smooth. Transfer sauce to a bowl; stir in cilantro. Add pork; chill mixture until it's completely cold.
Combine shortening, butter, salt and baking powder for the masa dough in a large bowl and beat until mixture is fluffy and light, about 5-6 minutes (by hand). Interchange beating mixture while incorporating the masa harina. Gradually pour in chicken broth while stirring and scraping the sides of the bowl. Cover the bowl and refrigerate masa for 1 hour.
Soak husks for at least 30 minutes. After soaking, scoop 1/4 cup masa dough onto the husk. Spread dough and spoon 1-2 tablespoons pork-chile filling down the center of the dough. Fold tamales and place in an upright steamer over 1-2 inches of boiling water. Steam tamales for about 1 hour. Tamales are done when they are firm and husks easily pull away from masa. Uncover the steamer; let tamales stand 10-15 minutes before serving. Serve with queso fresco (Mexican-style farmer's cheese) and salsa verde.
Tomatillo Salsa Verde (Green Tomato Sauce):
1/2 bunch fresh parsley
1/2 bunch fresh cilantro
1 garlic clove, minced
3/4 T. red wine vinegar
3/4 t. salt and 1/4 t. ground black pepper
1/4 t. cumin
1/4 c. canola oil
3-4 ripe tomatillos (small green tomatoes)
Combine all ingredients in a molcajete (grinding stone) or food processor and blend well. Let sit for 30 minutes before serving. Enjoy!
2 dozen tamales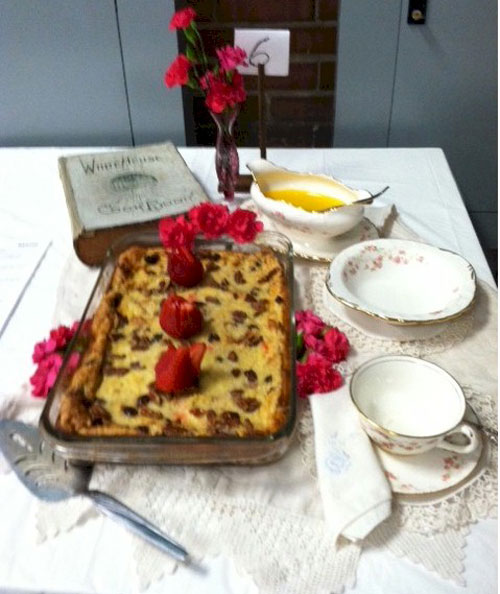 Mom's and My Bread Pudding (Image by Josephine Hyde) 
Second Prize
Mom's and My Bread Pudding
Maxine Griggs
Mom found a cookbook in the attic of a old house, that we lived in.  My Mom could not read and I became her partner in reading and cooking when I was 6 yrs old.   Mom made all the bread we ate and sometime she made extra and we used it from the recipe in this book.  It is the White House Cookbook which I own today.  We use the recipes many, many times until we learned + did it by heart.  I have used this recipe in my mind and added to make it fit the occasion, I was using it for..
My Mom was my inspiration whether I cooked for family or crowd.
I was fourth oldest girl and I seemed to catch my time in the kitchen with Mom.  I am now 86 years old and I still like M & M pudding.
Mom's and My Bread Pudding
Maxine Griggs
1 1/2 cup sugar
3 cup white bread crumbs
5 eggs
1 TBS butter
1 quart rich milk
Lemon or vanilla flavoring
1 cup Jam – rasions – coconut or nuts. 
Bake in buttered pudding dish until custard set's. Serve with lemon sause whip cream.
Mom's and M Best Bread Pudding
Maxine Griggs
1 quart rich milk – I use 1/2 and 1/2 cream
1 1/2 cup sugar
3-4 cups French bread crumbs, (No outside bread)
5 eggs
1 TBS butter
1 1/2 vanilla extract
1 cup (cooked) raisons [and] 1 cup chopped pecans:  add them to bread crumbs
Lemon sause
2 cups water,
½ c sugar,
2 TBspoon lemon juice,
¼ c corn starch
Add sugar-butter-beat eggs + add flavoring.

Soak bread crumbs in milk with raisons + nuts.
       Add all together.
Pour into buttered dish
      Bake 350 until it sets in middle.
So good with, sause-whip cream Icream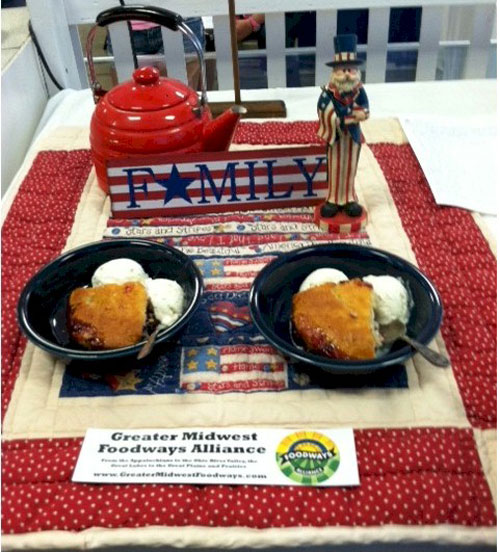 Lemon Blackberry Cake (image by Josephine Hyde)
Third Prize
Lemon Blackberry Cake
Barbara Clark, Kahoka, Missouri
July and August wouldn't be complete without lemon blackberry cake.  This recipe belonged to my husband's great-grandmother Elizabeth Baker who came from Lewis County, Missouri.  She was born in 1868.  The recipe was passed on to her daughter Bessie Baker Clark.  As a young bride, I would often accompany my husband to Grandma Bessie house to pick blackberries early in the morning.  The first task on returning to the house was to wash enough blackberries to make a blackberry cake for dinner.  I was given the recipe and baking dish as a wedding present from my Grandpa Earl and Grandma Bessie when my husband and I married in 1969.  Although my husband's grandparents are no longer living, we still get up early in July and August to pick blackberries and have fresh blackberry cake for dinner.  With the arrival of electricity in rural areas of Missouri, we can have blackberry cake any time of the year; but there is nothing better than fresh blackberry cake made within hours of picking blackberries out of the patch in the pasture.
Lemon Blackberry Cake
Barbara Clark, Kohoka, Missouri

3 cups fresh blackberries, can use frozen
2 cup sugar, divided
3 tablespoons minute tapioca
1 1/4 cups sifted all purpose flour
2 teaspoons baking powder
1/4 teaspoon salt
1/4 cup canola oil
3/4 cup milk
1 1/2 teaspoon lemon extract, divided
1/2 teaspoon almond extract
1 large egg
Mix blackberries, 1 cup sugar, 3 tablespoons tapioca and 1/2 teaspoon lemon extract in bottom of 10x10x2 inch baking dish and let stand for 30 minutes.  Sift flour, baking powder, and salt into mixing bowl; stir in remaining sugar.  Add oil and milk.  Beat 2 minutes at medium speed; scrape bowl frequently.  Add extracts and egg.  Beat 2 minutes at medium speed.  Pour carefully over blackberry mixture in baking dish.  Bake at 350 F for 50 to 60 minutes, or until cake springs back when lightly touched and golden brown.  Remove from oven and cool.  Serve warm with whipped cream or ice cream.  May garnish with additional berries.
9 servings (large) or 12 servings (small)
More Missouri State Fair Heirloom Recipe recipes may be found here.