Road Food: Exploring the Midwest
One Bite at a Time
Kendall College, School of Culinary Arts, 
900 N. North Branch Street
Chicago, Illinois
April 27, 28 & 29, 2012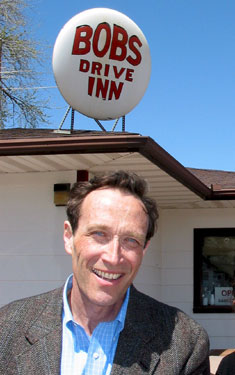 Keynote speaker Michael Stern of RoadFood.com on, "Will Success Spoil Regional Food?"
Sunday Breakfast at Lou Mitchell's
Feast: Radical Hospitality in Contemporary Art
The slogan of the Illinois Office of Tourism is "Mile after Magnificent Mile." One might smile while traveling mile after mile across the third flattest state in the Union, but there is a lot more to being on Midwestern roads than corn and soybean fields.
Road travel is about history and culture, the things that make the Midwest so interesting and varied. Every region, every city and town has its own story to tell, each unique yet interlinked with each other, most often by road and rail. How else to explain the almost mythic phrase, "Route 66?"
Food tells us about the varieties and interlinks across the Midwest. From very local specialties such as the Horseshoe Sandwich in Springfield, Illinois, to Indiana and Wisconsin cafes, supper clubs and vacations to hill and lakes areas, from the pork tenderloin belt stretching from Indiana to Iowa, and drive-ins, wine tourism and farmers markets, each is embedded in local and regional cultures.
This magnificent theme runs through our Greater Midwest Foodways Alliance conference: "Road Food: Exploring the Midwest One Bite at a Time." We'all hope that you will enjoy sampling the gustatory and intellectual treats therein.
 
Bruce Kraig,
President
Friday, April 27th at Kendall College from 3 pm until 7 pm
Registration from 2:00 to 3:00 PM
3:00 PM:  Opening remarks
Marked for Life: My Travels on Rt 66 in '53
Terri Ryburn
Terri has found her life's work in her love of Route 66.  In 2007 she bought a gas station along old Route 66 in Normal and is restoring it to its 1931 glory.  She will open it as a Route 66 Visitors Center, tea room, and bed and breakfast.
Her interest in the road began in 1953 when, at age five, she traveled the road in a Ford Model A pickup truck with her parents, four brothers, and her Dad's two hunting dogs.  Terri's presentation is entitled "Marked for Life," a humorous account of that 1953 trip.
State Fair Heirloom Recipe Contest
Catherine Lambrecht
An update on results and future plans.
Food Trucks: Yesterday and Today
Louisa Chu, Chef, Writer and Chicago Public Media blogger
 
 
Food truck dinner (cash)
 
 
Saturday, April 28th, from 9 AM to 4 PM at Kendall College, School of Culinary Arts
 
Registration from 8:00 to 9:00 AM
 
9:00 AM:
Keynote:  Will Success Spoil Regional Food?
Michael Stern, Author, RoadFood and RoadFood.com
 
 
The Drive In Restaurant; Before and After the Dawn of Fast Food, Food Theater 
Mary Bergin, Author, Culinary Historian
 
As a farm kid, I rarely ate at restaurants. When I turned 16 and snatched the family car keys, a favorite and frequent destination was the local A&W drive-in. That was – geesh – 40 years ago, but today that A&W – renamed Chester's – remains a drive-in and popular. I know of other flourishing Wisconsin drive-ins, including two with roller-skating carhops, and have my theories about why these places thrive even as this category for dining declines nationwide. Reportorial research into this topic will complement my personal experiences, observations and details already gathered through my work as a journalist.
A Gopher Turned Badger Eats Hoosier, and Vice Versa:  Midwestern Culinary Traditions in the Small-Town Cafe
Joanne Stuttgen, Folklorist
 
Joanne Stuttgen is author of Cafe Wisconsin (1993 and 2004) and Cafe Indiana (2008), two ethnographic books about the food, people, culture, social rituals, and history of each state's small town cafes.  Stuttgen is also a co-author of Cafe Wisconsin Cookbook (2007) and Cafe Indiana Cookbook (2010), which offer recipes for and a more in-depth examination of cafe food. In this interactive "lecture," we'll compare the iconic foods and culinary traditions of the two states—one in the upper Midwest and one in the lower Midwest—and cultural traditions and history that left their imprints on daily specials board and daily social rituals in small town cafes.
 
 
What Happened to Horseshoes?
Julianne Glatz, Journalist
The Horseshoe, Springfield Illinois' signature sandwich, has been inextricably linked to its political and social life since its creation in 1928.  But the 'shoes that almost inevitably are offered at Springfield's casual eating establishments are a far cry from the original.  Julianne Glatz takes a look at Horseshoe history and how it's morphed into its current form.

Pies on the Road
Shirley Cherkasky, Culinary Historian
This deals with how my family made it through the Depression in Wisconsin when my father lost his job.  He made his own bakery truck from our family sedan and drove it farm to farm.  He figured my mother could make better pies than he could buy wholesale.  He took orders on his three routes per week, and then delivering each order two days later.  My mother made from 15-20 pies six days per week selling 25 cents each: single or double-crust, fruit,  cream or  custard.
 
 
Lunch
Presented during lunch as a breakaway session:
Ethnographic Food Writing, or How I Ate My Way Across Wisconsin and Indiana and Lived to Write About It 
Joanne Stuttgen, Folklorist
Joanne Stuttgen will share her research and fieldwork methodologies. "Everyone is always very curious about why and how I ate my way across two states one diner at a time. Most people have a romantic view of my adventures and have no idea just how much work there is!"
Culinary Tourism in the Land of Meat and Potatoes and Green Bean Casserole
Lucy M. Long

The Culinary Tourism industry focuses on distinct, memorable, and fine-dining food destinations. While such destinations exist in the American Midwest, the overall image of this region does not evoke these types of experiences. The Midwest, however, offers a wealth of rich foodways experiences. If we open our eyes to the meaningfulness of food to residents, the historical contexts behind contemporary food, the shift to foodways (totality of activities and concepts surrounding food) from food, and the idea of "reading" a culture through its food, we can turn a culinary roadtrip to the Midwest into an adventurous exploration of the meanings of everyday and common foods and foodways.

Summer Vacations in Northern Wisconsin
Chef Kelly Sears
The memories of that one week every summer when the family loads up the station wagon, the kids fight to sit in the "way back" along with the coolers, the sleeping bags, extra pillows, and piles of beach towels sticks to me like sand to wet feet. As much as that week is about sun, fun, water, and bug spray, it's also a membership card to an exclusive club of food memories from the lake.
Board games, and bonfires, citronellas and pot lucks; summer vacation is the big dining table that can seat sixteen and teaches us all that sometimes the people that sit around your table make what's on your table seem that much better. This is summer vacation in Northern Wisconsin.
Born to be Mild, Oral Histories and Pathways of the Midwest Supper Club
Dave Hoekstra, Journalist
 
Midwest supper clubs were born in the early 1930s–mostly in rural Wisconsin—just as the automobile opened the door to the opportunity of American culture.
By the 1920s anyone who wanted a car had a car. According to Douglas Brinkley's Henry Ford biography Wheels of the World, the first drive-in opened in 1921 in Dallas.  Brinkley writes that one of every eight Americans was involved in some kind of automobile-related industry.
 
The supper club became an enticing automobile destination where farm people (who had "dinner" for lunch and "supper" for "supper") would spend up to six hours. They would gather in a lounge for pre-supper drinks, have supper and then adjourn to the lounge for post-supper cocktails. A sense of community was formed.
Many supper clubs survived the creation of the 1950s interstate system. And many family operated supper clubs survived franchising of the 1960s and '70s.
But customers hanging around supper clubs all night became a thing of the past—with drunk driving laws. This has been a steady claim of the 25 supper clubs I have surveyed the past year.
Farmers Markets of the Heartland, the Ultimate Road Trip
Janine MacLachlan
To research my upcoming book Farmers' Markets of the Heartland, I embarked on a road trip across Michigan, Ohio, Indiana, Illinois, Missouri, Iowa, Minnesota and Wisconsin. As I met farmers and food artisans I discovered that the best road food is right at the farmers' market.
A visit to a farmers market is an ideal way to explore local food while on the road.  In addition to finding fresh, nourishing food, we also meet food artisans who sell at farmers markets to build clientele and try new flavors on eager patrons.  At the same time these vendors are selling the taste of the soil, and establishing strong connections to their individual communities.  I met farmers raising beef on land that had been in their family since 1820, novice farmers starting out on two acres, and a baker with roots in the French Foreign Legion. I'll tell participants about the sisterhood of chevre across five states, a young farmer who is a booster for the Jimmy Nardello sweet Italian frying pepper, and a couple who started their heritage pork business to nurture their children's health. 
On the Shawnee Hills Wine Trail
Clara Orban, Sommelier and Linguist
 
Illinois has a surprising number of wineries, many of them in the southern part of the state where rolling hills glide into the Shawnee National Forest.  Travelers can explore the wineries in this, the state's most important AVA (American Viticultural Area) by car with maps and guidebooks to lead the way.
Wineries in this area continue to increase as interest in winemaking grows.  A powerful engine for expansion is Southern Illinois University and its graduates, especially those in the sciences, who turn part-time student work into permanent careers.
 
For a state with rich soil such as Illinois, and occasional weather that is inappropriate for grapes, winemakers have been ingenious in finding varieties that produce good wines while still growing well in this climate.  In the presentation I will list a few of these grapes and give tasting notes.
 
Concluding remarks followed by Illinois Wine and Wisconsin Cheese tasting.
 
 
Sunday, April 29th
– 9:00 AM  Breakfast at Lou Mitchell's
– 11:00 AM Maxwell Street Market (until 1 PM or later)
Rob Garner and Bruce Kraig
 
– 11:30 AM Feast: Radical Hospitality in Contemporary Art @ The Smart Museum of the University of Chicago