Greater Midwest Foodways Alliance
FAMILY HEIRLOOM RECIPES
Contestants entered their best scratch family heirloom recipe suitable for a family or community dinner.  Recipe should originate before 1950. 
Contestants brought a prepared dish along with a brief story of who passed the recipe down to them, ethnicity, if relevant, number of years the recipe has been in their family and any interesting information about their recipe.
JUDGING CRITERIA
Taste: 50%
History: 40%
Appearance: 10%
Premiums sponsored in partnership with Feedstuffs FoodLink.com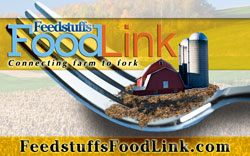 Competition was conducted on August 1st, these are the results:
Date Pudding (Image by Peter Engler)
Fanny Baker's Date Pudding
Karen Haldeman, Cincinnati, Ohio
This recipe comes from my husband's family. Fanny Baker was a cousin of his mother's. Fanny was born in Upper Sandusky in 1897. She died in 1992.

Before we were married, I was told that Fanny had been bringing this dish to every family gathering for as long as anyone could remember. It was eagerly anticipated and there was never any left at the end of the meal.
In 1972 I asked for the recipe and she wrote it out on a piece of scrap paper right then and gave it to me.
Fanny Baker's Date Pudding
Karen Haldeman, Cincinnati, Ohio
2 1/2 cups brown sugar
1 1/2 cups boiling water
1 cup tapioca
1 cup dates
1 cup chopped nuts
1.   Mix all ingredients and place in a baking pan
2.   Place in [225 F] oven and bake [25 minutes]. stirring several times
3.   Do not over bake or it will get too thick.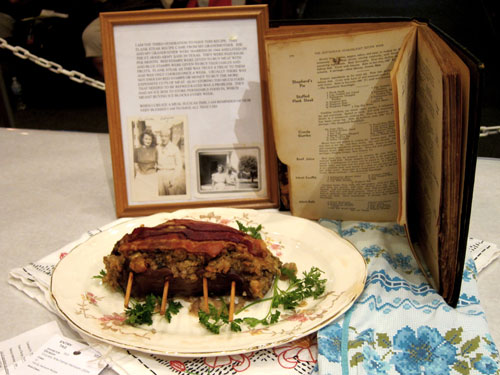 Flank Steak (Image by Peter Engler)
STUFFED FLANK STEAK
Beth McDorman, Delaware, Ohio
I am the third generation to have this recipe. This flank steak recipe came from my Grandmother. She and my Grandfather were married in 1944 and lived on the FT. Hood army base in Texas. They were paid $50.00 per month. Red stamps were given to buy meat with and blue stamps were given to buy vegetables and fruits. Flank steak, as this was truly a treat to them, and was only cooked once a week. Usually there was not enough red stamps or money to buy the more expensive cuts of meat. Also storing too much food that needed to be refrigerated was a problem. They had an icebox to store perishable food in, which meant buying iceblocks every week.
STUFFED FLANK STEAK
Beth McDorman, Delaware, Ohio
1 FLANK STEAK
1 CUP COOKED OATMEAL CEREAL
1 TABLESPOON CHOPPED PARSLEY
1/4 TSP. SALT
1/2 TSP. SAGE
1/8 TSP. PEPPER
1 CUP COARSLEY BROKEN CRACKERS
4 TBSP. MELTED COOKING FAT
2 TBSP. CHOPPED ONION
3 SLICES BACON
1 CUP HOT WATER
1. COMBINE CRACKERS, OATMEAL, ONION, PARSLEY, 2 TBSP. COOKING FAT, AND SEASONINGS. SPREAD ON STEAK.
2. ROLL STEAK LENGTHWISE, SKEWER, BROWN IN REMAINING COOKING FAT.
3. PLACE IN CASSEROLE DISH, ADD WATER LAY BACON ACROSS TOP.
4. BAKE AT 350 FOR 2 HOURS. SERVES 6.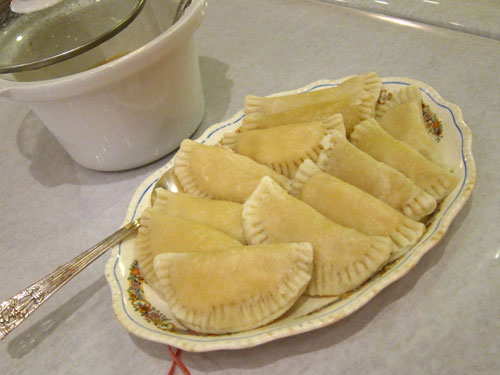 Pierogies (Image by Peter Engler)
Pierogies
Teresa England, Columbus, Ohio
Both of my Father's parents were born in a small town in Austria. Their families immigrated to the United States where they met and married. They had three girls and one boy (my Dad). My Grandpa passed away in May of 1955 and Grandma came to live at our house. I was born in November of 1955, the sixth of seven children in a Catholic family.
One of my fondest memories growing up was when Grandma would make pierogies for Meatless Friday dinners. Because there were six kids and three adults, we didn't get pierogies very often. Grandma would start making the pierogies on Wednesday afternoon to have enough for dinner on Friday.
Austrian pierogies are a bit different from their cousins, the Polish pierogies. The Polish are pan fried after boiling, and are served with sour cream. The ones I grew up with are served boiled with a sauce made from butter, caramelized onions and milk. To this day, the smell of onions being fried makes me think of Grandma.
The recipe is not necessarily a family secret, but along with a few other ethnic dishes passed down from mother to daughters (or in our case to Granddaughters), they are our family heirlooms.
Pierogies
Teresa England, Columbus, Ohio
Dough:
2 cups all-purpose flour
1/2 tsp salt
1 large egg
1/2 cup sour cream
1/4 cup butter, softened and cut into small pieces
Filling:
5 large potatoes
3 Tbs butter
6 oz. shredded cheddar cheese salt and pepper to taste
Sauce:
2 Tbs butter
1 med. onion, chopped
2 cups whole milk
Dough: Mix together the flour and salt. Beat the egg, then add all at once to the flour mixture. Mix well. Add sour cream and butter pieces and work until the dough loses most of its stickiness (about 5-7 minutes). Wrap the dough in plastic and refrigerate for 20-30 minutes or overnight. Each batch of dough makes about 12-15 pierogies, depending on the size.
Filling: Peel and boil potatoes until soft. Mash potatoes with butter until smooth. Add cheese and mash well. Add salt and pepper to taste. Let the potato mixture cool and then form into 1'' balls.
Roll dough on a floured board or countertop until 1/8″ thick. Cut circles of dough (2″ for small, 3-3 1/2″ for large) with a cookie cutter or drinking glass. Place one filling ball on each dough round and fold the dough over, forming a semi-circle. Press the edges together with the tines of a fork.
Boil the pierogies, a few at a time, in a large pot of water. They are done when they float to the top (about 8-10 minutes). Rinse in cool water and place on a serving platter that can be kept warm in the oven.
Sauce: While pierogies are boiling, saute onions in butter until soft and slightly carmelized. Add milk and let cook until bubbles just start around the edge of the pan.
Place pierogies on plate and ladle sauce over them. Enjoy.