Greater Midwest Foodways Alliance
FAMILY HEIRLOOM RECIPES
Contestants entered their best scratch family heirloom recipe suitable for a family or community dinner.  Recipe should originate before 1950. 
Contestants brought a prepared dish along with a brief story of who passed the recipe down to them, ethnicity, if relevant, number of years the recipe has been in their family and any interesting information about their recipe.
JUDGING CRITERIA
Taste: 50%
History: 40%
Appearance: 10%
Premiums sponsored in partnership with The Spice House

Competition was conducted on August 13th, these are the results: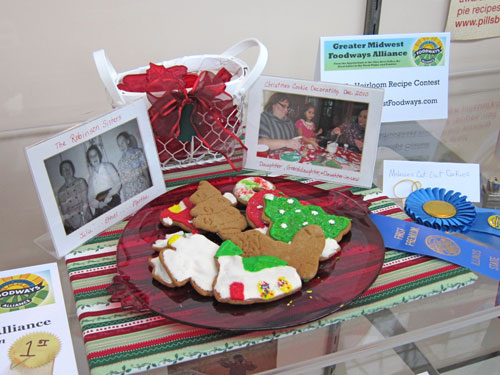 Molasses Cookies (Image by Peter Engler)
First Prize
THE HISTORY OF MOLASSES CUT-OUT COOKIES
Jone Schumacher, Chapin, Illinois

One of my sweetest memories of Christmas as a child was the molasses cut-out cookies baked by my father's cousins and served at my grandparents Christmas dinner. What made these cookies so extra special was that they were baked in a wood-burning kitchen stove that is considered quite the antique today. Dad's cousins, Martha, Julia and Ethel Robinson were three sisters who never married and lived their entire lives in their parents' home-place about three miles north of Concord, Illinois. Their home never had electricity or indoor plumbing. The house was never painted and sat on the top of a hill, hidden from view from the road by the growth of pine trees and brush similar to a pasture. The yard was not mowed and instead of a sidewalk, a narrow "cow-path" curved up to the side-porch. I still recall my mother taking my siblings and me up that path to visit. Oh, how I wish I would have taken pictures inside that home to have a record of the unique family antiques in their natural surroundings. The sisters loved our visits and enjoyed having children in their home. They very seldom left their home to go anywhere except for church, as none of the sisters ever learned to drive. They wanted to live this way, as they refused family offers to help them modernize their home.

My grandmother and her sister would drive to the Robinson home on Christmas Eve afternoon to take them Christmas presents and to invite them to Christmas dinner. They would accept the invitation and would quickly reply that they would need to get busy and bake their Christmas Molasses cut-out cookies. Hence, they were very fresh and melt-in-your- mouth delicious. I wonder how long into the night they worked to bake these treasured cookies. They used lard that they had rendered themselves, which gave the cookies a unique flavor. They were evenly browned which must have been a challenge with the wood burning oven. Even as a child, I marveled at how pretty the Robinson cookies always looked with very simple decorations. They used cookie cutters that left marks on the cookie to show the detailed design of the cut out object. My cousin recently reminded me that they frosted the bottom side of the cookies so you could turn the cookie over and still see the intricate design. We children used to think they frosted the cookies up-side-down compared to the way our mothers frosted sugar cookies. We recall that Martha would mix the cookie dough and Julia and Ethel would cut out and bake the cookies. Julia was in charge of the frosting and decorating. Now I have learned that every year at Christmas time Martha and Ethel would try to find a new and different cookie cutter for Julia, so the cookie baking must have been more of her project.

My mother, my sister, several of my cousins and I still make these cookies for our family Christmas gatherings. I always make the full recipe, but some just make a one-half of the original recipe, as one full recipe yields about 12 dozen cookies, depending on the size of the cookie cutters.  I use Butter Crisco so my cookies do not taste quite the same as the Robinson cookies.  I have been making these cookies in my home for my family for over 40 years, and it just wouldn't seem like Christmas if I didn't spend the time making and frosting these favorites. My children are all grown, and now grandchildren join the generations who enjoy these cookies. Some years I have only had time to bake and freeze the cookies unfrosted in large Tupperware containers. These years then, frosting and decorating these cookies has become a fun family pre-Christmas project after my family arrives home for the holidays. We have a great time decorating the cookies and the project gets done so quickly, although it makes quite a mess!

I do not have any of Julia's cookie cutters but I have some that I think were the same design.  I do hope whoever inherited the cookie cutters realize how
precious they were.  My sister has the oak kitchen table that the Robinson ladies used to roll out the cookies on.  I tried to frost my cookies for the fair as closely as I picture the way Julia did. For my display, I also included a few of my grandchildren's favorites: the large tree, candy cane and the mitten, and I used the edible glitter that gives a festive sparkle that they enjoy.  I think Martha, Julia and Ethel would really marvel at the variety of unique decorations available today, such as the snowflakes I used, and they would not be able to believe the hundreds of cookie cutter shapes available on the internet.  I usually do not make Santa cookies, as I strive to make my cookies with more of a religious theme to keep the true meaning of Christmas foremost.  This is the first Christmas that I am retired from my nursing job so I am hoping to have time to bake the nativity scene from the cookie cutter set my sister gave me.
This recipe was originally known as "Scotch Cookies", but our family has always referred to them as Molasses Cookies. These cookies have been an important part of our family Christmas celebrations for over 100 years. I am so pleased that I am able to create fond memories of cut out decorated cookies for my children and grandchildren, as I have cherished memories that I savor from my childhood.
I know this recipe will continue to be enjoyed in years to come as everyone enjoys the cookies so much, and several family members enjoy baking about as much as I love to bake special cookies like the Molasses Cut-Out Cookies.

MOLASSES CUT-OUT COOKIES
 Jone Schumacher, Chapin, Illinois
COOKIE DOUGH:
3 cups granulated sugar
2 cups lard
4 eggs, large or extra large
1 cup molasses, bold flavor
1/2 cup boiling coffee
2 tablespoons baking soda
2 teaspoons vanilla
2 teaspoons salt
8-10 cups all purpose flour
DOUGH:

In large mixing bowl of mixer, blend the sugar and fat until fluffy; blend in the
eggs until well mixed.  Blend in the molasses.  Measure the baking soda into the boiling hot coffee, stir and blend into the fat-sugar mixture.  Blend in the vanilla.  Measure the salt into the first cup of flour and blend into the dough.  Continue to add flour until is somewhat stiff and not sticky.  (I have added to directions to chill in refrigerator until cold, as chilling helps to roll out using less flour.) Lightly flour a pastry board. Place approximately 1/4 of the dough onto the prepared board and lightly flour the dough surface. Roll out to approximately 1/4 inch thickness. Lightly flour the surface of the rolled dough. Lightly flour the inside of the cookie cutter and cut out shapes. Place on ungreased cookie sheet and bake in pre-heated 350 degree oven for 8-10 minutes until lightly browned. Remove cookies from cookie tray and cool on wire rack.
FROSTING:

4 pounds powdered sugar
2 sticks of butter
4 teaspoons vanilla
3/4 to 1 cup milk
food coloring
variety of colored sprinkles,
candy decorations as desired
FROSTING:
Blend softened butter with half of the milk and the vanilla. Add the powdered sugar and blend. Add additional milk until consistency to spread. Divide into separate bowls and stir in the desired colors. Spread frosting on the cookies and sprinkle with decorative sugars and add candies to trim.  Let rest for 2-3 hours until frosting is completely set. ( I prefer to make in advance of Christmas. To freeze, place cookies in appropriate containers with tight lids. Allow the cookies to defrost in sealed containers before placing on serving tray or place frozen cookies on tray and immediately cover tightly with plastic wrap.)
Yield: approximately 12 dozen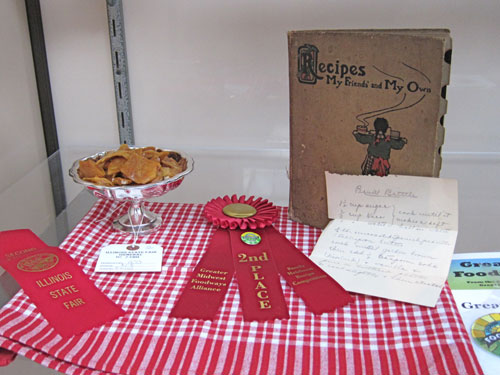 Peanut Brittle (Image by Peter Engler)
Second Prize
Peanut Brittle
Amy Wertheim, Bloomington, Illinois
On November 15, 2004, time stopped. Our family business, R.G.W. Candy Company, was burned to the ground due to faulty wiring in a light fixture.  Not only did we lose all of our equipment & over 500 pounds of prepared confections, we lost all of the family recipes that our candies were made from.  Every recipe had been hand-written by my grandparents & great-parents, and now … they were gone.  Of everything we lost, that was the most devastating.
Although we were able to rebuild, & Dad was able to recreate the recipes, every once in a while, a passing comment or reference to the lost recipes would arise.  As silly as it sounds, the lost parchments of paper, most barely readable, left a very big hole in the heart of the candy shop.
Fast forward to the summer of 2010 ~ a local antiques dealer was dispersing his collection & of course, I had to go.  There were 14 boxes of around 500 cookbooks & I had every intention of getting each one of them (yes, I have a cookbook issue!).  As the bidding began, the price stalled at $14, my bid. Sold!  "How many do you want?" "I'll take them all!" …. but wait, I, like everyone else, thought we were bidding on the box – – nope, it was by the book.  Well, that quickly changed things & I picked up only one book that I had glanced at earlier & had dismissed.  Why I picked it out, who knows!  As the bidding resumed (now by the box), I quickly won the bid & was soon carrying out my treasures, forgetting about the one cookbook I'd left sitting on a chair.
As the auction came to a close, one of the auction assistants brought the 'lost' book over.  Without a glance I tossed it into one of the boxes.  Once home, I started reading thru the cookbooks looking for different or unusual recipes.  It seemed like every time I reached over to pull out another cookbook that one book kept getting in the way. Finally I gave in & glanced at it.  What I thought was a cookbook … wasn't a 'cookbook' at all, but more of an autograph book for recipes; people wrote recipes on the pages for a soon-to-be bride, etc.  It was dated 1913 … maybe there would be some interesting recipes after all.  As I turned the pages, I started seeing names I recognized … long-time family friends.  How strange … I stopped looking at the recipes & just turning pages to see who had written in the book … and then I saw the name, Mother Hoblit.  What??  Unbelievable, my Great-Grandmother had written in this book, by why did she sign it Mother Hoblit?  Only the family ever called her that … & then I found it. On the next to last page of the book, stuck in the folds, was a folded up piece of parchment.  My hands were shaking as I unfolded the crackling paper. .. there, in my Great-Grandmothers handwriting was our lost peanut brittle recipe.
The book you see displayed is the book from the auction, & the brittle recipe is the handwritten copy I found.  I have submitted peanut brittle as my entry because at every family gathering & at every community (church) meal, my Great-Grandparents, Grandparents, & now my parents, take peanut brittle as their dish to share.  There is no better way to end a meal that with a dessert or sweet.
I can only speculate why out of all the cookbooks I picked up that one … We still cannot believe that after all this time, the book and the recipe found its way home. But I do know it has helped heal the missing gap in the candy shop. Enjoy!
Peanut Brittle
Amy Wertheim, Bloomington, Illinois
1 1/2 cup sugar
2/3 cup glucose (Karo for the home cook)
1 cup water
1/2 pound unroasted Spanish peanuts
1 teaspoon butter
1/2 teaspoon baking soda
1/2 teaspoon vanilla

Cook sugar, glucose and water until it makes a soft ball in a water bath (drop a few bits of syrup in water and if it balls, then it's at a soft ball stage).

Add peanuts and butter to the syrup and cook until golden brown. Add the soda and vanilla, stirring quickly and pour onto a marble slab or buttered platter. Allow to cool slightly, and then stretch until thin and brittle.
Break into pieces, and enjoy.

Makes enough for 4 people. Can be double, tripled as desired.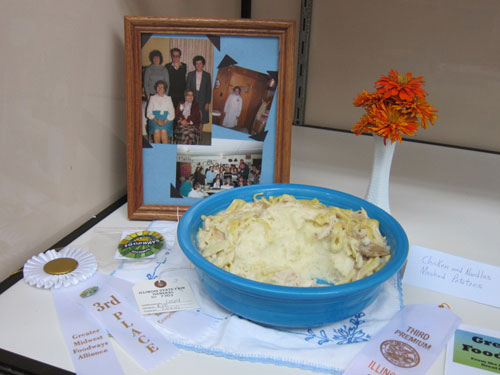 Chicken and Noodles (Image by Peter Engler)
Third Prize
Rouch Family Reunion
Darlene Crider, Lincoln, Illinois
Growing up in the Rouch family, headed by my widowed Grandma Rouch, (Wilma Irene Rouch of Grass Creek, IN,1904-2001) one of the best events was the annual reunion.  It was always Grandm Rouch's determination to keep the family together that kept these reunions going strong.  They were popular events in the ever growing family and were always well attended, usually held at a large park with a playground for the children to run around in or at the Grass Creek fire station.  There was always more food than we could ever eat, brought in as a potluck by the large family, but there were a few culinary constants at the Rouch Family Reunions.  Uncle Bob would always bring ham (from one of his own pigs from his dairy farm), one of the aunts would bring "Rouch Salad" (lime Jell-O with shredded carrots) and carrot sticks, another might bring Cherry Delight or green beans with bacon and Grandma Rouch would bring Chicken and Noodles.  The noodles were handmade, which she would make at home and give away to church sales as well as serve to her family.  Feeding a family of 5 children in rural Indiana was never easy and the Chicken and Noodles were a reflection of her German and Irish background as well as being a frugal meal for feeding a hungry family in the 30's, 40's and 50's.  Also, the ingredients were readily available on the family farm.  The recipe is simple and easy to make, though it can easily be "dressed up" with the addition of veggies.  But what made her Chicken and Noodles unusual was the way they were served.  They were always served over a big dollop of homemade mashed potatoes!  Early in my marriage, I served this dish to my city born and bred husband and he thought I had lost my mind! Chicken and Noodles over mashed potatoes?  Is it a rural Indiana dish or just the Rouch's?  I don't know.  But my husband soon learned that it is a delicious and filling meal and honestly, I can't imagine it served any other way!  We now serve it to our own family and they love it as well.  I really appreciate my grandmother's culinary heritage, which she shared in a handwritten cookbook of all her best family recipes.  She had so much to share with all of her children, grandchildren, great-grandchildren and great-great grandchildren and is greatly missed.
Rouch Family Chicken and Noodles
Darlene Crider, Lincoln, Illinois
Noodles:
4 egg yolks
I whole egg
4 Tbs. cold water
1/2 tsp. salt
1 1/2 c. all purpose flour
Beat eggs and salt with a fork.  Add 4 Tbs. cold water.  Add 1 cup all purpose flour and stir.  Add 1/2 cup flour and stir.  Dough should be stiff enough to turn out onto a floured board or counter top and knead slightly.  If too sticky, add more flour.  Divide dough into 3 parts.  With rolling pin, roll out on well floured counter.  Roll out to desired thickness.  Place on cloth to dry.  Roll out other two parts.  When nearly dry, cut into strips and then size as desired. Finish drying the noodles. Can also be put into freezer bags and frozen. One recipe of noodles will make a large batch of Chicken and Noodles, enough to serve about 12-15 people.
Chicken:
1 whole chicken
1 tsp. salt
Remove giblets and wash chicken.  Boil whole chicken in a large pot with enough water to cover.  Salt water.  Cook chicken until it is falling off the bones, about 1 hour.  Remove chicken from pot; cool until able to handle. Remove skin and bones, discard.  Shred chicken meat, set aside.  Return pot to stove, bring to a boil.  Add noodles.  Simmer until noodles are tender, about 20 minutes.  Add shredded chicken.  Salt and pepper to taste.  Serve over hot mashed potatoes.  It's also excellent with the addition of chopped celery, carrots and onions.
Mashed Potatoes:
(my recipe, not Grandma Rouch's)
6-8 potatoes
1/2 tsp. salt
pepper
1/2 cup butter
1/4 cup milk
Boil peeled, diced potatoes (about 1 per person) in salted water until tender; drain.  Add 1/2 cup butter and gently mash with beaters until butter has melted and potatoes are chopped into small pieces.  Add milk; whip potatoes with mixer on high until light and fluffy.