Greater Midwest Foodways Alliance
FAMILY HEIRLOOM RECIPES
Contestants entered their best scratch family heirloom recipe suitable for a family or community dinner.  Recipe should originate before 1950. 
Contestants brought a prepared dish along with a brief story of who passed the recipe down to them, ethnicity, if relevant, number of years the recipe has been in their family and any interesting information about their recipe.
JUDGING CRITERIA
Taste: 50%
History: 40%
Appearance: 10%
Premiums sponsored in partnership with The Spice House 

1st place – $150.,  2nd place – $100.,  3rd place – $50 

Pampered Chef is sponsoring additional prizes for our winners:
First place: Reversible Bamboo Carving Board (Value = $72)
Second place: Cool & Serve Square Tray, Outdoor Mini Spoons & Tongs Set (Value = $49)
Third place: Food Chopper (Value = $31)
Competition was conducted on August 11th , these are the results: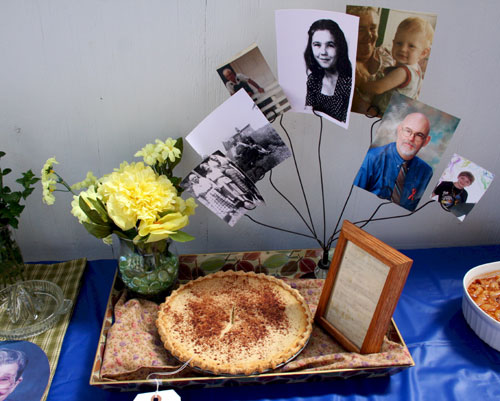 Cottage Cheese Pie (Image by Victoria More)
First Place
COTTAGE CHEESE BREAKFAST PIE/DESSERT
Dennis Kirby, Champaign, Illinois
Looking back to my first day of school in September 1969, I remember my Mom had breakfast on the table and I was too excited about the idea of going to school to eat. Mom told me that she had a surprise for me when I got home. She hinted that it had something to do with an old recipe of my Grandmother's and was a favorite of my Grandfather's.
Now, my Mom knew, of her three boys, I was always willing to try anything new that there was to eat. I had a pretty good appetite and there wasn't much that I wouldn't eat. When I tried to get more information from her about what the surprise was, she just said that it was one of her favorite desserts when she was growing up on the farm in Virginia. I was pretty excited about getting home that day to find out what Mom was hinting at.
After school that day, I rushed home as fast as my little legs would carry me. When I walked into the house, I smelled the most wonderful aromas coming from the kitchen-lemon, vanilla, and aromatic bitters. I hurried into the kitchen and found that Mom had already sliced a piece of pie for me and herself. Mom watched my face as I took my first bite. It was the most delicious thing I had ever tasted. Mom was smiling at me at the way my eyes closed as I savored the rich taste of the pie.
Recently, I came across the recipe for the pie while getting ready for a yard sale. Just reading the recipe card caused me to remember fondly my grandfather and my Mom (she passed away in October 1996).
With those memories came the idea that I needed to make the pie recipe for my own son and start another generation of memories that include this luscious dessert. After getting all the necessary ingredients together, I made the pie and served it to my son. He took one bite and another generation of cottage cheese pie lovers was born.
A little history of the family. My Mother was born deep in the foothills of Fries, Virginia.  When she was seven years old, she was already cooking for her brothers and sisters and my grandparents.
My Grandfather, Clarence, was a sharecropper and very poor. His family had very little when they were growing up. He made his living by growing crops and milking cows for the land owner for whom he sharecropped. My Grandfather struggled to raise nine children, work acres of land, and maintain the family home during the Depression. To say the least, my Grandfather was not a sophisticated or cultured man, but he did love his family deeply.
My fondest memory of my Grandfather was him pulling me onto his lap when I was quite young and sharing pie and a glass of cold lemonade. He never showed a lot of affection but, like most men of that generation, he showed his love by the way he cared for his family and the smiles and warm expressions on his time-worn face.
My Grandfather passed away on Father's Day of 1969 after a second heart attack. I was devastated by the loss. I remember my Mom trying to console me by telling me she would make my Grandfather's favorite pie in his honor when we returned home that day. Seems that the pie was a family favorite, because four of the cottage cheese pies were waiting for us when we arrived home that had been brought over by thoughtful relatives and friends. The recipe evidently dates back to the 1890s and originated somewhere in Europe where cow milk was plentiful. It has been in our family since about the early 1900s.
COTTAGE CHEESE BREAKFAST PIE/DESSERT
Dennis Kirby, Champaign, Illinois
Filling:
1 Carton Small or Large Curd Cottage Cheese (16oz) Can be pureed for smooth creamy consistency) 2 Tbsp. Flour
3/4 Cup Sugar
3 Large Eggs Well Beaten
2 Tbsp Lemon Juice
1/4 Cup Milk or Cream
1/2 teaspoon salt
1 1/2 teaspoon cinnamon
1/2 Can Crushed Pineapples (14.5oz) drained. Discard juice except for 2 Tbsp to add to filling for flavor
1 Tbsp. Vanilla
Optional: 1 teaspoon aromatic bitters
Pie Crust:
 
2 1/2 cups all-purpose flour plus extra for rolling
1 cup unsalted butter (8oz or 2 sticks) (be sure the butter is very cold and cut 1/2 inch squares)
1 teaspoon salt
6-8 Tbsp ice water
Will make 2 crusts but you only need 1 for this pie. Do not over mix ingredients or crust will be tough. Roll out and put in a 9″ or 10″ pie tin. This pie bakes better in a tin pie plate compared to a glass pie plate.
Preheat oven to 425 degrees. Mix all ingredients together except for 1/2 teaspoon cinnamon. (If pureeing cottage cheese, do so for about 2 minutes). Add reserved pineapples into mixture. Sprinkle top with remaining cinnamon. Place on middle rack of preheated oven and bake for 5 minutes. Without opening oven reduce heat to 360 degrees and continue baking for 45-50 minutes until pie is set. Remove from oven and allow to cool for about 30 minutes. Great served warm or cold as a breakfast dish or as a main dessert. Serve with fresh berries or melon for a refreshing breakfast!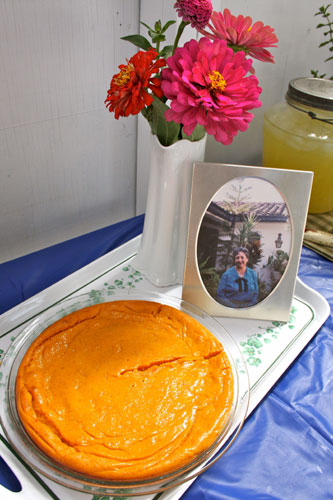 Carrot Souffle (Image by Victoria More)
Second Place
Souffle de Zanahoria (Carrot Souffle)
Linda Cifuentes, Mahomet, IL
In the age of technology an innovation things of times past are often thought of as insignificant.  There is however, for some of us, nothing more priceless and heartwarming than family heirlooms and traditions.  To quote my husband; "If we don't know our past we don't know where we stand and we have no clue where we are going.
I feel privileged to have received a family heirloom recipe from my 92 year old mother-in-law.  She passed the recipe on to her four daughters and to me her only daughter-in-law.
My mother-in-law was born in a small town nestled in the central mountain range of the Andes in 1920.  The last time I was in Colombia I visited that town of Fusa with its beautiful central park and church where my mother-in-law married.  Nowadays it is a bustling city with palm-tree lined line avenues, resorts, a university and flourishing businesses.
Back in the early 1920s my husbands grandmother (abuelita),Dolores, was a very enterprising woman.  She was mother of eight, and along with her husband Rafael she owned and managed a general store, a bakery, and the towns only Inn. She was in charge of purchasing which in those days was quite an undertaking.  This was a week long affair, traveling on the old Colonial Camino Real Road on horseback along with a mule train and tagging along were 2 young helpers. This tortuous road often winds through the clouds up to the top of the mountain.
After this one day ride they arrived in a town where the railroad stopped on its way to the capital. She would take the train with one of the helpers while the other helper remained behind to care for the animals. When she arrived in the capital, Bogota, she spent the next several days buying the finest materials, toys, and merchandise imported from Europe to outfit the store. When the purchasing trip was complete she would board the train with her treasures and return to where the pack mules were and load up for the journey back down the mountain.
So you might be asking, where does carrot soufflé come into this story. Well; I was just getting to that.
Before leaving the train station my husbands Abuelita would have telegraphed her approximate time of arrival. This was a joyous day in the family, His Grandpa would gather all the children and they would go with a couple of maids to the outskirts of town to the mahogany groves and set up a picnic feast under the shade of the magnificent trees. Specially prepared dishes to celebrate mom's retum were brought to the grove and one of these dishes was carrot soufflé. The carrot soufflé was special because it was only prepared to celebrate her retum which only took place four times a year. This was also a special time for my mother-in-law and her siblings because along with the supplies a special toy was had for all.
My mother-in-law came to the United States in 1969 along with her family.  She brought her many family traditions and one of those was the carrot soufflé which became a holiday staple in the Cifuentes household.
So this beautiful and cherished recipe is still only made a few times a year but is always associated with happy and joyous occasions.
Her granddaughters are varying on the tradition putting carrot soufflé on their holiday table and I hope it will continue with their daughters.
Since I now have this coveted recipe my family also gets to enjoy this great recipe!!
Souffle de Zanahoria (Carrot Souffle)
Mahomet, IL
5 medium carrots
bread slices to make up one cup of bread crumbs
1 cup of milk
2 tablespoons butter
3 eggs
4 tablespoons grated cheese ( I used Parmesan)
1 teapoon salt
5 tablespoons sugar
Take a medium size pie mold, grease and set aside. Take the carrots and boil them until soft.  Pour the milk over the bread crumbs. Beat the eggs. Next melt the butter and dump all ingredients together into a large bowl and mix by hand until well combined. Once this has been well mixed pour into pre-greased mold and bake at 350F checking often for doneness with tip of knife. Soufflé will be done when tip of knife comes out clean.
Taken from: "Recetas de la Abuelita" by Teresa I. de Cifuentes Translated from Spanish by Bill Cifuentes
** Note Over the years for convenience sake my mother-in-law used a blender to mix the ingredients.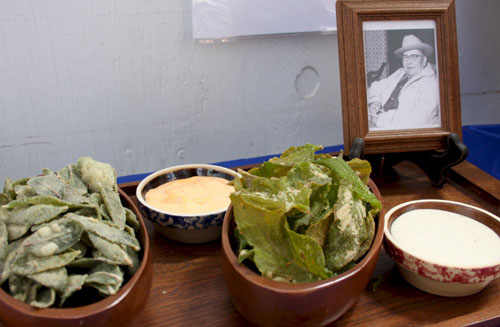 Sage Chips (Image by Victoria More)
Third Place 
Fried Sage – or Nature's "Potato Chips"
Amy Wertheim, Atlanta, Illinois
History of Fried Sage Leaves or as we call them …. Nature's "Potato Chips"
The highlight of my week was Saturday. On Saturday mornings I ALWAYS went to my grandparent's house. Usually I would get to stay for lunch, and sometimes I was allowed to stay until supper, but on the really special days, I was allowed to go with my grandpa while he drove around the countryside checking the crops or as my grandma would say, "Getting lost so he wouldn't have to do her list of chores she had for him."
What made the driving around so wonderful were the snacks that my grandpa kept in his Fiat; there was candy bars, and walnuts, and these funny potato chips that were really weird colored, kinda greenish­gray, but super crunchy and salty! They were my favorite, especially the pointy ones, but they broke really easy and there were never very many of them!!! But grandpa was strange about letting you snack on his "potato chips" …. It seemed like when school was let out for summer, we could eat as many as we wanted …. But when school started back, he didn't want to share …. and when it began to get colder out, he wouldn't even let us know where he had them hidden. Little did we know, the 'potato chips' we were eating were seasonal!
You see, those weird-colored, super crunchy, salty chips weren't potato chips at all. They were fried sage leaves. And when the summer vacation started, there were plenty of sage leaves in the garden because it was the beginning of the summer growing season. So, it would only make sense, that once the frost and colds came … no more sage leaves. Also, the different shapes of the chips were different varieties or flavors of sage leaves.
Now, you would think being at my grandparent's house every Saturday I would have been able to figure out what in the world these "potato chips" really were, especially since my grandma was the one who was frying them up for grandpa to snack on, but I never did. They were just one of the wonderful snacks grandpa always had.
And so, here we were, just a few years ago, sitting around the table after Thanksgiving sharing memories and stories from our childhood that I asked if anyone remember those weird colored "potato chips" grandpa also had … "What I wouldn't give to just eat one more of those they were so good. I wonder who made them?" Well, my mom just turned and looked at me and said, "You're grandma made them, and if you really wanted some all you had to do is go out to your herb garden and pick some sage leaves." I was so confused … what? "Those were just fried sage leaves – what did you think they were?" Obviously, I had no idea, but that spring, the moment the sage came up and there were some nice leaves on them I cut them, I fried them, I salted them (oh, how I salted them!) and I ate them … ALL! Didn't share a one 'em!!!
Of course, my family was curious about my strange behavior, so I made another batch. And they disappeared as quickly as the first batch! So I cooked up some more … actually we cooked up all the sage we had. And a few weeks later, we did it again. And we continued to cook them right up until the frost came.
Now I have 3 different patches of sage; Purple Sage, Pineapple Sage and Muskmelon Sage. The Pineapple Sage are the pointy ones and they are super delicate, but oh so yummy! The Muskmelon Sage is my son's favorite and he took the whole patch of leaves with him to college to fry up; and the Purple Sage leaves are the smaller ones.
Some people, like me, like to eat them plain, enjoying the crunch and the salty goodness. Others, like my sister and brother-in-law, like to dip them in Ranch or Cajun Ranch Dressing. But no matter how they like them, everyone in our family knows that as soon as the soil starts to warm that it's just a matter of time before Fried Sage leaves are back.
As to the Age of recipe – it's anyone's guess … my dad remembers eating them when he was a boy, and he's 71 so apparently this has been a long standing tradition in our family for at least 4 generations; although for about 10 years after my grandpa passed it was "lost" … just waiting in the herb garden to be found and be a part of our family history of food again.
Fried Sage – or Nature's "Potato Chips"
Amy Wertheim, Atlanta, Illinois
50 – 100 sage leaves – any variety of sage will work
3 cups flour
Vegetable oil
Seasoning Salt, to taste
Possible dipping sauces – Ranch dressing or Cajun Ranch dressing
Pick 50 – 100 sage leaves. Be sure to pick only the ones that are whole leaves – holes mean buggies have already been snacking on that one! Rinse thoroughly with water, leave damp.
Place about 3 cups of flour (you may need more depending on how many leaves you picked) and coat both sides of the leaves.
Heat the vegetable oil- we use a Fry Daddy, but you can cook the leaves in a skillet; use enough oil in a skillet to have a 2-inch pool. Drop a few sprinkles of flour in the hot oil, if it sizzles, you're ready to cook!
Drop sage into the hot oil – don't over fill the Fry Daddy or skillet. The sage leaves are finished cooking when they suddenly stop bubbling or sizzling …. About 30 seconds.
Remove and allow to drain on paper towel; sprinkle with seasoning salt to taste.
Once cool, enjoy. Some people like them plain, some like dipping sauce. Please try without sauce first.
Enjoy!