Greater Midwest Foodways Alliance
FAMILY HEIRLOOM RECIPES ENTREES OR SIDE DISHES
Contestants entered their best scratch family heirloom recipe suitable for a family or community dinner.  Recipe should originate before 1950.
Contestants brought a prepared dish along with a brief story of who passed the recipe down to them, ethnicity, if relevant, number of years the recipe has been in their family and any interesting information about their recipe.
JUDGING CRITERIA
Taste: 50%
History: 40%
Appearance: 10%
Competition was conducted on August 15th, these were submissions: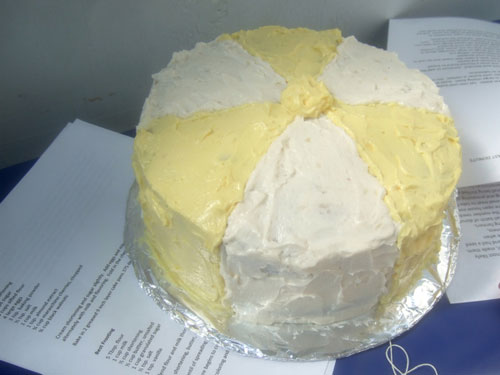 1-2-3-4 Cake (image by Peter Engler)
1-2-3-4 Cake
Marilyn Okon, Springfield, IL
The 1-2-3-4 Cake and Best Frosting recipes were handed down to me by my mother, Lillian Sitko Okon as we were growing up in Inkster, Michigan near Detroit. I am not sure where they came from but it was the cake and frosting that my mother always made for birthdays. I remember using those recipes myself when I learned to bake in the middle 1950's. (So it had to have been around before then.) It was not only the gimmicky name of the cake but the special addition of cherries and walnuts (always black walnuts hand-picked from my grandfather's farm near Ann Arbor, Michigan. The family especially liked the frosting because it was smooth and not too sweet. My mother usually decorated the cake with two colors of frosting and alternated the colors in a pie shape which I have tried to replicate here.
1-2-3-4 Cake
1 cup shortening
2 cups sugar
3 cups sifted flour
4 large eggs
3 tsp. baking powder
1/2 tsp. salt
1 cup milk
1 tsp. almond extract
3/4 cup maraschino cherries, chopped
3/4 cup black walnuts
Cream shortening and sugar slightly. Add eggs and mix thoroughly. Sift and add dry ingredients alternately with milk and flavoring. Fold in the cherries and the nuts.
Bake in 2 greased 9 inch layer cake pans 375 degrees for 30 to 35 minutes.
Best Frosting
5 Tbsp. Flour
1 cup milk
1/2 cup shortening
1/2 cup butter, unsalted
1 cup granulated sugar
1/2 tsp. salt
1 tsp. vanilla
Blend flour and milk thoroughly. Cook to a very thick paste, stirring constantly. Set aside to cool.
Mix shortening, butter, sugar and salt until light and fluffy; add to lukewarm paste and add vanilla.
Beat until of spreading consistency.
(If mixture begins to curdle just keep mixing. It will eventually form a nice smooth frosting.)
Add food coloring and decorate as desired.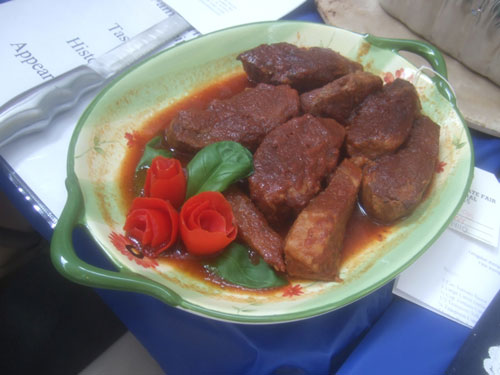 Barbeque Sauce (image by Peter Engler)
Barbecue Sauce
Carol Meadows, Springfield, Illinois
Original Recipe: is from my husbands Great Grandma Meader. This recipe has been in his family for over 100 years.
Barbecue Sauce
Sauce:
1 Can Tomato Sauce
1 Large Clove Garlic Mashed
1/2 Cup Tomato Catsup
1/3 Teaspoon Salt
1/4 Teaspoon Cumin
2 Large Bay Leaves
2 Tablespoons Worcestershire Sauce
1/2 Cups Firmly Packed Brown Sugar
2/3 Cups Finely Chopped Onion
2/3 Cup Finely Chopped Bell Pepper
1/4 Teaspoon Oregano
1 Tablespoon White Vinegar
1/4 Teaspoon Paprika
Combine all ingredients in a large saucepan over medium to low heat and cook for 20 minutes. Remove bay leaf before sauce is basted or poured over meat.
You can use with chicken, roast, pork and browned hamburger. This recipe is good to baste meat cooked on a grill or poured over meat that is baked in the oven.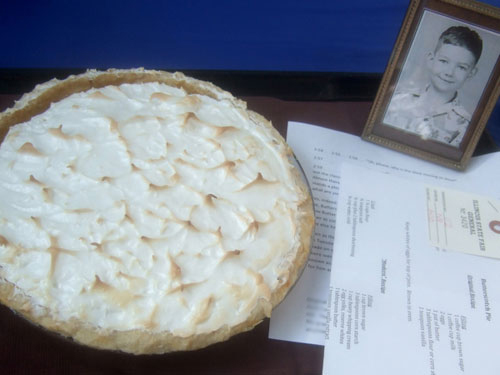 Butterscotch Pie (image by Peter Engler)
Butterscotch Pie
Amy Wertheim, Bloomington, Illinois
2:54 … 2:55 … 2:56 … "Oh, please, why is the clock moving so slow?"
2:57 … 2:58 … "Come on!"
2:59 … Ding! Finally, the bell rings and Tommy jumps up from his seat and runs out the classroom door. 1- 2 – 3 – 4 – 5 – 6 – 7 steps ….. out the main door, just two blocks to go! Almost there … ding dong rings the chime on the front door. Slowly the door opens and there stands a pleasantly plump old woman, with a twinkle in her eye as she asks, "Why Tommy, what are you doing here?" "It's Tuesday Great Aunt Cora. I've come for my pie!"
Yes, indeed. It was Tuesday and that meant that Great Aunt Cora had made Tommy's favorite pie, Butterscotch. One whole pie just for him, and one for everyone else. No one remembers how Butterscotch Pie day started, it just was. And every Tuesday, Tommy would leap from his chair as soon as the bell sounded and would run to get the special pie made just for him. No one else had a special pie, just Tommy.
Even as the years passed and Tommy became Tom, Great Aunt Cora would still bake two pies on Tuesday. But soon came the day, when Great Aunt Cora passed on, and the pie was only made on special occasions, i.e. birthdays, anniversaries, Father's Day. Except today – today there were two pies made. One for you to enjoy, and one for the man once called Tommy, now known as Tom, or as I call him … Dad. Just like Great-Great Aunt Cora used to make – one just for him and one for everyone else.
Original Recipe was published in the Atlanta Women's Club Cookbook in 1927; Great-Great Aunt Cora received the recipe from her mother so best guess is that the recipe is over 100 years old. The story above is true – and yes, I did make Dad his own pie so he would not have to share. My grandmother is the person who taught me how to make it – she told me if I ever wanted anything, "just make your Father this pie."
Butterscotch Pie
Original Recipe
Crust
1 coffee cup flour
2 tablespoons lard
1/2 coffee cup water
1/2 teaspoon salt
Filling
1 coffee cup brown sugar
1 coffee cup milk
2 eggs
1 pat of butter
3 tablespoons flour or corn starch
1 teaspoon vanilla
Keep whites of eggs for top of pies. Brown in oven.
"Modern" Recipe
Crust
1 3/4 cups flour
1/2 teaspoon salt
1/2 cup plus 2 tablespoon shortening
1/4 cup water, cold
Filling
1 cup brown sugar
3 tablespoons corn starch
1 cup heavy whipping cream
2 egg yolks, reserve whites
1 tablespoon butter
1 teaspoon vanilla extract
1/2 cup sugar
Pre-heat oven to 325°.
Prepare Crust – Combine flour, sugar, and salt in a medium bowl. Cut in shortening. Add water and toss mixture until evenly moistened. Gather gently into a ball, transfer to a lightly floured board and roll into a circle slightly larger than a 9-inch pie plate; flute and bake for 10 – 12 minutes or until lightly browned; set aside to cool.
Prepare Filling – In a medium saucepan, combine brown sugar and cornstarch; mix well. Gradually stir in cream, mixing until smooth. Over medium heat, bring to boil, stirring occasionally; boil 1 minute. Remove from heat. Stir half of hot mixture into beaten egg yolks, mixing well; pour back into saucepan. Bring back to slow boil, stirring occasionally; boil 1 or 2 minutes longer, until thick. Remove from heat. Stir in butter and vanilla; pour immediately into pie shell.
Topping – Place egg whites in a cold glass mixing bowl and whip until soft peaks form; add sugar one tablespoon at a time and beating well until mixed; whip until stiff peaks form. Spread meringue over pie, sealing the edges at the crust. Bake in the oven for 10 – 12 minutes or until meringue is light brown and dry to the touch.
Serves 8 (or 1)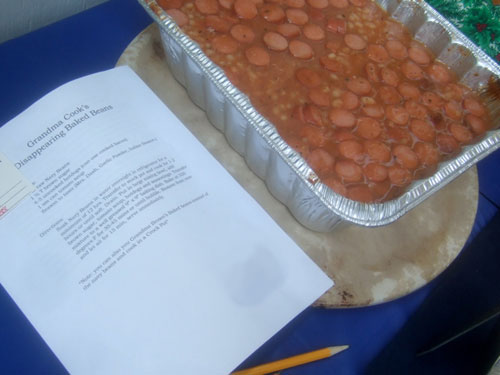 Grandma Cook's Disappearing Beans (image by Peter Engler)
Grandma Cook's Disappearing Baked Beans
c. 1921 by Florence M. Cook (my great-grandmother)
Crystal R Smith, Farmer City, Illinois
As a young girl, my family would have huge cook outs and the family favorite was always the "Grandma Cook's Disappearing Baked Beans". My grandmother would make these for just about every family and social function we would attend and they were always the first dish to disappear.
While the exact date of origin is unknown, we estimate these beans were "designed" around 1921 by my great-grandmother, Florence M. Cook of Elkland, Pa Living during the depression, times were rough for many folks and with a huge family to feed, she had to figure out a way to feed at a reasonable price her ever expanding family. With this need, "Grandma Cook's Disappearing Baked Beans" was born! They have been passed down from generation to generation and have now came to me.
I was taught to make them by both my grandma and my mother as a young girl. Once I moved out on my own, I brought the recipe with me to make for my family and friends. Like years past, these are still a family favorite. A few shortcuts have been made over the years to save time and money but from time to time, I go back to the old way of making them, no matter how you cook them, they make everyone smile and drool and the smell of them.
Grandma Cook's Disappearing Baked Beans
Ingredients:
1 lb raw Navy Beans
1 1/2 T brown sugar
4-5 uncooked hotdogs (can use cooked bacon)
1 sm can tomato soup
Season to taste (Mrs. Dash, Garlic Powder, Italian Season.)
Directions:
Soak Navy Beans in water overnight in refrigerator for a minimum of 12 hrs. Transfer to stock pot and cook for 1-2 hours or until soft. Drain. Put in large mixing bowl, add brown sugar, tomato soup, hotdogs and seasonings. Transfer mixture to a well greased 9″ x 9″ baking dish. Bake at 350 degrees F for 30-45 mins or until bubble. Remove from over and let sit for 15 min, serve immediately.
*Note: you can also you Grandma Brown's Baked beans instead of the navy beans and cook in a Crock Pot*