Greater Midwest Foodways Alliance
FAMILY HEIRLOOM RECIPES
Contestants entered their best scratch family heirloom recipe suitable for a family or community dinner.  Recipe should originate before 1950. 
Contestants brought a prepared dish along with a brief story of who passed the recipe down to them, ethnicity, if relevant, number of years the recipe has been in their family and any interesting information about their recipe.
JUDGING CRITERIA
Taste: 50%
History: 40%
Appearance: 10%
Premiums sponsored in partnership with The Spice House

Competition was conducted on August 13th, these are the results: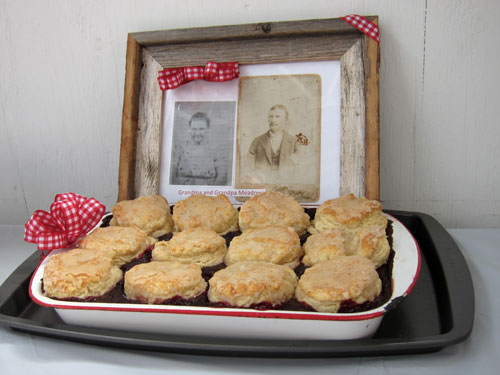 Blackberry Bubble (Image by Peter Engler)
Summer Memories
Earl Meadows, Springfield, Illinois
This recipe has been handed down in the family. It was from my Grandma Meadows. My brother and I couldn't wait when we were young until summer came and we could go to Centralia and spend the summer with my grandparents.  Wakening to the smell of fresh baked bread and fresh honey from her bees.  I can remember her handing us a pail and telling us if we found enough blackberries she would make a bubble for supper. Back then blackberries grew wild along the railroad tracks.  We would walk the tracks checking for ripe blackberries all the time the thoughts of grandmas bubble in our head. She had a white granite-porcelain pan with a red stripe around the top that she used for the bubble.  I was fortunate enough to find a pan like grandmas in a local antique shop. If it was a special occasion we would have homemade ice cream to go with the bubble. So while the bubble was in the oven baking we would be outside cranking the old fashioned ice cream maker.  Nothing in the world tasted better than grandmas blackberry bubble warm from the oven with a scoop of homemade ice cream.  Some of the best memories of my childhood was the summers spent with my grandparents. 
Grandmas Old Fashion Blackberry Bubble
Earl Meadows, Springfield, Illinois
Bottom Crust:
2 Cups Flour
1 T. Sugar
1 T. Baking Powder
1 tsp. Salt
8 T. Butter Cubed
3/4 Cup Milk
1/2 Cup Sugar
2 T. Water  
In a large mixing bowl combine flour, salt, sugar, and baking powder. Mix well. Cut in the Crisco or lard.  Add water a tablespoon at a time until dough forms. Wrap dough in plastic wrap and set aside.
Filling:
2 T. Butter
6 Cups Blackberries
5 T. Cornstarch or Flour
1 tsp. Cinnamon
1 Cup Sugar
1 Cup Brown Sugar
1/2 tsp. Salt
In a large bowl combine blackberries, sugar, cinnamon, and cornstarch.  Mix well.  In the bottom of a 9 x 13 inch pan roll out crust and fit into the bottom of the pan half way up the sides.  Add filling and bake in a 350 degree oven until filling starts to bubble and the juice turns clear.
Topping:
1 1/2 Cups Flour
1/2 Cup Crisco or Lard
1/4 tsp. Salt
1 tsp. Baking Powder
4 T. Ice Water
In a large mixing bowl combine flour, sugar, salt, and baking powder.  Mix well. Cut in the cubed butter until it looks like cornmeal.  Add milk a little at a time making sure the milk is incorporated.  Turn dough out onto a lightly floured surface and knead once or twice.  Roll or pat dough to a half inch thick.  Cut with a biscuit cutter.  Place biscuits on top of the bubbling blackberries and place in a 400 degree oven and bake for 15 to 20 minutes or until golden brown.  In a small bowl add 1/4 cup sugar and water mix well.  After 15 minutes remove from oven and brush the top of the biscuits with the sugar and water mixture.  Return to oven for 3 to 5 minutes.  Serve warm with ice cream (optional).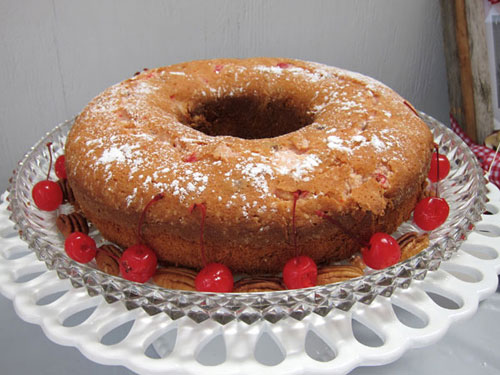 Cherry Cake (Image by Peter Engler)
Cherry Cake
(Grandma's Birthday Cake)
Linda Cifuentes, Mahomet, Illinois
You Might be thinking this is a strange looking birthday cake and that is exactly what I asked my mom.  She explained that my grandma; Elizabeth Sekera Brezinsky was born on Feruary 22, 1903.  Since my grandma shared the same birthday as George Washington her mother decided it was fitting she should have a cherry cake for her birthday.  Grandma was born in Prague, Czechoslovakia and I think her mother wanted to make a good old American cake for her; so this became grandma's birthday cake.
The recipe was handed down from my great-grandma to my grandma to my mom then to me. This was the first cake I ever helped my mom make.  I was about 7 years old and I remember watching my mom make this cake. She beat the egg whites with a hand crank beater and I remember asking her when she was done if I could turn them upside down because I had seen this done on tv, She told me not to do it–But guess what?  I did it anyway and the egg whites stayed in the bowl.
This was the beginning of many baking adventures with my mom but it was so special because it was a Sekera family recipe.  I don't have any children but I have a God daughter and a God son and when they were married this recipe was passed down to them in a family cookbook to carry on the tradition.
Whenever I make this simple cherry cake I immediately think of my grandma and her birthday!
Cherry Cake
(Grandma's Birthday Cake)
Linda Cifuentes, Mahomet, Illinois
1/2 cup shortening
1 1/4 cup sugar
2 cups + 6 tablespoons cake flour
1/2 cup broken nut meats (I used pecans)
20 maraschino cherries; cut in quarters
3 teaspoons baking powder
1/4 teaspoon salt
3/4 cup liquid-1/4 cup cherry juice and 1/2 cup milk mixed
4 egg whites

Cream shortening, add sugar gradually and cream together thoroughly. Mix nuts and cherries and dredge with 2 tablespoons of flour. Combine remaining flour with baking powder and salt. Add flour mixture alternately with liquid. Stir in fruit and nuts. Fold in egg whites which have been beaten until stiff but not dry.

Pour batter into a greased and floured 10 inch tube pan. Bake 50 minutes in moderate oven (350).
Cool 10 minutes in pan ant then turn onto rack to continue cooling. When ready to serve may sprinkle with powdered sugar.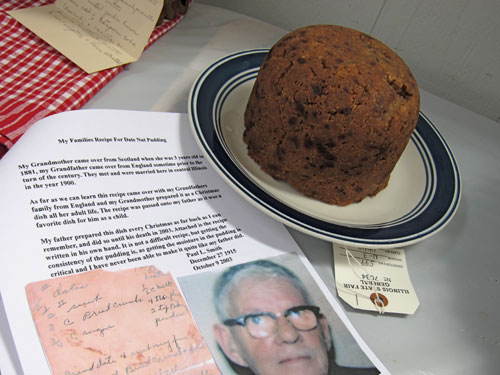 Date Nut Pudding (Image by Peter Engler)
My Families Recipe for Date Nut Pudding
Paul L. Smith
Grace Meadows, Kincaid, Illinois
My Grandmother came over from Scotland when she was 3 years old in 1881, my Grandfather came over from England sometime prior to the turn of the century. They met and were married here in central Illinois in the year 1900.
As far as we can learn this recipe came over with my Grandfathers family from England and my Grandmother prepared it as a Christmas dish all her adult life. The recipe was passed onto my father as it was a favorite dish for him as a child.
My father prepared this dish every Christmas as far back as I can remember, and did so until his death in 2003. Attached is the recipe written in his own hand. It is not a difficult recipe, but getting the consistency of the pudding is, as getting the moisture in the pudding is critical and I have never been able to make it quite like my father did.
Paul L. Smith
December 27 1915
October 9 2003
My Families Recipe for Date Nut Pudding
Paul L. Smith
Grace Meadows, Kincaid, Illinois
1/2 lb dates
1/2 lb suet
3 cups bread crumbs
3/4 cup sugar
1/2 cup chopped nuts
1 egg beaten
1/2 cup milk
4 T flour
2 tsp baking powder
Grind dates and suet very fine.  Mix with dried bread crumbs and sugar.  Add the other ingredients and mix thoroughly.  If pudding seems dry when mixed up add more milk.  Pudding should be very moist.

Fill greased metal pudding mold 2/3 full.  Cover tightly with aluminum foil and seal top with string.  Steam 2 1/2 to 3 hrs.  (Note: can be cooked 45 minutes to one hour after pressure comes up in pressure cooker instead.)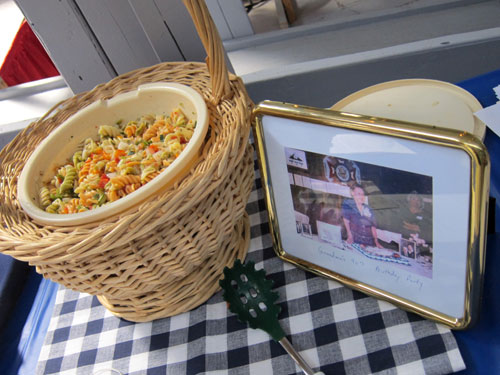 Pasta Salad (image by Peter Engler)
Grandma Mohr's Pasta Salad
Kitsy Amrhein, Springfield, Illinois
Grandma Mohr always shows up to any large gathering with her pasta salad. I'm not sure how long it has been in the family but she learned how to make it from her mother, Great Grandma Brown.  Grandma says she always brings it to the annual family reunion picnic because it is "good, easy to make and makes enough to feed a regiment."
She was a young bride during the Depression when money was scarce.  They had little money to buy food for a growing family so they grew most of their own vegetables in a large garden.  Back in the day, Grandma made her own pasta. To it she would add lots of fresh vegetables from the garden.  Thus the pasta salad became a favorite summer dish on the dinner table.  Grandma Mohr had 7 children.  With that many mouths to feed, she needed something good, cheap and easy to make to feed that regiment of kids.  The pasta salad was the answer.  It got the kids to eat their vegetables too.
She has grown her own garden up until about 5 years ago when she moved into a retirement center. Grandma loved to square dance and did so up until she fell and broke a hip at age 94.  That was just two years ago.  She would go every Friday night and often take her pasta salad to share with her friends.  At every family reunion, funeral, picnic or potluck, she brought the pasta salad.  People who don't normally like pasta salad say they like hers.  She is often asked for the recipe and is most generous in providing it.  Her 19 grandchildren, 43 great grandchildren four great great grandchildren have all enjoyed it over the years. We all take it to various potlucks and gatherings of our own.  I took it to a potluck at work several years ago.  Now whenever we have a potluck, co-workers ask me to bring it. Since it is so easy and makes so much, I am happy to oblige. Many siblings and cousins have reported they get the requests as well.
Grandma brought it to my dad's funeral and a friend of mine had it. She naturally wanted the recipe.  She took it to a family gathering of her own.  Now whenever her family has a gathering she is asked to make the pasta salad and bring it.  The recipe is destined to be an heirloom in her family as well.
I grow my own garden like Grandma Mohr and try to use fresh veggies from my garden in the recipe when I can.  But if you don't grow a garden or it is the middle of winter, you can still enjoy the pasta salad with a trip down the produce isle at the local super market.
Grandma Mohr is now 96 and in a nursing home.  When I told her I was entering her pasta salad in the state fair, she smiled and winked at me.  No blue ribbon can top that.
She can't make the pasta salad anymore.  Many other family members have volunteered to continue the tradition.  The pasta salad will continue to be at all of our family gatherings for generations to come.  Thanks grandma Mohr. We love you. 
Grandma Mohr's Pasta Salad
Kitsy Amrhein, Springfield, Illinois
1 16 oz. Pkg. Rotini Pasta
1 c. chopped onion
1 c. chopped cucumber
1 c. chopped tomatoes
1 c. chopped green and red peppers
2 t. parsley flakes
1 1/2 c. sugar
1 c. white vinegar
1 t. prepared mustard
1/2 c. vegetable oil
1 t. salt
1 t. pepper
1 t. garlic powder
Cook pasta till soft. Drain. Add onions, parsley, cucumbers, peppers and tomatoes.

In another bowl, mix sugar, vinegar, oil, mustard, salt, pepper and garlic powder. Pour over pasta mixture.  Let sit in refrigerator over night for best flavor.  Keeps 2 weeks in refrigerator.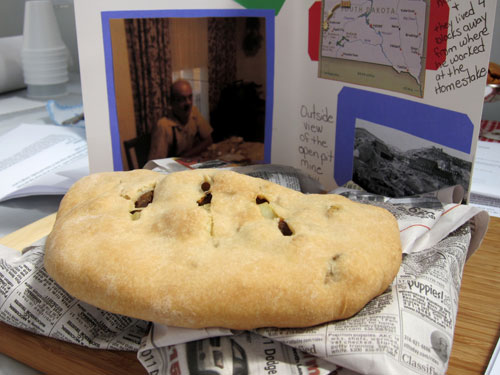 Great Grandma's Pasties  (image by Peter Engler)
Great Grandma's Pasties
Diana Wara, Washington, Illinois
My husband's grandmother, the patriarch of the family, was well know for having her freezer stocked full of all kinds of baked goods to have on hand when visitors came to visit.  She lived most of her adult life in Lead, South Dakota.  So, as a young boy and teenager, my husband has very fond memories of visiting his grandmother who lived 2 driving days away from where he lived in Illinois.  They were lucky if they got to visit 2 times a year.  One of his favorite meals to eat when he arrived at his grandmothers has always been pasties.  What do you ask are pasties?  No, it's not some fancy pasta or a fancy pastry with fruit filling – instead, I would describe it as a modem day marriage of turnover meats pot pie.  I got to experience pasties from his grandmother and she retold the story behind this wonderful food.

Her husband (my husband's grandfather) was from Finland. During hard times, he had to travel to where the jobs were.  So, his family along with fellow friends from Finland came to the United States.  The first jobs that they found were working the copper mines in Michigan.  Grandpa wasn't there long before he and other Finlanders heard about better jobs opening up in Lead, South Dakota.  The Homestake Gold Mine was looking for people to work their mines.  So my grandpa made the move to South Dakota.  With him, also moved many of their Finish friends.  Grandma said that Grandpa's family brought the recipe with them from Finland.  However, the Cornish people that were already established working in the copper mines, had their own version.  I don't think that we will ever know who actually created the recipe first but, both variations were created for the same purpose and that was to create a filling meal that the miners could easily take with them to eat.  Grandmother was very particular on how her recipe was to be made.  First, she said that the beef HAD to be in small cubes.  The butchers years ago refused to cut it into small cubes for her and told her to buy ground beef instead.  That was NOT the way a pasty was suppose to be made.  So she showed me how to chop it into cubes.  Second, She said that when you seal the pasty, you want to create a thick edge/seal around it.  The reason being, that part was typically not eaten.  It was made thick enough so that the miners could eat the middle and throw way the crust.  Because miners ate right where they worked – no running water to wash up before they ate.  This thick edge gave them something to hold on to as they ate the middle part of the pasty.  That way, even with the dirtiest of fingers, the miners were able to eat lunch.  Then grandma wrapped the pasty in a newspaper and put it into grandpa's lunch.  The pasty still had some warmth to it when he ate his lunch.  My husband always thought it was' odd that everyday before the miners went home, they had to take a shower.  The Homestake didn't want any gold dust to leave the sight.  But yet the Homestake didn't have running water so the miners could wash their hands before eating.

Grandpa worked most of his adult life at the Homestake Gold Mine.  Although he never "struck it rich with gold" he was a very wealthy man in that he had a family that loved him and grandchildren who thought the world of him!  Grandma continued to make pasties for her family up until her passing a few years ago.  But the tradition is still carried on.  My mother-in-law still makes pasties.  And I for the second time, will make pasties and carry on the tradition.  Oh yes, I will honor grandma's wishes and cube my own meat!
Great Grandma's Pasties
Diana Wara, Washington, Illinois
Filling

3 cups cubed peeled potatoes
1 cup chopped carrots
1 medium onion, chopped
3/4 teaspoon salt
1/4 teaspoon pepper
2 pounds roast beef, small cubed
1 tablespoon butter, melted
Pastry Crust
4 cups all-purpose flour
1 1/4 teaspoons salt
1 cup solid shortening
3/4 cup cold water
In a large bowl, combine the potatoes, carrots, onion, salt and pepper. Add the beef over potato mixture and mix well. Add butter and toss to coat; set aside.

For pastry, in a large bowl, combine flour and salt. Cut in shortening until mixture resembles coarse crumbs. Gradually add water, tossing with a fork until a ball forms. Divide dough into five portions; roll each into a 10-in. circle. Place 1 cup of filling in the center of each circle. Fold pastry over filling and seal edges tightly with a fork; cut slits in the top of each.

Place on a greased baking sheet. Bake at 375 for 50-60 minutes or until golden brown.

Yield: 5 servings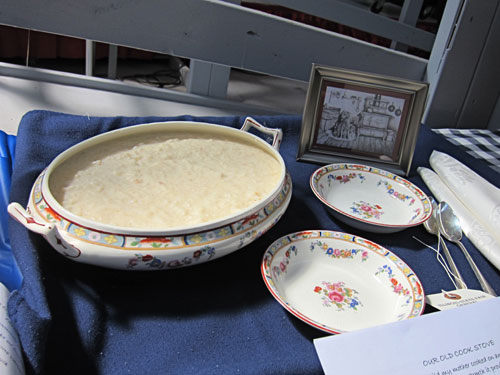 Old Fashioned Baked Rice Pudding (Image by Peter Engler)
Our Old Cook Stove
Betty Moser, Decatur, Illinois
When I was a child my mother cooked on an old fashioned cook stove – I remember the delicious warmth it provided on a cold winter day – and in the summer seeing my mother's face and hair wet with perspiration as she worked in the very hot kitchen.
I cannot image cooking on a stove like this now – but I remember soups and meat loaves and cakes being prepared using this stove.  My parents experienced the depression years – both their families lost ranches to the harsh financial times.  The foods that my mother prepared were simple, using ingredients at hand from our pantry, from produce in the garden and milk products from our dairy cows.
A special dish that was prepared on the cook stove was a delicious rice pudding that was a family favorite – almost a staple.  Mother would mix the simple ingredients in a pot and bake the pudding for several hours.  This dish did not need any attention during its baking while we all worked at tasks on the farm.
For me the rice pudding had such a special flavor and texture.  I still associate this dish with memories of OUR OLD COOK STOVE.
OLD FASHIONED BAKED RICE PUDDING
Betty Moser, Decatur, Illinois
4 cups milk
1/2 cup rice
1/2 teaspoon salt
2/3 cup sugar
Wash the rice and mix the ingredients. Pour into a buttered dish and bake 3 hours in a slow (325 degree) oven, stirring 3 times during the first hour of baking to prevent the rice from settling.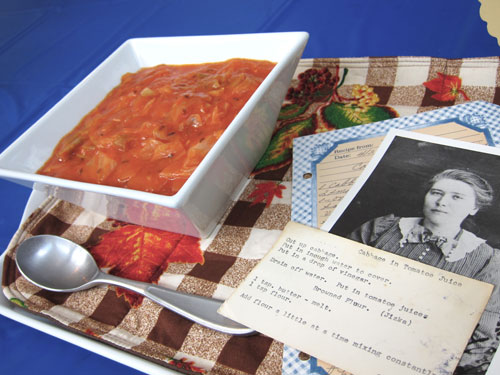 Tomato Cabbage (Image by Peter Engler)
Tomato Cabbage
Cindy Petriw, Schaumburg, Illinois
Most people when they think of Thanksgiving they think of Turkey and Stuffing.  When I was growing up, we would go to my Babi's (Bohemian for Grandma) for Thanksgiving dinner.  One day I asked my Babi why she was making that.  She explained to me that it was a recipe that was passed down to her from her mother.  Babi then passed it on to my mother.  When I got married and started to host Thanksgiving at my house I started to make the Tomato Cabbage. Having a boy, he was not as curious.  Now I have a Granddaughter (now sixth generation) and I hope when she gets old enough to understand that she will ask me the same, "Grandma, why do you make that?" and I can share the same story my Babi (Grandma) shared with me.
Tomato Cabbage
Cindy Petriw, Schaumburg, Illinois
1 cabbage (small to medium)
2 small cans tomato juice
1 – onion chopped
salt
vinegar (to taste)
sugar (to taste)
caraway seed
Saute onion in a little margarine in a large saucepan.  Add shredded cabbage, tomatoe juice, salt, caraway seeds, vinegar and sugar.  Cook until cabbage is tender.  Ass thickening made from about 2 tbsp. margarine (melted in small frypan)  Add about 2-3 tbsps flour mixing constantly until smooth and a little brown Add to cabbage misture stirring constantly and cook for about 10 mins. on low heat.
Almost like Babi' s recipe
Babi's original recipe:
Cut up cabbage.
Put in inough water to cover.
Put in a drop of vinegar.
Drain off water. Put in tomato juices
Browned flour (Jikka)
1 tsp. butter – melt.
1 tsp flour.
Add flour a little at a time mixing constantly.