Greater Midwest Foodways Alliance
FAMILY HEIRLOOM RECIPES
Contestants entered their best scratch family heirloom recipe suitable for a family or community dinner.  Recipe should originate before 1950. 
Contestants brought a prepared dish along with a brief story of who passed the recipe down to them, ethnicity, if relevant, number of years the recipe has been in their family and any interesting information about their recipe.
JUDGING CRITERIA
Taste: 50%
History: 40%
Appearance: 10%
Premiums sponsored in partnership with Feedstuffs FoodLink.com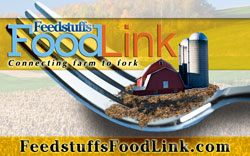 Competition was conducted on August 13th, these were submissions:
Grandma's FruitCake (image by Josephine Hyde)
Grandma's FruitCake
Pat Finkes, Steelville, Missouri
Grandma's Fruitcake tradition has been in the family for over 80 years.
The fruitcake was made by my husbands grandma, she would start right after Thanksgiving every year.  She never really measured her ingredients she just always knew when the cake was just right.  So this recipe may not be exactly her measurements but what's important is the memories when family have tradition.  I am pleased to say the tradition and memories are carried on, my grandson, age 5, helped me make this fruitcake for the fair.
Family memories can not be replaced.

Grandma's FruitCake 
Pat Finkes, Steelville, Missouri
1 cup prunes – cut into small pieces
1 c. dried apricots – cut into small pieces
1 c. golden raisins
2 c. raisins
1 c. chopped almonds
1 c. chopped walnuts
1 c. chopped candied pineapple
1/2 c. sliced red cherries (candied)
1/2 c. sliced green cherries (candied)
1 c. candied orange peel – chopped
1 c. candied lemon peel – chopped
1 c. coconut
2 1/2 c. flour
2 tsp. baking powder
1 1/4 tsp salt
2 tsp cinnamon
2 tsp allspice
1 1/4 c. shortening
1 1/4 c. honey
6 eggs
Preheat oven to 250.
Combine fruits, orange and lemon peels, nuts, coconut with one cup flour in a large mixing bowl.
Sift together remaining flour, baking powder, salt and spices.  Cream shortening, blend in honey, gradually and beat well.  Add dry mixture.  You'll need a very large bowl, Grandma's crock bowl works well for this, to mix batter and floured mixture together – do this by hand.  Mix thoroughly.  Pour into a tube pan which has been lined with 2 thicknesses of brown paper and 1 of wax paper.  Bake in a slow oven (250) 4-4 1/2 hours with a shallow pan of water in the bottom of the oven during baking time.  Remove cake from pan.
Allow to ripen 2-4 weeks before cutting.
18-24 slices (makes 7# cake)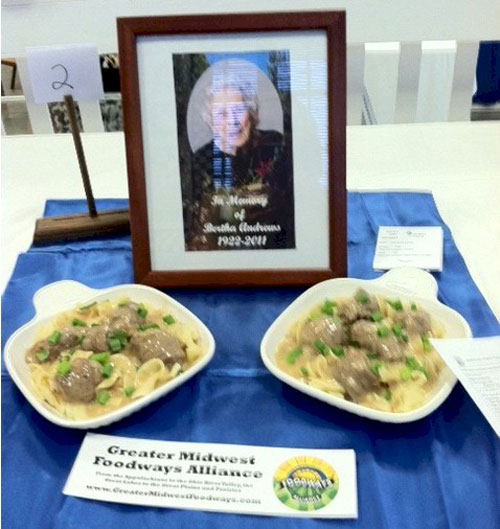 Pigs in a Blanket (image by Josephine Hyde)
Pigs in a Blanket
Pam Steen, Oak Grove, Missouri
This recipe was handed down by my husband's aunt Bertha. As a young lady she got this at a church dinner social in Charleston, Missouri from Mrs. Hearnes in the summer of 1946.  Mrs Hearnes was the mother of who we would later know as Missouri Governor Warren Hearnes.  In the original hand written recipe she has written down, to pound the flour, salt and pepper into the round steak use side of a heavy saucer plate for this. As they would do their own butchering, she would have the meats on hand. This was easy for her to stretch out for her family of 12. She would leave one with the strings tied on and the kids would make a game to see who would get the string. She would serve this over egg noodles or mashed potatoes.
Pigs in a Blanket
Pam Steen, Oak Grove, Missouri
 
2 lbs. Round steak
1 cup Flour
1 Tbls. Salt
1 Tbls. Pepper
1 lb. Pork steak
1 Tbls. worcestershire sauce
1-2 Tbls. Flour
1-1 1/2 Cups Milk
Egg Noodles
With a meat hammer pound the flour, salt and pepper into the round steak. Cut steak into stripes 2-2 1/2 inch wide the width of the steak. Then use a small chunk of pork steak for the pig, roll the round steak securely around the pork. Tie well with kitchen string. Dust roll-ups with flour and brown in a skillet with enough oil to cover the bottom of the pan.  When brown cover with a lid, lower the heat to low and cook for 1 hour (ADD WATER IF NECESSARY TO KEEP FROM STICKING).  When done remove pigs and make a gravy with the drippings, flour and milk, and the worcestershire sauce for flavor. remove the strings, serve with the gravy on a bed of egg noodles.
8 servings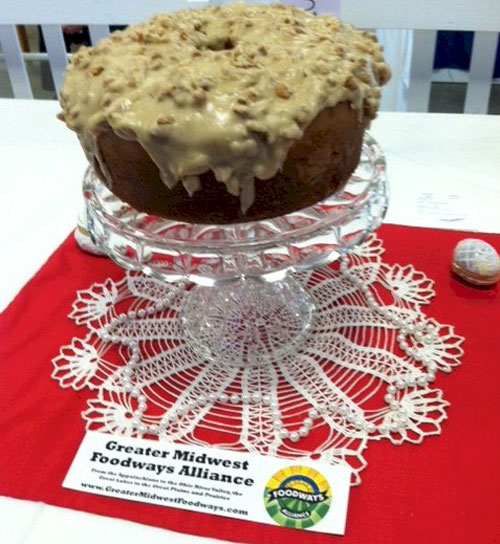 Great Aunt Sarah's Pound Cake (image by Josephine Hyde)
My Great Aunt Sarah's Pound Cake Story
Faye Hunton, Sedalia, Missouri

My family is originally from Georgia.  I was born in Cochran, Georgia.  My great aunt Sarah and her husband owned hundreds of acres of pecan trees at Elko, Georgia.
My great aunt Sarah always brought this pound cake to our family gatherings. She shared the recipe with anyone who wanted a copy.
In 1952 my family moved to Missouri.  My great aunt Sarah always made sure my family had Georgia pecans.
Great Aunt Sarah's Pound Cake
Faye Hunton, Sedalia, Missouri

3 cups flour
1 teaspoon baking powder
3 cups sugar
2 sticks butter
1/2 cup Crisco
6 eggs
1 cup heavy cream
3/4 cup milk
1 Tablespoon vanilla extract

Glaze:
1/2 cup butter
1/2 cup brown sugar, packed
1 teaspoon white syrup
1 1/2 cups powdered sugar
2 Tablespoons milk
1 teaspoon vanilla
1 chopped pecans
Heat oven to 325°F. Grease and flour a 10-inch tube pan.
 
Mix flour and baking powder together and set aside. Cream butter, Crisco and sugar together until light and fluffy.  Continue beating and add eggs one at a time.  Mix cream and milk together.  Add flour mixture alternately with milk mixture.  Add vanilla and beat well.
 
Pour into pan.  Bake for 1 hour and 35 minutes until pick comes out clean.  Cool on a rack to room temperature.
Remove from pan and glaze.
 
Glaze:
Melt butter in a saucepan.  Stir in brown sugar and corn syrup.  Cook 1 minute; add powdered sugar, milk and vanilla.  Whisk until creamy.  Add nuts and pour over cake.
Makes 12 servings.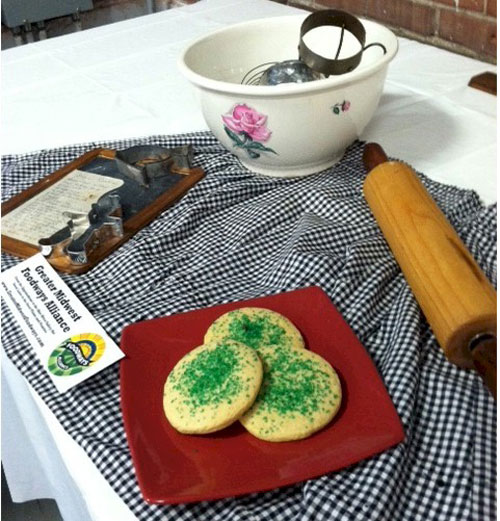 Sugar Cookies (image by Josephine Hyde)
The History of the Sugar Cookie Recipe
Megan Roe, Cole Camp, Missouri
The sugar cookie recipe is in it fourth generation of my family. As a little girl I can remember making sugar cookies with my granny during the holidays.  My sister and I always looked towards to baking these cookies.  The sugar cookie dough had to be made up the day before and chilled; sometimes we would make it up two days before we were getting ready to bake the cookies.  My granny would put foil over the sugar cookie bowl that way she could tell when we were eating the raw cookie dough that was the best part.  She would always say, "I know what you are doing," that is also why we always made a double batch of dough.  We would roll the dough out and use different shapes of cookie cutters depending on the holiday.  Then we would sprinkle them with colored sugar and bake them.  The sugar cookies were given as gifts during the holidays to us grand kids and they were the presents we would receive.  My granny has passed away, but I am the only one in the family who bakes the cookies during each holiday.  The rolling pin, cookie cutters, sugar cookie bowl, and the sifter have been passed down to me and my sister.  I will continue to bake them and every time I do I will think of my granny.
Sugar Cookies
Megan Roe, Cole Camp, Missouri
4 cups flour
1 teaspoon baking soda
1/2 teaspoon salt
1 1/2 cups sugar
1 1/2 cups butter flavored Crisco
1/2 cup buttermilk
2 eggs
1 teaspoon vanilla extract
Sift flour, measure and sift again with baking soda, salt and sugar.  Cut the shortening into the dry ingredients until it is fine as cornmeal.  In a separate bowl combine buttermilk, slightly beaten egg and vanilla extract.  Ad the dry ingredients to the liquid ingredients and mixing with your hands.  Cover dough and chill overnight.  Roll on floured board and cut with floured cookie cutters.  Sprinkle with sugar.  Bake 350 degrees for 8 to 10 minutes.
More Missouri State Fair Heirloom Recipe recipes may be found here.