Greater Midwest Foodways Alliance
FAMILY HEIRLOOM RECIPES
Contestants entered their best scratch family heirloom recipe suitable for a family or community dinner.  Recipe should originate before 1950. 
Contestants brought a prepared dish along with a brief story of who passed the recipe down to them, ethnicity, if relevant, number of years the recipe has been in their family and any interesting information about their recipe.
JUDGING CRITERIA
Taste: 50%
History: 40%
Appearance: 10%
Competition was conducted on August 15th, these are the results: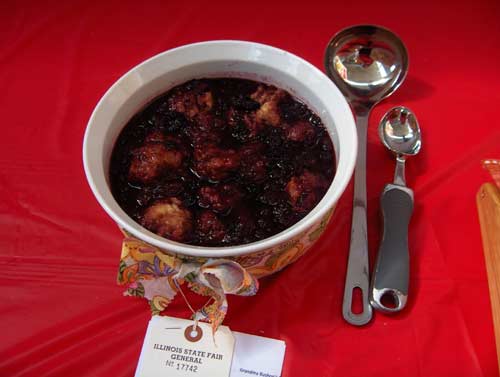 Grandma Buchon's Blackberry Dumplings (image by Barbara Kuck)
First Prize
Grandma Bushon's Blackberry Dumplings
Carol Meadows,  Springfield, Illinois
My husband recalls one of his fondest memories as a child was going to Centralia to visit his grandma in the summer.
He tells of waking in the morning to the smell of fresh baked bread with honey from her bees.  Picking blackberries along the side of the railroad tracks where they grew wild, bringing them back to the house where grandma would make a cobbler, pie or dumplings.

My husband tells that her mother (his great grandmother) died at an early age (around the turn of the century) and she along with her brothers and sisters were placed in a orphanage. While she was in the orphanage she met the boy who would become her future husband. She ran away from that horrible place and worked for others.
She didn't go to school, nor did she learn to read and write though up until the time of her death this was her fondest wish. My husband would read articles that she clipped out of the newspaper and placed in a shoe box that she thought might be important or might mean something. She asked my husband if he would teach her the A, B, C's and how to read but she passed away before he was able to. To keep her recipes alive her daughters would write down the ingredients she used and any other information needed to duplicate the recipe. Grandma's recipes are still prized by family members.
She was deeply religious and believed everything had a purpose. In the summer you would find her in the garden picking the odd bug and turtles off the plants. If you asked her why she didn't just kill the bugs she would tell you they were all God's creatures and everything had a purpose. So she would load bugs and turtles in a bucket and empty them in the ditch. The next day you would find her in the garden repeating the process.
Even though she could not read or write she was a great cook and made sure that her children learned to read, write, and cook. I obtained her recipe for Blackberry Dumplings from her daughter Lilly Ragan who in her own right was a fantastic cook. Grandfather Meadows died when the children were young during the great depression. She later married Grandfather Bushon. If you speak to family members about grandma, the stories they recall are filled with love and admiration.
Grandma Bushon's Blackberry Dumplings
Carol Meadows,  Springfield, Illinois
Ingredients:
3 Cups Water
2 Bags Frozen Blackberries or 2 Quarts Wild Blackberries
1 Cup Sugar
½ Cup Packed Brown Sugar
¼ Teaspoon Cinnamon
1/8 Teaspoon Nutmeg
3 Tablespoons Soft Butter
1½ cups Flour
2 Teaspoons Baking Powder
¼ Teaspoon Salt
¾ Cup Milk
In a large no stick pan place blackberries, sugar, brown sugar, cinnamon, and nutmeg.   Place over medium heat and cook until sugar dissolves and berries start to boil. Stir to make sure berries do not stick. In a bowl place soft butter, flour, baking powder, and salt. Blend together with a pastry blender. Add milk and mix well. Drop a spoon at a time into the boiling blackberries. Cover berries and dumplings and let cook for 15 minutes do not take the lid off the pan or the dumplings will fall. Turn off heat and remove lid.
Serve dumplings and berries (while berries are still hot) with vanilla ice cream. If you are in a hurry instead of making dumplings from scratch you can also use the dumpling recipe on the Bisquick box.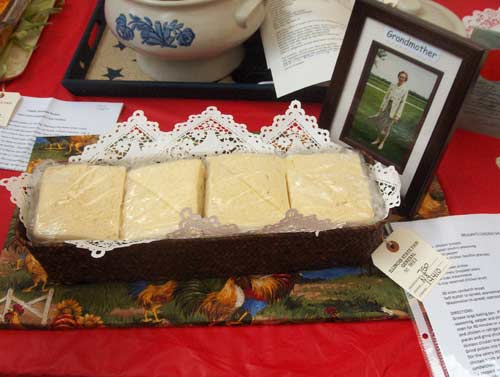 Beulah's Chicken Salad (image by Catherine Lambrecht)
Second Prize
BEULAH'S CHICKEN SALAD
Jone Schumacher, Chapin, Illinois
 My mother-in-law, Beulah, was an excellent cook and she was well-known for her delicious food. One particular favorite of immediate and extended family was her chicken salad sandwiches. Everyone expected her to bring these savory sandwiches to reunions and church pot-lucks. They were especially delicious as a cool entree for a hot picnic day as she was always careful to keep the sandwiches well chilled. Everyone knew her sandwiches without looking for her name on her container (usually Tupperware), and I recall her dish being one of the first to be empty. We almost always were served the chicken salad for our evening meal after large holiday noon meals. This made a perfect menu as she was able to make the salad ahead and wasn't busy in the kitchen during afternoon family time.
Beulah was also very particular about presentation and always sliced off the crust of the sandwich-style bread. (She made bread crumbs out of the crust pieces so there was no waste.) One side of the bread was covered lightly with mayonnaise and the other with soft butter, which added to the flavor and was her unique style. She always cut the sandwiches diagonally and placed in sandwich bags with a fold on top to assure they would be very fresh. These sandwiches were prepared in advance of the event and chilled in the refrigerator to mellow.
Beulah's chicken salad has become a staple for our family gatherings as well. feel blessed that it is easy to grind my chicken with my Kitchen Aid grinder attachment whereas Beulah used a hand meat grinder. We usually do not put the sandwiches together ahead as she did but usually make sandwiches on bread or home- made rolls. One of our grandsons, who is a little picky about eating, has adapted to his liking by eating the chicken salad as a dip on scoop chips. Many times our daughter has to leave our get-togethers to go to her job as a nurse on the evening shift at the hospital, so she is very pleased to take one of her favorites for her meal at work and thus feels like she is taking a little of the party with her. These sandwiches also give me a feeling of nostalgia as I recall as a young child that my maternal grandmother served similar chicken salad for our evening Christmas meal. Although I have never searched German recipes for a chicken salad, since both Beulah and my grandmother both were from German descent, I wonder if this dish originated in Germany.
My husband thinks his mother learned to make chicken salad from her mother sometime in the 1930's. We frequently think of Grandmother when we enjoy Beulah's Chicken Salad and I hope the recipe will be preserved and used for generations to come. I hope my family will remember fondly my version of her chicken salad, now known in our family as Grandmommy's Chicken Salad.

BEULAH'S CHICKEN SALAD
Jone Schumacher, Chapin, Illinois
2 1/2 pounds chicken breasts
1 1/2 teaspoon poultry seasoning
1/4 teaspoons pepper
2 teaspoons chicken bouillon granules
2/3 cup sweet pickles
3/4 cup finely chopped celery
1 1/4 cup mayonnaise
1/4 cup reserved chicken broth
30 slices sandwich bread
Soft butter to spread, approximately 1 teaspoon per sandwich
Mayonnaise to spread, approximately 1 teaspoon per sandwich
DIRECTIONS:
Grease large baking pan. Place chicken breasts in pan and season with the seasoning, pepper and chicken bouillon. Cover with foil and bake in pre-heated oven for 40 minutes or until cut breast broth is clear. Drain and cool. Place broth and chicken in refrigerator to cool. Remove bones and skin from chicken, cut in pieces and grind chicken with meat grinder. (I choose to use 2 Ibs boneless, skinless chicken breasts for healthier, easier choice.)
Grind pickles into the chicken and allow the pickle juice to fall into the chicken. Stir the celery into the chicken. Combine the mayonnaise with the reserved chicken broth and stir into chicken. Chill the chicken salad until ready to make sandwiches.
To prepare sandwiches, cut the edge of bread from the slices. Spread soft butter on one side of first piece of bread and mayonnaise on another slice. Spoon about 1/3 cup chicken salad on the mayonnaise bread, top with the buttered bread. Cut sandwich on diagonally and place in sandwich bag. Chill in refrigerator until serving. If taking to picnic, place on ice.
YIELD: Recipe makes approximately 5 cups chicken salad, making 15 sandwiches.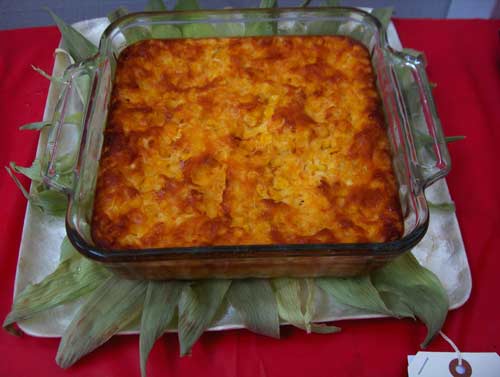 Aunt Lynd's Infamous Com Pudding (image by Catherine Lambrecht)
Third Prize (tie)

Aunt Lynd's Infamous Com Pudding
Amy Wertheim, Bloomington, Illinois
Every year, our family gathers for the big Thanksgiving dinner at my Great¬Grandma's house. As the dinner time nears, we can hardly contain ourselves – OK, it might have something to do with the stated dinner time of 1 PM having passed at least  two hours before … but we know that when we finally sit down to eat, the turkey will be juicy, the cranberry sauce will get spilt adding yet another stain to the fancy tablecloth reserved only for these occasions, and the com pudding (if Aunt Lynd is cooking) will be runny and inedible. Thankfully my mother has taken it upon herself in the last few years to see to it that no one gets "poisoned" anymore! She has been officially assigned the coveted title of "Official Com Pudding Maker."
No one knows how long the com pudding recipe has been around. It's one of the staples of our Family Thanksgiving. In fact, our family prides itself on having the same foods that my grandma's mother used to make … and although my mom has taken to tweaking the recipe to be make it something really special (and edible), the core recipe has stayed the same. She still uses cream from our neighbor's dairy farm, the corn in the sweet com from her garden that she cans every summer and the eggs are from the hatchery in the next town over. It's truly a homegrown, Midwest treat that our family looks forward to every year at Thanksgiving! I hope you enjoy my family's Heirloom Recipe, just the way my mom cooks it 
Aunt Lynd's Infamous Com Pudding
Amy Wertheim, Bloomington, Illinois
2 ears of sweet com (or 1 can of com)
2 tablespoons flour
2 tablespoons sugar
1/2 cup heavy whipping cream
1 cup shredded cheddar cheese
1 teaspoon salt
2 tablespoons butter
2 eggs
Preheat oven to 350 degrees.
In a buttered 9×9-inch pan, mix ingredients in order listed.  Bake until golden browned and thickened for approx. 30 minutes.  Remove and allow to sit for 5 minutes before serving.
Serves 6 – 8*
For larger gatherings, just double or triple as needed; cook time also is doubled.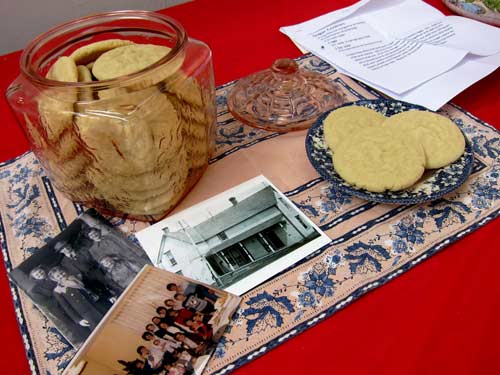 Grandma Rouch's Sweet Legacy Sugar Cookies (image by Peter Engler)
Third Prize (tie)
Grandma Rouch's Sweet Legacy Sugar Cookies
Darlene Crider, Lincoln, Illinois
Visits to Grandma Rouch's farmhouse in Grass Creek Indiana were always a pleasure. Whether it was exploring her attic full of treasures or visiting the animals in the farmyard. Grandma Rouch always had a full jar of cookies waiting for us hungry grand kids. My favorites were always her sugar cookies. Most people would make small, thin, crispy sugar cookies but hers were always large and soft and rolled in sugar. In a child's hands they seemed huge! She would serve them to us with frozen strawberries (that she had picked herself) and preserved in the "deep freeze" that we would then suck on to cool off on the hot summer days, as she never did approve of air-conditioners. Wilma "Irene" Rouch was born in 1904 and was always a very hardworking farm wife. She was widowed young and had to finish raising her family and maintaining the farm on her own. At the time of Grandpa Rouch's death, he had just purchased a new parcel of farm land and she scrimped and saved for years to be able to make the payments so that the land would stay in the family. So frugal recipes like her sugar cookies, which could fill up hungry children with very little expense, were a necessity. This recipe has been in continuous use for over 60 years and possibly longer. I am not sure of its origin, but it has made several generations of children very happy! The cookies are displayed in Grandma Rouch's pink depression glass cookie jar (pink was her favorite color) that was kept full of cookies in her kitchen. When she passed away at home at the age of 96, the jar still had crumbs in it!


Grandma Rouch's Sweet Legacy Sugar Cookies
Darlene Crider, Lincoln, Illinois
1/2 cup oleo (or margarine or butter)
1/2 cup lard (or shortening)
1 1/2 cups sugar
2 eggs
3 tablespoons milk – it can be sour milk
1 teaspoon baking soda
4 1/4 cups sifted all-purpose flour
Cream the oleo and lard and sugar. Add the beaten eggs. Stir. Add the milk and vanilla. Sift the flour, soda and salt together and add to the above mixture. Chill the dough. You may roll it out with the rolling pin on a bread board using powdered sugar so it won't stick to the board and use cooky (cookie) cutters or make balls, dip in sugar, place on cooky sheet and flatten with bottom of glass or Foley cup (metal measuring cup). Bake 8-10 minutes. 350 degree oven.