Greater Midwest Foodways Alliance
FAMILY HEIRLOOM RECIPES
Contestants entered their best scratch family heirloom recipe suitable for a family or community dinner.  Recipe should originate before 1950. 
Contestants brought a prepared dish along with a brief story of who passed the recipe down to them, ethnicity, if relevant, number of years the recipe has been in their family and any interesting information about their recipe.
JUDGING CRITERIA
Taste: 50%
History: 40%
Appearance: 10%
Premiums sponsored in partnership with Feedstuffs FoodLink.com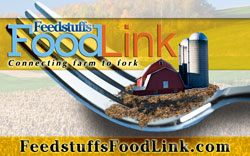 1st place – $150.,  2nd place – $100.,  3rd place – $50 

Pampered Chef is sponsoring additional prizes for our winners:
First place: Reversible Bamboo Carving Board (Value = $72)
Second place: Cool & Serve Square Tray, Outdoor Mini Spoons & Tongs Set (Value = $49)
Third place: Food Chopper (Value = $31)
Competition was conducted on August 11th, these are the results: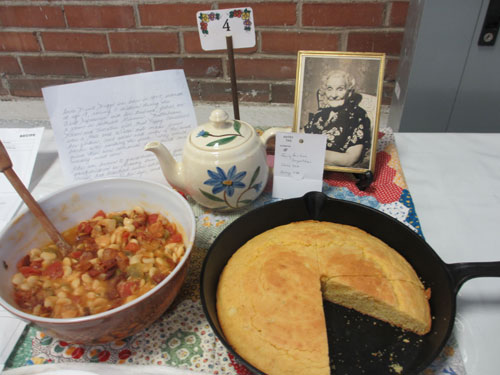 Butterbeans, Bacon and Tomatoes with Hushpuppy Cornbread (image by Catherine Lambrecht)
First Place
Butterbeans, Bacon and Tomatoes with Hushpuppy Cornbread
Barbara Clark, Kahoka, Missouri
Anna Dienst Briggs was born in 1897, married at age 19, raising 5 children during the Great Depression with her husband, John, on a farm in Northeast Missouri.  Butterbeans, Bacon and Tomatoes with Hush Puppy Cornbread was a fall and winter dish made from her garden, root cellar and ends of the cured bacon after smoking the pork.  They would grind their own cornmeal from dried corn – usually sweet corn.
She was know to grandchildren and great-grandchildren as Granny Ann or Granny Annie, had beautiful white hair, a merry twinkle in her eye, and a full cookie jar.
Butterbeans, Bacon and Tomatoes with Hushpuppy Cornbread
Barbara Clark, Kahoka, Missouri
5-6 slices bacon, chopped
1 cup chopped onion
1 large garlic clove minced
1 bay leaf
1/4 cup chopped green pepper
1 quart diced tomatoes or 2-14 oz cans diced tomatoes
4 cups chicken broth
2 cup dried lima beans (cooked total 4 cups)
1 teaspoon salt
1 teaspoon pepper
1 teaspoon Worcestershire sauce
½ teaspoon hot sauce
Cook bacon in skillet over medium heat stirring constantly until crisp.  Add onion, garlic, bay leaf and bell pepper.  Cook 3 minutes or until onions is tender.  Add tomatoes and cook 3 minutes.  Remove from heat.  Cook lima beans in chicken broth until tender, approximately 45 minutes.  Add water as necessary to keep beans covered while cooking.  Add ingredients to beans and simmer uncovered 10 minutes stirring often.  Discard bay leaf.  Stir in crisp bacon and serve immediately over cornbread.
Yield: 8 to 10 cups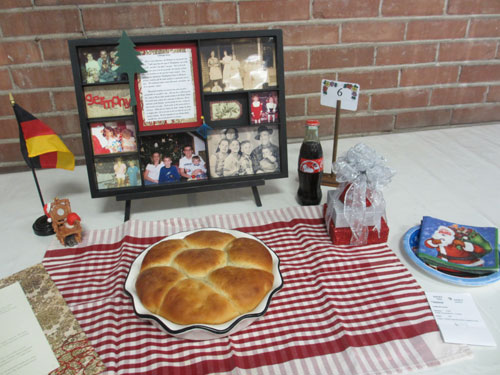 German Cabbage Buns (image by Catherine Lambrecht)
Second Place
German Cabbage Buns
Kristi Wilson, Kansas City, Missouri
Like so many Americans, the Holidays are my favorite time of year.  I still count down the days to Thanksgiving, even at the age of 33, just like I did when I was five.   Out of all of the gifts that were given to me by my family, the memories of those time and traditions are the ones that remain magical.  From going grocery shopping for Thanksgiving Dinner to Christmas morning, traditions fill the weeks making it a spectacular time of year.  The traditional revolve around both events, decorations, and oh so important, recipes!
My favorite tradition was passed down from my great-grandmother on my father's side.  She was born in Germany and then moved to Russia before finally arriving in the United States.  Her family made cabbage buns every year on Christmas Eve in celebration of the holidays, and our family has been carrying on that tradition ever since.  Each member of the family pitches in each year.  Either you are making the dough, making the filling, or stuffing them, but no one gets to hide out while the rest of the family is baking.  We have perfected our own holiday baking assembly line, and we look forward to it all year.
German Cabbage Buns
Kristi Wilson, Kansas City, Missouri
Filling:
2 pounds ground beef
1 small head of green cabbage
Salt and pepper to taste
Brown meat and drain well.  Chop cabbage and place on top of meat.  Cover with lid and turn.  Heat to low.  Cook until cabbage is done, checking periodically.  Once the mixture is stirred, you must keep an eye on it to prevent the cabbage from scorching.  Season after mixture has cooked, let cool to room temp before filling buns.
Buns:
1 cup water
1 cup milk
2 pack yeast
1 tablespoon salt
1.4 cup sugar
1/3 cup vegetable oil
Up to 5 cups flour
Heat water to 105-110 degrees.   Add yeast and let proof.  Add milk (105-110 degrees), salt, sugar and oil.  Stir and add 2 cups of flour.  Mix thoroughly.  Add flour – up to 3 cups; dought will be slightly sticky.  Turn out flour covered surface.  Let rest 10 minutes.  Knead dough until elastic.
Place in greased bowl, cover and let the dough double in size. (up to 3 hours)
Roll dough to ¼ inch or a little less, if possible.  Cut large circles for buns – will be ½ size of the circles.  Spoon filling into center of each circle.  Fold one edge opf circle over filling to the other edge.  Crimp edges together.  Use as much filling as you want, as long as the edges  are clean for crimping.  Place in greased 9" x 11" cake pan, seam down.  Cover and let rise for 45 minutes.
If desired, brush with egg wash before baking in 400 degree preheated overn for 15 to 20 minutes.  Rolls are done when they turn golden brown.  You may also wish to brush the rolls with melted butter once the buns have been removed from the oven.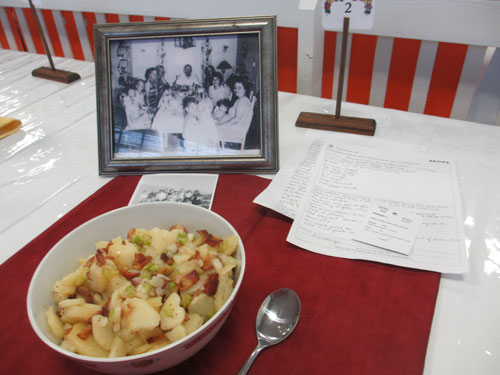 German Potato Salad  (image by Catherine Lambrecht)
Third Place
Grandma W's German Potato Salad
Pat Finkes, Steelville, Missouri
When I look back at all the many family gatherings and picnics, we could always count on Grandma's German Potato Salad to be served.
It was nothing for my mom and Grandma to make 30-35 pounds of Potato Salad.  The Potato Salad was usually served in large crock bowls.  They would start early in the morning cooking and peeling potatoes.   The house would also fill with the wonderful aroma of bacon, which would be used in the potato salad.
As kids we would get to help with slicing the potatoes.  Sometimes Grandma had to remind us to stop eating the slices of cooked potatoes, otherwise there wouldn't be enough for the salad.
Grandma never had an "official" recipe for her German Potato Salad, she just knew how much of each ingredient was needed.  We never thought to ask Grandma to write down a recipe, we just always knew Grandma would make the German Potato Salad as did her mom before her.  After a few trial and errors my sister has been able to duplicate Grandma's recip.  We now share it with our families and yes we wrote it down.  My sister now has taken on the tradition of bringing Grandma's German Potato Salad to all the family gatherings.
Thanks Grandma for wonderful memories and I am certain you are looking down at us and laughing everytime we get the measuring cups to make your potato salad.
Grandma W's German Potato Salad
Pat Finkes, Steelville, Missouri
3-4# small red potatoes – cooked, peeled and sliced
1/2# bacon – cut into small pieces and fry
1/4 c. onion – chopped
1/3 c. celery – chopped
2T bacon grease
1/4 c vinegar
1/4 tsp celery seed
Salt, pepper to taste
Clean potatoes.  Place in a large pot of water bring to a slow boil.  Potatoes are cooked when a fork can go to the center with ease.  Cool, peel and slice.
Fry bacon and save the 2 T. grease.  In the pan add onion, celery, 2 T bacon grease, vinegar, sugar stir until it all becomes warm.
Add sliced potatoes to the mixture.  Stir gently, trying not to mash the potatoes.
Add celery seed.  Season with salt and pepper.
Serve warm.
This potato salad can be made up to 3 days a head of time, cover place in refrigerator and reheat.
Yield: 8-10 servings.