Greater Midwest Foodways Alliance
FAMILY HEIRLOOM RECIPES ENTREES OR SIDE DISHES
Contestants entered their best scratch family heirloom recipe suitable for a family or community dinner.  Recipe should originate before 1950.
Contestants brought a prepared dish along with a brief story of who passed the recipe down to them, ethnicity, if relevant, number of years the recipe has been in their family and any interesting information about their recipe.
JUDGING CRITERIA
Taste: 50%
History: 40%
Appearance: 10%
Competition was conducted on August 17th, these were submissions: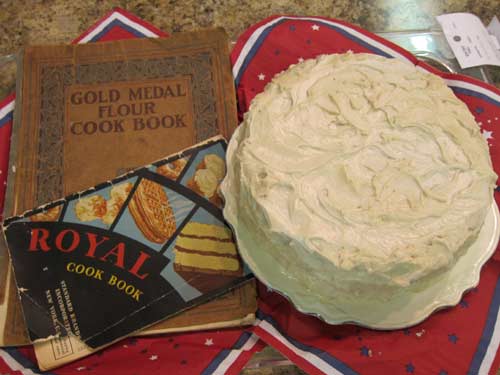 Harvest Cake (image by Catherine Lambrecht)
Harvest Cake
Phyllis Hine, Waveland, Indiana
I'm 73 years old and grew up in Parke County Covered Bridge Country and in 1957 moved to Montgomery County.
In 1943 when my grandfather passed away my grandmother moved in with my parents and brought her cook books along with a 1910 Gold Medal Cookbook and a 1932 Royal Cookbook.
This Sweet Potato Cake Recipe was a recipe in these cookbooks and has been in the family for 67 years. We always made this cake in the fall when we dug sweet potatoes. This cake was also a family favorite at the family reunion in August. The cake was also taken to the Portland Mills Homecoming in Parke County. This event always took place in September. The cake was put on a old antique plate that came from a 5 & 10 store in Rockville, Indiana. The plate was a apple blossom design.
I have added dried cranberries to the original recipe. Everything else in this recipe is the original ingredients.
Harvest Cake
Phyllis Hine, Waveland, Indiana
1 3/4 cups Gold Medal all-purpose Flour
1 cup granulated sugar
3/4 cup packed brown sugar
2 teaspoons baking powder
1 teaspoon ground cinnamon 3/4 teaspoon salt
1/2 teaspoon baking soda
1/2 teaspoon ground ginger
1/2 teaspoon ground nutmeg
1 cup mashed sweet potatoes 1 teaspoon vanilla
3/4 cup chopped walnuts
1/2 cup dried cranberries
3/4 cup margarine, softened
1/2 cup buttermilk
2 eggs
Butterscotch Frosting
1.  Heat oven to 350 degrees. Grease and flour 2 round pans, 8-inch cake pans. Beat all ingredients in large bowl with electric mixer on low speed 30 seconds, scraping bowl occasionally. Beat on high speed 3 minutes, scraping bowl occasionally. Pour into pans.
2.  Bake 30 to 35 minutes or until toothpick inserted in center comes out clean. Cool 10 minutes; remove from pans to wire rack. Cool completely.
3.  Prepare Butterscotch Frosting. Fill layers and frost top and side of cake with frosting.
Butterscotch Frosting
3 tablespoons margarine
1/2 cup packed brown sugar
3 tablespoons milk
3 cups powdered sugar
1/2 cup margarine, softened
1 1/2 teaspoons vanilla
2 tablespoons milk
Heat 3 tablespoons butter and the brown sugar to boiling in 1-quart saucepan over medium heat, stirring frequently. Stir in 3 tablespoons milk; boil 3 minutes, stirring constantly. Remove from heat; cool to room temperature. Beat powdered sugar; 1/2 cup margarine and vanilla in large bowl until smooth. Beat in brown sugar mixture and 2 tablespoons milk until smooth and spreadable.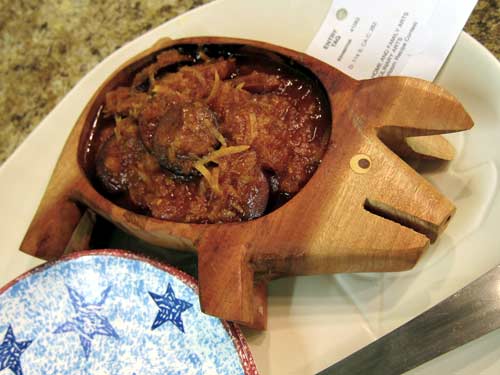 Sweet and Sour Pork (Image by Peter Engler)
Mayre's (Mom's) Sweet & Sour Smoked Sausage
Jeff Boner, Indianapolis, Indiana
My mother was one of eight siblings and love to cook and invent new dishes for her family. My mom and dad married in 1959, and by 1963 had three boys to feed and a budget, being farmers. She even made this dish with fresh pork roast, but to me the smoke sausage made it much better. I remember when my mom would make it, would produce lots of grease it would have to be ladled off. Now since the pork produced now is so much leaner it is a healthier dish than it use to be.
 
Mom first took sweet and sour sausage to her families Easter breakfast, and it was a huge hit. The funny thing that started to occur was that some of our more anti-social family members would call her up and promise to come to the breakfast if she would just bring her signature dish. That made sweet and sour sausage an annual tradition that my older brother carries on to this day when he brings it to the Christmas get together. He usually makes at least ten pounds of sausage, and brings home an empty dish every time. I've seen our cousins fight over the last spoonful on more than one occasion, and it ensures everybody showing up on time because nobody wants to miss out on a helping of it. That's the best part of her recipe; it brings our family together.
Mayre's (Mom's) Sweet & Sour Smoked Sausage
Jeff Boner, Indianapolis, Indiana
Ingredients:
1 oz Can of Crushed Pineapple (Dole-in it's Own Juice)
1-1/2 Cup of Ketchup
1/4 Cup of Vinegar
1 Cup of Coconut (Lightly Packed) 1/2 Cup of Brown Sugar (Packed)
1-1/2 to 3 lbs. Eckrich Smoked Sausage
Directions:
Cut Sausage links diagonally into 1/4″ oblong medallions. Brown sausage well and drain grease. Put sausage and all ingredients into large pan or crock-pot. Simmer for about 1 hour or overnight. Spoon off grease occasionally.
Test Taste:
If Too Sour Add More Brown Sugar If Too Sweet Add More Vinegar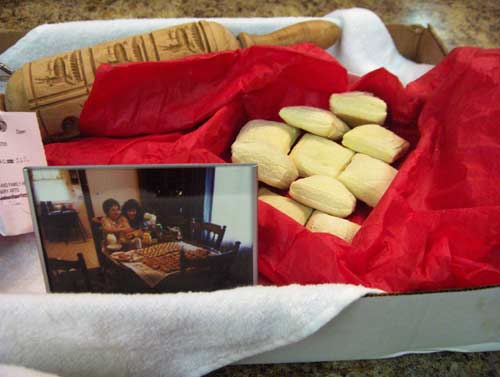 Springerli Cookies (image by Catherine Lambrecht)
Springerli Cookies
Rachael Tryon, Indianapolis, Indiana 
 
My mother-in-law, Dorothy Tryon, loved Christmas. She especially loved the giving of gifts but in the 1940s while raising a young family alone (her husband was serving in the war) giving gifts became a struggle while on a limited budget. During this time, Dorothy turned to her love for baking and began the tradition of making cookies and candies for Christmas gifts. The springerli was one of those cookies.
The recipe and springerli rolling pin, which was a gift from Dorothy's mother, Minnie Krumenacker, came with her from Pennsylvania when she moved to Indiana in the late 1930s. The tradition for making springerli cookies continued with Dorothy as she established her new home.
Dorothy always started springerli cookies the day after Thanksgiving to allow the cookies to "dry out". It was a tradition in her family to let the cookie "harden" making it the perfect dunkin' cookie. She would store them away until it was time to make her cookie gift boxes. When the cookies were "ready" she would start to prepare her cookie boxes. She would line a gift box with red or green tissue paper, display her cookies in neat rows, cover them with clear paper and place them on the cabinets just waiting to be given away. She would also have extra cookies "just in case" someone would come for a visit. She would bring out the cookies and then ask "Anyone want a cup of coffee?" While you knew the springerli would taste good on its own, you also knew it would taste better after being dunked in coffee (not to mention it would be easier to bite into). Finally the coffee would come and you would dunk the springerli, lift it to your mouth and savor the taste. The springerli only came out at Christmas, therefore those of us who loved the licorice cookie made a big deal about eating our first springerli of the season. As friends and families came for Christmas visits the cookie gifts would be passed out and almost everyone would say "Oh, good! Springerlis!
As she got older Dorothy began to lose her eyesight to hereditary retinal dystrophy.  However this did not stop Dorothy from baking her cookies. Her brother, who did woodworking for a hobby, made her a recipe scroll. She wrote all her cookie recipes on a roll of paper in large print and continued making her Christmas cookies. Through the years, daughters, daughter-in-Iaws, and grandchildren would ask to help and thus the tradition continued. About 2 years before her death,
Dorothy was unable to continue baking and cooking as her eyesight and general health were failing. The tradition of making springerli continued however, as I was honored with being asked if I wanted the recipe, the rolling pin, and the Kitchen Aid mixer so faithfully used by Dorothy through the years. The only stipulation was that I make enough cookies to share with my mother-in-law.
The tradition remains alive today. The day after Thanksgiving while other families are out shopping, our family is making springelis. We continue "drying" them out to perfection. They adorn the Christmas cookie plates and await the coffee for dunking. They have even been sent to Iraq along with other Christmas cookies for our son who was deployed over Christmas. In the Tryon house one thing stands true: It wouldn't be Christmas without springerlis.
Springerli Cookies
Rachael Tryon, Indianapolis, Indiana
 
5 whole eggs
2 cups sugar
1 tsp baking powder
12 drops anise oil (or to taste)
4 cups of flour
Beat eggs till smooth and frothy. Add sugar gradually, and beat for 20 minutes. Add oil and baking powder. Add flour and beat until blended. Separate dough into quarters. Roll out to Y2 inch thick. Flour Springerli mold carefully and press firmly into dough. Remove mold and cut cookies on line of imprints. Place on greased cookie sheets. let cookies stand overnight to dry. Place first in 375 degrees oven to set, then reduce to 300 degrees and bake for 15 minutes.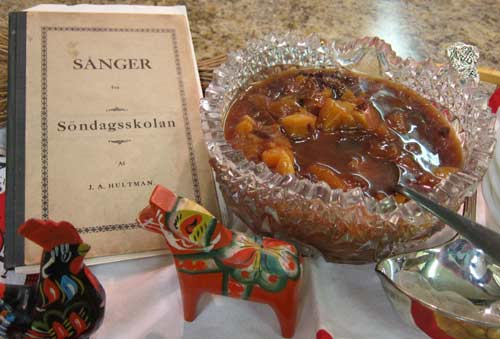 Swedish Fruit Soup (image by Catherine Lambrecht)
Swedish Fruit Soup –
Part of Old-World Taste and Traditions Brought to Northern Indiana
Kenda Friend, Indianapolis, Indiana
Did you know that the term "smorgasbord" originated in Sweden as a way to describe country parties to which each guest brought some kind of food? I didn't either until visiting with my mother-in-law who is a first¬ generation American whose parents immigrated to the United States as teenagers in 1924. She recalls many traditions that her mother kept alive in their new homeland of the Midwest, including the preparation of a smorgasbord on Christmas Eve.
This festive meal served after the church service was laid out on the sideboard buffet style, only complete if all the neighbors were there and there was a bounty of traditional Swedish foods. My mother-in-law recalls how my father-in-law (her then suitor) was taken aback by many of the many strange Swedish items on the buffet. While he initially did not enjoy the cold herring, he did find the fruit soup very appealing. His first Swedish smorgasbord must have left a good impression as they became engaged soon thereafter.
The fruit soup recipe originated in Sweden perhaps several generations before coming across the ocean and now is part of our family tradition. In fact, my husband prepared this soup for the women of our church as part of a brunch, to rave reviews. It is easy to prepare in advance, making it a valuable addition to a meal served directly after coming home from church with many hungry guests streaming in the door.
Swedish Fruit Soup –
Kenda Friend, Indianapolis, Indiana
1/4 pound dried prunes, diced
1/4 pound dried apples, diced
1/4 pound dried apricots, diced
3 cups water
1 cup grape juice
1/2 cup sugar
1 cinnamon stick
juice of half lemon
rind of half lemon, grated
1 tablespoon cornstarch
1 tablespoon cold water
Soak fruit in water for 2-3 hours.  To the fruit and water, add juice, sugar and cinnamon stick and cook slowly until tender.  Remove fruit.  Mix cornstarch with cold water, stir in and bring to boil. Add grated lemon rind and juice. Put fruit back into the liquid. Serve cold.