Greater Midwest Foodways Alliance
FAMILY HEIRLOOM RECIPES
Contestants entered their best scratch family heirloom recipe suitable for a family or community dinner.  Recipe should originate before 1950. 
Contestants brought a prepared dish along with a brief story of who passed the recipe down to them, ethnicity, if relevant, number of years the recipe has been in their family and any interesting information about their recipe.
JUDGING CRITERIA
Taste: 50%
History: 40%
Appearance: 10%
Premiums sponsored in partnership with The Spice House: 

1st place – $150.,  2nd place – $100.,  3rd place – $50 

Pampered Chef is sponsoring additional prizes for our winners:
First place: Reversible Bamboo Carving Board (Value = $72)
Second place: Cool & Serve Square Tray, Outdoor Mini Spoons & Tongs Set (Value = $49)
Third place: Food Chopper (Value = $31)
Competition was conducted on August 11th, these are the results: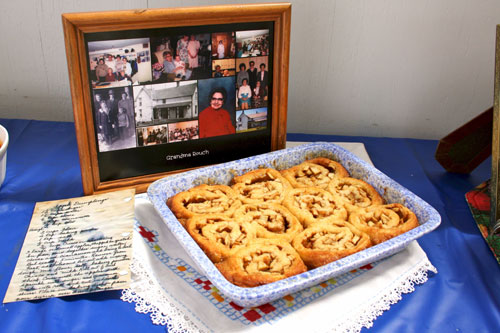 Apple Dumplings (Image by Victoria More)
Apple Dumplings
Darlene Crider, Lincoln, Illinois
Grandma Rouch (Wilma Irene Johnston Rouch) was a remarkable woman. She was an incredible example of the strength and endurance it took to be farm wife during the depression. Her passion was for her family and her home, which was always run with energy and dedication as a farm homemaker. She was married to a farmer, Lester Rouch in 1924 and had four children. His sudden loss in 1955 was devastating. She was left with a farm to run, children still at home (the youngest, my father, only 9 years old) and a mortgage on newly purchased farm land. But with grit and determination she was decided to see that her husband's last act, the purchase of that land, would not be in vain, despite the challenges and hardship. She worked even harder, adding extra odd jobs to her already heavy load to make the payments on that loan. She did without and lived below her means to do so. Amazingly, she accomplished her goal! She paid the mortgage off, leaving a large amount of land to her children when she passed away, still living in her beloved home, at the age of 96. In fact, all of the original land that her husband had purchased still belongs to the family. All this while caring for her farm and her 5 children, being involved as a 4-H leader, a member of Grass Creek United Methodist Church, in the Ladies Aid, a member of several Extension Homemakers Clubs, and the Historical Society. She loved to teach other women new skills as homemakers so that they could learn to use their resources well as farm women. And she was fascinated by her Pennsylvania Dutch ancestry. This recipe may have been a result of that ancestry, but its origins are lost in time. And of course, she was a fantastic cook and left a wealth of wonderful recipes behind for her family. Rouch family get togethers were always a gastronomical treat with lots of hearty homemade dishes.
She was truly a remarkable woman. Her recipe for Apple Dumplings is like her, not fussy or pretentious. It's just good, solid farm food. It's rich, quick to prepare and nourishing, delicious and filling, using what was available on hand. The dumplings are great for family get-togethers or to fill up hungry bellies at the dinner table. My mother borrowed this recipe from Grandma Rouch and made it for me and my sisters, so it nourished our generation. Now I make it for my family and my children love it too, especially hot out of the oven and served with ice cream! So the recipe has been used by at least 3 generations, possibly more and I hope it will continue to be passed down, illustrating the values that were so important to Grandma Rouch.
The dumplings are displayed on a table runner that Grandma Rouch embroidered. Honestly, I don't know how she found the time!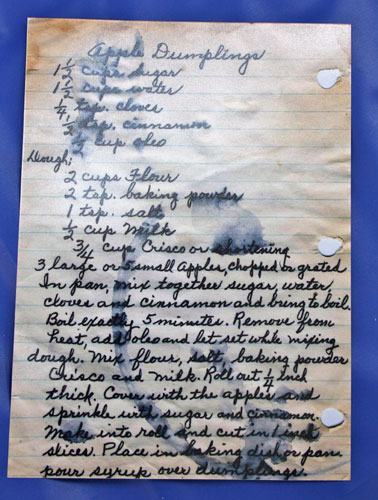 Apple Dumpling Recipe (Image by Victoria More)
Apple Dumplings
Darlene Crider, Lincoln, Illinois
Syrup:
1 1/2 cups sugar
1 1/2 cups water
1/4 tsp. cloves
1/2 tsp. cinnamon
1/2 cup butter
Dough:
2 cups flour
2 tsp. baking powder
1 tsp. salt
3/4 cup butter
1/2 cup milk
3 large or 5 small apples, chopped or grated
Preheat oven to 350 degrees. In a large saucepan, mix together sugar, water, cloves and cinnamon and bring to a boil. Boil exactly 5 minutes. Remove from heat, add butter and let sit while mixing dough. Mix flour, salt and baking powder, rub in butter. Add milk; mix gently until combined and can form a ball of dough. Roll out into a rectangle, 1/4 inch thick, on a floured counter-top. Cover dough with the chopped apples and sprinkle with sugar and cinnamon. Make into a roll and cut into 1-inch slices. Place in a 13x9x2 baking dish. Pour syrup over dumplings. Bake until brown and bubbly, about 30-45 minutes. Serve hot or cold.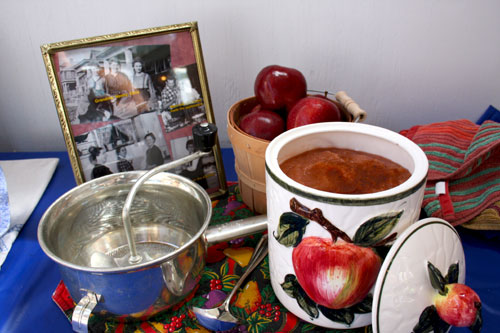 Applesauce (Image by Victoria More)
Nanny's Mother's Applesauce
Kitsy Amrhein, Springfield, Illinois
 
Six generations of my family have made or currently make some form of the family applesauce recipe. It's been tweaked through the years with each generation experimenting with a few changes to the basic recipe. However, had it not been for the Illinois State Fair, this family heirloom recipe might have been lost to the ages …
But I'm getting ahead of myself. Lets start at the beginning. Nanny was my great grandmother. She died when I was 7 years old so my actual memories of her are few. But her daughter Clara, (my grandma) loved to tell stories about her. That's how I learned about her making applesauce, or rather teaching my grandma and her sister Edna how to make applesauce. According to the oral history passed down by my grandma, Nanny was a true pioneer woman of the 19th century. Everything she did was done by hand. No modem convienieces for Nanny. She worked hard from sunup to sundown. One of her favorite treats was apples. Apple pie, apple butter, apple cider, and apple anything was often on her table. One of those apple dishes was applesauce. It didn't come from a can or a jar in those days. If you wanted applesauce you needed to make it yourself. She learned to make it from her mother, my great-great-grandmother.
She would core the apples and cut them into pieces and cook them over the fire. Then the fun part started. After the apples were soft and mushy, they needed to be put through a sieve. That could take quite awhile to do. Back and forth– forcing the apple pulp through the sieve with the back of a wooden spoon. But once, it was completed, you had a very tasty treat. When my grandma and her sister Edna were old enough, they were the ones that got to do the fun part. The part involving the sieve. Nanny would supervise the girls. My grandma would talk about what a mess it was and how sore her hands and arms were from making applesauce. She liked to eat it but she hated to make it. Besides, it was now the 20th century and you could buy it in the store already made. It didn't taste nearly as good though.
Grandma started buying her applesauce instead of making it at home. That was until a little invention called the food mill. The food mill was invented by Jean Mantelet in Minneapolis, Minn. The invention was patented on Aug. 8, 1933. The first food mills were produced by a company named Foley. Though this was its first kitchenware product, Foley later produced other useful kitchen items, including shredders and juicers.
Now you are probably wondering how the Illinois State Fair saved the recipe. Well, there was no fair during World War II and in 1946 the fair was back in full swing. In 1946 my grandmother went to the Illinois State Fair again. Grandma walked into the Exposition building which from the way she described it was not much different then it is today. People were demonstrating all the latest modem conveniences that no housewife could live without. She saw somebody demonstrating a Foley Mill. She remembered Nanny's applesauce recipe and thought she could make it again using the Foley Mill instead of the sieve. She bought one on the spot. On the way home from the fair, she picked up a bushel of apples. That night, grandpa had his first taste of home made applesauce with his dinner. Never again would store bought canned applesauce be served in their home.
My grandma gave my mother a Foley Mill as one of her wedding gifts. She also handed down the recipe that she had grown up hating to make. My mother learned to make the delicious treat and did so often. Once the fall would roll around and apples were in season, she made it almost daily. The only time I ever had canned applesauce was on a school lunch tray. Yuck!
Mom changed the recipe a small amount by adding cinnamon red hots to it because she loved cinnamon and everyone knows that cinnamon and apples go together. Grandma usually made clear applesauce using green apples but Mom always used red apples, which produces red applesauce unless you peel them, which you don't have to do.
At my sisters wedding shower, Grandma gave her a brand new Foley Mill and told her she would need it to make her husband home made applesauce. My sister put it away in her attic and forgot all about it.
My mother got me a Foley Mill at a garage sale. She then coached me through my first batch of applesauce. It was the easiest thing I ever made. I make it all the time in the fall when those apples are in season.
Last October, my mother was temporarily in a nursing home recovering from a fall. My niece and nephew were in town to visit their grandma. She was complaining about how horrible the food was. I had just finished making a double batch of applesauce so I took her some. Actually, I took her about a quart of it. I also gave some to my niece and nephew. They loved it and wondered why their mom never made it. I told them she had a Foley Mill in which to make it because I saw her open the one Grandma gave her at her wedding shower almost 35 years ago.
Mom called me the next day and told me I had to bring more applesauce up to the nursing home. Now I know the food there was bad but there was no way she had consumed the entire quart already. She said she was sharing it with everyone else and they had never had homemade applesauce. All the nursing home patients were raving about how good it was and they wanted more. So I continued the family tradition by teaching my niece and nephew how to make it while we made another batch to take up to Mom.
My niece and nephew returned home and asked their mother why she never made applesauce. She said she remembered getting the Foley Mill from Grandma but couldn't remember what she did with it. My nephew went on a mission to find it. He did. Now they are the sixth generation to make this family heirloom recipe. A recipe saved by that cool invention first introduced to my Grandmother at the Illinois State Fair. Now that they know how to make it, they will never again buy a can or jar of applesauce. It's too easy to make it yourself and a whole lot better tasting. They will be sure to pass it on to a seventh generation when their kids are old enough to learn how to make it.
I think I'll head over to the Exposition Building after the contest today and see what cool gadget is being demonstrated. You never know …. I might find something that will save another heirloom recipe for generations to come.
Nanny's Mother's Applesauce
Kitsy Amrhein, Springfield, Illinois
3 pounds fresh apples
2/3 cups sugar
1/4 cup water
2 teaspoon lemon juice
15 red hot candies
1/8 teaspoon ground cinnamon
Core apples and slice into wedges. Do not peel apples.
In 2 quart pan combine water, lemon juice and apples. Cook over low heat stirring occasionally until apples are soft and mushy.
 
Push cooked apples through a sieve or food mill.
Fold in sugar. Stir in red hots until dissolved.
Garnish with ground cinnamon
Chill in refrigerator or "ice box" as my Grandma called it.
Will keep up to a month in the refrigerator.
Yields 1 quart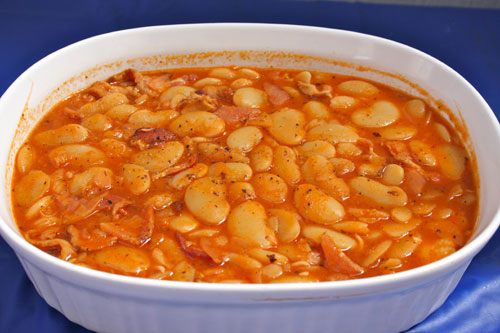 Lima Beans in Tomato Soup (Image by Victoria More)
Lima Beans in Tomato Sauce
Marilyn Okon, Springfield, Illinois
This recipe for Lima Bean in Tomato Sauce has been in our family for at least 75 years. It was shared with my mother, Lillian Okon, by her mother as she was growing up. When she married in 1946 she brought along that recipe and it quickly became a favorite in the extended family. For big family picnics or get­togethers, my mother could always be counted on to bring her lima beans. There was never anything left to take home.
The lima beans were also a staple in her immediate family as she raised her four children. It was frequently served as a meal in itself. After each of the kids left home, it was not unusual for us to request our mom to prepare her special lima bean recipe for us when we returned to visit.
Over the years this recipe has found its way into many church and community cookbooks. It was even submitted and accepted for entry into a published cookbook.
While I have not made the recipe as often as my mom did, I remember one time recently when I was visiting family in Michigan.  I decided to make the lima beans and share them with both my brother and my sister.  Both were surprised and delighted to see those lima beans in tomato sauce again. Right before returning home, I called my brother to say good bye. One of the things he made sure to tell me was that he had just finished eating the lima beans. They were his lunch that day. It brought back memories of when we ate those lima beans as a meal in itself. My brother returned the container I gave him the lima beans in before I left, hoping, I am sure, that it be filled again soon.
Lima Beans in Tomato Sauce
Marilyn Okon, Springfield, Illinois
2 lbs. dry lima beans
2 qts. boiling water
1 tsp. salt
1 lb. bacon, cut into 1 inch pieces
1 medium onion, finely chopped
2 10 3/4oz. cans condensed tomato soup
Wash beans in running water. Cover with boiling water; add salt. Bring to boil; boil 2 minutes. Set aside to soak 1 hour. Bring to boiling point. Reduce heat; simmer 1 hour. Drain, reserving water. Fry bacon until soft. Drain off excess fat. Add onions and fry until soft. Add tomato soup and reserved cooking liquid. Add more water if needed. Pour mixture over beans. Season to taste with salt and pepper. Serves 8.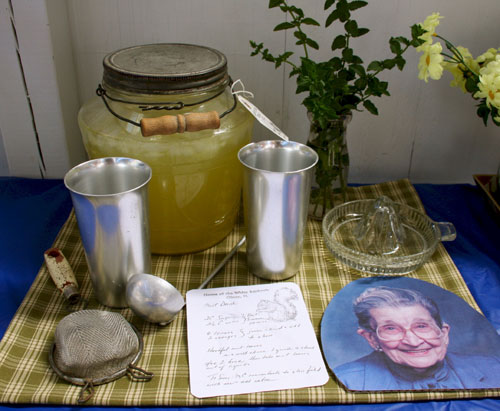 Mint Drink (Image by Victoria More)
Grandma's Mint Drink
Rob Dunbar, Emden, Illinois
Mint Drink History
As a young boy, I always knew when someone important was coming to visit my Grandma during the summer. Usually it meant that my cousins from up north were coming down south to visit. Or, an important friend of Grandma's was in town to see her. Grandma would go out to the back of the house and gather up handfulls of mint leaves from her garden. She did this in order to make her mint drink. I always considered this drink a wonderful treat whenever it was made and whenever I was lucky enough to be around to have some.
Now, I'm grown and married. My wife and I have our own place in the country that allows us to grow our own mint leaves. We can make Grandma's mint drink as much as we want when the weather is hot. Looking back, I realize that it was a labor of love when Grandma made her drink. Squeezing six lemons and two oranges to get the right amount of juice for the drink make my hands very sore. But when we each have a glass filled with icy cold mint drink on a hot August day, it's all worthwhile.
I was told, my Grandma had been making this wonderful drink since she was young. Grandma always added the homemade mint concentrate to water. My wife and I have found that the mint concentrate is also very refreshing when added to iced tea. Grandma passed away at the age of 102 in 1991, and I'm proud to carry on the tradition of this wonderful, refreshing drink.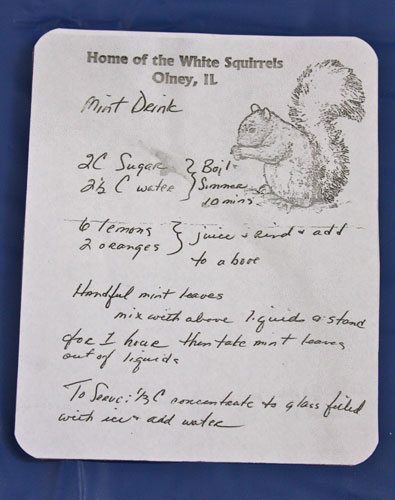 Mint Drink recipe  (Image by Victoria More)
Grandma's Mint Drink
Rob Dunbar, Emden, Illinois
(This recipe is grandmas only I have explained some steps that my grandma would have assumed the cook already knew)
Ingredients;
2 cups of sugar
2 1/2 cups of water
6 lemons
2 oranges
A nice-sized handful of mint leaves
Grate and juice lemons and oranges into a large bowl, then set aside.

Mix sugar and water together in a sauce pan on the stove. Bring the mixture to a boil.

Simmer for 10 minutes. Add grated mixture so that it also simmers for the 10 min. Remove from heat. Add mint leaves. Let stand for one hour. Strain and place in jar in refrigerator. To serve, mix one cup concentrate with one cup water in glass with ice. Enjoy.
** For the purpose of this competition I have already mixed the concentrate to water so that it is ready to serve.
Pickled Peach Pie (Image by Victoria More)
Grandma Daniels Spicy Peach Pie
Carol Meadows, Springfield, Illinois
When I was young my grandmother lived with us until I was twelve. Due to an illness I was confined to bed for two years. A hospital bed was set up in the dining room so I could be part of family activities. Some of my best memories was of my grandma setting by my bed teaching me how to sew, crochet, and embroidery. She also gave me my first adventure into cooking. I can remember in the summer she made spiced peach pies. In the summer she would can peaches and also make her "pickled peaches." She would save the "pickled peaches" for holidays and special occasions. I would wait with anticipation for her to open the jar because she would let me have the first taste to make sure they were ok. I remember she would take the peaches and cut an "x" on the bottom put them in hot water for a while and put them in cold water. When the cold water pan got full of peaches she would bring the pan in by my bed so I could take the skin off the peaches and she would cut them in half and take the pit out. Looking back I know that having me help her added to the time she would spend canning the peaches.  It was a special time. She took extra time to make me feel useful. I will never forget the special hours I spent with her. I have her recipe for "pickled peaches," and try to can several jars to use for our holiday dinners. The peaches are very similar to spiced peaches in the ball canning book. She always had a few pickled peaches left over so she would make a pickled peach pie. She only made two a year one when she first made the pickled peaches and the second at the beginning of peach season when she need extra jars. I have tried to pass on her legacy to my nieces and great nieces. Many of my newer memories is of time I spend with my nieces, great nieces, and nephews in the kitchen. The kitchen is truly the heart of the house.
Grandma Daniels Spicy Peach Pie
Carol Meadows, Springfield, Illinois
Crust:
3 Cups Flour
1/2 Teaspoon Salt
2 Teaspoons Sugar
2 Teaspoons Baking Powder
8 Ounces or 1 Cup Shortening or Lard
7 Tablespoons Cold Water
1 Egg Beaten
In a large bowl mix together salt, baking powder, flour, and sugar. Cut in lard or shortening until flour mixture resembles peas. Start adding water one tablespoon at a time. You want the dough to look like rags. Divide dough into two equal pieces and cover with plastic wrap. Refrigerate until time to roll out. Using the 1/2 cup of flour lightly dust the surface and roll out bottom crust into a 11 inch round circle. Place the bottom crust in a deep dish pie pan. Add cooled filling. Roll out top crust and place over filling. Crimp together the edges and bake in a 350 degree oven.
Filling:
8 Peaches (Skinned and Sliced)
2 Cups Sugar
1/2 Teaspoon Cinnamon
1/8 Teaspoon Ground Cloves
1/2 Teaspoon Ginger
6 Tablespoons Cornstarch
3/4 Cup Peach Juice
In a large bowl combine peaches, sugar, cinnamon, cloves, and ginger. Mil well. In a mixing bowl combine peach juice and cornstarch. Mix well and add to peaches. Place filling in pie curst. Bake in a 350 degree oven until filling bubbles in the middle.