Greater Midwest Foodways Alliance
FAMILY HEIRLOOM RECIPES
Contestants entered their best scratch family heirloom recipe suitable for a family or community dinner.  Recipe should originate before 1950. 
Contestants brought a prepared dish along with a brief story of who passed the recipe down to them, ethnicity, if relevant, number of years the recipe has been in their family and any interesting information about their recipe.
JUDGING CRITERIA
Taste: 50%
History: 40%
Appearance: 10%
Premiums sponsored in partnership with Feedstuffs FoodLink.com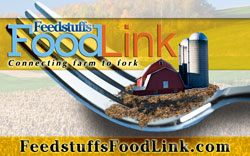 1st place – $150.,  2nd place – $100.,  3rd place – $50 

Pampered Chef is sponsoring additional prizes for our winners:
First place: Reversible Bamboo Carving Board (Value = $72)
Second place: Cool & Serve Square Tray, Outdoor Mini Spoons & Tongs Set (Value = $49)
Third place: Food Chopper (Value = $31)
Competition was conducted on August 12th, these are the results:
Brownstone Fruit Cake
Angie Richard, Perry, Iowa
I inherited the recipe for Brownstone Fruit Cake from my maternal Great-Grandmother Flora (McDonald) Gasche. Flora was born in Kansas in the late 1890s & passed away in 1978. She worked as a teacher in a one-room school house as a young adult. When she got married, she became a homemaker. She and my Great Grandfather Grover Gasche owned a large cattle farm in Kansas. They had many farm hands to help on the farm. Flora did all of the cooking for the crew as well as her family which consisted of several children.
I found this recipe in my grandmother's cookbook when she passed away a few years ago. It's from the 1940s. I'm not sure where Great-Grandmother Gasche got it. However, I'm sure the name of the recipe for a fruit cake made without fruit sparked her dry Scottish humor!
Brownstone Fruit Cake
Angie Richard, Perry, Iowa
4 eggs
2 c. sour or sweet cream
2 c. granulated sugar
1 tsp. vanilla extract
7 T. cocoa powder
2 1/2 c. sifted cake flour
2 tsp. baking soda
1/4 tsp. salt
Directions: Preheat oven to 375 degrees F. In a large mixing bowl, combine eggs, cream, sugar, and vanilla extract. Beat with egg beater until thoroughly mixed. Add cocoa powder, cake flour, baking soda and salt. Beat mixture again until thoroughly combined. Pour batter equally into two 9 inch round baking pans. Bake for 30 to 35 minutes or until a toothpick inserted in the center of each cake comes out clean. Remove cakes from oven and let them cool. Glaze each cake layer with chocolate glaze (recipe follows below) and serve.
Chocolate Glaze
3 T. heavy cream
1 tsp. vanilla extract
1 1/2 c. powdered sugar
1 T. cocoa powder
Directions: Mix ingredients listed above in a small mixing bowl with spoon until smooth.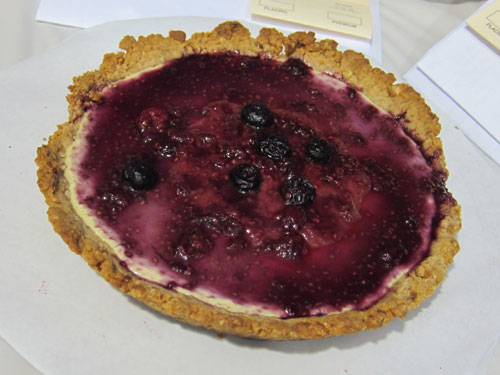 Old Fashioned Raspberry Cheesecake
Old Fashioned Raspberry Cheesecake
Jacqueline Riekena, West Des Moines, Iowa
My grandmother Teresa Smith Wittrock has 12 kids, all are currently living and was very resourceful when it came to cooking.  She lived on a farm and picked fresh fruits and vegetables daily and spent over half of her day cooking from the family.
She enjoyed gardening and baking pies and cakes.  This was one of her favorite recipes not as sweet as most, but healthy.
She sued to set the crusts outside to cool only to find out the birds liked – so I have a few missing on the crust.
Old Fashioned Raspberry Cheesecake
Jacqueline Riekena, West Des Moines, Iowa
Ingredients
 2 pkg 8 oz cream cheese softened
 1/3 cup honey with a dash of cinnamon
 2 eggs
 2 egg yolks
 1 cup sour cream
 1 cup sour cream
 1 T grated lemon peel
 2 tsp corn starch
Topping – Raspberry Blueberry Puree
 1/2 cup raspberries
 1/4 cup blueberries
 2 T light corn syrup plus 2 tsp water
Honey Walnut Cheesecake Crust
1 1/4 cup flour
1/2 cup roasted walnuts
1 tsp ground cinnamon
Add 1/3 cup each honey and melted to flour, ground walnuts and cinnamon, mix well. Press into bottom and upsides of 8 inch pan.  Bake at 375 degrees for 15 minutes until lightly browned.
Blending cream cheese with honey until smooth. 
Beat in eggs and yolks.  Add remaining ingredients, beat until smooth.  Turn into prepared crust and bake at 300 degrees for 50-55 minutes or until set.  Cool and refrigerate until thoroughly chilled before serving.  Makes 8 servings.
You can light drizzle top of cheesecake with additional honey if desired.
Cook raspberries and blueberries over low heat with corn syrup & water and add to cake.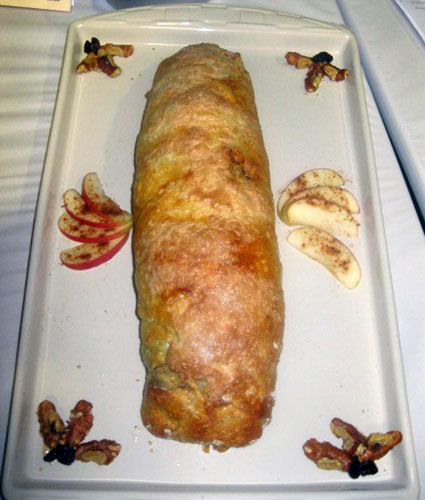 Grandma's Hungarian Nut Loaf (Image by Jim Duncan)
GRANDMA'S HUNGARIAN NUT ROLL
ANGELA LAWLER, WEST DES MOINES, IOWA

ACCORDING TO MY DAD, THIS RECIPE BELONGED TO MY GREAT GRANDMOTIIER. SHE DIED IN 1926 SO HE NEVER KNEW HER, BUT MY GRANDMOTHER WOULD TELL STORIES FROM WHAT SHE REMEMBERED. MY GRANDMOTHER WAS ONLY 10 WHEN HER MOTIIER DIED AND WAS RAISED BY HER OLDER SISTERS AND AN AUNT ON HER MOM'S SIDE. THEY PASSED ON THE RECIPE I MADE TODAY TO MY GRANDMOTHER, WHO PASSED IT ON TO MY DAD, WHO PASSED IT ON TO ME.
MY DAD REMEMBERS HUNGARIAN NUT ROLL EVERY EASTER AND CHRISTMAS WHILE HE WAS GROWING UP. IT WAS ONE VERY SPECIAL THING THAT HE AND HIS BROTHERS REALLY LOOKED FORWARD TO AND WAS REGARDED AS A SPECIAL TREAT. I DONT REMEMBER IT AT EASTER, BUT DEFINITELY EVERY CHRISTMAS. MY GRANDMOTHER WOULD MAKE 2 THINGS, A SPECIAL PIE, WHICI MIGHT ENTER NEXT YEAR AND THIS NUT ROLL.  I WAS NOT A RAISIN FAN AS A KID, SO I DID NOT APPRECIATE IT UNTIL I WAS MAYBE IN COLLEGE.
AS MY GRANDMOTHER GOT OLDER, SHE STOPPED BAKING AND MY FATHER TOOK OVER THE "DUTY" OF MAKING HUNGARIAN NUT ROLL FOR THE FAMILY AT CHRISTMAS. I REMEMBER MY UNCLES COMING OVERt AND ASKING WHERE THE NUT ROLL WAS. THERE HAVE BEEN A FEW VARIATIONS ALONG THE WAY, BUT THE RECIPE I USED TODAY IS THE ORIGINAL I GOT FROM MY DAD. MY GRANDMOTHER DIED LAST FALL AT THE RIPE OLD AGE OF 95 AND MAKING THIS RECIPE MADE ME REMEMBER. I HOPE I MADE HER SMILE BY BAKING THIS FOR YOU TODAY.
GRANDMA'S HUNGARIAN NUT ROLL
ANGELA LAWLER, WEST DES MOINES, IOWA
FILLING
MIX TOGETHER
– 1 1/2 CUPS SUGAR
– 2 CUPS CHOPPED WALNUTS
– 1 TABLESPOON CINNAMON
– 3 CHOPPED APPLES (I USED GRANNY SMITH)
– 1 TABLESPOON LEMON JUICE
TRADITIONAL DOUGH
– 1 CUP MILK
– 1 TEASPOON SALT
– 1/2 CUP BUTTER
HEAT MILK, SALT AND BUTTER UNTIL BUTTER MELTS COOL.
– 1/4 CUP WARM WATER
– 2 1/4 TEASPOONS YEAST
– 1 TEASPOON SUGAR
COMBINE ABOVE AND LET SIT FOR ABOUT 10 MINUTES TO ACTIVIATE YEAST.
TO MILK MIXTURE, COMBINE 1/4 CUP SUAR, MINUS 1 TEASPOON.  ADD ADTIVATED YEAST MIXTURE, 1 WHOLE EGG AND 2 EGG YOLKS.  ADD 5 CUPS FLOUR AND I TABLESPOON NUTMEG, MIX WELL AND ROLL OUT ON FLOURED SURFACE, TOP WITH FILLING MIXTURE AND ROLL UP JELLY ROLL STYLE.  (SPLIT DOUGH AND FILLING IN HALF IF WANT TO MAKE 2 ROLLS)  SQUEEZE END TOGETHER, BRUST TOP WITH 1 BEATEN EGG TO GLAZE AND SPRINKLE WITH SUGAR.
BAKE 375 DEGREES FOR 35 MINUTES UNTIL GOLDEN BROWN.
MAKES 1 LARGE OR TWO SMALL ROLLS (1 TO EAT AND 1 TO FREEZE OR SHARE).  I MADE THE SMALL ROLLS.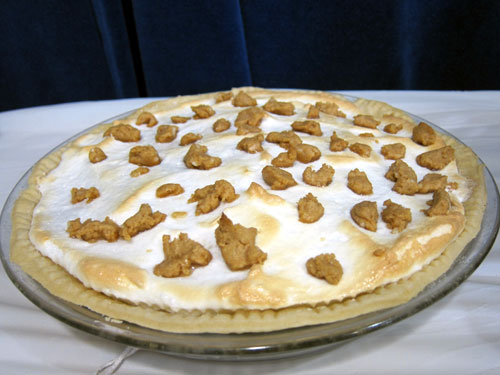 Peanut Butter Pie
Peanut Butter Pie
Hollie Zeglen, Carlisle, IA

This recipe comes from my Grandma, she was born in 1919 and married in 1940. She was married to a farmer and had to learn how to bake and cook at a fast pace. One thing she learned to love was baking pies.
In 1976, she entered her first pie into the Iowa State Fair and won her first blue ribbon and at that point was hooked on entering the fair. Pies being her specialty in 1990 Successful Farming Magazine picked up the 1st Place winner recipes at the fair and tested them and chose this pie to be published in their March magazine. After this article, Country Magazine saw this article and asked her to enter their contest. In June 1992, she won "Best Cook in the Country" and in February 1992 was declared "Cook of the Year". From this honor, my Grandma and I enjoyed a week doing an Amish Tour in Pennsylvania. The magazine also told people to send in for other recipes request, we sent out over 800 recipes to 34 states.
My Grandma is a very important lady to me and is not able to enter the fair anymore, due to heart problems. I told her I wanted to enter a recipe of hers in the fair and this is the one we chose, this is my favorite pie and I hope I did her a little proud.

Peanut Butter Pie
Hollie Zeglen, Carlisle, IA
Pie Crust-
1 1/2 cup flour
1/4 tsp salt
1/2 cup Crisco
1 tbl butter
5 tbl ice cold water
Mix flour, salt, Crisco and butter to a crumb.  Add water and mix to a soft dough. Roll out and put in pan. Prick with a fork and bake 400 degrees for 10-12 minutes.
Peanut Butter Pie­
9″ Pie Crust
3/4 c powerdered sugar
1/2 c peanut butter (creamy)
Mix these together and set aside.
In saucepan combine 2/3 c. granulated sugar, 1/3 c. cornstarch, 3 egg yolks, 2 1/2 c milk – cook until thickened.
Remove from fire and add 2 tbl. butter, 1 tbl vanilla.
In bottom of baked pie crust put all but 2 tbl of the peanut butter mixture. Pour the pudding over this while hot. Make meringue:
Cook 1 tbl cornstarch, 1 tbl sugar and 1/2 cup water until thick and clear. Set aside. Beat 3 egg whites until frothy. Add 3 tbl. sugar and beat til peak. Add cooked mixture and mix gently. Put over pudding. Add 2 tbl. peanut butter mixture and bake at 350 degrees for 12-15 minutes.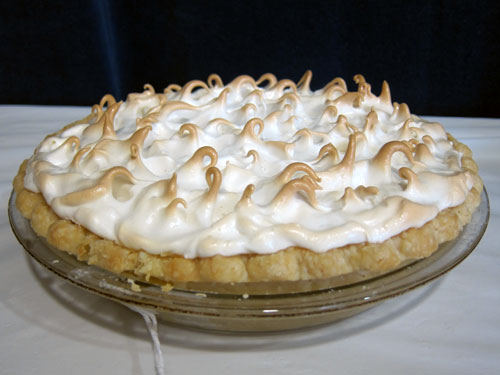 Raisin Cream Pie
Raisin Cream Pie
Mindy Paulson, West Des Moines, Iowa
Raisin Cream Pie has a special place in my family. My grandma, Nellie Deters, raised her family during the Great Depression, and we believe she began making this pie while her children were young. My grandparents farmed near Wellsburg, IA, and at one point they operated a dairy there, while getting the cream, buttermilk, and butter for this recipe, and many others, from their own cows.
This pie recipe was handed down to my grandma by her mother, a fabulous pie baker from whom my grandma mastered her own pie baking skills. In fact, my great-grandma baked all the pies for the restaurant in town, which was operated .by my grandma's sister. Together they attracted many pie eaters to the restaurant.
While my grandparents raised their young family, pie was already an important part of their own family tradition. Every Sunday morning, almost without fail, my grandma would bake a fresh pie to have as dessert after Sunday dinner. I think she did this mostly because my grandpa loved pie so much. In fact, the story goes that one Sunday after church and having left the oldest children at Sunday school, my grandma came home to find a slice of pie missing from a freshly baked pie. My grandpa had stayed home with my uncle who was the youngest child, and my grandpa blamed my uncle for taking the missing piece, even though he was far too young to have done so!
What makes this raisin cream pie recipe so special is not so much how long it's been around in my family, but more so because of how much our family loves this pie. My grandma prepared food for her family with love, and she did so especially with all the pies she made. This particular pie has been a favorite and much-anticipated dessert at all of our family gatherings, and I remember it well from the time J was a little girl. My grandma would always bring three or four pies, and her standards were pumpkin or pecan pie, lemon meringue, and this delectable raisin cream pie.
When it was time to eat, everyone would hurry to be the first in line to fill their plates at the long table of potluck dishes, not just for all the great food everyone else brought, but so they could be the first ones to reach the end of the food line – where all the pies were waiting. Since there was only one raisin cream pie, everyone knew that unless someone was willing to go halves, only eight of us were getting a rich slice of that pie.
Eventually the competition for a slice of this pie became so fierce, that my eldest uncle decided he would no longer wait in line, and he began starting at the pie end of the table. This ensured a slice of raisin cream pie for himself. Of course, not to be outdone, my dad and other uncle soon followed suit, and before anyone else had a chance, three slices of raisin cream pie were gone before the meal even really began.
Of course, my grandma's other pies were also winners, and no one was left disappointed with whatever slice that made it to their plate. But my grandma knew how special this pie had become to our family. She once mentioned that everyone called her pie "sour cream raisin", but that since she did not use sour cream in her pie, it was actually "raisin cream" . She said she just let everyone call it "sour cream raism" and did not correct them. The funny thing about that is a few years ago, when my sister and I published a family cookbook with my grandma's recipes, entitled "Meal & Memories: A Heritage of Deters Family Cooking", we found Grandma's recipe card for this pie. The top of the card was titled "Sour Cream Raisin Pie", even though it had no sour cream, just as Grandma had said!
As the years went on and my grandma grew older, she made pie less often, and eventually she moved to a nursing home. I was visiting her one day and we talked about making pie, because I was just getting started myself and needed her advice. She shared with me how to make her special raisin cream pie, and she dictated the recipe from memory (at 90-something years of age). Oh, how many times she must have made that pie during her lifetime! Grandma told me where I could find her recipe card, to verify the ingredients and amounts she had told me. Of course she remembered accurately, but her explanation that day of how to make her pie turned out to be crucial, as her recipe card that I later found contained only the ingredients and measurements, but no instructions.
My grandma is gone now, she passed away nine years ago. While my grandma was still alive, our family got together less frequently than in earlier years, but we still tried to at least celebrate together her birthday each year. After she died, it seemed like we no longer had any concrete reason to get together, and we didn't. But four years later, in 2007, we started our annual Deters family picnic. To bring back the family tradition, I started baking the pies for each picnic to help everyone remember, and to share with the newest and youngest family members, that small piece of our family heritage. This year was our 6th annual picnic, and the first one in which I chose not to make the raisin cream pie. While they enjoyed the other pies I brought, my family members' comments let me know how much they were looking forward to the raisin cream pie, how disappointed they were not to see it, and how they hoped I would make it again next year (and could I please teach them how to make it!). That only reinforced to me what a special treasure this pie recipe is for my family. I will be making it again for next year's family picnic, and for those in the years to come. And I am so honored to have been given the privilege of making this pie for my family, just as my grandma did all those years before.
 
Raisin Cream Pie
Mindy Paulson, West Des Moines, Iowa
Crust:
3 c. all-purpose flour
1 tsp. salt
1 c. lard
7 to 8 T. ice water
In mixing bowl, stir together flour and salt. Using pastry blender, cut lard into flour until pieces are size of small peas. Sprinkle 1 T. of ice water at a time over part of flour mixture and stir gently with a fork. Push moistened dough to side of bowl and repeat until all the dough is moistened. Divide dough in half. Form each half into a ball. Roll out and ease one crust into pie pan. Line pastry with parchment paper and pie weights. Bake at 450 for 8 minutes, remove paper and weights; take 5-6 minutes more or until go1den. Cool. (Save other half of dough for another pie.)
Filling:
1/2 c. raisins
1/2 c. brown sugar
1/2 c. granulated sugar
3T. all-purpose flour
1 c. buttermilk
1/2 c. cream
3 egg yolks
1 T. butter
1 tsp. vanilla
Boil raisins with brown sugar, cover with water, and boil gently until almost all water has evaporated. Drain raisins, reserving liquid. In saucepan, combine granulated sugar and flour. Gradually stir in buttermilk, reserved raisin liquid and cream. Cook and stir until thickened and bubbly. Reduce heat; cook and stir 2 minutes more. In medium bowl, lightly beat egg yolks. Gradually stir about 1 c. of hot mixture into egg yolks; return to saucepan and bring to gentle boil. Cook and stir 2 minutes more. Remove from heat, add butter and vanilla. Fold in raisins. Keep filling warm until meringue is ready.
Meringue:
4 large egg whites
1/4 tsp. cream of tartar
Dash of salt
1/2 tsp. vanilla
6 T. sugar
Beat egg whites on high until foamy. Add cream of tartar and salt; continue beating on high until soft peaks hold. Add vanilla. Gradually add sugar while beating on high, until sugar is dissolved and meringue is stiff but glossy.
 
Pour hot filling into baked pie crust. Immediately spread meringue over hot filling, carefully sealing to edge of pastry. Bake at 350 for 5 minutes. Reduce heat to 325 and continue baking 7-10 minutes until meringue is golden. Cool on wire rack.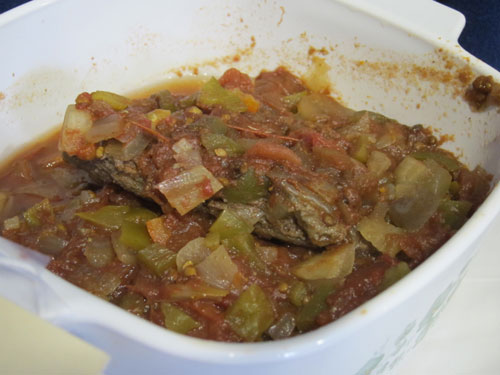 Aunt Opal's Steak Sauce
The Historv of Aunt Opal's Steak Sauce Recipe
Jeanne Stall, Huxley, Iowa
Living on a farm, my family planted a vegetable garden each year to provide us with fresh vegies during the growing season and still allow the surplus to be canned for Winter use. We always had an abundant crop of tomatoes, onions & peppers, as well as other vegetables. In talking with my Great Aunt Opal many, many years ago, she told me of a tomato-based sauce recipe she had that was a great way to utilize a generous supply of these vegetables. Her recipe requires only a few, inexpensive ingredients, which are commonly found in most farm kitchens. However, it can be modified. You can reduce the ingredients to create a smaller volume and use grocery store canned tomatoes, onions and peppers. By doing this, you can avoid the canner and create just enough sauce for one meal. In spite of the simplicity of this recipe, the sauce has a rich, complex flavor as well as being eye-appealing with the colorful peppers and tomatoes. A few years ago, I was speaking with another Aunt about Aunt Opal's recipe. When she heard the list of ingredients, she told me it sounded like the chutney recipe she remembered from childhood, made by my Great Grandma Turner. Great Grandma Turner was Aunt Opal's Mother-in-law. The original Turner homestead, now well over a century old, is just down the road from where I was raised. Great Grandma Turner raised her family in that farmhouse around the turn of the century (1900 ) and, after many years, her youngest son and his wife ( my Aunt Opal), raised their family in that same home. As the years tick past, there are very few members of my family who can remember the origin of this recipe, but for those of us fortunate enough to enjoy its flavors, it will always be known by the duel names of  "Aunt Opal's Steak Sauce" AND "Great Grandma Turner's Chutney"
Aunt Opal's Steak Sauce
Jeanne Stall, Huxley, Iowa
18 large, ripe tomatoes
3 medium white/yellow onions (chopped)
2 cups sugar
2 tsp. salt
2 cups cider vinegar
3 large green peppers (chopped)
1 large red pepper (chopped)
1 1/2 tsp. ground cloves
1 tsp. paprika
1 1/2 tsp. ground cinnamon
1 tsp. nutmeg
Peel and chop tomatoes into a colander. Discard 1/4th of the drained juice. In a large stock pot, add together remaining juice, chopped tomatoes & all of the remaining ingredients. Cook over medium heat until mixture thickens ( ~90 minutes). Tomato varieties vary, so if mixture does not thicken, add 3 T. cornstarch to 1/2 cup of hot liquid then stir into entire cooked mixture.  Pour into 6 sterilized pint jars, leaving 1/2" space at top. Seal firmly with canning lids & rings then process in a hot water bath canner for 15 minutes. Remove from canner and allow jars and contents to cool. Use as a sauce for round steak but also makes hamburgers taste special.
 
Round Steak with Aunt Opal's Steak Sauce
Place a 1 1/2 to 2 lb. round steak into a covered 9 x 13″ baking pan. Pour one pint of steak sauce over entire steak. Bake in oven @ 325 F for 90 minutes or until meat is tender.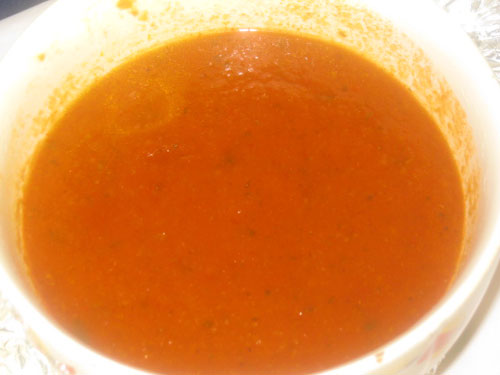 Tomato Soup (Image by Jim Duncan)
Homemade Tomato Soup
Deanna Smith, Des Moines, Iowa
My mother found this recipe in a house they had just moved into in 1944. She was 12 at the time she's 80 today. She made this recipe then passed it on to me. I made it for years. My sister and her daughter make it also My neice makes it in her crockpot and lets it cook all day before straining it. She cuts down the amounts. I gave the recipe to my sister-in-law. She has made it with her daughter. My daughter said it started her liking tomatoe soup. When I make it with my daughter we also make chicken salad and have chicken salad cresants with it for supper and freeze the rest. I put the soup in a jewl T bowl because my mother started buying them right after she was married from the Jewl T salesman who would stop at her house. Just this past year my mother gave me the original recipe. It's tattered and taped to a recipe card with mailing tape.
Homemade Tomato Soup
Deanna Smith, Des Moines, Iowa
1/3 BU tomatos (this is a grocery sack full)
18 cloves
2 bunches of parsley
10 bay leaves
8 cloves garlic
2 whole stocks of celery
8 red peppers
6 large onions
8 carrots
Chop vegetables, boil till tender and put through a canning cone or food mill. Place soup into large pot and add the following: (first cook 45 minutes)
 
1 cup of sugar
1 1/2 T.apple cider vinegar
3 T paprika
1/2 cup flour mixed with 1 cup water
1/2 stick of butter
3T salt
2 teas pepper
Bring to a boil, then simmer for 15 minutes. Freeze or can.