The Midwest: How Sweet It Is!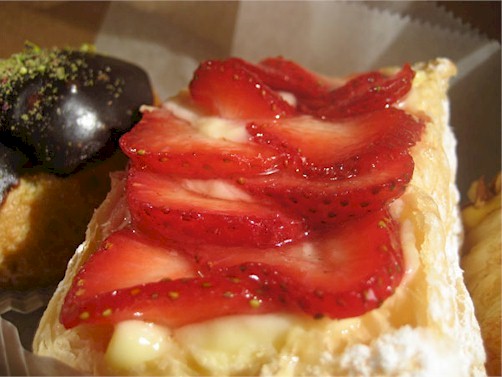 (Image by Michael Gebert)
Sweets:  A Journey through Midwestern Dessert Traditions
Saturday, April 5, 2008
9 AM – 4 PM
Registration 8 – 9 AM
Kendall College
900 North Branch Street, Chicago
(West of Halsted Street, North of Chicago Avenue)
FREE PARKING
The Greater Midwest Foodways Alliance (GMFA) is building off the success of its inaugural event last fall to invite media, academics, members of the food and foodservice industry, students and food enthusiasts to "Sweets: A Journey Through Midwestern Dessert Traditions," a program about the history of sweets in the Midwest, including important dessert traditions that began in small towns and big cities here in the Midwest. Enjoy a day learning about:
The influential role of the railroad and immigrant populations in the bringing new desserts to the Midwest and establishing them as traditions

Abraham Lincoln's favorite dessert

The blue-ribbon pie traditions of county fairs, including unusual, lost recipes such as bean pie and sugar-cream pie

The cooking of the late 19th century Michigan, as described in the autobiography of Della Lutes

The role of Midwestern food companies in creating much-loved home dessert recipes such as the French Silk Pie, Tunnel of Fudge cake and Princess Brownies.

Dessert traditions completely unique to the Midwest, including the  Wisconsin kringle and the Mennonite-German Pfeffernouse
Featured speakers will include Donna Pierce from the Chicago Tribune and Ken Albala from University of the Pacific, in addition to a host of other dynamic Midwest food academics and cookbook authors.
Through lectures, interactive discussions – and of course, delicious tastings throughout the day to help illustrate the ideas discussed. A Midwest lunch will be provided.
For registration by phone, call 847/432-8255 or by e-mail, write to: GreaterMidwestFoodways@gmail.com.  By credit card at: http://www.brownpapertickets.com/event/29929
Registration is $50, Admission at the door is $60.  Lunch is included in the program.
Program features speakers:
Jane Marshall, food historian and journalist Instructor, Kansas State University, "Cakewalks and bake sales: How women pioneers refined the Midwest and defined community"
Family ties to Candy

· Ray Elliot, author-publisher, "The evolution of the Heath Candy Bar"
· Tom and Amy Wertheim, R.G.W. Candy Company, "Small batch candy making"
  
Home Baking I: Pie
 
· Paula Haney, Hoosier Mama Pie Company, "From Abundance to Desperation – Pies of Indiana"
· Peter Engler, Culinary Historian, "Bean Pie: An Iconic African-American-Islamic dessert"
· Catherine Lambrecht, Founding Board member, "Reclaiming the Pecan's Roots"
Ken Albala, Professor of History at the University of the Pacific, "Almond Cookery from Northern Europe to the Midwest, or how an exotic import retained its status over time and tide"
Home Baking II:
 
· Michael Gebert, freelance writer, "Pfeffernusse and Pluma Moos: Mennonite Food Traditions in a Kansas Family"
· Judy Kancigor, author of Cooking Jewish, "Jewish desserts: From poverty to plenty"
· Donna Pierce, Chicago Tribune Test Kitchen Director, "Sweet Ride Up the Rails"
Desserts that went to market
· Dobra Bielinski, Delightful Pastries, "Clash of cultures. How does a French and American chef create Polish pastries, breads and cakes? What makes a Polish pastry, if ganache is on top is it still Polish?"
· Herb Fingerhut, Kaufman's Deli and Bakery, "What a baker does in his late 40's when the family bakery closes: experiences that have brought him to the best time in his life!"
· Eleanor Hanson, former Kraft Kitchen director, "From Recipe Box to Grocery Shelf: The test kitchen and recipe contest origins and lore of iconic everyday desserts"

Riva Feshbach, Exhibits Manager, Newberry Library's Culinary Collections, "Food for Thought: Culinary History at the Newberry Library"