Greater Midwest Foodways Alliance
FAMILY HEIRLOOM RECIPES ENTREES OR SIDE DISHES
Contestants entered their best scratch family heirloom recipe suitable for a family or community dinner.  Recipe should originate before 1950.
Contestants brought a prepared dish along with a brief story of who passed the recipe down to them, ethnicity, if relevant, number of years the recipe has been in their family and any interesting information about their recipe.
JUDGING CRITERIA
Taste: 50%
History: 40%
Appearance: 10%
Competition was conducted on August 15th, these were submissions: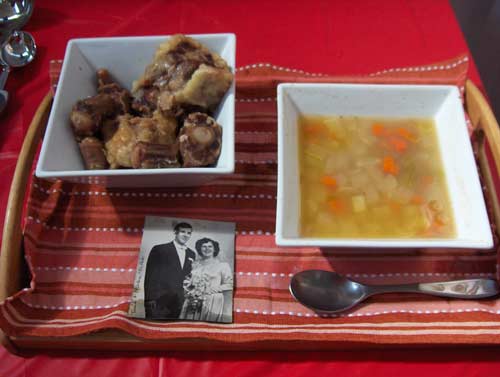 Ox Tail Soup (image by Catherine Lambrecht)
Ox Tail Soup
Linda Cifuentes, Mahomet, Illinois
My grandmother was not a very good cook but my mom got married when she was 18 years old and learned to cook well. As a matter of fact she was a great cook. My Grandma made this soup but my mom turned it into a family favorite.
We come from a Czech background and lived in a Czech neighborhood in Berwyn Illinois. Back in the day this was a very inexpensive meal to make. Oxtails were 69 cents a pound and you could buy a "soup package" for 59 cents. The soup package contained parsnips, turnips, carrots and celery.
Unfortunately today it is not so inexpensive a meal. Oxtails cost $4.29 a pound and the soup package doesn't exist so you have to buy all the vegetables separately.
When my Grandma made this recipe she did not use the bouillon or the rice; that was my mom's addition.
This was an entire meal that was usually served for Sunday Supper for two reasons. Sunday supper was the special family meal of the week and it took all afternoon top make the soup. We always got to pick a meal for our birthdays and this was the meal my little sister picked. Her birthday is in December and my mom always made this the Sunday closest to her birthday.
This was also a very entertaining meal. My mom served the soup right out of the pot and we ladled it into very large bowls. She placed the oxtails, which come in various sizes, in a large colander set inside a bowl that was full of the ox tails. Once everyone finished their soup it was time to dig in. We ate with our fingers and everyone used ketchup to dip the ox tails in. It was a contest to see who could pile up the most bones next to your soup plate. The loser did the dishes. Now the bigger the ox-tail the more the meat however I always grabbed the little ox tails because I could eat them fast and pile up a lot of bones. I hated to do dishes and by using this strategy I never lost.
Making this meal today I could not stop thinking about my Mom who has almost been gone for 5 years, she had Alzheimer's and unfortunately the last few years of her life could not cook. So please think of my mom Helen when you are eating her special soup today. And remember if you don't want to do the dishes grab the little ox tails. But if you want a lot of that meaty flavor go for the big ones! ! !
Ox Tail Soup
Linda Cifuentes, Mahomet, Illinois
Add ox tails to cold water. While oxtails are heating up clean and add whole to the pot: carrots, celery, parsnips, onions, and turnips. Let vegetables boil 35 to 40 minutes, take out of water and cool down. Cut vegetable into small pieces and put into another pot. After ox tails have boiled one and a half hours strain liquid into pot with vegetables. Add 1 beef bouillon cube. Optional-add rice and boil 10 minutes.
I wrote the recipe just as my mom had it. This is exactly what I put in:
4 pounds oxtails
3 carrots
2 parsnips
3 stalks celery 2 turnips
1 onion
1 beef bouillon cube 1/2 cup instant rice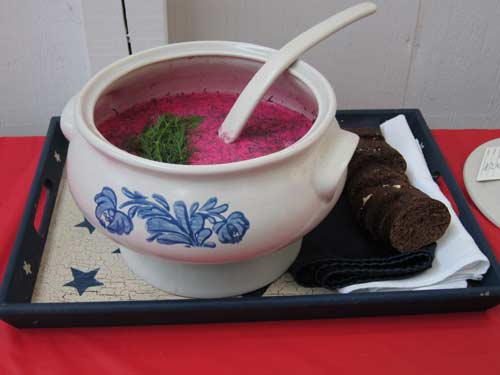 Sahibarsciai, Lithuanian cold beet soup (image by Barbara Kuck)
Saltibarsciai—-cold beet soup from Lithuania
Deborah Steele, Springfield, Illinois
a common dish, brought to America in the early 1900's by my great grandparents …. they left their village to brave "the new world" because of a famine …..
according to my grandmother, this was made often for lunch; .. as it would keep til the men could come in from the fields.  She usually got the job of chopping.  the beets, the cucumbers, the dill.. .. Sometimes they would make it with buttermilk, other times with sour cream. it depended on what was "on hand"  I never got to meet my great grandparents … Joseph died in the 1940's from tetanus contracted on the farm … Catherine died shortly thereafter from "a broken heart."  this was actually entered on her death certificate!
my grandmother had a huge garden … with dill surrounding it..that is my main memory of her. the smell of the dill in the summer heat and in this soup.
she taught her two boys,(my father and uncle) to make this soup …. and my father taught it to me. To me it is the perfect summer soup. cold, refreshing, filling.
Now I am teaching my grand daughters to make the soup .. and they are helping me pick the dill in 'my garden …… so it spans five generations that I can account for. a common dish, a common thread….
Saltibarsciai—-cold beet soup from Lithuania
Deborah Steele, Springfield, Illinois
10 beets; greens removed
3 quarts water
1/4 cup chopped dill (and 3 tablespoons chopped dill for garnish)
2 cucumbers, peeled and chopped coarsely
1/4 cup white vinegar
1/2 teaspoon salt
1/2 teaspoon pepper
1 pint sour cream
2 potatoes, boiled and cooled
1 medium onion, finely chopped
3 tablespoons butter
3 tablespoons vegetable oil
wash beets, place in 6 quart dutch oven pan. bring to boil, and simmer til just tender. should be approx. 20 minutes.
drain the beets, reserve the beet water. let the beets and water cool. trim and peel the beets, chop coarsely. add to water.
peel cucumbers, chop coarsely, add to water.
add the vinegar, sour cream, salt and pepper.
wash the fresh dill. chop up, and add to water in pot. combine very well.
place in refrigerator at least three hours to chill. overnight is best.
boil potatoes …. and let cool. then peel and dice.
add vegetable oil and butter to frying pan .. saute the chopped onion in the pan til limp. add diced potato, and combine well and heat through.  Let cool.
Add the 3 tablespoons chopped dill to soup before serving.  This was always served with black bread.
serves 10 people.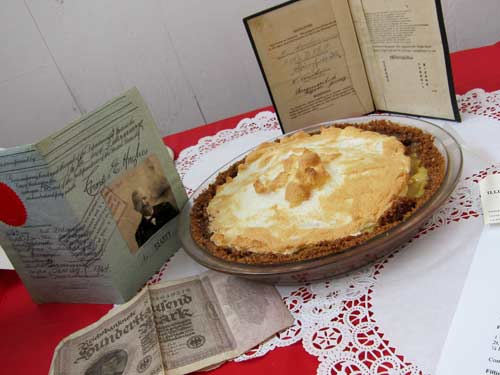 Zwieback Pie (image by Peter Engler)
Zwieback Pie
Kitsy Amrhein, Springfield, Illinois
Zwieback Pie has been in my family since at least 1894, when my great grandfather, Christoph Amrhein immigrated to the United States from Germany. He settled in Springfield, IL and started Amrhein's Bakery. One of the things he baked in the early days of the bakery was Zwieback toast. Zwie means 2 in German and back means bake. Double baked bread is Zwieback. My great grandmother would use the toast to let my grandfather teeth on. It was marketed as teething toast for babies. Both Nabisco and Gerber sold Zwieback toast for years, but discontinued it about 10 years ago.  Four generations of Amrheins have literally cut their teeth on Zwieback toast. My great grandmother would also grind it up to make a pie crust. This recipe was passed down to my grandparents. During World War II, my grandmother made Zwieback pie more than any other because of rationing. She couldn't get much sugar or flour for personal use, but Zwieback was plentiful for a family that owned a bakery. She is the one that taught me how to make Zwieback pie. I taught the next generation to make it and they will no doubt continue to teach future generations. It has long been my absolute favorite pie and still is today.
Piecrust is made from Zwieback toast. Zwieback is a German word meaning double baked. I make my Zwieback from scratch, but you can use store bought (if you can find it) and put the toast through a grinder or food processor.
Zwieback toast
1 package active dried yeast
4 fl. oz. milk
2 oz. sugar
2 oz. butter
pinch salt
¼ teaspoon cinnamon
¼ teaspoon nutmeg
3 eggs (unbeaten)
12 oz. flour
Gently warm the milk until tepid and add the yeast. Set aside for 5 minutes, to allow the yeast to activate.
Melt the butter and add to the mixture, along with the sugar, cinnamon, nutmeg and eggs. Stir until thoroughly combined.
Add enough of the flour to form a dough, then knead well until the dough is smooth – you may need to add extra flour as you knead.
Set the dough aside and leave it to rise.
Once it has doubled in size (around one hour later), divide it into 3 equal pieces and form into loaves Place on an ungreased baking/cookie sheet and allow to rise again (around 30 minutes).
Bake for 20 minutes at 400 degrees F, and then cool.
Lower the oven temperature to 200 degrees F, and slice the loaves into 1/2″ slices.
Return to the oven and bake for a further 15 mins, until the zwieback toast is dry and hard.
Pie Crust 
1 3/4 cup ground up Zwieback toast
2 teaspoons cinnamon
1/4 pound melted butter
Combine above ingredients and press into a glass pie dish.
Filling
1/2 cup sugar
3 egg yolks
2 cups milk
1 tablespoon cornstarch
1 teaspoons vanilla
Pinch of salt
Combine ingredients and cook over medium heat while stirring constantly till thick. Pour into piecrust.
Meringue Topping
3 egg whites
2 tablespoons sugar
Beat eggs with a mixer and gradually add the sugar. Beat until stiff. Spread over pie.
Bake in a preheated 400 degree oven till meringue topping is lightly brown.
Chill for at least 3 hours before serving.