Beef: From Plains to Plate
Follow the Cattlemen's Trail to Savory Midwest Beef Traditions
October 23-25, 2009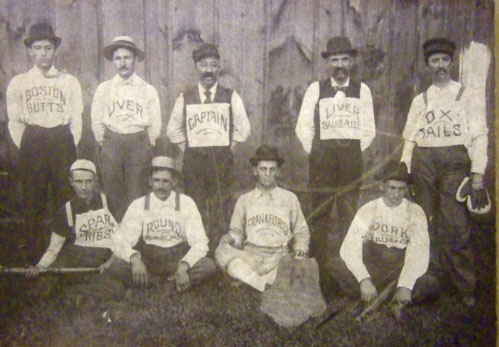 Courtesy: Hammond Public Library
Kendall College
900 North Branch Street, Chicago – FREE PARKING
(West of Halsted Street, North of Chicago Avenue)
Celebrate Midwestern beef foodways, from the desolate plains to meat processors who packed, wrapped and shipped their meat provisioning the global market.
Culinary Curiosities at Kendall College
Planned Events
(small changes may occur)
Friday, October 23rd, from 11 AM to 1 PM at Great Lakes, IL (Limit 20)
Early arrivals may consider taking A Tour of the Naval Culinary "A" School, then dine as a sailor. Transportation to Great Lakes, Illinois is not included. There is convenient transportation by Metra North Line to Great Lakes station. Upon reserving, detailed transportation information will be provided.  For more information, check U.S. Navy Culinary "A" School.
Friday, October 23rd, from 4 PM until 6:30 PM at Kendall College

From Primal to Cut

Cutting demonstration of a side of beef donated by the National Cattlemen's Beef Association. All those primals pieced together, picked apart and discussed by Kari Underly.

Attend this interactive live cutting demonstration and learn how the 7 primals are processed into subprimals. You will observe firsthand how these subprimals are cut into not only familiar traditional cuts, but also today's newer, healthier cuts. Whether you are in the foodservice industry or a food enthusiast, you will be sure to wow your colleagues with new "cutting edge" beef knowledge.


Friday, October 23rd, 6:30 PM cocktails, 7:00 PM dinner at Kendall College
Founder's Dinner fundraiser (business attire)  More information can be found at Founder's Dinner Menu
Saturday, October 24th, from 9 AM to 4 PM at Kendall College
8 AM – Registration
 
8:15 AM – Tour of Kendall's Culinary School
 
9:00 AM Conference commences
 
– Welcome  – Bruce Kraig
 
– The beef industry yesterday, today and tomorrow.
Keynote Speaker: Dell Allen, PhD in Animal Science, Michigan State University
This presentation takes a look at the history of the beef industry in the U.S. from the time the Spanish Conquistadors brought the first cattle into North America up to today. This presentation highlights important events and times in the industry, including some of the influential people who made important contributions in moving it forward.
 
– Ranch to Feedlot to Packing House
Midwestern State Beef Councils. A panel of beef producers speaking on the evolution of beef production in the Midwest.
  – Cow-Calf
     Dave Hamilton, Thedford, Nebraska
  – Feedlots
     Steve Foglesong, President-elect, National Cattlemen's Beef Association
   – Animal Husbandry Practices
      Dr. Ben Wileman, Beef Cattle Institute, Kansas State University
 
– Grass-fed beef: (Re-)discovering traditional farming for todays consumers,
Klaus Weber, PhD of Northwestern University
Only 20 years ago, the term "grass-fed beef" was known only to cattle ranchers and livestock commodity analysts. It was a technical term used primarily to describe meat of inferior quality and lower price that had not followed the standard process of production in the United States. Under the conventional system, cattle are taken from smaller family farms across the Mid-West and fattened or "finished" in centralized feedlots on a diet of corn. Today, however, grass-fed meat and dairy products sell at a premium and are served in high-end restaurants. Food writers like Michael Pollan praise its virtues. Historically, the movement for purely grass-fed meat arose in opposition to a system of industrial agriculture that had become dominant after World War II and almost eliminated regional variety in farming and meat products due to breeds, forage and ranching knowledge. It also cut the connection between local meat producers and customers. The presentation will address a) the history of meat production and cattle ranching, b) the differences between grass-fed and conventional beef and their deeper foundations in cultural understanding of the meaning of food, and finally c) how the modern market for grass-fed beef as a specialty product became possible through the work of pioneering ranchers and consumer activists.
– Certified Angus Beef:  The Angus Confusion,
Mark McCully, Assistant Vice-President for supply development for Certified Angus Beef LLC
The word "Angus" simply refers to a breed of cattle. But there's more to great beef than just being Angus. While others may say Angus, do not confuse the type of cattle with the proven brand name. The world's first and premium brand of Angus beef is the Certified Angus Beef® brand with 10 strict specifications that provide the Science Behind the Sizzle™.
– Everything But the Squeal: Chicago's Union Stock Yards, 
Russell Lewis, Chicago History Museum
Chicago's Union Stock Yards was the result of the fusion of urbanization and industrialization, and it represented one of the greatest industrial innovations of the nineteenth century. Meatpacking was one of the trio of Chicago industries—along with grain and lumber—that catapulted Chicago onto the national and world stage. This presentation will chronicle the rise of the Union Stock Yards and its place in Chicago's history.
– Halal (and Kosher) in the Heartland,
Larry Jacoby, Shepherd Song Farm
Have you ever wondered about halal and kosher meat products? This presentation will explore the differences between halal and kosher and what your customer means when they ask for halal certification. The ethnic market offers new opportunities for producers and retailers.
 
Lunch – Beef dishes made from various primal and subprimal cuts.

 
– From Beef Producer to the Consumer,
John Huston, Executive Vice President Emeritus, National Cattlemen's Beef Association 
– Everyday Food – Ground or chopped beef
   – How Ground Beef on a Bun Conquered the World, 
     Andrew F. Smith  
Ground beef was not a important part of the American diet until the late nineteenth century, when it captured the attention of Midwestern street vendors and restaurateurs. Within a decade, a Midwestern street vendor put ground beef in a bun and the hamburger was born. It quickly became America's most popular sandwich, but it even soared to greater heights when a Midwestern short order cook launched White Castle and a multimixer salesman globalized McDonald's.
 – The Big Baby
    Peter Engler
  
– Dining Out – Steakhouse
  Chef Hans Aeschbacher
  Steakhouse Purveyor – Allen Brothers
  Culinary Historian – Barbara Kuck
 
Sunday, October 25th, from 10 AM to Noon

You may choose from either:
 
– A Tour of Culinary Curiosities exhibit at Kendall College (Limit: 20)
  Guided by Curator Victoria Matranga.  Review a collection of antique food production equipment.  For more information check Culinary Curiosities at Kendall College.
– Maxwell Street Market Tour
  Guided by David Hammond & Bruce Kraig. This is an open air market.  Dress appropriately for conditions.  This tour will be conducted whether in rain or shine.
Meet in front of the Red Maxwell Street Market sign on the northwest corner of Des Plaines and Roosevelt Roads.  For more information, check Maxwell Street Tour.