Greater Midwest Foodways Alliance
FAMILY HEIRLOOM RECIPES
Contestants entered their best scratch family heirloom recipe suitable for a family or community dinner.  Recipe should originate before 1950. 
Contestants brought a prepared dish along with a brief story of who passed the recipe down to them, ethnicity, if relevant, number of years the recipe has been in their family and any interesting information about their recipe.
JUDGING CRITERIA
Taste: 50%
History: 40%
Appearance: 10%
Premiums sponsored in partnership with Feedstuffs FoodLink.com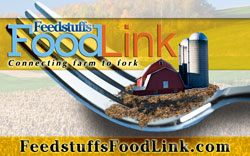 Competition was conducted on August 21st, these are the results: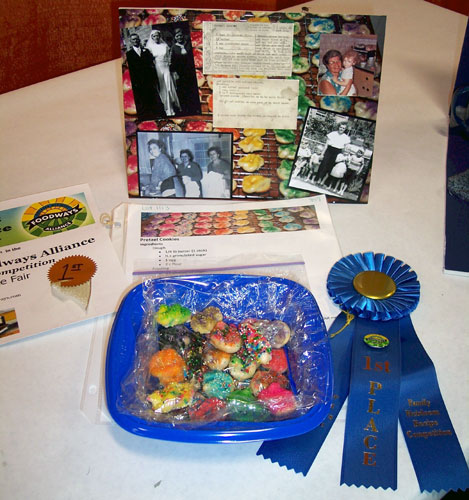 Pretzel Cookies (Image by Geraldine Rounds)
First Prize
 Pretzel Cookies
Roberta Casey, St. Paul, Minnesota
In late 1911, Ludmilla Cherney arrived at Ellis Island from Slovakia with her step daughter and her 2 year old daughter to join her husband John Cherney in Crystal Falls, Michigan. 10 months later their second daughter Hilma was born – the first American in the family – and was soon followed by another sister and a brother.  Ludmilla was a wonderful cook and made many recipes from the old country – Kolac, Kolacky, and strudel – but she soon added specialties from her neighbors like Welsh pasties. 
The family moved to Chicago in the early 1920s and Hilma grew up and married Robert Rivan in 1935, She soon had 3 children and carried on her mother's tradition of baking and getting recipes from friends. Hilma (or Aunt Hedy as she was often called) had two cookie jars always full- one with chocolate chips and the other varied with her whims. In the early 1940's when her kids were small, she got a recipe from her German baby sitter for cookies that were always just known as pretzel cookies. These became her special occasion cookies.

For Christmas, and at every birthday, anniversary, baptism, first communion, and confirmation, she would make pretzel cookies. On your birthday, you would get your own special little paper plate on top of the big plate with pretzel cookies in the shape of your initials and age, and a more decorated cookie like a cat or a flower. In the early years, she had 3 kids and 6 nieces and nephews so there were many special occasions. As the kids grew, pretzel cookies went with them. They were served at high school graduations, were sent to kids in college and showed up at weddings and funerals. With eleven grandchildren, over 20 great grand children and numerous grand nieces and nephews those special occasions kept coming and so did the pretzel cookies and the family lore around them.  In 1977, Hilma's two sisters retired to Colorado while she remained in the Chicago suburbs and she regularly sent them pretzel cookies in the mail until her sister Bea died in 2001.
Pretzel cookies were such a part of family events that there were arguments about how to select a pretzel cookie to eat.  There was very specific packaging – Hilma always put them in a shallow metal bowl painted with decorative pictures. There was a layer of plastic wrap, layer of cookies (in assorted colors) and then that was repeated. You were supposed to finish the first layer before removing wrap to the next and so on. However, some of the "kids" would pull up the plastic wrap to see the bottom of the cookies and find the ones with the most icing on the bottom – i.e. cheating. The "King of Cheating" is around 70 and the "Prince of Cheating" is in his 40s and accusations were still flying via email while I was gathering information for this essay!
When her kids were young, Hilma generally made cookies herself but there were still people around. Her daughter remembered "I hung around the kitchen when Mom was making pretzel cookies so I could get some of the icing that had dripped off the hot cookies and onto the waxed paper below.  Small fingers neatly fit under the cooling rack and skimmed the warm icing off the waxed paper." My aunt who married into the family in the early 1970s remembered watching Hilma make them, "it was like going to church, a sacred moment." As she got older and her arthritics got worse the next generation (girls only) got lessons and helped. The recipe is very susceptible to small variations in moisture and they all remembered being told secrets like large eggs make a difference, it was bad to make them on a humid day and that Land 0′ Lakes butter and Gold Medal flour worked best. A number of us make them now – not quite so often and just basic pretzel shape or snakes, not the elaborate knots that she made – but they still taste the same and they are still special.

Hilma Cherney Rivan died in Oct 2009 at the age of 97. There were pretzel cookies at her funeral.
Pretzel Cookies
Roberta Casey, St. Paul, Minnesota
Ingredients
Dough
• 1/4 Ib butter (1 stick)
• 1/2 c granulated sugar
• 1 egg
• 2 c flour
Frosting
• 1 t powdered sugar
• 1/ 2 tsp vanilla
• 1 to 1/ 2 tbsp cold water Colored sugars
Directions
• Cream butter then butter and sugar well
• Add egg and mix
• Add flour and mix
• Wrap dough and chill thoroughly
Preheat oven 375°F
• Pinch off small piece of dough, roll into snake and make small pretzels (don't put more
on the pan than you can frost while still warm)
• Bake for 12-15 minutes on slightly greased cookie sheet until slightly brown
 
• Mix frosting (should be pretty thick) and layout colored sugars
• Remove from oven and, while still hot dip, in frosting and sprinkle with colored sugar (two people help with this)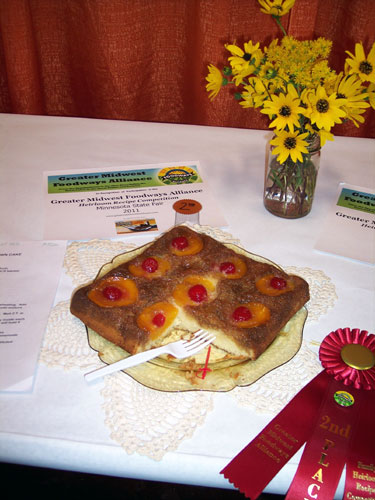 Fruit Upside Down Cake (Image by Geraldine Rounds)
Second Prize
Fruit Upside Down Cake
Gwendolyn Swenson, North Branch, Minnesota
The 4-H program was part of my life growing up on the farm. So when I turned 10, I was able to join 4-H. I was a member of the Woodmohr 4-H Club. My projects included the beef project, sewing along with foods. My mother, who was also a 4-Her in her youth, shared this recipe with me from her 4-H foods project booklet. My mom still has the 4-H cookbook that contains this recipe. So I have been making the recipe for nearly 50 years. Mom is nearly 84 years old. So between the two of us, we been making this recipe for over 70 years. Originally the recipe was for baking in a round cast iron frying pan as that was the type of cookware Mom had for her wood cook stove.  By the time I took over making the cake, we used a 9 x 9 cake pan and an electric oven.  Since we lived on a dairy farm, we could eat this cake with real whipped cream from the cream we got from the cows or the homemade ice cream that we got to make for a treat.
My father liked peaches.  Mom usually bought a lug of peaches to can.  So I learned to make the cake with peaches. When I moved to Minnesota, I worked for a restaurant owner who likes pineapple upside down cake.  When I worked for him, I made this cake for his birthday.  It now has been 17 years since I have worked for him, but every April, I still make a pineapple upside down cake for his birthday.
My children are now grown but not married yet.  My plan is to make them each a cookbook of recipes we have cooked as a family plus the recipes they cooked when they took the foods project in 4-H.  This recipe will be included in that cookbook.
Fruit Upside Down Cake
Gwendolyn Swenson, North Branch, Minnesota
Fruit Mixture:
3 Tablespoon butter
3/4 cup packed dark brown sugar
1/4 cup fruit juice (drained from the fruit)
1 large can of peach halves, drained (9 halves) maraschino cherries, (9) drained
Cake Mixture:
2 eggs
3/4 cup sugar
1 cup flour
1/8 teaspoon salt
1 teaspoon baking powder
1/2 tsp vanilla
1/2 cup hot milk
2 Tablespoon butter
Melt butter in 9″ X 9″ cake pan in oven that is preheating.  Add brown sugar and fruit juice, mix, return to oven until mixture bubbles.
Beat eggs; add sugar, dry ingredients and vanilla.  Melt 2 T. in hot milk.
Take brown sugar mixture from oven. Place cherry inside each peach half and place cherry side down in pan.  Pan will hold 9 halves.  Pour cake batter over top of fruit.
Bake 30 to 40 minutes in 350 degree oven.
Loosen sides and tip over on serving plate.  Cool.  Also excellent served warm with real whipped cream or homemade ice cream.
(Pineapple slices or even mixed fruit can be substituted for peaches.)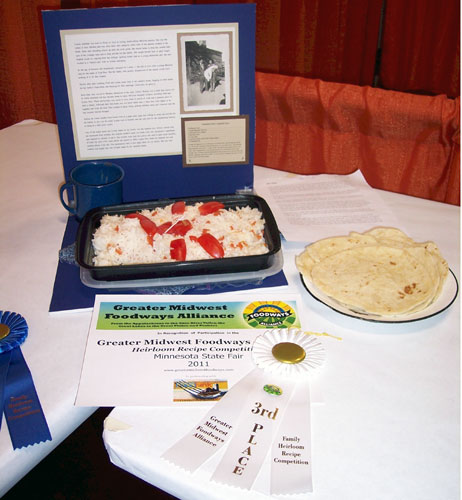 Spanish Rice (Image by Geraldine Rounds)
Third Place
Grandma Paez's Spanish Rice
Natalie Tangen, West St. Paul, Minnesota
Louise Alambar was born in Texas in 1916 to loving, hardworking Mexican parents. She was the oldest of nine children and was often their only caregiver while both of her parents worked in the fields. After only attending school up until• the sixth grade, she stayed home to help her mother take care of the younger ones and to help provide for the family. She taught herself how to spell longer English words by copying from her siblings' spelling books; and as a young adolescent girl, she also worked as a "nurse's aid" with no formal education.
 
At the age of fourteen life dramatically changed for Louise – she fell in love with a young Mexican man by the name of Fred Paez. But her father, who greatly disapproved of the match, would have nothing of it. So they eloped.
Shortly after their wedding, Fred and Louise came back to her parent's home, begging on their knees for her father's forgiveness and blessing for their marriage. Graciously, he gave it.
Soon after, they moved to Waseka, Minnesota in the early 1930's.  Waseka was a rural area known for its fertile farmland and had become home to many Mexican migrants workers, including Fred and Louise Paez.  These newlyweds, very much in love, were in search of work and a pleasant place to raise a family.  Although their first home was not much better then a shed, they were happy to be together and work the land. Fred worked in those fields, picking radishes, beets and whatever else the late summer harvest brought.
During the winter months Fred found work in a junk yard, eager and willing to work and provide for his family in any way he could.  Louise took in laundry and did odd jobs for the neighboring farmers to bring in a little more money.
One of the staple meals that Louise made for her family was her Spanish rice.  Always served with her handmade flour tortillas, this migrant worker's meal was made with very inexpensive ingredients and required no utensils to eat it.  The tortillas were torn into pieces and used to grab small handfuls of food.  Up until a few years before she passed in 2009, Louise Paez made her Spanish rice and tortillas almost every day.  Two generations later, I now make them for our family.  Her rice with tortillas was simple fare, but lovingly made by her beautiful hands
Grandma Paez's Spanish Rice
Natalie Tangen, West St. Paul, Minnesota
2 Tablespoons lard
1 1/2 cups long grain white rice
1 small garlic clove, minced
1/2 cup diced onion
2 3/4 cups water
1/2 cup diced tomato, either fresh or home canned
1 1/2 teaspoons salt
To make the Spanish rice: In medium pan on medium heat, melt the lard and add the rice. Stir the rice, coating it in the hot lard until it is a very light brown. Add the diced onion and garlic and cook for 1 minute. Add 2 3/4 cups of water, being careful of the steam. Add 1 teaspoon salt. Cover the pan and place on warm heat for rice to cook through. After 5 minutes, add the diced tomato to the rice and stir in, taste the broth and add the 1/2 teaspoon more salt if needed. Let rice cook for 25 minutes total. Her rice was always served with flour tortillas.