Bertha Honoré Palmer Requests the Pleasure of Your Company at Greater Midwest Foodways Alliance's Tea Party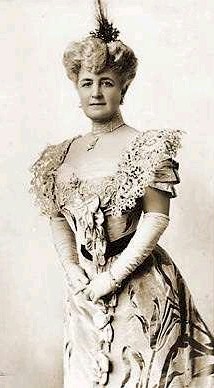 Greater Midwest Foodways Alliance Presents
High Tea with Guest Speaker Leslie Goddard
in Character as Bertha Honoré Palmer
Podcast of this program is now available
Highland Park Community House
1991 Sheridan Road
Highland Park, Illinois
Sunday, October 23rd, 2011
1:00 pm to 3:00 pm
Doors open at 12:30 pm
Cost: $50 prepay or $60 day of event
Reservations required: 847/432-8255 or GreaterMidwestFoodways@gmail.com
Mail payment to:
Greater Midwest Foodways, 280 Laurel Avenue, Highland Park, IL  60035
Purchase tickets by credit card via BrownPaperTickets.com or 800-838-3006.

Bertha Honoré Palmer
Chicago socialite and philanthropist Bertha Honoré Palmer, wife of millionaire real estate magnate Potter Palmer, is best remembered for her outstanding Impressionist art collection, now at the Art Institute of Chicago. But the glamorous Mrs. Palmer has her own fascinating history. As shrewd as she was stylish,  Bertha helped recoup her husband's lost fortune after the Great Chicago Fire of 1871 and presided over Chicago's glittering society scene for a quarter of a century. At the World's Columbian Exposition of 1893, she served as hostess to the world.  The intelligent, witty, and fallible Bertha Honoré Palmer still compels our attention today.
Leslie Goddard is currently an exhibit developer at Morton Aboretum. She earned her PhD from Northwestern University in an interdisciplinary field of study that covered US history, women's studies, and theater. An award winning scholar, Goddard also has extensive experience in public programs which includes lectures at Chicago area museums and historical societies, civic organizations, schools, and retirement homes.
Our tables seat 10 guests.  We will do our very best to arrange you are seated with your friends.  Information on seating is available after purchase.
Questions?  GreaterMidwestFoodways@gmail.com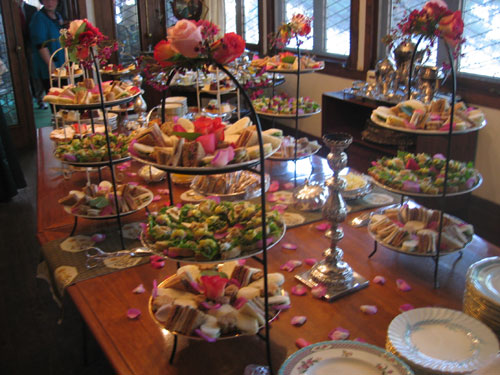 High Tea Menu
First Course
Scottish Smoked Salmon Pinwheels
Beef Tenderloin Triangles
Roast Turkey Triangles
Cucumber & Watercress Leaves
Egg Salad Rounds
Creamed Avocado & Crab Flowers
Open-Faced Ham & Asparagus Rounds
Open-Faced Roquefort & Pear Slices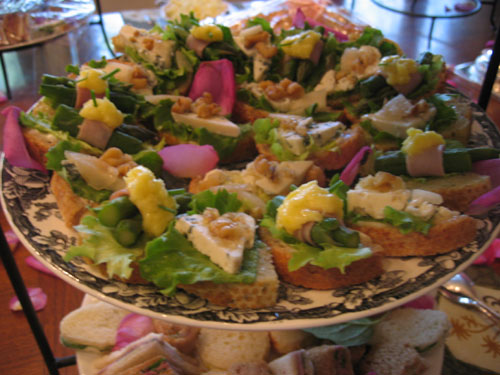 Second Course
Homemade Raisin Scones  w/ fresh lemon curd,
Strawberry preserves & Devonshire cream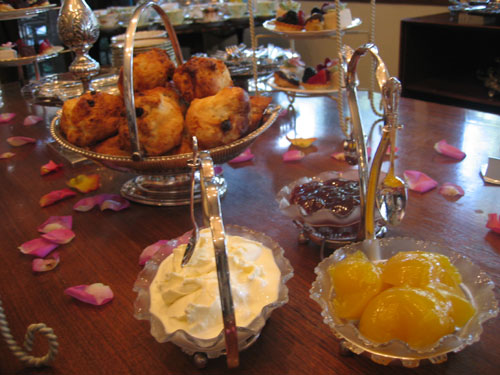 Third Course
Homemade Rhubarb & Apple Pie w/fresh cream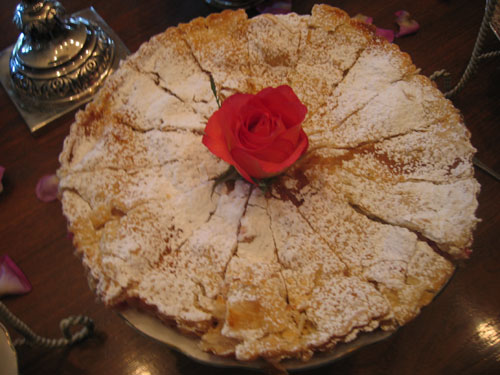 Fourth Course
An assortment of Elegant Petit Fours & Pastries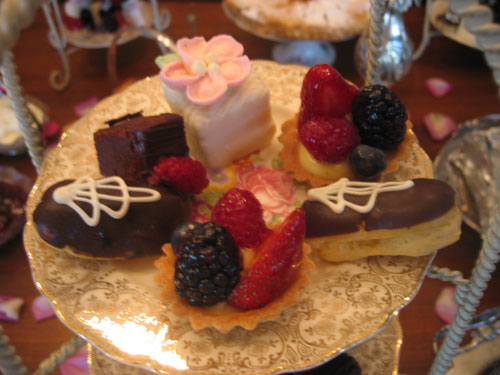 Tea poured all afternoon.
Catered by High Tea with Gerri.