Greater Midwest Foodways Alliance
FAMILY HEIRLOOM RECIPES ENTREES OR SIDE DISHES
Contestants entered their best scratch family heirloom recipe suitable for a family or community dinner.  Recipe should originate before 1950.
Contestants brought a prepared dish along with a brief story of who passed the recipe down to them, ethnicity, if relevant, number of years the recipe has been in their family and any interesting information about their recipe.
JUDGING CRITERIA
Taste: 50%
History: 40%
Appearance: 10%
Competition was conducted on August 15th, these were submissions: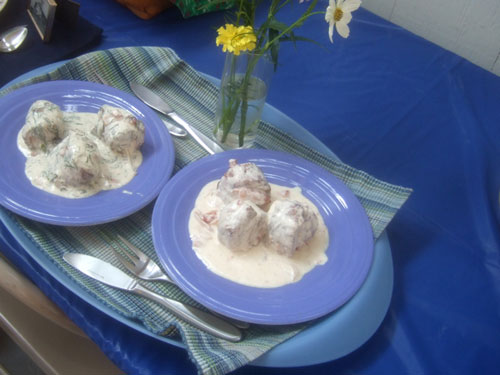 Ptacki (image by Peter Engler)
Ptacki
Linda Cifuentes, Mahomet, Illinois
Ptacki is a Czech word for birds and this dish is so named because they thought when the meat has the toothpicks in it it resembled birds. This recipe was passed down from my grandmother (she was born in the Czech Republic) to my mother and then to me. It uses an inexpensive cut of meat which becomes tender from the baking. This was an economical way to feed a family "steak" when times were tough which was often.
The original recipe did not have dill but my father loved dill in the sauce; as a matter of fact he would have a bottle of dried dill next to his plate to add more because he said you could never have enough dill!. We ate this meal often when I was growing up. I grew up in Berwyn, Illinois which was a very Czech area.
As you can see the ingredients in this recipe are not very healthy but traditionally Czech cooking is no healthy as we used to say around our house, "Not really good for you, but really good."
I decided to let you choose for yourself-do you like Daddy's dill gravy or Grandma's sour cream gravy??? I made both.
Ptacki
Rolled Round Steak
1-1/2 to 2 lbs. round steak
1/2 lb. Bacon
1 large onion sliced thinly salt and pepper to taste water as needed
Sour cream mixture
1 large sour cream (16 oz) 1/2 cup fresh dill
1-1/2 Tbs. Flour
2 tsp. milk
Combine sour cream mixture ingredients and allow to sit at room temperature while meat is baking. Trim round steak and cut in long slices. Salt and pepper each piece. Place 1/2 strip of raw bacon on each slice of round steak. Top each with a slice of onion. Roll each piece of meat and secure with toothpicks. In small skillet, saute remaining bacon that has been cut in bite size pieces. Remove with slotted spoon and reserve. Brown meat in bacon grease. Place in Dutch oven, add 1/2 to I-cup water, cover and bake in 350 F oven for 30 minutes. Add another 1/2 cup water and bake another 15 minutes. Remove meat from pan and keep warm. Add small amount of hot liquid from the pan to the sour cream mixture–this will prevent the mixture from curdling. Add entire mixture to pan and mix well. Add reserved bacon. Return meat to mixture and heat another 5 minutes. Remove toothpicks*.
*Very important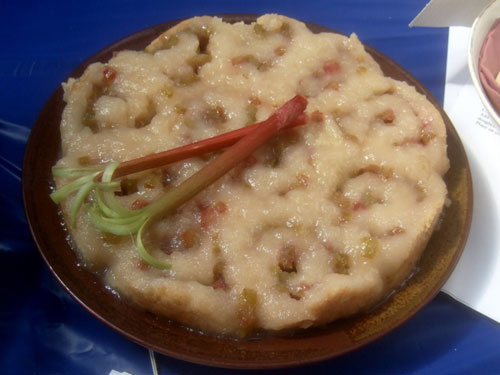 Rhubarb Roll Up (image by Peter Engler)
Rhubarb Roll Up
Liz Drake, Springfield, Illinois
City Girl Meets Rhubarb
Along time ago, in times not so different from our own, when I was a little girl growing up in the city, I was always amazed when we would visit family and friends in the country. Country Grandma's seemed like the not only could, but often did accomplish the impossible task of making something wonderful out of next to nothing.
The recipe I have chosen to submit for family Heirloom Recipes Contest belongs to one such country grandma. Even though she is not my grandma, she was always "Granny" to me and a very close friend of mine. When I asked Granny for the recipe, she just laughed and said there wasn't one. When I asked how she learned to make the rhubarb roll-up she said, "Same way you're gonna." As she headed out to the kitchen she muttered, "My granny taught me and I'm gonna teach you. Mommas are just to busy being mommas, Grannies have time to pass things on." So, not being too slow to notice I had a golden opportunity, I took a pencil, a piece of paper and wrote things down as we went along.
It usually happened on the first really hot day of the summer. Granny would go out to the back garden a pick a handful of what appeared to me to be a bunch of weeds. (Rhubarb looks a lot like cockleburs) With a well practiced hand, she would take them into the kitchen, wash them, cut up the stems and throwaway the leaves. The country version of throwaway the leaves anyway, they would go in the scrap bowl under the sink to be taken out to the chickens on the next trip out.
Because Granny was a wise woman who understood the impatience of youth, she would hand each of a rhubarb stalk and a little bowl of sugar. While we were busy with our country version of dipping sticks, she would make the crust for her "famous" rhubarb roll up. She would take a handful or two of flour, throw it in a bowl, mix in some magic and some lard, roll everything together and before you knew it-delicious smells were coming from the oven.
Rhubarb Roll Up
1 cup sugar
1-1/2 cups water-boil together till sugar is dissolved and let cool
3 cups cut up rhubarb-mix with
1/2 cup sugar just before putting on dough.
3 cups flour
3 tsp baking powder
3/4 cup shortening
1/4 cup Sugar
1 tsp salt. Cut together like pie dough and stir in
1/2 cup cold milk to make dough
Roll to 1/4 inch thick rectangle. (I roll onto a sheet of waxed paper to make rolling up around the rhubarb easier)
Put rhubarb and sugar on top of dough and roll up like a jelly roll. Slice into 3/4 inch slices and lay in a baking pan (I used a deep 10 inch round cake pan) and gently pour syrup over the slices.
Bake at 400 degrees for 45 minutes. Top will be lightly browned when done. Invert onto serving plate after cooling for 20 minutes.
"Dress it up with garnishes if you want, tastes just the same either way."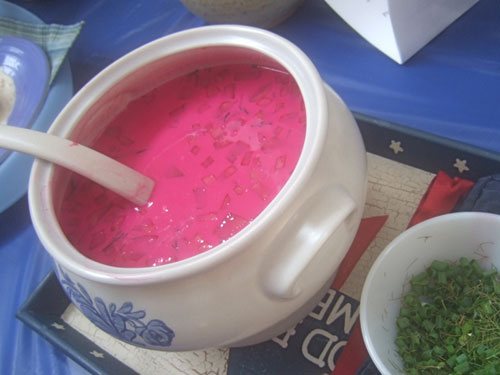 Saltibarsciai Cold Beet Soup (Image by Peter Engler)
Saltibarsciai (salt-tib-bar-sky)
Cold Beet Soup
Deborah Steele, Springfield, Illinois
This recipe came from my great grandmother, Catherine Gneuzses …. Both she and my great grandfather came from Lithuania in the early teens through Ellis Island. I never got to meet them, as they passed away in the 1940's. but the recipe was passed down to their daughter, my grandmother catherine collingwood … then to my father, raymond collingwood and now to ME.
so this recipe has been in the family for over a hundred years ….
It is best made in Summer, and served very cold.
this summer, I made the soup for my son and grand daughters …. so more generations have the "wonderful soup"
Saltibarsciai (salt-tib-bar-sky)
Cold Beet Soup
5 large beets or 10 small beets (fresh)
cucumbers, 2 large. peeled and cut into dice 1/4 cup fresh dill, chopped
1 pint sour cream
salt and pepper to taste (I pass this at table) grandmother used 1 tsp of each
1/4 cup white vinegar
for garnish
chopped onion 1/2 cup (I used the green tops also) and dill 1/4 cup
wash beets well. cut greens off and discard. cover with water ( about 4 quarts), bring to boil, then reduce heat to simmer.
cook for twenty minutes or until tender.
drain, but reserve the beet water. let the beets cool. strain the beet water, then set aside.
peel the beets, and cut 3/4 of the total anount (3 of the large beets, or 8 of the small) in small dice. finely chop the remaining beets.
in large stainless steel pot (NOT aluminum) combine 3 quarts of the strained beet water, the beets, cucumbers, dill, vinegar, and pepper and salt.
in another bowl, beat the sour cream with 1 cup of the beet water, till smooth. add into the beet soup and mix well. chill for at least two hours prior to serving. garnish with the chopped onion and dill before serving.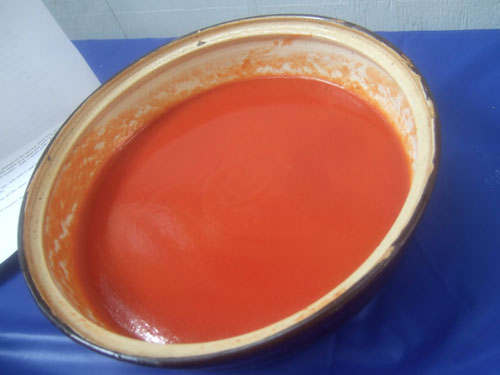 Tomato Soup (image by Peter Engler)
Tomato Soup
Carlene Carter, Lincoln, Illlinois
This is a recipe from a cookbook that my grandmother (Irene Rouch, born 1904, died 2001) compiled for her many grandchildren to share recipes that were important to her. She was a farm wife in rural Grass Creek, Indiana and did a lot of canning and preserving to feed her husband and 5 children. Things were especially tight when Grandpa Rouch died in 1955, and left her a single mom, running the farm by herself. This recipe was a favorite of hers, but would not be considered safe to can according to current USDA instructions. It does freeze well, though, and is a good way to use up excess tomatoes in the garden. Oleo was margarine form the forties. Mango was a reference to green peppers. This term may have originated in the Pennsylvania area, and as Irene's family was Pennsylvania Dutch, it may have come from that direction!
Tomato Soup
8 qts. Tomato juice (made with onion and mango added to the tomatoes while cooking)
2 cups sugar
1 tsp. Chili powder
1/4 tsp. Red pepper, optional
1/4 cup salt
Mix well: 1 cup oleo
2 cups flour
Slowly add juice to flour and oleo mixture until thin enough to add remainder of juice to prevent lumps. Simmer until a little thick. 
Makes 18 to 20 pints
To serve you may add 1/2 amount of milk or as it comes from the can, heat at low temperature.