Greater Midwest Foodways Alliance
FAMILY HEIRLOOM RECIPES
Contestants entered their best scratch family heirloom recipe suitable for a family or community dinner.  Recipe should originate before 1950. 
Contestants brought a prepared dish along with a brief story of who passed the recipe down to them, ethnicity, if relevant, number of years the recipe has been in their family and any interesting information about their recipe.
JUDGING CRITERIA
Taste: 50%
History: 40%
Appearance: 10%
Premiums sponsored in partnership with Feedstuffs FoodLink.com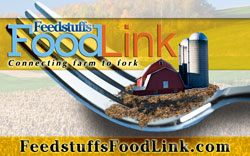 Competition was conducted on August 12th, these are the results: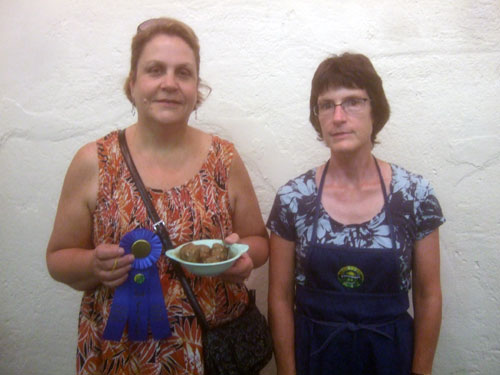 First prize winner Eileen Beyer and Joanne Raetz Stuttgen (Image by Catherine Lambrecht)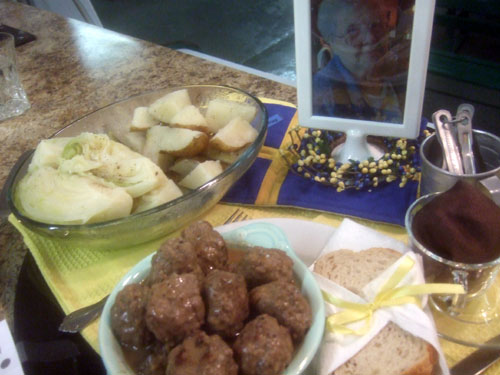 Swedish Meatballs (image by Catherine Lambrecht)
First Prize
Selma's Swedish Meatballs
Eileen P. Beyer, Shelbyville, Indiana
As an adult, I've come to realize my love for food, whether it's baking it, cooking it or eating it, is more than likely attributed to my Swedish ancestry, although my father's French heritage may have contributed equally.  I think most of us have been exposed to a meatball dish of some sort, either at a party served as an appetizer or for a quick dinner from the freezer section of those no frills warehouse stores, but let me tell you about REAL Swedish Meatballs … the ones made with ground pork and ground beef infused with the wonderful flavor and aroma of allspice-an ingredient that many recipes lack. My recipe comes from my mother, Mary Ann, which came from her mother, Selma, which probably came from her mother.
I talked to my mother before writing this history to make sure I had all the names and dates correct. It was going to be a quick call, just to recheck my facts. When I told her what I was writing about and the recipe I was using, we ended up talking for an extra 30 minutes just about this particular recipe. She recalled that originally the recipe had some veal in it, but it became too difficult to always find, so her mother used half ground pork and half ground beef. She also noted that her mother always made brown gravy to serve with them, using the pan drippings. Many recipes these days call for white gravy. She said if the dish was served as a meal it was generally accompanied with mashed or boiled potatoes and with whatever vegetable was in season at the time, such as corn, green beans or steamed cabbage wedges. She said they always served bread with their meals and generally it was rye bread that accompanied Swedish Meatballs. She did say "that was in the day when people didn't worry about eating too much bread!"
My mother, Mary Ann Barbara Laura Swanson Prenatt is the first person in her family born in America. Her parents, my grandparents, Ander and Selma Swanson were Swedish immigrants who came to Ellis Island in the 1920's. My grandfather arrived first in 1923, found work and then sent for my grandmother. In 1924, she arrived by ship, with my mother's two brothers, Sigurd Oke and Sven Rudolph Richard (a baby at the time), known later to all of us kids as Uncle Sig and Uncle Dick. After 12 hours of processing at Ellis Island, they truly breathtaking during the spring and fall, but really very pretty any day you might choose to visit. joined my grandfather in a small town in western New York called Olean. It's the town where my mother and her sister Jean were born, in addition to being my two older sisters' and my birthplace. It's a lovely little place nestled in the Allegheny Mountains that is truly breathtaking during the spring and fall, but really very pretty any day you might choose to visit.
My Grandma and Grandpa Swanson passed away when I was just a toddler in the late 50's, however my mother made certain that all 13 of us children were aware of their unique history. She still recants stories about her parents to us and those stories generally surface when we are together during a holiday or at another family event enjoying some wonderful food such as Swedish Meatballs.
 
We have been celebrating a Swedish Smorgasbord on Christmas Eve since I can remember and I am 56 years of age. There were many favorites that each of my brothers and sisters would request to have on that special occasion. The one recipe we could always count on being made was Selma's Swedish Meatballs. It would be impossible to count the number of times that this recipe has been made, whether it was for a holiday celebration, a family dinner, a pitch in or in recent years when I was asked to help make it with each of my own children for an International Day at school. It has always been a favorite of our family's and soon becomes a favorite once anyone tries them for the first time.
This past May, my 84 year old mother had the chance to finally visit the land of her ancestors. Through the kindness, generosity and hard work of two of my sisters, Carol and Susan and my cousin, Kristine, who provided her with airline tickets, pushed her wheelchair around the countryside and made sure she was where she was supposed to be each day, the four of them flew to Sweden and finally met many of my mother's cousins whom until now she had only corresponded with by letter. She returned home to Indiana with wonderful pictures and stories to share with all of us, as adults, for many more family dinners and Christmas Smorgasbords to come—yet another opportunity to enjoy her wonderful old recipe for Selma's Swedish Meatballs!
 
Selma's Swedish Meatballs
Eileen P. Beyer, Shelbyville, Indiana
(meatball and gravy recipe is at least 80 years old)
Meatball ingredients
3/4 Ib ground beef
3/4 Ib ground pork (not sausage) 1 slice white bread
1/4 cup milk
1 small onion, finely chopped
1 egg
1/4 teaspoon allspice 1 teaspoon salt
1/2 teaspoon ground black pepper
1 tablespoon vegetable oil for frying pan
Gravy Ingredients
2 tablespoons butter
1/4 cup flour
1 cup water (reserved from vegetables)
1/2 cup milk
1/2 teaspoon salt
1/4 teaspoon ground black pepper
Side Dishes
4 large potatoes-cut into eighths
1 small head of cabbage-quartered
1/4 cup (1/2 stick) butter
Instructions
In large mixing bowl, soak slice of bread in milk.
Remove skin from onion and chop.
Combine all ingredients together and mix well with hands. Form into 24 balls.
Sauté in hot oil in large frying pan on stove top over medium heat. Turn meatballs as they are frying to brown on all sides. Remove meatballs when they are cooked in the center (meatballs should be firm and juices will run clear or you may cut a meatball in half to test).
Clean and/or peel and cut potatoes and cabbage. Cook until tender in 2 separate sauce pans on stove top over medium heat. Remove from heat when tender and drain reserving liquid for gravy. Season each with 2 tablespoons butter.
Drain excess grease from frying pan but leave drippings from meat. Place pan back on stove top over medium heat and melt butter scraping bottom of pan to combine butter and meat drippings. Add flour to make a paste.
Add 1 cup reserved vegetable water and 1/2 cup milk and cook on stove top stirring until smooth. Add salt and pepper.
Place meatballs, potatoes and cabbage in 3 separate dishes. Pour gravy over meatballs. Serve, eat and enjoy!
(This recipe serves a family of 4-I am certain my mother at least tripled it when cooking for our family)
Babu's Placek (Image by Catherine Lambrecht)
Second Prize
Babu's (bah-boo's) 80-year-old Placek (plot-zek) Recipe
Christine Rienecker, Indianapolis, Indiana
When you enter a Polish home, you are greeted by many wonderful aromas in addition to the joyful welcome offered by the family within.  My grandparents came to the U.S. from Krakow, Poland in the early 1900s. They settled in New York Mills, New York after coming through Ellis Island.
With eleven children to feed, my Babu (grandmother) had to go to work in the Utica Cutlery.  She and my grandfather taught all the kids to cook, even the boys.
One of the many fine desserts she taught the girls to make was the placek or yeast roll filled with nuts, fruits or poppy seeds.  My Babu, my mom and my aunts always made these placeks for family get-togethers and the holidays, especially Christmas Eve.  Since my Babu never wrote down the amounts, but only the ingredients, it was up to the girls to come up with recipes, each adding her own personal touch.  Because my dad was transferred to different states as we grew up, my mom and her sisters shared their recipes via long, newsy letters.
The placek recipe evolved into a rich dough that rested in the refrigerator overnight, and then was filled with finely chopped pecans, brown sugar and cinnamon. Butter was used generously to create a delectable dessert.  Of course, you always had to have a nice warm place for it to rise, many times near a heating duct.
As the placek baked in the oven, the most wonderful aroma wafted through the house. I remember everyone coming into the kitchen and enjoying each other's company while eagerly awaiting a slice of warm placek.
My grandparents had a very hard, humble life, but they shared their food¬especially placek-with everyone who came in the door.
 
Babu's Placek (bah-boo's plot-zek)
Christine Rienecker, Indianapolis, Indiana
Dough:
3/4 cup whole milk
1 package yeast
1/4 cup + 1 teaspoon sugar – divided
3 cups all-purpose flour
8 tablespoons soft butter – divided
1 teaspoon salt
1 teaspoon vanilla
2 egg yolks

Warm the milk to 110°. Add yeast and 1 teaspoon sugar. Stir and let proof. In a large bowl, combine yeast mixture, 1/4 cup sugar, 1 1/2 cups of flour, 5 tablespoons of butter, salt, vanilla and egg yolks. Beat well. Add remaining flour to make a soft dough. Turn out onto a lightly floured surface and knead until smooth and elastic-8 to 10 minutes. Using 1 tablespoon butter, grease a large bowl. Place dough in the bowl, turn once to cover surface. Cover bowl and refrigerate overnight. Remove dough from bowl and knead 7 or 8 times on a lightly floured surface.
Filling:
1 cup pecan halves-finely chopped. (toast the halves in a metal pie pan in a 350° oven for 6 minutes.)
1/2 cup + 2 tablespoons firmly packed brown sugar 1 teaspoon cinnamon
2 tablespoons soft butter
To make filling, combine all filling ingredients except butter.
Roll dough to a 17×13-inch rectangle.  Spread with 2 tablespoons soft butter, leaving a 1/2-inch border.  Sprinkle filling evenly over dough, staying within the border. Starting with the 17-inch side, roll up tightly, pressing edges to seal.
Grease a 14×16 1/2-inch cookie sheet.  Place dough on sheet and brush surface with 1 tablespoon soft butter.  Let rise in warm place until double in bulk.  Preheat oven to 3500.  Bake placek for 35 to 40 minutes or until golden brown.  Brush with 1 tablespoon butter. Cool on rack.  Prepare glaze.
Glaze:
1 cup powdered sugar 1/4 t1/2 teaspoon vanilla
2 tablespoons milk
Pecan halves to decorate top
Combine all glaze ingredients except pecans. Drizzle over placek. Decorate with pecans.
Yield: one placek roll (16 servings)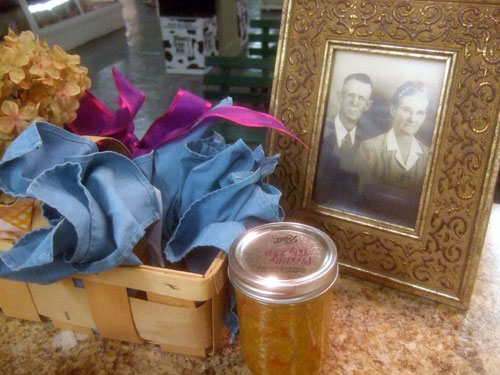 Piccalilli (Image by Catherine Lambrecht)
Third Prize
Black Oak Weiner Roast
Rossell Beverly, Morgantown, Indiana
The late August thunderstorm rolled across the 188-acre farm's front lot. It was
horrifically electric and terrified not only us kids, but the Holsteins and Shropshires as
well.  Although we were all safely housed in our respective "domiciles", the ominous
weather was still daunting to both man and beast.  Not long into the theatrical show of
thunderbolts, blustering wind, and hammering rain, a thunderous boom pierced the
summer afternoon, followed by that all-familiar cracking sound of a large limb tearing
from its trunk.
When the storm had moved on, my two younger sisters and I raced to the site to determine the damage.  It was sad and eerie.  The great black oak that had stood so stately overlooking the entrance to our great-aunt's farm was uprooted and splintered.  We stood staring at it in awe.  My youngest sister's lower lip started to quiver.  I knew how she felt.  Who would have thought this dignified giant would have ever gone down.  But there it was — sprawled on the ground as if it had been slaughtered.
Not one for much sentiment, 75-year-old Aunt Veryne immediately set a plan into motion. We'd have a weenie roast.  Invite the neighbors. Mr. and Mrs. Klotzsche would be invited. Mr. Klotzsche could dismember the fallen oak; it'd make terrific firewood for the following winter which was supposed to be a 'bad one'.  Mrs. Klotzsche could bring a pint of her famous award-winning Piccalilli relish.  Yep, a weenie roast was the solution for the unfortunate mishap alright.
It wasn't until years later that we learned what all went into making the zesty relish. Who'd ever have guessed such a delicious condiment was made from green tomatoes.  Not us finicky visiting city girls!  Mrs. Klotzsche (and Aunt Veryne) were wise not to divulge the ingredients just then.
Thankfully, along with an acquired appreciation of classic country cuisine, we city slickers grew to appreciate just how incredibly connected and selfless farming neighbors used to be. When the Klotzsches lost part of their farmhouse to that same high wind, our great-aunt donated her summer kitchen as a replacement. I don't recall it's deconstruction and move to the Klotzsche farm, but I do fondly recall hearing the story over and over throughout the years.
Here's the cherished Piccalilli recipe as I recall it. 
 
Fallen Oak Piccalilli
Rossell Beverly, Morgantown, Indiana
1 cup green tomatoes, diced
1 cup sweet red pepper, diced
2 cups sweet onion, chopped
12 cup scallion, sliced
1 cup sugar
2/3 cup white vinegar
1 T. mustard seed
2 teaspoons celery seed
1/2 T. allspice
1 teaspoon Kosher salt
2 T. prepared yellow mustard
Canning instructions:
Prepare home canning jars and lids according to manufacturer's instructions.
Combine all ingredients in a large saucepan; stir thoroughly.  Bring to a simmer over medium heat and cook for 15 minutes.  Pack hot mixture into hot jars leaving 1/2-inch headspace.  Apply lids and screw on bands.  Process in a boiling water bath canner for 15 minutes.  Makes approximately 3 pints.
Best flavor develops after being canned for at least 2 weeks.