Greater Midwest Foodways Alliance
FAMILY HEIRLOOM RECIPES ENTREES OR SIDE DISHES
Contestants entered their best scratch family heirloom recipe suitable for a family or community dinner.  Recipe should originate before 1950.
Contestants brought a prepared dish along with a brief story of who passed the recipe down to them, ethnicity, if relevant, number of years the recipe has been in their family and any interesting information about their recipe.
JUDGING CRITERIA
Taste: 50%
History: 40%
Appearance: 10%
Competition was conducted on August 17th, these were submissions: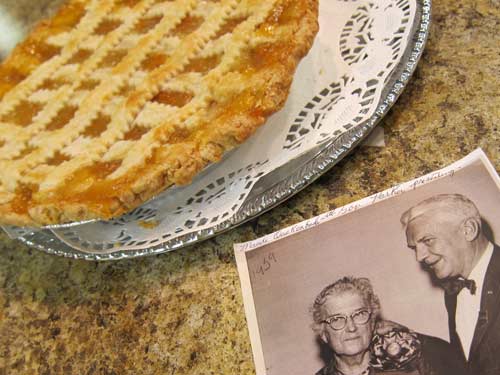 Apricot Pineapple Pie (image by Peter Engler)
Apricot Pineapple Pie
Madonna Alderson, Sharpsville, IN
This receipt was passed down to me from my mother, Maude Quakenbush. She was Champion Pie-Baker at the Indiana State Fair in 1959 and 1960 exhibiting a Pineapple Pie in 1959 and a Raisin Pie in 1960. Before that she had been baking the combination fruit pie, Apricot/Pineapp1e for several years for family, community, and church dinners. It was a community favorite and always expected at the dessert table at these gatherings. The combination of Apricot and Pineapple flavors was very pleasing to people. She always used lard from our hogs on the farm for her tender crust. One of her secrets to a successful pie was to prepare and thicken the filling the previous day so it would be the right consistency and have the bottom crust in the pie pan and ready to bake early in the morning of the special dinner so everything would taste great. She always lattice-top her top crust and I have followed her tradition. She really didn't have a receipt-just used a pench of this and that until it tasted right. After her death, many friends requested her special pie receipt so I revised it and everyone said it tasted like Maude's. My mother exhibited at the Indiana State Fair for many years and I followed -up her tradition after being a 10 year 4H member exhibiting at the State level, County level and now a 50 year exhibitor at the Indiana State Fair. My family has always attended the Indiana State Fair as My dad o. R. Quakenbush was a noted Oxford Sheep breeder and judge. My children and grandchildren also were 10 Year 4-H members exhibiting at the fair and my family have shown Quarter Horses at previous years. My husband judged Quarter Horses in the US, Europe and South America for several years so I attended many State Fairs but the best is the INDIANA STATE FAIR and I look forward to attend and exhibit each year.
Apricot Pineapple Pie
Madonna Alderson, Sharpsville, IN
2 Cups Chopped Apricots or #2 Can
1 Cup Sugar
1 Tablespoon Tapioca
1 1/2 Cups chopped pineapple or #2 can
3 Tablespoons Cornstarch
3/4 Cup Juice from fruit
2 Tablespoon butter
1 Teaspoon Lemon Juice
Preheat oven to 450 degrees. Drain fruit, reserve juice. Combine sugar, cornstarch, tapioca, and apricot-pineapple juice. Cook until thick. Stir butter, then add drained fruit. Cook 5 minutes more. Pour into unbaked pie shell. Cover with crust or criss cross. Bake 450 for 15 minutes then reduce heat to 350 for 45 minutes.
Pie Crust
3 Cups flour
1 teaspoon salt
1 Cup Lard
1 egg
1 Tablespoon lemon juice or vinegar
5 to 6 Tablespoon Water
To make Crust: Combine flour and salt in a mixing bowl. cut in lard until mixture resembles course meal. In a small bowl, combine water, egg and vinegar or lemon juice; beat with a fork. Gently work small amounts of liquid into flour mixture until dough clings together when pressed into a ball. Rollout one portion to 1/8 inch thickness and fit into 9-inch pie pan. Roll our second portion of dough and cut into strips for a lattice top or cut out designs on top.
This pie was my mother's favorite for church suppers and family dinner. She never had a recipe so I worked out my own.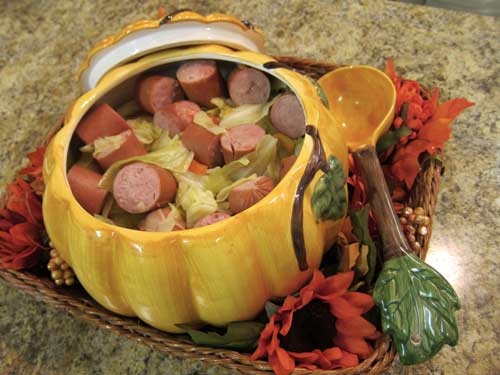 Baked Cabbage and Smoked Sausage (Image by Peter Engler)
BAKED CABBAGE AND SMOKED SAUSAGE
LEIGHSHELLE BOYD, Indianapolis, Indiana
I REMEMBER EATING BAKED CABBAGE AND SMOKED SAUSAGE AS A CHILD AND THE STORIES MY GRANDMOTHER OLIVIA BROWN WOULD TELL ABOUT HOW THE RECIPE WAS HANDED DOWN TO HER FROM HER FATHER ETHEW MC ALPIN WHO WOULD FIX IT FOR HER WHEN SHE WOULD COME HOME FROM TUSKEGEE UNIVERSITY IN THE SUMMERS OF THE MID 1940'S. I'M PRETTY SURE IT GOES BACK FURTHER BUT IT IS AT LEAST 4 GENERATIONS OLD FOR SURE. A MEAL LIKE THIS TODAY IS WHAT I CALL STRETCHING YOUR FOOD DOLLARS AND HAVING A MEAL THAT IS FILLING AND RELATIVELY INEXPENSIVE.
BAKED CABBAGE AND SMOKED SAUSAGE
LEIGHSHELLE BOYD, Indianapolis, Indiana
INGREDIENTS:
1 LARGE HEAD OF CABBAGE ( CUT INTO STRIPS)
STOPLIGHT PEPPERS 1 /2 OF EACH COLOR (RED, YELLOW & GREEN) CUT INTO THIN STRIPS
2 MEDIUM POTATOES PEELED AND CUT INTO 1/4″ THICK PIECE
1 MED – LARGE SWEET ONION CUT INTO STRIPS.
1 LB ROPE STYLE SMOKED SAUSAGE CUT INTO 14 TO 16 PIECES.
1 TSP GARLIC SALT
1/2 TSP SEASONED SALT
1/2 TSP PEPPER
PREHEAT OVEN TO 375 DEGREES
PLACE ALL INGREDIENTS IN A BAKING DISH DEEP ENOUGH TO COVER WITH WATER.
COVER DISH WITH LID OR FOIL AND BAKE FOR 30 MINUTES. STIR AND BAKE FOR ANOTHER 10 MINUTES
REDUCE HEAT TO 300 DEGREES
ADD SMOKED SAUSAGE AND BAKE FOR 15 MINUTES OR UNTIL TENDER.
Beef and Veggie Skillet (Image by Catherine Lambrecht)
BEFF AND VEGGIE SKILLET
LEIGHSHELLE BOYD, INDIANAPOLIS, IN 
THIS RECIPE FOR BEEF AND VEGGIE SKILLET WAS FIRST SERVED TO ME BY GRAND MOTHER ELIZABETH ELLEN BROWN WHEN MY BROTHER AND I USED TO SPEND THE NIGHT AT HER HOUSE IN THE  LATE 1950'S. BUT THIS RECIPE WAS SERVED TO HER BY HER GRAND ¬MOTHER FRANCES HELLEN RIGGS BACK AS FAR AS 1915. SINCE I SERVED THIS TO MY CHILDREN AND THEY TO THEIRS. THIS RECIPE HAS BEEN IN THE FAMILY FOR AT LEAST 7 GENERATIONS THAT I KNOW OF, BUT IT COULD BE MORE. BECAUSE BACK THEN A LOT OF MEALS CAME FORM WHAT EVER COULD BE PUT TOGETHER THAT WAS FILLING SO NOTHING WOULD BE WASTED.
BEEF AND VEGGIE SKILLET
LEIGHSHELLE BOYD, INDIANAPOLIS, IN
1 LB GROUND BEEF
1/4 C ONION DICED SMALL 1/2 TSP SEASONED SALT
1/4 TSP PEPPER
3/4 TSP SUGAR (OPTIONAL) I DID ADD
STOPLIGHT PEPPERS – 1/3 EACH RED, YELLOW & GREEN CUT IN
APPROX. 1″ PIECES
2 MED. POTATOES SLICED THIN (APPROX. 1/4 INCH)
2 EARS OF CORN, CUT INTO 4 PIECES EACH
1 MEDIUM CARROT CUT IN THIN CIRCLES
2 CELERY RIBS CUT INTO 1″ STRIPS
APPROX. – 10 – 1″ DICED PIECES OF SWEET ONION & RED ONION
1 – 28 OZ. CAN DICED TOMATOES
1/2 C WATER
 
1. IN OVEN SAFE SKILLET COMBINE POTATOES, CARROTS, CELERY, AND 1/2 CUP WATER. COVER AND COOK OVER A LOW TO MEDIUM FLAME FOR 30 MINUTES.
2. ADD LARGE DICED ONIONS, PEPPERS, AND DICED TOMATOES.
CONTINUE TO COOK COVERED OVER A LOW TO MED HEAT FOR ANOTHER 20 MINUTES (DO NOT BOIL) STIR OCCASIONALLY.
3. ADD SALT, PEPPER, 1/4 C DICED ONION TO THE GROUND BEEF (ADD 1 1/2 TSP SUGAR -OPTIONAL – I DID ADD)
AND FORM INTO SIX PATTIES. COOK IN ANOTHER SKILLET UNTIL MEDIUM DONE
4. PLACE PATTIES ON TOP OF VEGGIES AND ADD CORN ON COB PIECES. AGAIN ADDING A LITTLE WATER IF NEEDED.
5. COVER AND PLACE SKILLET IN OVEN
THAT HAS BEEN PREHEATED TO 350 DEGREES BAKE FOR APPROXIMATELY 20 MINUTES OR UNTIL CORN IS TENDER.
AND ALL OTHER VEGGIES ARE TENDER
 
THIS RECIPE AND ALSO BE PREPARED IN A PRESSURE COOKER OR SLOW COOKER.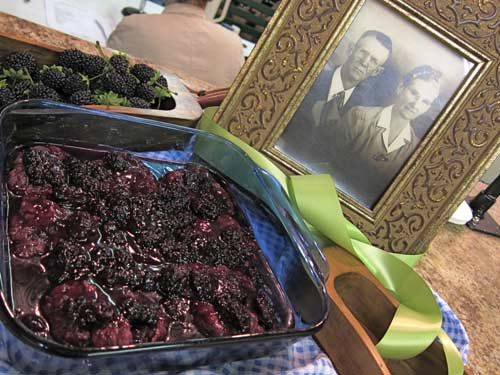 Brown Sugar Blackberry Dumplings (Image by Peter Engler)
Mockingbird Hill Farm's
Brown Sugar Blackberry Dumplings
Mary Margaret Jones, Gosport, Indiana
Commencing in the 1930s, a shifting pool of hungry farm hands would gather at my great-aunt's massive dining table at the sound of the noon dinner bell. Except on Sunday-the hands' day off- she lavished them with decadent homemade dessert, generally cream-drenched dumplings with fruit from the farm.
Her grandparents had immigrated from Germany when her father was a young boy, bringing with them their old-world cuisine. This is one of the surviving recipes that has passed down through six generations of family cooks.
Depending on the season and its bounty, these dumplings might have featured blackberries, raspberries, gooseberries, rhubarb, cherries, peaches, apples, or pears-but never strawberries. According to my aunt, strawberries weren't meant for dumplings. They should be eaten fresh from the vine or crushed and made into jam.
Mockingbird Hill Farm's
Brown Sugar Blackberry Dumplings
Mary Margaret Jones, Gosport, Indiana
4 cups blackberries
1 teaspoon lemon juice
2 cups granulated sugar
1 cup dark brown sugar
1/2 teaspoon nutmeg
2 tablespoons butter (salted or unsalted)
1 cup water
2 cups all-purpose flour
1/2 teaspoon baking soda 1/4 teaspoon salt
3 tablespoons shortening 3/4 cup buttermilk
In a large saucepot, bring berries, lemon juice, sugars, nutmeg, butter, and water to a boil. Cover with lid, then reduce the heat to low and simmer for about 15 minutes.
Combine dry ingredients in medium mixing bowl. Cut in shortening until the pieces are pea-size. Stir in buttermilk until the dough comes together.
Drop dumpling dough 1 tablespoon at a time into the boiling sauce. Cover, and simmer for about 5 minutes, then remove the lid, flip the dumplings over and cover again. Cook for another 10 minutes. Remove from the heat and let stand for 10 minutes before serving. Makes about 8 servings.