Greater Midwest Foodways Alliance
Sweets:  A Journey through Midwestern Dessert Traditions
April 5, 2008
Luncheon Menu
Relish Plate:  Three bean salad, cottage cheese, pickled beets
Green Beans Almondine
Baked Corn Pudding, Captain Nancy Powers  of the Salvation Army
Tallgrass Beef Noodles served over mashed potatoes
Turkey Tetrazini
Abraham Lincoln's Favorite Almond Cake
Windy City Root Beer
(Bold indicates product was donated for the symposium)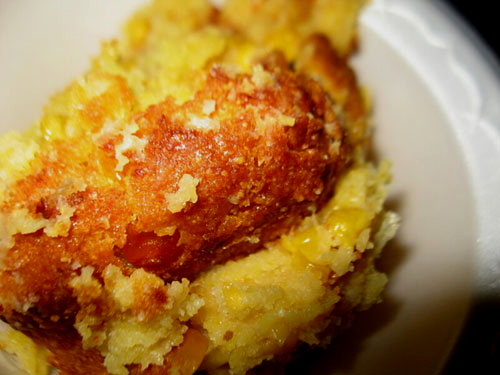 (image by Gary Wiviott)
Baked Corn Pudding
Captain Nancy Powers, Salvation Army


Preheat oven to 325o F
Cream together:
1 stick butter
8 ounces sour cream 
 
mix in:
1 egg 
 
add:
1 box Jiffy Corn Muffin mix (small 8.5 oz. box)
1 can cream corn (14.75 oz.)
1 can whole kernel corn (14.5 oz.) 
 
Pour mixture into a 2 quart unprepared glass casserole and bake at 325 for 1 hour and 15 minutes. My sister prefers a round deep casserole, however, I prefer to cook this in an 8×11 2 qt. baking dish for a slightly thinner end product.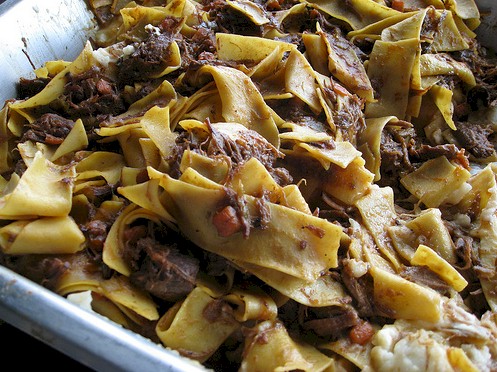 (Image by David Hammond)
Mildred Cheatham's Beef Noodles over Mashed Potatoes
Russ Cheatham
I know this dish as my grandmother used to make it almost every "big" meal. She grew up in central IL, close to Decatur and this is purely a "farmer" type of dish. She would make the noodles by hand and create a beef stock using a very cheap cut of beef in a pressure cooker, then adding more canned beef stock. Salt, pepper, that's it. You would eat it over mashed potatoes but the funny thing is, she wouldn't serve the beef with it; although it was super tender (sort of like pot roast). She would just put the beef separately in a bowl off to the side and I would pick at it (how could you not?). Here's how I would replicate it:


I would start by making the homemade egg noodles – she would use 1/2 or 1 egg per person. Make a flour well and add room temperature eggs. Knead dough until incorporated, roll out on a flour dusted area to a pie crust thickness.  Once you have the right thickness, dust again and roll up the noodle mixture into a log (like a jelly roll). Then slice the roll into 1/4-1/2 inch thick noodles. Separate the noodles, dusting them with flour and let them dry (preferably overnight). My grandmother would use a "swiss steak" or other cheap cut of beef, probably in the 1-2 lbs range. Pat the beef dry, salt/pepper and sear on both sides of a large pressure cooker (6 to 8 qt.). Once browned, add water and pressure cook for 30 minutes – let cool and remove beef to a small bowl. The liquid should be a dark brown and you should add more canned beef stock (maybe 32-48 oz) for the boiling liquid. Bring liquid to a rapid boil and carefully and slowly add the dried noodles. If the liquid is not hot enough or if you add the noodles too fast, you'll get a large dough ball instead of individual noodles. Cook for 20 minutes or so (seems like a while) until the noodles are cooked and the broth is at a gravy consistency. You may have to add some more liquid during this process.

She would serve this at Thanksgiving and everyone would pile a large spoon full of noodles over their mashed potatoes.
Please note that this is purely from memory as my grandmother never wrote anything down but I had seen her make this dish a few times.

My grandmother has since passed but when my family talks about these "noodles," one of my cousins said that when she gets a taste for them, she'll go to Arthur, IL (another Amish community) and there's a restaurant that serves them there. I've never been but wouldn't mind seeing how they compare.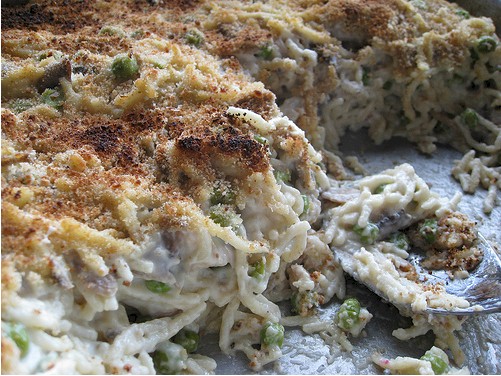 (Image by David Hammond)
Chicken Tetrazzini
Adapted from the Antoinette Pope School Cookbook
3 pounds chicken
2 cups water
¼ pound broad egg noodles or 1 recipe homemade noodles (recipe below)
1 teaspoon salt
2 tablespoons melted butter
2 tablespoons grated Parmesan cheese
½ lb sliced mushrooms
2 tablespoons butter
½ teaspoon salt
A little pepper
Several slivers garlic
Additional salt, pepper and cheese
Steam chicken in 2 cups hot water for an hour or until tender.  Let rest until cool enough to handle. Remove stock for sauce. Remove meat from bone, then cut chicken into slices about 2 inches long.

Cook noodles in boiling unsalted water for about 10 minutes or until crisply tender, but not too soft. Drain noodles thoroughly.  Pour noodles into bowl and season with the 1 teaspoon salt, melted butter, Parmesan cheese and 1 cup sauce (below).

Saute mushrooms in 2 tablespoons butter for 5 minutes.  Season with the ½ teaspoon salt, pepper and slivers of garlic, then continue to cook several minutes.

Spread noodle mixture onto a flat, 10 x 1 and 1/3 buttered baking dish.  Over noodles arrange sautéed mushrooms, pour a little sauce (recipe below) over mushrooms, then cover with thinly sliced chicken: season it with ¾ teaspoon salt and a little pepper. Pour remaining sauce over chicken and sprinkle top with ¼ C grated Parmesan cheese. Bake at 350 F for about 30 minutes, then broil for about 5 minutes or until golden brown. Serve hot. (Serves 6)
Sauce for Tetrazzini
¼ cup melted butter
1/3 cup sifted all-purpose flour
2 cups warm half & half
1 cups warm chicken stock
2 tablespoons sauterne wine
Blend flour into melted butter, gradually add cream and chicken stock, stirring constantly. Cook until thick and smooth – about 5 minutes – adding salt and sauterne toward end.

Homemade egg noodles


2 egg yolks slightly beaten with fork, combined with 3 tablespoons warm water, or 1 egg and 1 tablespoons water (preferred)
½ teaspoon salt
About ¾ C sifted all-purpose flour if using yolks; 2/3 cups if using whole egg
Add salt to beaten eggs; then add flour, a small amount at a time, and beat until well blended. Turn out onto floured, covered board, and knead for 2 or 3 minutes, or until dough is smooth. Add more flour if dough is sticky. Dough should be neither too soft or too heavy. Cover dough with a warm bowl, and let it stand in warm room for about 30 minutes, or longer, to ripen.

When dough is ripe, roll it into a round 18 x 18" or larger. If using whole egg recipe roll 14 x 14. Allow rolled dough to stand in room temperature for about 30 minutes, turning it over several times. Dough must not be the least bit sticky and not so dry that it will break or be brittle. Fold it over, or form a roll. Place it on a board, and with a very sharp, heavy knife cut dough into desired width. Separate and spread noodles on a flat surface. Cook at once.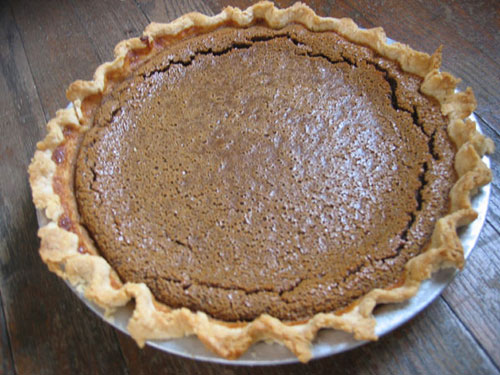 (Image by Catherine Lambrecht)
Best Tasting Traditional Bean Pie
Adapted from  Muslim Bean Pie: Some History and the Best Recipe
2 cups dried navy beans (cooked according to package instructions)
1 stick butter
2 tablespoons flour
4 eggs
1 teaspoon nutmeg
2 cups sugar
1 14 ounce can evaporated milk
1 teaspoon cinnamon
2 tablespoons vanilla
Cook beans until soft. Preheat oven. to 350 degrees.
In a blender combine cooked beans, butter, milk, eggs, nutmeg and flour, then blend for twp minutes on medium speed.  Pour mixture into a large mixing bowl.  Add sugar and vanilla.  Mix well.  Pour into pie shells.  Bake approximately one hour until set and golden brown.
Makes 2 to 3 Bean Pies.
 Lincoln Almond Cake
INGREDIENTS:
2 1/4 C. sugar
1 C. butter
3 C. flour
1 Tbsp. baking powder
1 C. milk
1 C. almonds; blanched and chopped
1 1/2 tsp. vanilla; or almond extract
6 egg whites; beaten with 1/2 tsp. salt

DIRECTIONS:

Preheat oven to 350 F
Cream together the sugar and butter.
Sift together flour and baking powder three times; slowly add to the butter and sugar mixture alternately with milk, in small amounts at a time.
Mix thoroughly.
Add the chopped blanched almonds and vanilla to the mixture.
Continue beating until thoroughly mixed.
In a separate bowl, stiffly beat egg whites with salt.
Gently fold them into the first mixture.


Pour the mixture into a greased and floured angel food cake pan or bundt pan.
Bake for approximately one hour, or until a toothpick inserted into the center comes out clean.
Turn the cake out on a wire rack and allow to cool upside down for a few minutes until you are able to gently remove the cake from the pan.
Before serving, gently cut the cake with a serrated bread or cake knife to avoid tearing it.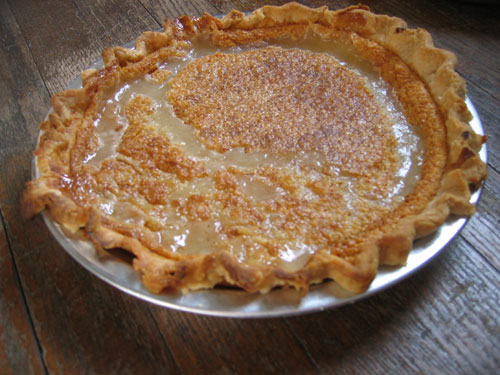 (Image by Catherine Lambrecht)
Sugar Cream Pie
Adapted from  Karina's Sugar Cream Pie
Pastry for 9-inch one crust pie
3 tablespoons flour
1-1/2 cups granulated pure cane sugar
1-1/2 cups heavy whipping cream, room temperature
1 teaspoon pure vanilla extract
Whole nutmeg
Preheat oven to 425 degrees F.
Place flour and sugar in the unbaked pie shell. Add cream and mix well using your fingers to slowly mix the dry and liquid ingredients (the prevent the cream from whipping). Add vanilla extract and continue stirring with fingers. Sprinkle with freshly grated nutmeg.
Bake 10 minutes; reduce heat to 325 degrees F. and continue baking for approximately 45 to 55 minutes. Center will appear soft, but pie will set up as it cools. Do not over bake. Remove from oven.
Although you may refrigerate the pie, it usually isn't necessary to get it to set.