Greater Midwest Foodways Alliance
FAMILY HEIRLOOM RECIPES
Contestants entered their best scratch family heirloom recipe suitable for a family or community dinner.  Recipe should originate before 1950. 
Contestants brought a prepared dish along with a brief story of who passed the recipe down to them, ethnicity, if relevant, number of years the recipe has been in their family and any interesting information about their recipe.
JUDGING CRITERIA
Taste: 50%
History: 40%
Appearance: 10%
Premiums sponsored in partnership with Feedstuffs FoodLink.com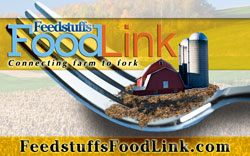 1st place – $150.,  2nd place – $100.,  3rd place – $50 

Pampered Chef is sponsoring additional prizes for our winners:
First place: Reversible Bamboo Carving Board (Value = $72)
Second place: Cool & Serve Square Tray, Outdoor Mini Spoons & Tongs Set (Value = $49)
Third place: Food Chopper (Value = $31)
Competition was conducted on August 10th, these are the results: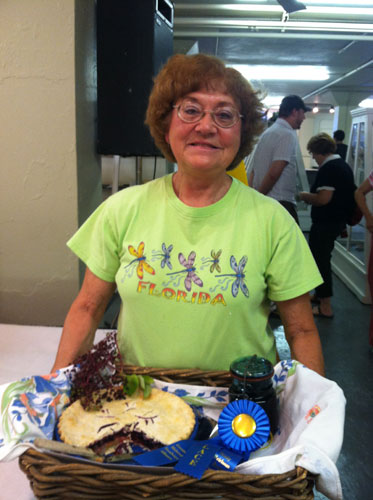 First place winner Fancheon Resler of Albion, Indiana (image by Scott Hutcheson)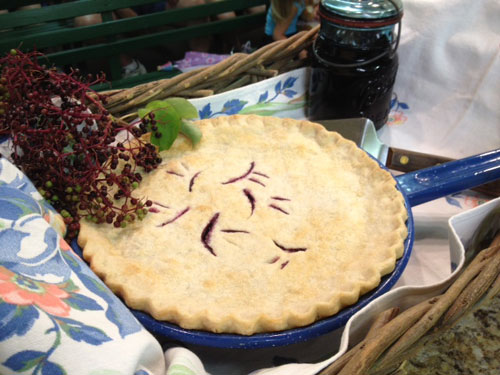 Elderberry-Apple Pie (Image by Jolene Ketzenberger)
First Place
Grandma Fulford's Elderberry-Apple Pie
Fancheon Resler, Albion, Indiana
"Necessity is the mother of invention." That was my Grandma Edna Fulford's motto. Widowed with two young children in 1917, she had few material resources and no means of travel other than walking. Fortunately she had grown up close to nature with an appreciation for all that the land has to provide, so she was particularly resourceful in terms of gathering food from the woods, roadsides, marshes, and along country lanes. She "made do" in many creative ways.
In the spring she was the "dandelion lady" of Wawaka, Indiana, a tiny village in Noble County. She knew precisely when to dig the greens, washed them at the backyard pump, and exchanged them with her neighbors for whatever they had to offer. It was often part of a dressed chicken, a pound of lard, the last of the potatoes from the cellar, or sometimes nickels and dimes.
But in late summer and early fall, after the wild raspberries and huckleberries were gone, she roamed the countryside harvesting those shiny, purple-black elderberries. Of course she had scouted them out a couple of months earlier when the white lacy clusters of blossoms were visible at the edges of marshes and in the roadside. Many of her neighbors and friends were not patient enough to gather and strip off the tiny berries, so again she had something to barter.
My best memories of Grandma's elderberry creations was the beautiful clear, dark jelly she put up for the winter. My sisters and I still extract the juice and make elderberry jelly. Grandma's elderberry pie variations were remarkable too. I am especially grateful that her recipe for elderberry-apple pie has been preserved. That product honored her motto of inventing a palatable food item from those often overlooked berries that were plentiful for the taking in her area.
Though best used fresh, Grandma even canned the berries to make pies and cobblers in the winter. (I was fortunate to have frozen berries to use for this contest but luckily found some almost ripe to include in my display.) She would have used the early fall apples since elderberries ripen in late August and September. I remember her speaking of the "early pippins" and northern spies.
Of course I have used lard in the crust, as she would have done. Even though Crisco was developed before 1920, it would have been beyond her budget, and cooks in those days preferred lard anyway. It should also be noticed that both the crust and filling contain vinegar, a staple in Grandma's humble kitchen.
This pie with its layered filling is quite a delicacy and enjoyed by most people more than a straight elderberry pie because it has fewer seeds. It brings back memories of the wonderful aromas in Grandma's little house in Wawaka and how, out of necessity, she created some unusual but delectable treats.
Grandma Fulford's Elderberry-Apple Pie
Fancheon Resler, Albion, Indiana
Crust:
4 cups flour
1 tablespoon sugar
1 teaspoon salt
1 1/2 cups lard
1/2 cup cold water
1 egg
1 tablespoon vinegar
Filling:
2 cups hulled elderberries
1 cup sugar, divided
1 tablespoon cider vinegar
3 tablespoons cornstarch
2 tablespoons water
5 cups peeled, sliced apples
2 tablespoons flour
2 tablespoons butter
For crust, combine flour, sugar, and salt. Cut in lard to make coarse crumbs. Combine water, egg, and vinegar and pour over other mixture. Mix with a fork to form soft dough. Divide into 4 dough balls. (This is enough for 2 pies.)
For filling, put elderberries in a saucepan with 1/2 cup sugar and vinegar.  Bring to a simmer over medium heat. Reduce heat to low, and cook, stirring now and then, for 15 minutes until mixture starts to thicken slightly. Stir cornstarch into water then into elderberry mixture. Cook and stir for another minute.
Peel, core, and slice apples into a large bowl. Sprinkle with remaining sugar and flour and stir through.
Roll out the bottom crust and line a 9-inch pie pan. Pour apple mixture into the crust and dot with butter. Then pour elderberry mixture over apples.
Roll out top crust and make design to vent. Moisten edge of bottom crust and lay top crust over filling. Trim, seal, and flute edges. Brush top with milk and sprinkle with sugar.
Bake at 400 degrees near bottom of oven for 20 minutes. Reduce heat to 350 and bake 25-30 minutes longer or until berries start to bubble and crust is golden brown. Remove pie (and as Grandma would say), and cool in the kitchen window.
Second place winner Anita R. Beight, Brownsburg, Indiana (image by Scott Hutcheson)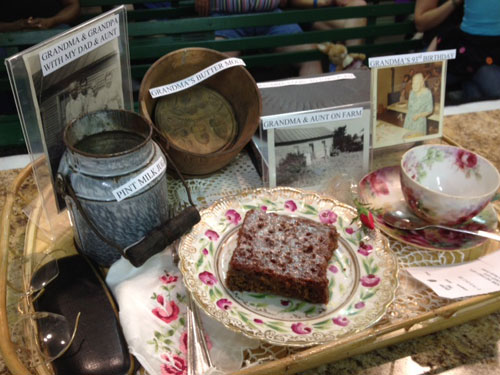 Date Pudding  (Image by Jolene Ketzenberger)
Second Prize 
 HISTORY OF GRANDMA BEIGHT'S DATE PUDDING
Anita R. Beight, Brownsburg, Indiana
My Grandma, Cora Beight, was married to my Grandpa, John Beight, in 1896, in
Carlisle, IN (Sullivan County). As a farmer's wife, she grew fruit trees and an extensive garden of vegetables, while Grandpa raised dairy cows and hogs, and grew tomatoes and beans for commercial sale. Grandma was constantly tending her garden. In fact, one of my recollections of Grandma Beight was that her dresses were bleached white across the shoulders from hoeing the garden in the hot sun. She canned and preserved the "fruits of her labor" so that her family would have an abundance of good things to eat all year long. From the daily milking, Grandma skimmed off the cream and made her own butter, using a wooden, table-top, hand-cranked churn. The cream not used by the family, was sold, and the leftover, skimmed milk was used to slop the hogs.
An accomplished baker, Grandma made all of her own yeast breads (there was no store around to buy any even if she wanted to). Twice a week, every description of bread, fruit pies, cakes, dumplings, cobblers, and biscuits flowed out of her wood-burning oven. For Christmas however, Grandma needed something special to mark the season. One of her ordinary pies or cakes that she usually made every week of the year would not be festive enough. However, a Date Pudding was deemed something special and exotic. Of course, Grandma did not grow dates on the farm, so obtaining them required a horse and buggy ride into the big city of Vincennes. There, Grandma would buy the precious commodity for her Christmas-time extravagance. I'm sure that she found this purchase difficult, coming from an extremely frugal family, but she certainly had plenty of sweet cream and butter called for in the recipe. It was probably in Vincennes that Grandma also bought the oranges and the small amount of licorice that combined with the homemade clothes and knitted socks constituted my father's yearly Christmas gifts.
I do not know the origins of this recipe; perhaps it was from the box of dates. I do know that my mother first recalled eating the pudding the first year of her marriage to my father, in 1937, which would make the recipe at least 75 years old. My father remembered eating this pudding as a child at the age of 10, which would make the recipe at least 92 years old. Suffice to say that Date Pudding was always part of Grandma Beight's Christmas celebration and remained one of her signature dishes until her death, in 1969, at the age of 93. Oddly enough, my mother was not able to get Grandma to give her the recipe. They were caught up in the mother-in-law vs. daughter-in-law battle that often occurs with a doting mother's reluctance to let a son leave home. However, Grandma was gracious enough to pass the recipe to my oldest brother and his wife, who passed it on to me.
Since adulthood, I seem to have taken over my Grandma's legacy; now, my family looks to me for the myriad of baked goods that used to come from Grandma. My Mother always told me that I had "Grandma's touch" with her baked goods. Mom always said of good bakers, "It's in the skin." At any rate, preparation for this entry has been a joyful experience that has led me to revisit family recipes and contact and visit other family members.
HEIRLOOM RECIPE CIRCA 1920'S GRANDMA BEIGHT'S DATE PUDDING
Anita R. Beight, Brownsburg, Indiana
1 cup boiling water
2 cups chopped dates
1 cup sugar
2 tablespoons butter
1 egg
1 1/2 cups flour
1 teaspoon baking soda
1 teaspoon baking powder
l/4 teaspoon salt
1/2 cup chopped nuts (pecans or walnuts, I used pecans)
1 teaspoon vanilla
1. In a small heat proof bowl pour boiling water over the dates and let cool until lukewarm.
2. In separate bowl sift together flour, baking soda, baking powder and salt.
3. In large bowl cream butter, add egg and sugar, beat until well mixed. Stir in dry ingredients alternately with dates. Stir in vanilla and nuts. Pour into greased and floured 9×13 pan and bake at 350 F for about 30 minutes. While pudding is baking make sauce and pour over warm pudding.
SAUCE
1 cup heavy cream
1/2 cup butter
1 cup sugar
1 teaspoon vanilla
Combine and cook over medium heat while stirring, until thick and almost boiling. Pour over pudding while still warm.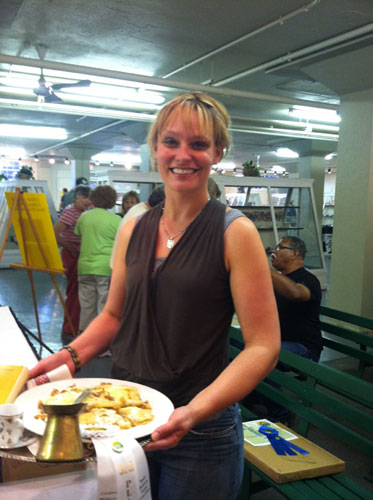 Third place winner Alison Jensen of Indianapolis, Indiana (image by Scott Hutcheson)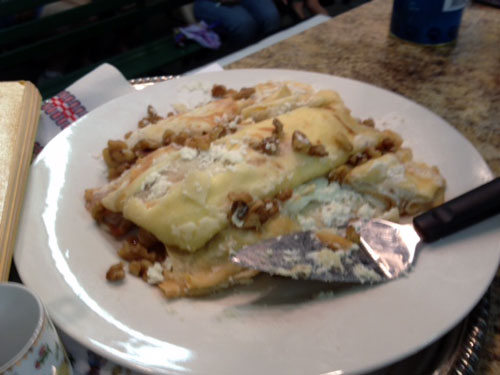 Palachinke  (Image by Jolene Katzenberger)
Third Prize
Palachinke (Pol-uh-chink-eh)
Alison Jensen, Indianapolis, Indiana
There are communities of of Serbian, Croatian, Polish, Slovene, Czech, Ukrainian and Russian immigrants and their descendants living around the state. All carry their own culinary traditions and food-ways that deserve to be documented and acknowledged as part of Indiana's and the greater Midwest culinary heritage.
My mom received this recipe from my grandmother when she was first married to my dad. My mom liked these so much that she requested the recipe. My grandmother allegedly looked at my mom quizzically and replied in her Croatian accent that she never used a recipe. My mom discovered that palachinke like many other Serbian and Croatian recipes, were usually not written down but handed from parent to child through observation, trial and error. The root of its creation would be around 1930 which was well before my great-grandmother and grandmother even came to this country!
This recipe was documented somewhere around 1975 or 1976 when my parents were living in East Chicago, Indiana with my grandparents. My mom painstakingly observed, measured and wrote this recipe one afternoon while my grandmother made them. I have added my own flair since receiving it myself.
Palachinke are a large, flat pancake which are similar to a french crepes but simpler and more straightforward. This recipe can easily be doubled, tripled or beyond to feed the masses. Prepared palachinke can be frozen and defrosted for serving at a later date. Batter can be placed in the refrigerator overnight to rest.
Palachinke (Pol-uh-chink-eh)
Alison Jensen, Indianapolis, Indiana
2 Cups All Purpose Flour
1/4 Cup Sugar
1/2 t Salt
2 Cups Milk
1 t Vanilla
3 Whole Eggs
1/2 stick butter melted
Canola oil and pastry brush or cooking spray
1. Combine and sift the flour, sugar and salt
2. Melt butter
3. Whisk together, melted butter, milk, vanilla and eggs
4. Add milk mixture to flour mixture and mix with a rotary beater or electric mixer on low until no lumps remain
5. Let stand about 10 minutes to rest or refrigerate overnight
6. Oil a 10 inch skillet or crepe pan and heat over medium, skillet is ready when a drop of water sizzles and jumps
7. Place a 1/3 cup of batter in skillet and spread the batter to distribute in a large circle
8. Palachinke is done when the sides are dry and pull away from the pan
Cheese Filling
8 oz container of Dry Curd Cottage Cheese
1/2 package of cream cheese softened
1 Whole Egg
1/2 cup sugar
Topping
1/2 cup sugar – divided
1/2 cup sour cream
Mix all ingredients filling ingredients together and fill palachinke. Roll up. Mix together sour cream and sugar and top rolled palachinke. Bake at 350 for 35-50 minutes.
Palachinke can be filled with fruit, jam, candied nuts, nutella or a cheese filling. They can also be simply left as is with a sprinkling of powdered sugar.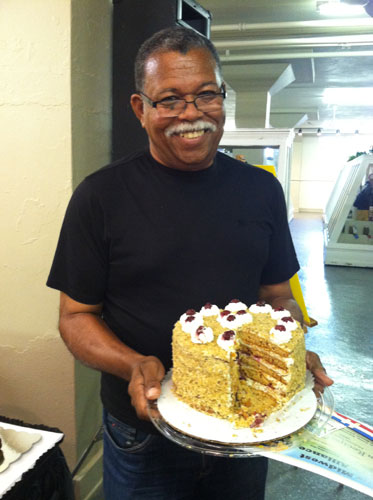 Honorable mention: Olesya Ivanovna Whitfield, Columbus, Indiana (Image by Scott Hutcheson)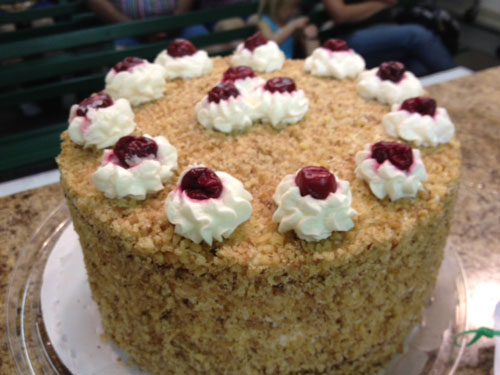 Honey Cake (image by Jolene Ketzenberger)
Honey Cake
Olesya Ivanovna Whitfield, Columbus, Indiana
As Translated from Romanian to Ukrainian to English
My Family Recipe – My Story
My great grand parents were very poor Romanians. So my great grandfather worked his way to Canada from Romania.
 
He worked and saved his money for 7 years and then returned to Bucovina, Romania. When he returned he bought a farm with cows, chickens, wheat, walnut trees and cherry trees.
On the first year anniversary of his return, my great grandmother made a honey cake using ingredients from their farm or trading for them and making it her way.
Thus started a tradition of baking her Honey Cake to celebrate the addition to thefamily, such as a returning family member or for weddings. I too made 3 Honey Cakes for a 3 tier cake for my wedding reception August 7, 2003 with local ingredients , including Vishnii Cherries such as were grown on the family farm in Bucovina, but are being grown here in the Midwest!
Although my great grandmother had the recipe written in Romanian, she always baked it from memory. When she died her sister asked the only daughter for the recipe book to be able to remember her sister. But when the daughter found it ~ not only was it so interesting, but it was made like a letter addressed to her only daughter!
Thus began the tradition of passing the recipe from mother to daughter(s). And this has continued from 1938 until now I just gave the recipe to my daughter who is 5 months pregnant with a girl and is craving sweets. And she will pass it on to our granddaughter, my first.
Honey Cake
Olesya Ivanovna Whitfield, Columbus, Indiana
As Translated from Romanian to Ukrainian to English and from grams and metric to standard equivalant measurements
Ingredients; Cake
3 cups of flour
7 ounces of honey (locally harvested)
1 egg
2 tablespoons of sour cream
1 teaspoon baking soda
1 stick of margarine
Ingredients; Icing
2 cups of sour cream
1 cup sugar
1 cup of crushed walnuts
1 cup of Vishnii Cherries
Preheat oven 375 F
Mix the honey, egg, sour cream, and margarine in one bowl. Then add flour and baking soda. Then pour the mixture onto a 8 inch pan approximately 1/2 thick and bake @ 375F until done usually 15 minutes. And repeat until you have 5 layers. Set aside and cool.
Mix the sour cream and sugar until stiff then add the crushed walnuts. Apply this to the top of first layer and then add one fourth of the cherries to the icing and add a new layer and repeat. When stacking is complete then cover the sides with remaining icing. Enjoy