Greater Midwest Foodways Alliance
FAMILY HEIRLOOM RECIPES
Contestants entered their best scratch family heirloom recipe suitable for a family or community dinner.  Recipe should originate before 1950. 
Contestants brought a prepared dish along with a brief story of who passed the recipe down to them, ethnicity, if relevant, number of years the recipe has been in their family and any interesting information about their recipe.
JUDGING CRITERIA
Taste: 50%
History: 40%
Appearance: 10%
Premiums sponsored in partnership with Feedstuffs FoodLink.com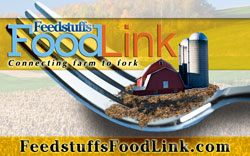 1st place – $150.,  2nd place – $100.,  3rd place – $50 

Pampered Chef is sponsoring additional prizes for our winners:
First place: Reversible Bamboo Carving Board (Value = $72)
Second place: Cool & Serve Square Tray, Outdoor Mini Spoons & Tongs Set (Value = $49)
Third place: Food Chopper (Value = $31)
Competition was conducted on September 2nd, these are the results: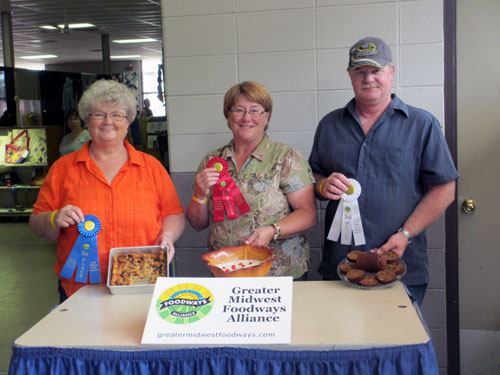 Winners: 1st: Sheryl Kloss,  2nd: Marie Harvey, 3rd: Mike Sibson (Image by Catherine Lambrecht)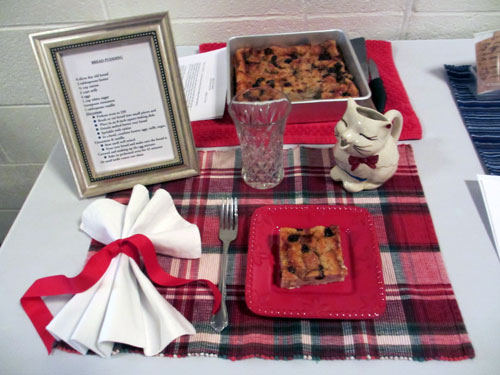 Bread Pudding (Image by Catherine Lambrecht)
First Place
BREAD PUDDING HEIRLOOM RECIPE
SHERYL KLOSS, Tulare, South Dakota
Waste not, Want not. .A saying that goes along with the making of bread pudding.
Stale bread not to go to waste on a farm where there was already fresh milk and eggs.  A baked combination of bread soaked in the liquid of eggs, sugar, butter and milk made use of items readily available.  Mixing it up and letting it bake in the oven while we did evening chores it was a delightful aroma greeting us when we returned to the house. We knew we were having one of our favorite food items.
It was never really written down by my Grandmother as to the measurements just dump and pour.  My Mother however measured and made it much easier to pass on the Bread Pudding recipe to my daughters.
What makes my bread pudding an heirloom recipe is that growing up we ate bread pudding at our evening meal quite often. Served up in a bowl with milk poured over it.  Hot, warm or cold it was good no matter if it was the main meal or served for desert.
A dish I can remember having at my Grandmothers house at Holidays and a food easy to make and take to church and community functions. It was easy to transport and doubling the recipe make a large pan to share with all.
BREAD PUDDING HEIRLOOM RECIPE
SHERYL KLOSS, Tulare, South Dakota
6 slices day old bread
2 tablespoons butter
1/2 cup raisins
2 cups milk
4 eggs
1 cup white sugar
1 teaspoon cinnamon
1 tablespoon vanilla
Directions:
Preheat oven to 350
Break or cut bread into small pieces and place in an 8-inch square-baking dish.
Drizzle melted butter over bread
Sprinkle with raisins
In a bowl, combine beaten eggs, milk sugar, cinnamon and vanilla
Beat until well mixed
Pour over bread and make sure the bread is covered and soaking up the egg mixture
Bake in preheated oven for 45 minutes or until knife comes out clean.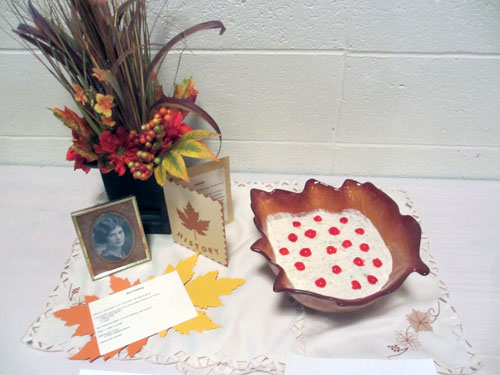 Nut Pudding (Image by Catherine Lambrecht)
Second Place
Nut Pudding
Marie Harvey, Ree Heights, South Dakota
Definitely not a heart smart recipe. This dish was always saved for special get togethers.
For as long as I can remember, when my mother's extended family got together for a big family meal there was a big bowl of nut pudding.
This generally occurred Christmas' and Easters. My grandma Diede (my mom's mother) always made it. It always had cherries on top and was in the same round pink pyrex bowl with handles that to me looked like little spickets to drain something out of the bowl. I don't know what happened to the bowl, but try as I might I haven't come across another one since.
My mom thought Grandma got the recipe from her sister Irene who had gotten it from their mother Maria Stoebner.
 
Nut Pudding
Marie Harvey, Ree Heights, South Dakota
Dissolve 1 pkg Gelatin in 1/2 c cold water. Set aside to set up.
Cook together over low heat until mixture starts to thicken. Do not boil.
2 eggs (slightly beaten)
2 c whole milk
1 c sugar
Stir in dissolved gelatin. Cool until starting to set up good.
Whip 1 c cream until stiff
Add whipped cream
1 c finely chopped walnuts
Garnish with cherries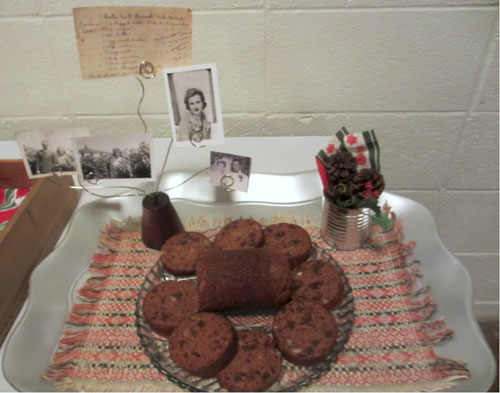 Date Nut Bread (Image by Catherine Lambrecht)
Third Place
DATE NUT BREAD
DOLORES GAU SIBSON'S RECIPE
Mike Sibson, Howard, South Dakota
My Mom, Dolores Gau Sibson, has been making this recipe for 67 years. Date Nut Bread round shaped from being baked in cans to look fancy has been on the Christmas table for decades.
When I asked her about this recipe and why she made it every year this is the story she told.
In 1945, she was 14 years old. Her parents Alvina and Henry Gau lived near Ethan, SD. They were very good friends and visited back and forth a lot with the Bobelyk's from Armour, SD. Mom always thought of Anna Bobelyk as a fancy lady.  Anna served this Date Nut Bread baked in cans when they were there for a Christmas meal. The bread was moist and delicious. The original recipe written by Mom has Mrs. Bobelyk name on the recipe corner. Mom noted the number and size of cans later on the recipe card.
Dolores Marie Gau married Leo F. Sibson May 2,1951. They had three children Steven, Mike and Lynette. After 35 years of raising cattle and crops they retired in 1990. They celebrated their 60th Wedding Anniversary in 2011. My Dad passed away February 11, 2012.
My family enjoys this bread recipe and it freezes well. My sister, Lynette, says Date Nut Bread is probably her most favorite recipe that Mom makes and it always tastes good. She requests the bread each Christmas. Lynette says that Mom bakes the bread in cans never a loaf pan.
Hopefully the grandchildren and great grandchildren will continue to make Date Nut Bread in cans.
The Date Nut Bread is served today on one of my Mom's plates.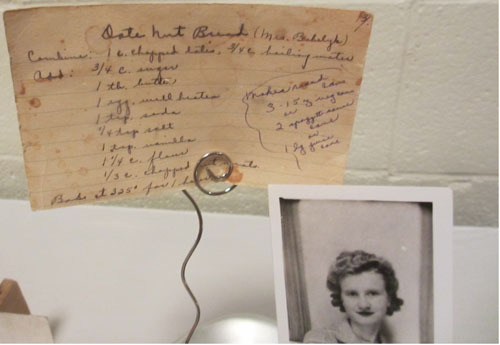 Date Nut Bread (Image by Catherine Lambrecht)
DATE NUT BREAD
DOLORES GAU SIBSON'S RECIPE
Mike Sibson, Howard, South Dakota
Combine:
1 cup chopped dates
3/4 cup boiling water
Add:
3/4 cup sugar
1 Tablespoon butter
1 egg, well beaten
1 teaspoon soda
1/4 teaspoon salt
1 teaspoon vanilla
1 1/4 cup flour
1/3 cup chopped nut meats
Place chopped dates in a bowl and add boiling water. Set aside and let mixture stand.
Cream butter and sugar together. Add the egg.
Strain water from date mixture into cream, sugar and egg mixture. Add flour, salt, soda. Beat well. Add nuts, dates and vanilla.
Pour the mixture into greased cans. Bake in a 350 F oven.
Makes: 3-15 oz vegetable cans, bake 40 minutes; 2-spaghetti cans, bake 50 minutes; 1 large juice can bake, 60 minutes.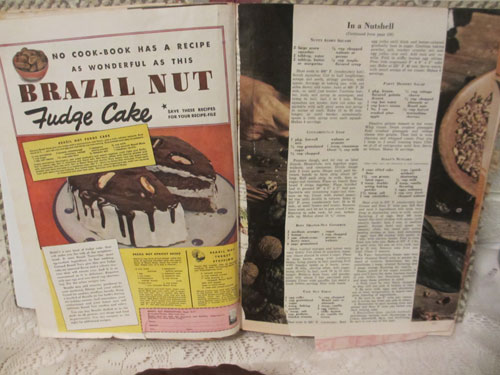 Brazil Nut Fudge Cake (Image by Catherine Lambrecht)
Honorable mention
 HISTORY OF BRAZIL NUT FUDGE CAKE RECIPE
Yvonne Simons Ohlrogge, Huron, South Dakota
GOOD INTENTIONS—Everyone who saves recipes from magazines intend to preserve them in a
scrapbook or recipe
box…DOESN'T ALWAYS HAPPEN…That is why I was so amazed, when, several years ago at an auction, I found that
someone had actually done this—in FOUR BOUND ALBUMS!!!
The dates are not always visible, but I believe this recipe is from about 1937 in GOOD HOUSEKEEPING magazine.
Interesting how they emphasize the small amounts of egg and shortening needed. Some ingredients had a
higher availability during the "Dirty Thirties". Shortage of supplies lead us to make the most of what we
have
…conservation…innovation…imagination…
three elements for survival on the prairie, and adaptations of our favorite recipes.
Even today, because of the cost of some ingredients, this is a "special occasion" cake.
I used this recipe once for a chocolate cake contest, receiving a First Place Blue Ribbon.
It is an excellent tasting cake…especially with a glass of cold milk!
In some of the advertisements for the Brazil Nut Association, which I located on the internet, many
suggestions are made for the use of their product:
"…Add crunchy goodness to sandwich fillings and salads. Grand for cookies, muffins, breads…keep a bowlful on your
buffet for the holiday season"
December 18, 1939 LIFE
"AT-TEN-SHUN ladiesl Cakes taste better…keep fresher …if you add one cup chopped, ground or grated
Brazil nuts to your favorite batters."
November 1939 LIFE
"add one cup ground, chopped, or sliced Brazil Nuts to your favorite cake or cookie batters.
Gives old recipes fresh, new flavor"
I am eternally grateful to the wonderful lady who compiled these amazing albums of history.
Hats off to "Grandma"—however "great"
— you'll be Always a part of the recipe.
BRAZIL NUT FUDGE CAKE
Yvonne Simons Ohlrogge, Huron, South Dakota
Ground Brazil Nuts give this fudge cake a glamourous new flavor, and a rich, velvety texture.
And think about it…you use only ONE EGG and 1/3 CUP SHORTENING!
Economical and easy to prepare.
1/3 cup shortening
1 cup sugar
1 egg, beaten
2 squares unsweetened chocolate, melted
1-3/4 cups cake flour
3 teaspoons baking powder
1/2 teaspoon salt
3/4 cup milk
1 cup ground,Brazil Nuts
1 teaspoon vanilla
Cream shortening thoroughly, add sugar gradually and cream together until light and fluffy.
Stir in beaten egg. Stir in chocolate and blend well. Add flour (sifted with baking powder
and salt), alternately with the milk. Stir in Brazil Nuts and vanilla. Pour batter into two
 eight-inch greased cake pans. Bake in moderate oven, 350 degrees F.
30-35 minutes. ( recipe calls for seven minute frosting) Frost each layer and put
together. When frosting Is set, melt two squares of chocolate and pour over cake.
Decorate with Brazil Nuts
The frosting I used Is fast, easy, and delicious.
1/4 cup sour cream
1/4 cup softened cream cheese
1/2 teaspoon vanilla
cream these together thoroughly—then add
1 – 8 ounce container Cool Whip (thawed)
 whisk all together gently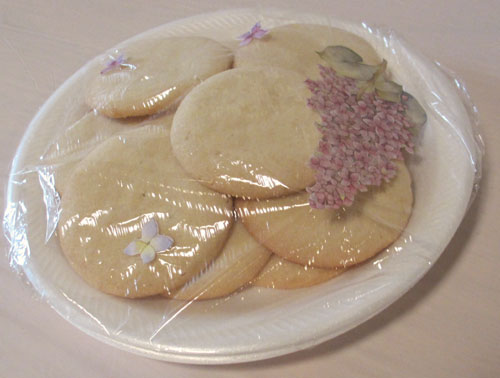 Sugar Cookie  (Image by Catherine Lambrecht)
Honorable Mention
Sugar Cookie
Barb Peterson, Huron, South Dakota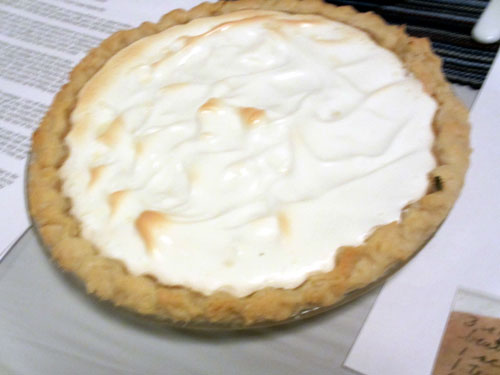 Sour Cream Raisin Pie (Image by Catherine Lambrecht)
Honorable Mention
Sour Cream Raisin Pie
Barb Peterson, Huron, South Dakota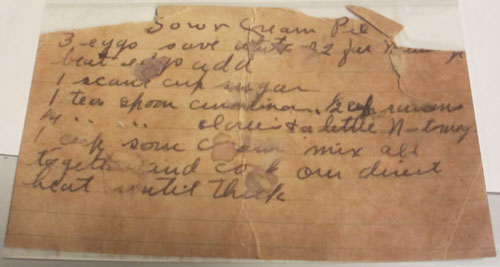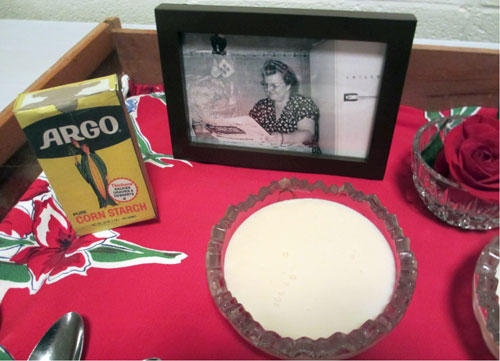 Corn Starch Pudding (Image by Catherine Lambrecht)
Honorable Mention
CORN STARCH PUDDING
Grandma Rose Clinton's Recipe
Sue Sibson, Howard, South Dakota
Rose Virginia Margaret Berens was born March 7, 1901 near Spencer NE and died January 25, 1988. In 1917, she married H.O. Clinton they had 8 children. Grandma was known on the women's softball field as "Homerun Rosie". My Grandparents celebrated 59 years together before Grandpa's passing in 1976. Grandma was the Avon lady in Spencer and the surrounding area for nearly 31 years.
My Grandma Clinton cooked on a wood stove most of her life. The Corn Starch Pudding recipe was never written down by my Grandma. When I asked my Mom, Shirley Bailey, why she replied -It's on the Box. Argo did have variations of this recipe on the box for many years. In 2008, Argo went to plastic containers. The easy Argo gravy recipe is on the container now.
On the corn starch box it was called Vanilla pudding-but my Mom says they always called it Corn Starch Pudding. With a 1/4 cup of corn starch I can see why they did. Since the 1940's my Grandma would make this pudding on special occasions. Birthday cake with Corn Starch Pudding is one of my Mom's favorite food memories. My Uncle Art Clinton tells how his Mom sent a small dish of Corn Starch Pudding along with his lunch one day and how envious his friends were. My Mom shares the story that how a neighbor happened to stop by ate a piece of chocolate cake and some Corn Starch Pudding. Later he was about town telling everyone how he had eaten like a King at Rose's house. My Grandma did not make dessert very often but when she did she made pudding. Grandma would use this recipe when making Banana Cream pie.
My Mom and I have continued to make this recipe through the years. I can see why Grandma used this pudding recipe for her large family. It has very basic ingredients and can be cooked in 10 minutes. I prefer butter and use it in the recipe rather than the Mazola margarine.
One of my Granddaughters loves Corn Starch Pudding. So I am reassured that this recipe will continue to be a family heirloom recipe.
CORN STARCH PUDDING
Grandma Rose Clinton's Recipe
Sue Sibson, Howard, South Dakota
1/3 cup sugar
1/4 cup Argo Corn Starch
1/8 teaspoon salt
2 3/4 cup milk
2 tablespoons Mazola  margarine
1 teaspoon Pure Vanilla Extract
Combine sugar, corn starch and salt in a medium saucepan. Gradually stir in milk until smooth. Bring to a boil over medium heat, stirring constantly, and boil 1 minute. Remove from heat. Stir in Mazola margarine and vanilla.
Pour into serving bowls. Cover; refrigerate.
Makes 2 ½ cups