"Stuffed:  A Journey of Midwest Sausage Traditions"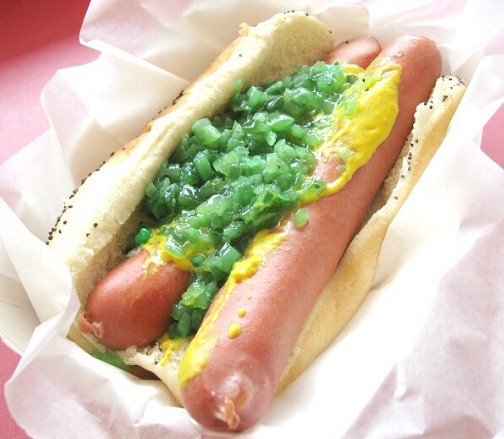 (image by Gary Wiviott)
In celebration of the best of the wurst from Cozy dogs to Chicago Style dogs, from the Mother-In-Law Tamale dog to the smoked varieties, it's all going to be uncovered.
Saturday, September 15, 2007
9  AM – 4 PM
Kendall College
900 North Branch Street, Chicago
(West of Halsted Street, North of Chicago Avenue)
FREE PARKING
The new Greater Midwest Foodways Alliance (GMFA) will celebrate the curious and delicious story of sausage at their inaugural public event. "Stuffed: A Journey of Midwestern Sausage Traditions," will take place Saturday, September 15th at Kendall College in Chicago. The event is sponsored in part by Oxford University Press, and their essential new volume The Oxford Companion to American Food and Drink, which explores great Midwestern food traditions, will be introduced at the symposium.
The GMFA is excited to bring together producers, scholars and aficionados of this famous foodstuff that has been so important in building cultural identities, commerce, and cuisines across the American Midwest. Food enthusiasts from across the Midwest and anyone interested in learning more about the region's rich food traditions are invited to attend.
In a celebration of the best of the wurst, there will be presentations on smoked hot dogs, corn dogs, Coney dogs and, of course, bratwurst. A hot dog lunch will be provided for all attendees featuring regional styles of hot dogs. In addition, guests will learn the innards and outs of sausage traditions from across the Midwest. The Windy City's own unique hot dog heritage will be represented by Chicago-style dogs, Maxwell Street Polish and the "Mother-In-Law," a tamale in a hot dog bun with chili or Chicago hot dog style toppings.
Noted hot dog historian and Roosevelt University Professor Emeritus, Bruce Kraig; Andrew Smith, General Editor of the Oxford Encyclopedia of Food and Drink in America; and Iowa State University Professor Emeritus specializing in sausage and processed meat, Bob Rust, will focus on historical traditions. Manufacturers – some local, some large – will discuss the secrets of making of sausage.
The GMFA symposium is presented in partnership with Kendall College, Oxford University Press and the Culinary Historians of Chicago. It is the first event from the Greater Midwest Foodways Alliance, a collaborative effort that is dedicated to celebrating a diverse region's rich food traditions.
"Too often the culinary cultures of the Midwest have been overlooked or taken to be 'white bread' American," says Kraig, who launched the organization. "In fact, our wide land is filled with fascinating regional and local cultures and cuisines. The Greater Midwest Foodways Alliance celebrates all that makes the Midwest familiar and, at the same time, distinctive."
The Greater Midwest "Stuffed: A Journey of Midwestern Sausage Traditions," will be held at Kendall College, 900 North Branch, Chicago, Illinois, September 15, 2007 from 10:00 am to 4:00 pm. For registration by phone, please contact Barbara Olson at 708-788-0338 or email greatermidwestfoodways@gmail.com. Advanced Registration is $30 (Students $20) before September 1st. After September 1st and at the door, admission is $35. Lunch is included.