Join us for High Tea
Greater Midwest Foodways Alliance presents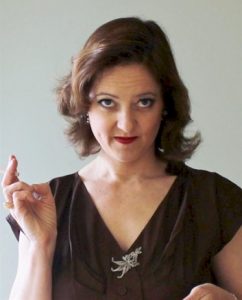 Bette Davis
Legendary Movie Actress
A historical portrayal by Leslie Goddard
Highland Park Community House
1991 Sheridan Road, Highland Park, Illinois 60035
Sunday, February 18, 2018
1:00 PM to 3:00 pm
Doors Open at 12:00 pm
(If you arrive by train, come over when you arrive)
Cost: $60 in advance
or $65 at the door, if seats are available.
Reservations required: 312.380-1665 or greatermidwestfoodways at gmail.com
Mail payment to:
Greater Midwest Foodways, 544 Michigan Avenue, Highland Park, Illinois 60035
Or, used your credit card by phone 800-838-3006 or EventBrite.com (credit card)
Turning back the time machine: it is 1959 and Bette Davis is joining us to share stories of her life during the Golden Age of American movies.
Few actresses in Hollywood rivaled her for longevity and  appeal. In such classic films as Jezebel, Dark Victory, Now, Voyager, The Letter, and All About Eve, Bette Davis  created a new kind of film heroine: strong, outspoken, glamorous, and even wicked. And her personal life was just as tempestuous as her life onscreen.
Leslie Goddard M.A., Ph.D., is an award winning actress and scholar who has been presenting history lectures and portraying famous women in history for more than 10 years.
Goddard holds a Ph.D. from Northwestern University, specializing in U.S. cultural history, American studies, and women's history as well as a master's degree in theater and in museum studies.  A former museum director, she is the author of two books: Remembering Marshall Fields and Chicago's Sweet Candy History.  She currently works full time as a historical interpreter, author and public speaker.
Our tables seat 10 guests.  We will do our very best to arrange you are seated with your friends.  Information on seating is available after purchase.
An early bird boutique will feature jewelry, hats, purses and accessories.
A live auction will be conducted to benefit Greater Midwest Foodways Alliance's State Fair Family Heirloom project.
High Tea Menu
First Course
Scottish Smoked Salmon Pinwheels
Beef Tenderloin Triangles
Roast Turkey Triangles
Cucumber & Watercress Leaves
Egg Salad Rounds
Chicken Salad
Asparagus Rounds
Open-Faced French Brie & Cranberry Chutney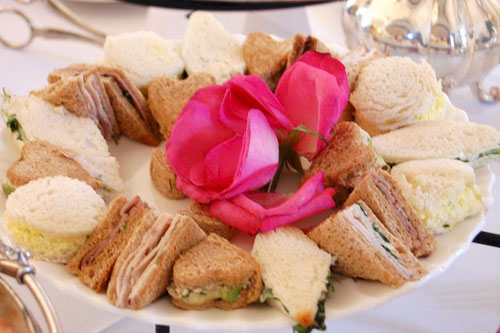 Image by Louisa Chu.
Second Course
Homemade Raisin Scones  with fresh lemon curd,
Strawberry preserves & Devonshire cream
Image by Louisa Chu.
Third Course
Homemade Rhubarb & Cranberry Pie with fresh cream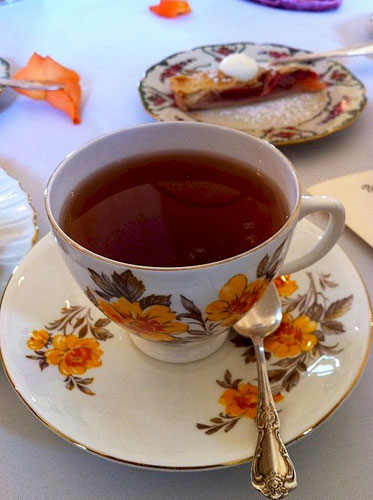 Image by Louisa Chu.
Fourth Course
An assortment of Elegant Petit Fours & Pastries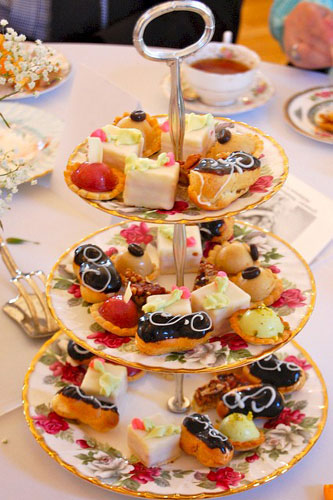 Image by Louisa Chu.
Tea poured all afternoon.
Catered by High Tea with Gerri.