Greater Midwest Foodways Alliance
FAMILY HEIRLOOM RECIPES
Contestants entered their best scratch family heirloom recipe suitable for a family or community dinner.  Recipe should originate before 1950. 
Contestants brought a prepared dish along with a brief story of who passed the recipe down to them, ethnicity, if relevant, number of years the recipe has been in their family and any interesting information about their recipe.
JUDGING CRITERIA
Taste: 50%
History: 40%
Appearance: 10%
Premiums sponsored in partnership with Feedstuffs FoodLink.com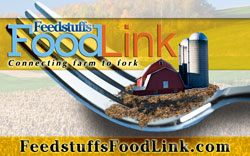 Competition was conducted on August 12th, these were the submissions: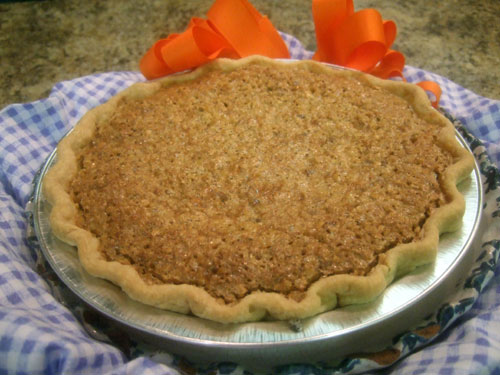 Black Walnut Pie (Image by Catherine Lambrecht)
Nuts About The Brothers
Michael W. Weaver, Martinsville, Indiana
There wasn't much of an opportunity to become an entrepreneur back in the 20s and 30s; at least not in rural Morgan County, Indiana. But this didn't stop the three Weaver brothers of Morgantown.  Charlie, Harold, and George weren't put off by the hard times the rural community, as well as the rest of the country, were suffering from at the time.  In fact, they didn't even realize it.
Their father, my grandfather, was town marshal, a job that included handling the
waterworks, ditch-digging, and hauling in the town's two drunks on Saturday nights.
Since there was no jail in town, Grandpa generally walked them home.  There wasn't a
town police car either.
Grandpa's meager wages hardly covered all the expenses of a growing family, so
the three brothers had to come up with their own means of getting spending money. And
they did. There was a line of healthy, prolific black walnut trees along the fencerow
behind the house. This was their 'black gold'.
 
It was a challenging time back then and most families were in the same boat: strapped for money but willing to work, and humble enough to do whatever it took to make it.  This is why the three brothers didn't mind gathering the fallen black walnuts in the autumn which they'd spread out in the driveway to dry.  They were actually proud of the brown stains on their hands left from gathering the tacky green walnuts.  These were their badges of honor.
When the walnuts had dried to perfection, Grandpa would roll over them with the old Ford pickup unless he'd give in and let the boys have the honor of shelling them. Next, the nuts were cracked in a vice in the woodshed before Grandma would pick through the thick, ridged shells for the delicious nutmeats.
The finale of the enterprise was taking the product to the only grocery in town where the owner would pay a premium price for the delicacies. All the "black gold" didn't make it to the grocery however. Grandma would keep the "culls" for herself to bake her wonderful fudge cookies and the family's favorite, Black Walnut Pie which she stretched by adding oats.
It was a difficult time but the memories that emerged from it are in themselves "black gold". 
 

 
Black Walnut Pie
Michael W. Weaver, Martinsville, Indiana
1/2 teaspoon cinnamon
2/3 cup light brown sugar
1 1/4 cup light corn syrup
1/4 cup butter, melted
4 eggs, beaten
1 cup black walnuts, chopped
1 cut old fashioned oats
1 teaspoon vanilla extract
1/2 teaspoon salt
pastry for one-crust pie
Heat oven to 350F.  In a large bowl, beat together all ingredients until smooth.  Pour mixture into pastry-lined 9-inch pie pan.
Bake for 40-50 minutes or until center is set. Makes 8-10 servings.
Serve with whipped cream if desired.
 
Pastry for pie:
1 cup flour dash of salt
1/3 cup lard, butter, or shortening (chilled and cubed)
3-4 tablespoons ice water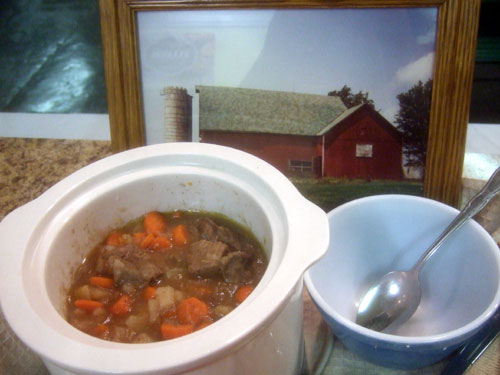 Good Brown Stew (Image by Catherine Lambrecht)
Good Brown Stew – Simple in Name, Complex in Memories
Kenda Friend, Indianapolis, Indiana
The name "Good Brown Stew" is deceptively simple for this classic family recipe steeped with memories and history.  My father turned 70 this year, yet vividly recalls the role this stew played in his youth growing up on a dairy farm in Northern Indiana. He smiles as he reminisces about how the fragrant smell of "good brown stew" would greet the family after church as they came in through the back screen door. This savory dish of "straight from the farm ingredients" served as the centerpiece for many a conversation with family, friends and neighbors long before "local food" was all the rage.
While connected to memories of group gatherings, Dad also recalls how this stew was also part of solitary moments. On many cold, Indiana winter nights, a pot of it would often be left warm on the stove for him or his brothers to eat a late dinner at the kitchen counter upon coming home from basketball practice.
These stories, and thus this recipe, are precious as my grandmother passed away nearly 40 years ago when I was little. While my memories, such as holding her hand to bring in the cows, have faded with time, the photo of the family barn here with my display connects me to her farm life, as does her bowl in which you can taste Grandma's stew.
This "good brown stew" remains full of timely lessons. For example, only after making this stew as an adult did I realize its role in time management skills. The time between the first simmering and the second would have been enough for Grandma to go get the cows milked! Having this recipe that Grandma likely got from her mother helps me connect to generations of women who knew that "good brown stew" warmed the stomach and the soul.
 
Grandma's Good Brown Stew
Kenda Friend, Indianapolis, Indiana
2 lb. boneless beef chuck, cut into 1 inch cubes
4 cups hot water
1 tsp. lemon juice
1 tsp. Worcestershire sauce
1 clove garlic, minced
1 medium onion, sliced
8 small onions
1 small bay leaf
2 tsp. salt
1/4 tsp. pepper
1/4 tsp. allspice
1 tsp. sugar
6 carrots, chopped
3 potatoes, peeled and cut
Brown meat thoroughly in 1 to 2 tsp. fat in large heavy kettle. Add remaining ingredients except for carrots, whole onions and potatoes; simmer 1 hour 45 minutes, adding water if necessary. Add carrots, onions, and potatoes and cook 30 minutes until vegetables are tender. Six servings.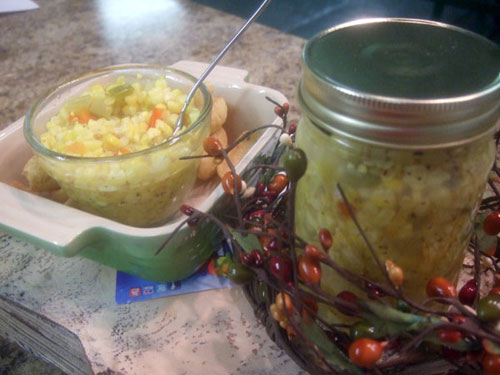 Corn Relish (Image by Catherine Lambrecht)
CORN RELISH
BETTY HUDDLESTON, LIBERTY, INDIANA
I'M SO EXCITED TO BE ENTERING THIS CONTEST, I LOVE OLD RECIPES AND WHAT BETTER OLDER RECIPES THAN WHAT COMES FROM YOUR FAMILY.
I HAVE ALWAYS LOVED THIS RECIPE MY GRANDMA MADE IT AND THAT WHERE MY MOM AND AUNTS GOT THE RECIPE FROM.
A BREIF HISTORY ON MY GRANDMA: SHE WAS BORN, RAISED AND LIVED HER WHOLE LIFE IN RURAL KENTUCKY, NEVER HAD INDOOR PLUMBLING. SHE HAD 7 CHILDREN, 5 OF WHICH WAS BOYS AND RAISED HER BABY SISTER.  MY GRANDPA WOULD TRAVEL FOR WORK AND SHE AND THE BOYS WERE LEFT TO TAKE CARE OF THE FARM.  MY DAD SAID SHE WOULD CAN 100'S AND 100′ JARS A YEAR.  GRANDMA WAS AN EARLY GREEN PERSON, I CAN REMEMBER HER TELLING ME: WE ARE HERE TO TAKE CARE OF THE LAND, AT THE TIME I REALLY DIDN'T GET WHAT SHE WAS SAYING, AS I GOT OLDER I UNDERSTOOD.
 
I GREW UP USING CORN RELISH AS SOMETHING YOU PUT ON SOUP BEANS, BUT I WOULD EAT IT BY THE SPOON OR PUT IT ON THE SIDE OF MY PLATE.  NOW A DAYS MY FAMILY USES FORA CONDIMENT OR SIDE DISH.  MY FAVORITE USE: DIP WITH FRITOS.
MY GRANDMA AND MOM HAVE PASSED AWAY NOW AND I COULDN'T FIND THE RECIPE, I STARTED TO PANIC, BUT I KNEW ONE OF MY AUNTS WOULD HAVE IT.
WHAT AN HONOR IT IS TO OUR FAMILIES TO PASS DOWN RECIPES AND SHARE THEM WITH OTHER.  SO WHO KNOWS IN 25, 50 OR 100 YEARS FROM NOW A RELATIVE OF MINE MIGHT BE WRITING ABOUT ME AND THIS RECIPE. 
 

CORN RELISH
BETTY HUDDLESTON, LIBERTY, INDIANA
20 EARS OF CORN
1 CUP CHOPPED GREEN PEPPER lCUP CHOPPED RED PEPPER
lCUP CHOPPED ONIONS
1 CUP CHOPPED CELERY
1 TABLESPOON SALT
1 1/2 CUPS SUGAR
2 1/2 TABLESPOONS MUSTARD SEEDS
1 TEASPOON CELERY SEEDS
1/2 TEASPOON TURMIC
2 3/4 CUP VINEGAR
2 TO 2 1/4 CUPS WATER
BOIL CORN 5 MINS THEN 5 MIN IN ICE BATH. CUT CORN OFF EARS
COMBINE ALL INGREDIENTS AND BOIL FOR 15 MIN PACK IN TO CLEAN JARS AND SEAL AT ONCE.  MAKES 6 PINT
USES INCLUDE: CONDIMENT FOR ANYTHING OR A GREAT DIP WITH FRITOS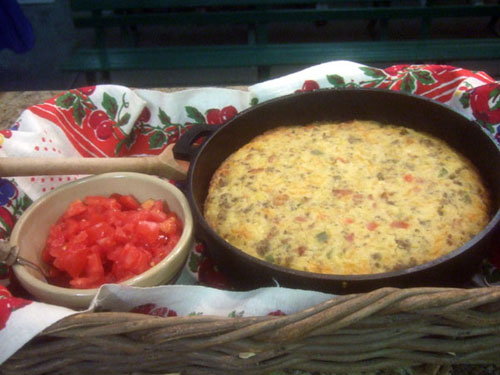 Cornbread Skillet (Image by Catherine Lambrecht)
Must Be Monday Cornbread Skillet
Fancheon Resler, Bluffton, Indiana
Could have been chicken and peas, could have been meatloaf and lima beans.  Could even have been baked beans with some extra bacon tossed in. Whatever was left over from Susanna Jones's bounteous weekend cooking appeared Monday noon stirred into moist cornbread and baked in a huge cast iron skillet.  Sixty-five years later I can still hear Alvin or Raymond saying, "Must be Monday," as soon as they raised their eyes from the silent blessing. Since Susanna came from the Amish, as we put it in LaGrange County, this recipe undoubtedly came to her from generations of frugal cooks. I believe the boys named it.
Susanna and her husband Fred had four sons and a couple of little girls, last of the litter; and she was a no-nonsense cook.  She was also our neighbor and my mother's best friend, so we often ate around her big kitchen table in the 1940's. The wringer washer was still chugging away on the back porch when the whole family sat down to that first-of-the-week noontime meal, and sometimes part of our family was fortunate enough to join the feast.
In the midst of heating the wash water, hanging the overalls on the clothesline, and dumping the rinse water on the flower beds, Susanna had just enough time to stir together the leftovers and cornbread mixture and stick it in the oven of her wood stove. It was a delicious meal that helped clean out the ice box.  This time of year she would have served chopped tomatoes to heap on top.
This being Indiana August, today I'm serving the cornbread concoction with a couple of ears of sweet corn cut off the cob, fresh country sausage and bacon, some onions and "mango" peppers right from the garden, and the last of that chunk of County Line cheese we've been working on. There'll be tomatoes to top it off.  Nobody will go hungry!
 
Must Be Monday Cornbread Skillet
Fancheon Resler, Bluffton, Indiana
Bake in a 10-inch X 3-inch deep cast iron skillet at 375 for 35-40 minutes.
Makes 8 generous main dish servings.
6 slices bacon, fried and crumbled, reserving grease
1/2 cup chopped mixed bell peppers
1/2 cup chopped onion
1 pound fresh country sausage, browned and crumbled
2 cups cut-off fresh sweet com
1 cup shredded County Lille cheese
1 tablespoon bacon grease
l cup cornmeal
1 cup all-purpose flour
2 tablespoons sugar
4 teaspoons baking powder
1/2 teaspoon salt
1/2 teaspoon poultry seasoning
2 eggs slightly beaten
1 cup sour milk
2 chopped ripe tomatoes
Fry bacon until crisp in cast iron skillet. Remove, 1eaving drippings in skillet; crumble bacon.  Brown sausage in skillet 7 – 9 minutes, adding peppers and onion for the last 2 minutes.  Remove into a mixing bowl and add bacon crumbles, sweet corn and cheese. Mix together to blend. Wipe out skillet aad grease with tablespoon of bacon grease.
In another larger mixing bowl, combine cornmeal, flour, sugar, baking powder, and salt and poultry seasoning.  Mix together.  Add eggs and sour milk.  Stir together.  Fold meat and vegetable mixture into cornbread mixture. Scrape into greased skillet and bake at 375 for 35-40 minutes or until set in middle.  Serve hot from the skillet onto serving plates and pass the chopped tomatoes to top servings.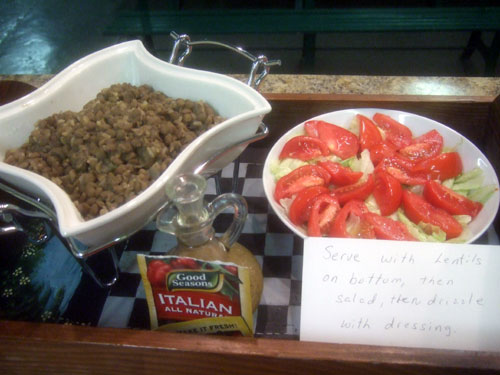 Lentil Stew (Image by Catherine Lambrecht)
Lentil Stew
Rachael Tryon. Indianapolis, Indiana
My father-in-law, Bud, had just returned from WWII in the 1940's.  My mother-in-law, Dorothy, was a home maker with three small children, one who was in a wheelchair with muscular dystrophy, and another on the way.  Bud, fortunately, was able to return to his former job as a bus driver for the Indianapolis Transit Company but now with 6 total family members, money was tight.  Dorothy was up for the challenge.  She loved to cook for her family and made every effort to keep the meals inexpensive but to also make them enjoyable.  This was one of the ways she showed her love for her family.
Dorothy made many neighborhood friends on the near eastside of Indianapolis.  Rosie, a close neighbor with Middle Eastern roots was one of those friends.  Dorothy, who was from Pennsylvania, would share her recipes brought from home and Rosie would share recipes passed down to her from her culture.  One of the recipes that appealed to Dorothy was lentils, which was prepared like a stew.  Feeding these to a large Catholic family met two criteria.  One it was inexpensive, and second it provided a healthy meatless entry when needed.  Rosie served her lentil stew, sometimes called mujardarah, the traditional way with cucumbers and yogurt, but Dorothy decided to change it up by serving it with a simple iceberg lettuce and tomato salad.  She would soak the lentils, then sauté a few onions until slightly brown, add the lentils and some rice.  Broth was then added to the mixture and cooked until the lentils and rice were tender and the liquid was absorbed.  Salt, pepper, and garlic were added for seasoning.  When lentils were served, the plate would be filled with a large spoonful of lentils, the salad would be placed on top, and then Good Seasons Italian dressing was poured over the salad.  The meal proved to be delicious and all stomachs were full and satisfied.  With only a few dishes to clean up after this simple meal, it still left time to enjoy an evening episode of I Love Lucy.
What started as a way to keep the family fed is now passed down through the family.  A few times, I have attempted to serve the salad with healthier type lettuce but I have been scolded.  My husband and children promptly tell me, "Don't mess with Grandmas lentils."  We continue to serve lentils with iceberg lettuce, tomato salad and Italian dressing because that is what brings back the best memories. 

Lentil Stew
Rachael Tryon. Indianapolis, Indiana
Ingredients:
1 cup brown lentils soaked for at least 30 minutes
1/2 cup long grain rice (brown or white)
1 large chopped white onion
1 tablespoon oil
2 1/2 – 3 cups broth (vegetable or beef)
1/2 teaspoon salt (may use up to 1 teaspoon if preferred)
1/4 teaspoon garlic powder or more if preferred
Iceberg lettuce – torn into bite size pieces and chilled
1-2 tomatoes cut and chilled
Prepared Italian Salad Dressing

Directions:
Sauté onion in oil until onion is soft.  Add lentils, rice, broth and salt.  Bring to boil then slowly simmer for about 30 minutes or until liquid is absorbed and rice and lentils are tender.  Check frequently throughout cooking and add more broth as needed.  At end of cooking, add garlic powder to taste.  Serve lentils warm or cold.  Place chilled lettuce and tomatoes over lentils.  Apply salad dressing to taste.  Enjoy.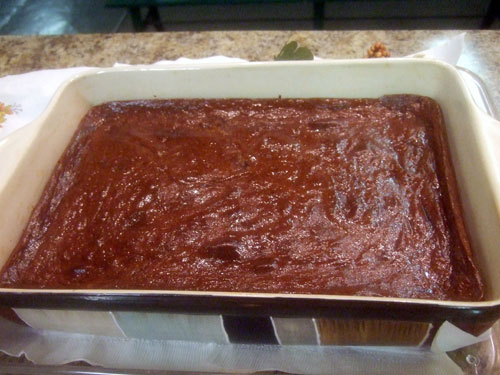 Persimmon Pudding (Image by Catherine Lambrecht)
Persimmon Story
Phyllis Hine, Waveland, Indiana
This persimmon recipe has been in the family for 4 generations. We enjoyed persimmon pudding at Thanksgiving and Christmas.  Growing up in beautiful Parke County, I would help my grandmother pick up persimmons off the ground soon after they had fallen off the tree.  Persimmons should always be picked up from the ground.  They should never be shaken from the tree.  Unripened persimmons can ruin the taste of the pudding.  During the autumn and usually after the first frost persimmons turn beautiful amber orange and fall to the ground.  They are fairly soft and some do not survive their fall from the trees.  They should be carefully picked up off the ground. Do not put more than one layer in your container.

 
Cleaning Persimmons
Persimmons should be washed and rinsed. Persimmons should be processed with 24 hours. After cleaning, persimmons begin processing them by first removing the tiny black stem on the bottom of each persimmon and the leaf at the top with a knife.  The fruit is ready to run through the colander. The old fashioned conical shaped metal cylinder with the wooden pestle is best.  But if you don't have one used a simple strainer and potato masher.  Work the persimmons through the colander, leaving their skins and flat dark seeds.  In your bowl you will have luscious looking mound of pulp.  Pour the pulp into plastic pint containers for freezing and later use.  Most recipes call for 1-2 cups of persimmon pulp.
Grandmother baked her pudding in a crock.  I use 9×13 baking dish.
Grandmothers Persimmon Pudding
Phyllis Hine, Waveland, Indiana
2 cups persimmon pulp
2 cups sugar
1 1/2 cup flour
1 teaspoon soda
1 1/2 cups buttermilk
1/4 cup cream
1/8 teaspoon salt
2 large eggs
1/2 teaspoon Cinnamon
1/2 cup butter
1 teaspoon baking powder
Mix pulp and sugar.  Add 2 large beaten eggs and stir well. Add soda to buttermilk until foaming stops.  Add to first mixture and stir.  Sift dry ingredients (flour, salt, and baking powder).  Sift into first mixture and beat well.  Add cinnamon and cream and beat well.
Put butter in pan and melt.  Pour all into batter, leaving just enough to grease pan. Beat well and pour into pan. Bake one hour 325 degree oven.
9 x 13 inch baking dish.
I used frozen pulp.
Serve whit whipped cream.