Greater Midwest Foodways Alliance
FAMILY HEIRLOOM RECIPES
Contestants entered their best scratch family heirloom recipe suitable for a family or community dinner.  Recipe should originate before 1950. 
Contestants brought a prepared dish along with a brief story of who passed the recipe down to them, ethnicity, if relevant, number of years the recipe has been in their family and any interesting information about their recipe.
JUDGING CRITERIA
Taste: 50%
History: 40%
Appearance: 10%
Premiums sponsored in partnership with Feedstuffs FoodLink.com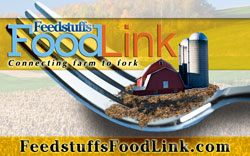 1st place – $150.,  2nd place – $100.,  3rd place – $50 

Pampered Chef is sponsoring additional prizes for our winners:
First place: Reversible Bamboo Carving Board (Value = $72)
Second place: Cool & Serve Square Tray, Outdoor Mini Spoons & Tongs Set (Value = $49)
Third place: Food Chopper (Value = $31)
Competition was conducted on July 28th, these are the results: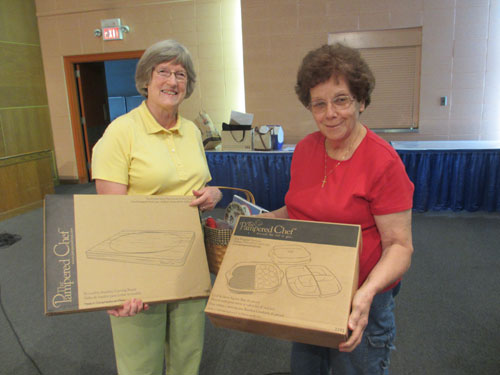 Winners: 1st: Karen Haldeman and 2nd: Catherine Blackwood (image Catherine Lambrecht)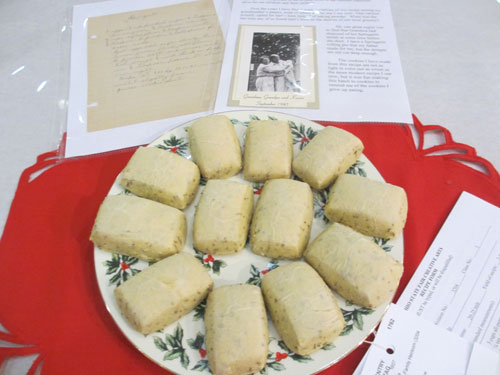 Springerle (Image by Catherine Lambrecht)
First Prize
Springerle
Karen Haldeman, Cincinnati, Ohio
From as early as I can remember, there were always Springerle cookies for the Christmas holidays in our family. (I was born in 1943.) They were made by my Grandma Meister. I still make them every year and they are on every tray of cookies I share with friends during the holidays. It is important to me to keep some of the German traditions alive for our children and their children.
Over the years I have found many variations of this recipe among my grandmother's papers, none of which are the one I use now. One version actually called for hart's horn instead of baking powder. When was the last time any of us found hart's horn on the shelves of our local grocery?
My one great regret was to find that Grandma had disposed of her Springerle molds at some time before she died. I have a Springerle rolling pin that my father made for me, but the designs are not cut deep enough.
The cookies I have made from this recipe are not as light in color nor as sweet as the more modern recipe I use now, but it was fun making this batch to cookies to remind me of the cookies I grew up eating.
Springerle
Karen Haldeman, Cincinnati, Ohio
3 eggs
1/2 cups powdered sugar
2 tsp. grated lemon rind
1/2 tsp vanilla
3 cups all-purpose flour
1/4 tsp. salt 
3/4 tsp. baking powder
3 tbsp. anise seed
1. Preheat oven to 300°F
2. Grease a baking sheet
3. Beat eggs and sugar until light in color
4. Mix in flour, salt, baking powder and anise seed
5. Roll dough 1/2″ thick
6. Cut into 2″x3″ cookies and place on baking sheet
7. Let dry overnight
8. Bake 20-25 minutes until slightly brown
9. When completely, store in airtight container
Yield of recipe: 2 doz. cookies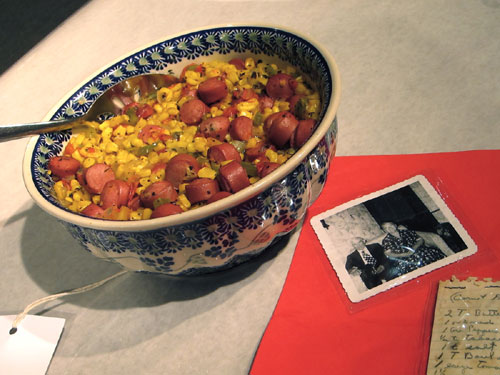 Corn and Frank Creole (Image by Peter Engler)
Second Prize
Corn and Frank Creole
Catherine L Blackwood. Columbus, Ohio
As a child (around 1950-52) I spent many summers at my Grandma and Grandpa's house. My Grandma instilled in me, my love of cooking and baking. We often cooked and baked together.
My Grandpa was a farmer most of his life. In later years, he worked for a meat packing company located in Piqua, Ohio. Working at the meat packing company, my Grandpa brought home various meat products which Grandma used very creatively.
The accompanying recipe is one my Grandma and I created together.
I was 10 or 11 years when we created this recipe. The only paper I had with me at the time was a very small spiral notebook on which I hand wrote the recipe.
The recipe is one of my most favored and most treasured from my childhood.
Corn and Frank Creole
Catherine L Blackwood. Columbus, Ohio
2 Tbs butter or margarine
1 or 2 medium onions, diced
1 green pepper, diced
1/2 tsp Tabasco Sauce
1 tsp salt
1 Tbs basil or oregano
1 lb tomato, diced
1 1/2 cups corn, cooked
4 franks, cut in 1/2-inch slice
Melt butter in skillet.
Add onion, pepper; sauté until onion is tender (not brown).
Stir in Tabasco sauce, salt and basil (or oregano).
Add tomato, com and frank slices.
Cover and simmer 10 minutes.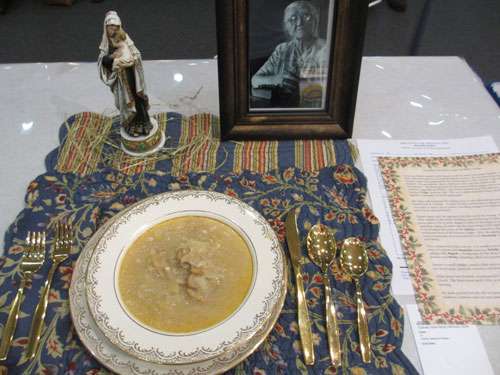 Machanka (Image by Catherine Lambrecht)
Third Prize
Machanka
Baba's Christmas Eve Sauerkraut- Mushroom Soup with Barley
Missy Omalie, Columbus, Ohio
Christmas Eve Holy Supper at Baba's Home
One of my fondest memories growing up was eating meals in my Baba's kitchen.  My Baba, Anna Krivenko was of Carpatho-Rusyn ancestry. She was born in the Austria-Hungary region and immigrated to the United States in 1902 with her 2 year old daughter.  My grandfather came to America in 1901 and they settled in NE Pennsylvania. My family practices the Byzantine Catholic religion and we have many traditions, especially at holidays.   My favorite tradition was Christmas Eve dinner known as Velija – meaning Vigil.  This was a solemn meal that brings the family together.  I remember an all day preparation.
The Velija table is prepared by placing straw on the tablecloth representing Christ's humble birth in a manger.  A statue of Mary and the Baby is placed on the straw.  An extra place is always set to receive a travelling stranger who might be the Christ Child and to honor deceased family.
Dinner begins with the sighting of the first star of the evening. Prayers are done by the eldest member of the family including a special blessing of honey and garlic.  The eldest person places a bit of garlic dipped in honey on the tongue of each person. This symbolizes takng the bitter and the sweet things of life together in the next year.  Next is the breakjng and eating of the Oplatky -a communion-like wafer symbolizing the unleavened bread of the Passover supper. After the oplatky, the meal begins with a toast of homemade red wine followed by the Machanka– sauerkraut, mushroom soup with barley.
Next, a fresh water fish is served.  It is usually trout that has been floured and quickly fried.  It is served with Bandurky– potatoes, Bobalki– baked dough balls, Holubky– cabbage rolls, Pagach– a double layer of thin raised dough filled with cabbage or mashed potatoes and Pirohy– dumplings filled with potatoes, cheese or sauerkraut.
Dessert is usually Kolaci– strudels filled with walnuts, cheese or fruit.  The foods that are served again signify the sweetness and bitterness of life mixed together.
When dinner was finished, we prepared for Midnight Mass at St. Mary's Byzantine Church. The Mass lasted until 2 AM, so we did not exchange gifts until Christmas morning.
My Baba passed from this life on Easter Sunday morning, 1976 at the age of 97. The traditions continue with our own families.
Machanka
Baba's Christmas Eve Sauerkraut- Mushroom Soup with Barley
Missy Omalie, Columbus, Ohio
Machanka:
2 lb. bag of sauerkraut- rinsed well and drained
1/2 cup barley
16 cups of water
1 stick of butter
1 medium onion- chopped coarsely
1 cup of flour
1/4 cup of white vinegar
3- 7oz. cans of sliced mushrooms- drained
2 tsp. salt
2 tsp. pepper
1. Fill large pot (such as a dutch oven) with the water and bring to a boil.
2. Add the sauerkraut and boil on high heat until it becomes white.
3. Add the barley and continue boiling until slightly thickened. Then decrease heat to Low.
4. Prepare the rue (Rusyns call it Zaprashka) for thickening in a separate frying pan first by melting the butter.
5. Fry the onions in the butter for 2 minutes and add the flour.
6. Mix the ingredients in the fry pan together and add them to the soup.
7. Increase heat to medium.
8. Add mushrooms, vinegar and salt and pepper and cook until thickened.
9. May be served immediately or stored in the refrigerator and warmed later.
Yield of recipe: 4 quarts, serves 16-20