Greater Midwest Foodways Alliance
FAMILY HEIRLOOM RECIPES
Contestants entered their best scratch family heirloom recipe suitable for a family or community dinner.  Recipe should originate before 1950. 
Contestants brought a prepared dish along with a brief story of who passed the recipe down to them, ethnicity, if relevant, number of years the recipe has been in their family and any interesting information about their recipe.
JUDGING CRITERIA
Taste: 50%
History: 40%
Appearance: 10%
Premiums sponsored in partnership with Feedstuffs FoodLink.com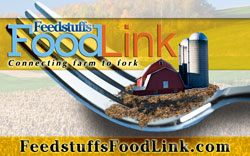 Competition was conducted on August 21st, these are the results: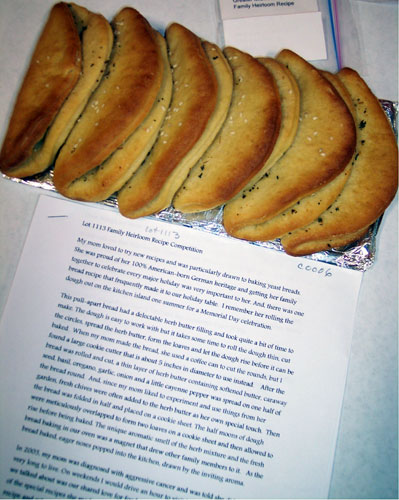 Butterlake Herb Loaf (Image by Mary Gunderson)
Butterlake Herb Loaf Recipe
Karen Cape, South Minneapolis, Minnesota
My mom loved to try new recipes and was particularly drawn to baking yeast breads. She was proud of her 100% American-born German heritage and getting her family together to celebrate every major holiday was very important to her. And. there was one bread recipe that frequently made it to our holiday table. I remember her rolling the dough out on the kitchen island one summer for a Memorial Day celebration.
This pull-apart bread had a delectable herb butter filling and took quite a bit of time to make. The dough is easy to work with but it takes some time to roll the dough thin,.cut the circles. spread the herb butter, form the loaves and let the dough rise before it can be baked.  When my mom made the bread, she used a coffee can to cut the rounds, but I found a large cookie cutter that is about 5 inches in diameter to use instead. After the bread was rolled and cut. a thin layer of herb butter containing softened butter. caraway seed. basil. oregano. garlic. onion and a little cayenne pepper was spread on one half of the bread round. And. since my mom liked to experiment and use things from her garden, fresh chives were often added to the herb butter as her own special touch.  Then the bread was folded in half and placed on a cookie sheet.  The half moons of dough were meticulously overlapped to form two loaves on a cookie sheet and then allowed to rise before being baked. The unique aromatic smell of the herb mixture and the fresh bread baking in our oven was a magnet that drew other family members to it. As the bread baked. eager noses popped into the kitchen. drawn by the inviting aroma.
In 2003. my mom was diagnosed with aggressive cancer and was told she didn't have very long to live.  On weekends I would drive an hour to visit her and one of the things we talked about was our shared love for food and baking. I started to ask her about some of the special recipes she made and where they came from.  I brought up the herb bread recipe and asked her where the recipe came from. She said she didn't remember.  After she died several months later. I figured the recipe was lost for good.

Several years passed and one day I stumbled upon the recipe in a recipe file folder at my home — not remembering that I made a photo copy of the recipe many years prior.  I was beyond elated to have found it And. in looking at the recipe, I could tell by how the recipe was written and formatted.it was a recipe from one of the Pillsbury Bake-Off cookbooks. I searched my mother's vast collection of Bake-Off cookbooks and finally found the recipe called Butterflake Herb Loaf in Pillsbury's 15th Grand National Bake-¬Off cookbook. Coincidentally. I currently now work for General Mills, the company that acquired Pillsbury back in 2001.
Even though my mom was gone.  I thought I'd continue the tradition and keep her spirit alive by baking this special bread for our next Thanksgiving family celebration.  My father told me that this was his favorite bread, which is something I did not know before then.  So. I started making the loaves of bread, always leaving him the leftovers so he could enjoy it on his own.  He told me that he liked to toast the bread for breakfast.  On one of these celebrations, we had all the food on the table and were getting ready to eat.  Right before we said grace. I happened to look at my aunt Addie (my mom's sister) and noticed she was crying. I asked her what was wrong and she recalled "that's your mom's bread." Talk about the power of food and the memories it can bring!

In recent years. The Minnesota State Fair advertised that you could buy an engraved brick as a memorial and we decided to get one in our mother's name. Our brick read "Jeanette Cope: She loved kittens. lilacs, and fairs and we loved her." How fitting is it that in 2011 a bread recipe. that was a favorite of hers to make, is back at the Minnesota State Fair! 
 

Butterlake Herb Loaf Recipe
Karen Cape, South Minneapolis, Minnesota
BUTTERFLAKE HERB LOAF
Best of Class winner by Mrs. Roy Knighton, Choms, NM
 
Soften 2 packets Red Star Special Active Yeast (or 2 cakes Red Star compressed yeast) in
1/4 cup warm water
 Combine in mixing bowl:
1/3 cup shortening
1/4 cup sugar
1 tablespoon salt and
1 cup hot scalded milk.  Cool to lukewarm.
Blend in  2 unbeaten eggs and the softened yeast
Gradually add 4-1/2 to 5 cups Pillsbury'sBest All Purpose Flour to form a stiff dough
Knead onfloured surface until smooth and satiny, 2 to 3 minutes.  Place in greased bowl; cover.
Let rise in warm place (85 to 90 degrees f) until light and doubled in size, about 1-1/2 hours.  Prepare Herb Butter – recipe below)
Roll out half of dough on lightly floured surface to 1/16 to 3/8 thickness. Cut into 5 inch rounds with coffee can cover.  Spread each round with Herb Butter; fold in half.  Place on greasedcookie sheet.   Spread top side with Herb Butter;.  Continue making and folding rounds.  Place on preceeding round, folded side down, overlapping three quarters of the way to make a rectangular loaf.  Repeat with remaining dough.
Sprinkle with poppy seed and sesame seeds.
Let rise in warm place until light, 30 to 45 minutes.
Bake at 350 degrees for 20 to 25 minutes. Best served warm.
Makes 2 loaves
HERB BUTTER
Combine 1/2 cup soft Land O'Lakes Butter, 1/2 teaspoon caraway seed, 1/2 teaspoon sweet basil, 1/2 teaspoon grated onion, 1/4 teaspoon oregano, 1/8 teaspoon cayenne pepper and 1 clove garlic, minced; mix thoroughly.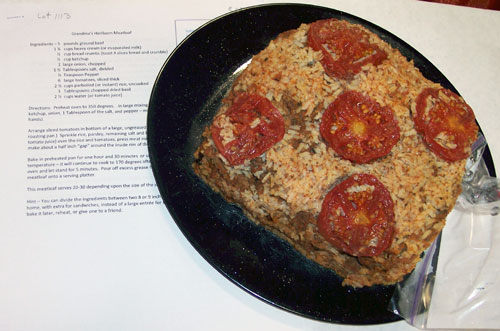 Grandma's Heirloom Meatloaf (Image by Mary Gunderson)
Grandma's Heirloom Meatloaf
Marla Hyatt, St. Paul, Minnesota
My grandma liked food to look good and taste even better. She always used what the family raised or grew and used it wisely.  My grandparents had a farm and they raised their own beef cattle and crops.  Grandma ground the beef to stretch it as far as possible, with roasts and steaks cooked only for very special occasions and much of the meat cooked, covered in lard and canned.  My mother was one of nine children raised through the depression and community church dinners often provided the only meat meal to many families during that time.  Grandma wanted her dinner contribution to be special for everyone, yet something our family could afford to provide.
Grandma parboiled the rice on Saturday night to have it ready on Sunday morning.  She took "canned" beef and ground it in the morning, prepared and baked the meatloaf while everyone pitched in to do farm chores. Then she took the meatloaf from the oven, covered the pan with towels and added a big platter, knife and spatula to take along to the church in the buckboard with the family.
The tradition of cooking for church dinners continued. In later years, my mother added the "modern conveniences" of evaporated milk and instant rice as ingredient options before I was born. (I was born in 1954)
I added to our hand-me-down heritage recipe by using chili sauce instead of ketchup, and my son substituted tomato juice for water to add more flavor.
This recipe has stood the test of time since the depression, carefully handed down over the years to incorporate the tastes of three additional generations of home cooks. I believe my grandchildren will eventually find other spices or conveniences of their own – that is what makes this recipe a true and valued family heirloom.
Grandma's Heirloom Meatloaf
Marla Hyatt, St. Paul, Minnesota
Ingredients:
5 pounds ground beef
1 1/4 cups heavy cream (or evaporated milk)
1/2 cup bread crumbs (toast 4 slices bread and crumble)
1/2 cup ketchup
1 large onion, chopped
1 1/2  Tablespoons salt, divided
1/2 Teaspoon Pepper
6 large tomatoes, sliced thick
2 1/2 cups parboiled (or instant) rice, uncooked
3 Tablespoons chopped dried basil
2 1/2 cups water (or tomato juice)
Directions: Preheat oven to 350 degrees. In large mixing bowl, combine beef, cream, breadcrumbs, ketchup, onion, 1 Tablespoon of the salt, and pepper – mix well with a large wooden spoon (or your hands).
Arrange sliced tomatoes in bottom of a large, ungreased rectangular casserole dish. (Grandma used a roasting pan.) Sprinkle rice, parsley, remaining salt and basil evenly over the tomatoes. Pour water (or tomato juice) over the rice and tomatoes, press meat mixture evenly over this and use your fingers to make about a half inch "gap" around the inside rim of the pan.
Bake in preheated pan for one hour and 30 minutes or until completely cooked (165 degree internal temperature – it will continue to cook to 170 degrees after removing from the oven). Remove from the oven and let stand for 5 minutes. Pour off excess grease from around the loaf before you invert the meatloaf onto a serving platter.
This meatloaf serves 20-30 depending upon the size of the slices – and it looks great too!
Hint – You can divide the ingredients between two 8 or 9 inch square pans to make two hearty meals at home, with extra for sandwiches, instead of a large entree for sharing. If you like, you can freeze a loaf, bake it later, reheat, or give one to a friend.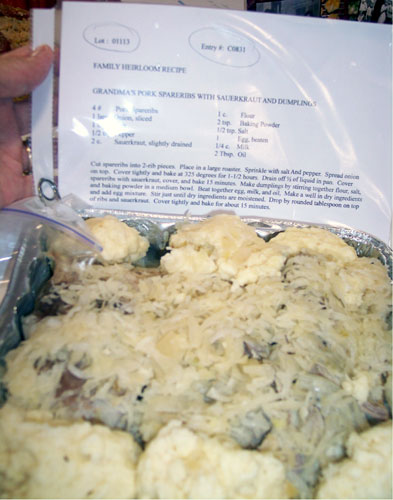 Pork Spareribs with Sauerkraut and Dumplings (Image by Mary Gunderson)
GRANDMA'S PORK SPARERIBS WITH SAUERKRAUT AND DUMPLINGS
Mary W. Johnson, Apple Valley, Minnesota
In the late 1940's, my maternal grandmother would make these spareribs with sauerkraut and dumplings for special autumn Sunday dinners using this recipe which was her mother's. Her parents had immigrated from Bohemia to Chicago and then to Albert Lea, MN. My great-grandfather worked at Wilson's meatpacking plant where he was an expert at cutting special meat cuts such as crown roasts. He always brought home fresh spareribs in the fall to be used in this recipe. Grandma always told us that we had to eat it because it was a family treat. However, Grandma always made a separate pan without sauerkraut for those who didn't like it (about half the family). She usually served it with mashed potatoes and her homemade baked beans. Rarely, were there ever any leftovers.
GRANDMA'S PORK SPARERIBS WITH SAUERKRAUT AND DUMPLINGS
Mary W. Johnson, Apple Valley, Minnesota
4 # Pork Spareribs
1 large Onion, sliced
1 tsp. Salt
1/2 tsp. Pepper
2 c. Sauerkraut, slightly drained
1 c. Flour
2 tsp. Baking Powder
1/2 tsp. Salt
1 Egg, beaten
1/4 c. Milk
2 Tbsp. Oil
Cut spareribs into 2-rib pieces. Place in a large roaster. Sprinkle with salt And pepper. Spread onion on top. Cover tightly and bake at 325 degrees for 1-1/2 hours. Drain off 1/2 of liquid in pan. Cover spareribs with sauerkraut, cover, and bake 15 minutes. Make dumplings by stirring together flour, salt, and baking powder in a medium bowl. Beat together egg, milk, and oil, Make a well in dry ingredients and add egg mixture. Stir just until dry ingredients are moistened. Drop by rounded tablespoon on top of ribs and sauerkraut. Cover tightly and bake for about 15 minutes.
 
Serves: 6-8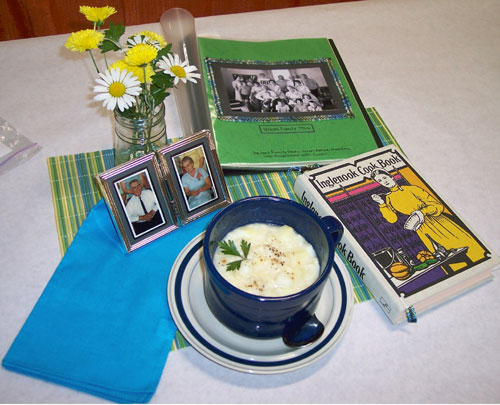 Potato Rivel Soup (Image by Mary Gunderson)
Potato Rivels Soup
Barb Ullom, Rochester, Minnesota
Tracing the history of the recipe for potato rivel soup, leads me back through our church community.  Our Family was active members of the Root River Church of the Brethren; in fact Great Great Great Grandmother Mahalo Ogg Fishbaugher 1836-1887 was one of the 13 founding members.   I found a few recipes for a potato rivel soup, in the Inglenook cookbook published in 1911.  The cookbook was a bonus gift when a subscription to the Brethren church magazine.  The Inglenook was purchased.
I was very lucky to grow up with my Grandparents close by, Dad and Grandpa farmed together in rural Fillmor County, south of Preston, MN.   Grandma Ullom [Gladys Thacher Ullom,1901 -1970] loved to spend time with her grandchildren.  When my cousins came for a visit the house was overflowing with good times and great food.
Comfort food is the best way to describe this simple yet substantial Pennsylvania Dutch soup.  Potato Soup was not a special meal, usually it was made when something quick and easy was needed.  My earliest  memories of having' this soup was when my sister and I were both sick with chicken pox.  We were staying at Grandma's house, because our new born brother was coming home from the hospitaL  Grandma always seen to know how to make you feel better and looking back the soup was often served when someone was recovering from an illness. Great Great Grandmother Emma Fishbaugher,Thacher 1873~1938, was a mid-wife and nursed many in the community back to health. Daughter like mother had a healing touch.
 
Grandma taught country school roughly from 1945-1958, past students of Crystal Springs School have fond memories of their school years.   One memory is a communal hot lunch, instead of the usual brown bag lunch.  This reminds me of the story of stone soup, but it's the, making of Potato Soup.  Each 'child would bring a potato, and one would bring an onion,  Grandma would bring the rivels, which she had mixed up at home. The ingredients would ,all come together and cooked on an electric hot plate at school. What a treat this must have been on a cold winter day. 
Potato Rivels Soup
Barb Ullom, Rochester, Minnesota

2-3 Medium Potatoes
1/2 Cups finely Chopped
1 1/2 Tablespoons
1 Teaspoons Salt
Pepper to taste
Rivels (Recipe to Follow)
In 2 quart saucepan cook onions butter over medium heat until tender. Add diced potatoes and enough water to cover potatoes. Add salt; simmer gently until potatoes are tender. Adding more water as needed.  Once the potatoes are tender add 1/4 – 1/2 cups of riveIs, and cook another 5-8 min until the rivels are done and soup is thickened. Adjust seasoning and serve.
To Make Rivels:
Put 1 cup flour in shallow bowl, and make a well in the flour. Add 1 beaten egg
into the well. With hands rub into rivels. The mixture will consist of thick threads of flour, egg bits; and unincorporated flour.
One batch of rivels will be more than needed; the remainder can be frozen for later use.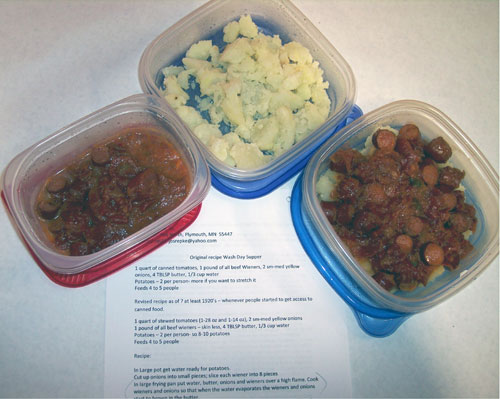 Wash Day Supper (Image by Mary Gunderson)
Wash Day Supper- A Flugaur creation from Stevens Point Wisconsin- German/Austrian
Josette Repke, Plymouth, Minnesota
This is one of the first dishes I was taught to make by my mother.  I remember standing in the kitchen cutting up the wieners into bite size pieces and having her tell me the story of how she was taught to make this supper when she was about my age.
This would be around the mid 1920's.  My Grandmother had five children at the time and went on to have 5 more.  My mother was the oldest girl; she helped by taking care of her siblings and making the noon supper.  Wash day was on Monday and it required a lot of work and was an all day affair. It involved at least three tubs of water and constant movement. My Grandmother was a lucky woman as she had an electric wringer that she could attach onto the wash tub. There were always one tub of hot water and two tubs of water for rinsing, one would have bluing added to do the whites. The clothes were all hung up to dry. This supper was made and at noon the older kids would get to feed themselves and the younger ones while my Grandmother continued to work. She did not get a washing machine until she had added twins to the family in 1926.
When I decided to enter this contest I immediately thought of this recipe. A few days later I went to see my Aunt where I happened to see two of my uncles as well. When I told them of my plans they all were eager to tell me how to make the recipe. A great discussion ensued about the size of the wieners and the type of tomatoes. They all agreed that the original recipe probably used old fashion skin on hot dogs from the butcher across the street and home canned tomatoes. Skinless all beef wieners the hotdogs is now what they all use when making it. My one uncle remembers that the dish was first called The Lutheran Supper. My Grandmother, who is Catholic, must have got the recipe from a church social or a neighbor. However, they all agreed that they had this dish mostly on days their mother was doing the wash. Their mouths were all watering as they discussed the importance of having all the flavors steep together before serving. My uncles went on to describe how important it was when eating it to be sure to have a wiener with each bite. Unfortunately my mother is in memory care now and I can not ask her too many details. My aunt tells me that the supper was served with boiled potatoes, which each individual could mash or cut up to their desired consistency. Then the wieners and tomatoes were served on top. For dessert my grandmother would serve left over yellow cake from the night before with canned fruit, usually blueberries. I chose to make it with stewed tomatoes as that is how my mother made it. My aunt assured me that most probably it was just canned tomatoes but Mother would have added green peppers and such to the mixture if she had it around. While I was making it small details came back to me, adding the butter to the water so that the onions and wieners would have that good taste while browning after the water had boiled away. Opening the tomatoes then inserting a knife into the top to chop the tomatoes before pouring the contents into the frying pan. Adding butter, salt and pepper to the cut up potatoes before adding the wiener mixture. It is a very simple supper, and when I tell people of it they initially shake their head that this would taste good. But I still do enjoy it and it brings a type of comfort and good memories.
Original recipe Wash Day Supper
Josette Repke, Plymouth, Minnesota
1 quart of canned tomatoes, 1 pound of all beef Wieners, 2 sm-med yellow onions, 4 TBLSP butter, 1/3 cup water
Potatoes – 2 per person- more if you want to stretch it Feeds 4 to 5 people
Revised recipe as of ? at least 1920's – whenever people started to get access to canned food.
1 quart of stewed tomatoes (1-28 oz and 1-14 oz), 2 sm-med yellow onions
1 pound of all beef wieners – skin less, 4 TBLSP butter, 1/3 cup water Potatoes – 2 per person- so 8-10 potatoes
Feeds 4 to 5 people
Recipe:
In large pot get water ready for potatoes.
Cut up onions into small pieces; slice each wiener into 8 pieces
In large frying pan put water, butter, onions and wieners over a high flame. Cook wieners and onions so that when the water evaporates the wieners and onions start to brown in the butter.
Open the cans of tomatoes and taking a knife cut up the tomatoes into bite size pieces, pour all the contents into the frying pan and reduce flame.  The wieners and tomatoes need to simmer until about half the juice has evaporated.  While this is simmering the water should be ready for the potatoes.
Boil the potatoes until tender. When ready drain water and keep covered until the other dish has reduced it's liquid. Place potatoes on plate, cut to desired size, mash a bit with your knife, and add butter, salt and pepper.
Scoop wieners&tomatoes mixture on top of the potatoes and enjoy.