Greater Midwest Foodways Alliance
FAMILY HEIRLOOM RECIPES
Contestants entered their best scratch family heirloom recipe suitable for a family or community dinner.  Recipe should originate before 1950. 
Contestants brought a prepared dish along with a brief story of who passed the recipe down to them, ethnicity, if relevant, number of years the recipe has been in their family and any interesting information about their recipe.
JUDGING CRITERIA
Taste: 50%
History: 40%
Appearance: 10%
Competition was conducted on July 31st, these are the results: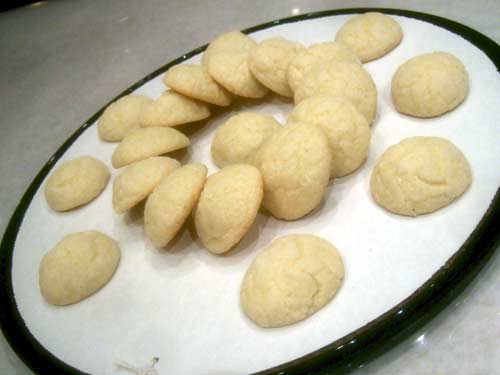 Best Sugar Cookies Ever (Image by Peter Engler)
Best Sugar Cookie Ever
Eric A. Wise, Grove City, Ohio
This recipe was given to me by my Grandmother who unfortunately is no longer with us.
Everyone always look forward to go over to Grandmother's house, because she always had a fresh batch of these cookies available. 
At first, the bake time was hard to figure out, since my Grandmother cooked with a coal burning oven. 
The original recipe stated "bake until done".
It is thought that this recipe dates back to 1895.
Best Sugar Cookie Ever
Eric A. Wise, Grove City, Ohio
2 cups sugar
1 cup butter
1 cup sour cream
2 eggs
2 1/2 cups all-purpose flour
1 teaspoon baking soda
1 1/2 teaspoon salt
1 teaspoons vanilla extract
1.  Preheat oven to 350.
2.  Beat butter and sugar.  Mix in eggs and sour cream.
3.  Sift together dry ingredients and add to wet mixture.
4.  Refrigerate for at least one (1) hour.
5.  Roll into 2-inch balls and place onto greased cookie sheet.
6.  Bake at 350 for 7 to 10 minutes.  Cool Completely.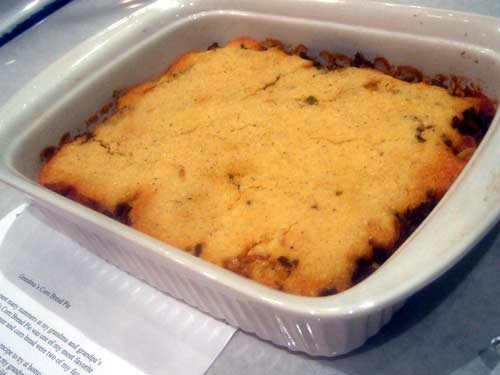 Grandma's Corn Bread Pie (image by Peter Engler)
Grandma's Corn Bread Pie
Catherine L. Blackwood, Columbus, Ohio
As a child, I spent many summers at my grandma and grandpa's farm. My grandma's Corn Bread Pie was one of my most favorite dinners because hamburger and corn bread were two of my favorite foods.
Grandma gave my mother the recipe to try at home, but nobody could make corn bread pie quite like my grandma.  I have made corn bread pie for our children, grandchildren and, now, great grandchildren, and I hope my efforts would please grandma.
This recipe has been our family for about 65-70 years.
The picture below is my grandma and grandpa, Mattie and Clarence Devenport.
Grandma's Corn Bread Pie
Catherine L. Blackwood, Columbus, Ohio
1 lb ground beef
2 large onions, chopped
1 can tomato soup
2 cups water
1 tsp salt
3/4 tsp pepper
1 Tbs chili powder
1/2 cup green peppers
1 cup whole kernel corn, drained
Corn Bread Topping:
3/4 cup corn meal
1 Tbs sugar
1 Tbs flour
1/2 tsp salt
1 1/4 tsp baking powder
1 egg, beaten
1/2 cup milk
1 Tbs melted fat
Brown the beef and onion in a skillet.
Add the soup, water, seasonings, corn, and green pepper; mix well.
Allow to simmer for 15 minutes.
Fill a greased pie dish or casserole 1/4 full, leaving room for the corn bread topping.
To prepare topping:
Sift together the corn meal, sugar, flour, salt, and baking powder.
Add egg and milk
Stir lightly and fold in fat.
Cover the meat mixture with this topping.
Bake at 350 degrees for 18 to 20 minutes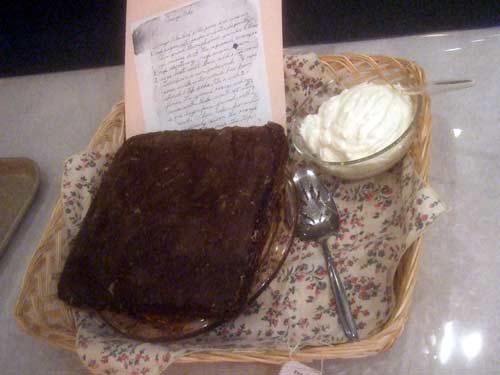 Granny's Orange Cake (image by Peter Engler)
Granny's Orange Cake
Karen Haldeman, Cincinnati, Ohio
I remember eating this cake at my grandmother's house beginning as a small child.  (I am not 67 years old.)  It was always one of my favorites.  Even after I had graduated from college and moved to another part of Ohion whenever my grandmother came to visit I would request that she bring one of her orange cakes.
After she died in 1988 at the age of 96, it was up to me to make this cake if I wanted some.  As you can see from the photocopy of her original hand written recipe, it was well used.
A few years ago I rewrote the recipe so it was legible (and so that we could preserve what was left of her original) and included it in a collection of family favorite recipes which I gave each of my children for Christmas.
Granny's Orange Cake
Karen Haldeman, Cincinnati, Ohio
Baking Temperature: 350 Degrees F.
Baking time: 45 minutes
1 orange (juice/zest)
1/2 cup sugar
1 cup raisins
1/2 cup shortening
1 cup brown sugar
2 eggs, well beaten
1 teaspoon vanilla
1 tbsp. lemon juice
3/4 cup sour milk
1 tsp. baking soda
2 cups flour
1.  Preheat oven.
2.  Grease and flour a 9" square cake pan.
3.  Squeeze half of the orange and mix juice with the sugar and set aside.
4.  Grind the orange (squeezed part also) and raisins in a food grinder three times.
5.  Cream together shortening and brown sugar.
6.  Mix in eggs, vanilla, lemon juice and the sour milk into which the baking soda has been stirred.
7.  Add the flour
8.  Stir in ground orange and raisins and mix well.
9.  Pour batter into prepared pan and bake until cake tests done.
10. Immediately after removing cake from the oven, spoon the orange juice and sugar mixture slowly over the cake, allowing the juice to soak in.
11. Cut into squares and serve with sweetened whipped cream.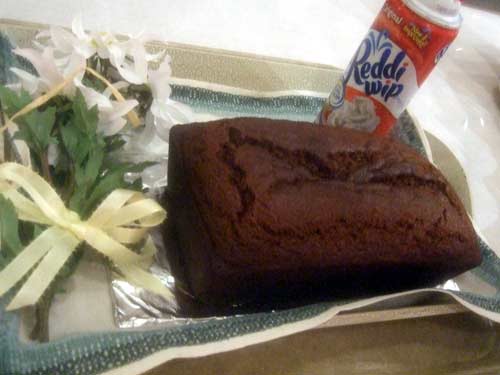 Mom's Gingerbread (image by Peter Engler)
Mom's Gingerbread
Vicky Victor, London, Ohio
Here how the story goes as told by Mother.  My Mom (grandmother) made awesome gingerbread on Sundays as a dessert, but she did not use any exact measurements when putting together the gingerbread recipe.  So one day my Mother was home from work she said let us measure that gingerbread recipe.  They got all different sizes of bowls and started to dump each ingredient in separate bowls and then remeasure to get the right portions to make the gingerbread.  I found the recipe in an old recipe box of on a small piece of paper.
Grandmother – Daisy Johns Holloway 1897-1972
Mother – Elizabeth Holloway Victor 1915-1987
Age of recipe before 1940s
Mom's Gingerbread
Vicky Victor, London, Ohio
1 cup shortening
1 cup sugar
1 cup molasses
1 tsp. cinnamon, nutmeg, cloves, and ginger
1 tsp. baking soda
1 cup boiling water
1 tsp baking powder
2 1/2 cups flour
2 eggs
Mix together shortening, sugar, molasses, spices, baking soda, boiling water, baking powder, flour, and add eggs last.
Mix together using an electric mixer and grease loaf pan with shortening.  Loaf pan used 9×5.
Bake at 350 until done for 50 to 1 hour 15 minutes (test with a cake tester until it comes clean in the center.)
Cool on a wire rack for 15 minutes.
Remove from pan cool on wire rack completely.
Cut into slices and top with Reddi-Wip.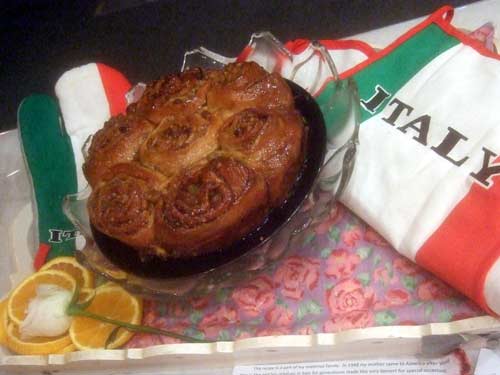 Piecho e Chiuso (image by Peter Engler)
Piecho e Chiuso (Open and Close Blossoms)
Michael C. Moscato, Columbus, Ohio
This recipe is a part of my maternal family.  In 1948 my mother came to America after World War II.  She and her relatives in Italy for generations made this very dessert for special occasions; usually for birthdays, weddings, and definitely Christmas.
My mother grew up in the southern hills of Italy, where she would tend to the goats by walking them through the mountaintops for grazing. When she was thirteen her mother passed away and her father was here in America working.  This left her and her sister alone to fend for themselves. Neighbors and relatives checked in on them from time to time to make sure they were doing okay. With World War II occurring, they were relatively safe up in the hills. Food and baking supplies were scarce. Most ingredients were made and created them self; including the spices they used.
Her sister married and moved away when my mother was fifteen. For three years she took care of herself. She prayed to Mother Mary for her father to send for her to be taken to America. One day after a long prayer she got word that he had sent money for a plane flight.  Although my mother had no daughters to pass along her recipe to, she taught each of her five sons and their wives the recipe so it can be passed along.
No matter what time of year these are made, to me and my family, the smell of the cloves in the air, will always be Christmas.
Piecho e Chiuso (Open and Close Blossoms)
Michael C. Moscato, Columbus, Ohio
3 eggs
1/2 Shortening
1/4 c Sugar
1 Orange (juice and zest)
1 pack dry yeast
1/3 c water
4 c flour
2 c raisins
1/2 c honey
4 tbl ground cloves
4 tbl cinnamon
1/2 c olive oil
2 c walnuts
Dough:
In a large mixing bowl, blend together the eggs, shortening, (sugar), water, and orange zest.
Add two cups of flour, blend well.
Add yeast and remaining flour, kneed dough until well mixed.
Filling:
Lightly dust with flour your tabletop, flatten out dough until very thin, quarter inch or less.
Lightly spread with olive oil and honey, and then sprinkle the cinnamon and cloves.
Evenly place raisins and walnuts, slice into two inch strips and roll them up.
Place in center of prepared cake pan.
Bake for 40 minutes at 350 degrees.
Remove form oven, allow to cool, glaze with honey and serve.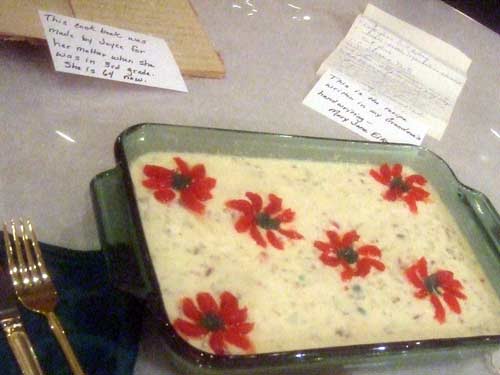 Philadelphia Cream Cheese Salad (image by Peter Engler)
Philadelphia Cream Cheese Salad
Jody Lyn (Harris) Benton, Ashland, Ohio
This recipe is at most of our family gatherings but always at our Eikenbary Family Christmas Dinner. The recipe originally calls for 8 ounces of maraschino cherries, our tradition is to put half a bottle of green and half a bottle of red cherries into the salad and the use the remaining as decorations.  The cherries are to be cut and arranged as poinsettias.
This recipe was handed down from Maver Eikenbary to her daughter-in-law, Mary Jane (Pratt) Eikenbary (87 years old) to her daughter, Joyce Kay (Eikenbary) Harris (64 years old) to me, Jody Lyn (Harris) Benton (45 years old).  I will hand it down to my daughter Gabrielle Ruth Benton (13 years old).
My mother Joyce, to honor her grandmother, and create a Christmas present for her mother, made this cookbook as a collaboration with her third grade class.  It was her pride and joy to contribute her family's traditional Christmas Salad, usually prepared by her grandma.  It meant so much to her mother that it still survives today. Found on page two is Joyce's transcription of the treasure. We do not just love the food because it tastes good, but instead for the memories and the tradition it provides to bind us together.  Thank you for the opportunity to share this recipe and shine a light on this tradition.
Philadelphia Cream Cheese Salad
Jody Lyn (Harris) Benton, Ashland, Ohio
Yield 11 x 8 inch dish
1 (3 oz) box of lemon jello
1 20 oz can crushed pineapple
1 c. whipping cream, whipped
1 (8 oz) pkg. of Philadelphia Cream Cheese
1 c. finely cut celery
8 oz maraschino cherries, cut fine
1 c. chopped pecans
Salad:
1.  Drain juice off pineapple. Heat juice to set jello.
2.  Mix jello with warm juice until dissolved. Refrigerate until jelly stage.
3.  Whip the cream and set aside.
4.  Whip the cream cheese then add to the whipped cream.
5.  Add celery, cherries, pecans, and pineapple.
6.  Mix into jelly stage jello and refrigerate overnight.
"Our family use 4 ounces of red and 4 ounces of green Maraschino cherries half we put into the recipe the other half to decorate the finished salad with decorated poinsettias."