Wisconsin Supper Clubs
The Food.  The Drinks. The Culture.
Eat. Drink. Listen. Learn. Eat. Drink.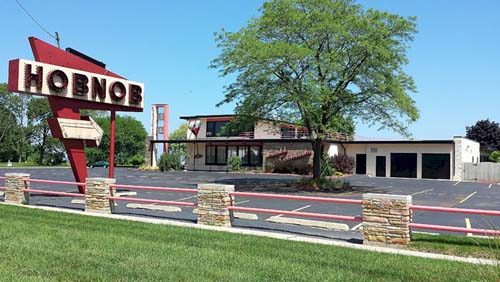 (Image by Steve Zaransky)
Classic Supper Club Dinner, Book and DVD signings
April 9, 2016
5:00 PM
277 Sheridan Road
Racine, Wisconsin  53403
Settle into a classic Saturday night supper club dinner with all the trimmings. We have a special menu with several dishes offered specially for this dinner and not available from the menu (see asterisks). There will be a specially priced Brandy Old Fashioned cocktail as a featured cocktail for our guests who attend the dinner.
Jim Draeger will speak on Wisconsin's cocktails. All presenters from the Rondelle will be available to answer questions, sell and sign books and dvds.
Dinner costs $60, including gratuity and a $20 tax deductible donation to Greater Midwest Foodways Alliance.   Beverages from the cash bar:
First course:
*Assorted relish trays (variety of pickles, peppers, and vegetables)
*Trio of kidney bean salad, seasoned cottage cheese, and cole slaw
(Served family style at your table)
Second course:
Baked French onion soup
Third course:
*Iceberg lettuce wedge topped with bits of tomato, bacon, and crumbled bleu cheese
(Your choice of salad dressing at the table)
Main course:
Please select either
Slow-roasted prime rib of beef (13 ounce cut), or
*Fillet of flounder stuffed with crabmeat and shrimp filling,
topped with hollandaise sauce
Served with cheesy au gratin potatoes
Dessert
Crème brûlée sprinkled lightly with fresh blueberries
Hot coffee or hot tea
All other beverages will be available for purchase.
Reservations required: 312/380-1665 or EventBrite.com
Seating is limited. Tickets are non-refundable though they are transferrable.
Mail payment to:
Greater Midwest Foodways, 280 Laurel Avenue, Highland Park, IL  60035
Purchase tickets by credit card via EventBrite.com.