Greater Midwest Foodways Alliance
FAMILY HEIRLOOM RECIPES
Missouri State Fair
August 10, 2013
Contestant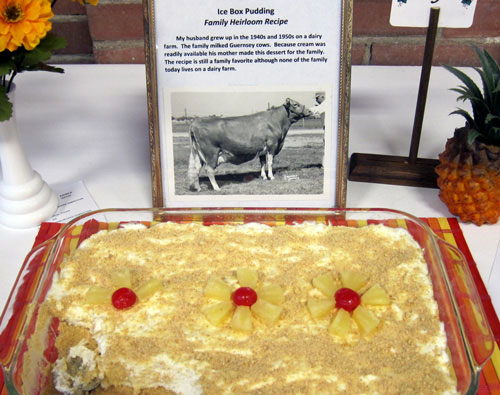 (Image by Peter Engler)
Contestant:
Ice Box Pudding
Faye Hunton, Sedalia, Missouri
My husband grew up in the 1940s and 1950s on a dairy farm. The family milked Guernsey cows. Because cream was readily available his mother made this dessert for the family. The recipe is still a family favorite although none of the family today lives on a dairy farm
Contestant:
Ice Box Pudding
Faye Hunton, Sedalia, Missouri
1 oz. envelope unflavored gelatin 1 cup whole milk
1 cup sugar
2 egg yolks, beaten
2 stiffly beaten egg whites
1 pint heavy cream, whipped
20 oz. can crushed pineapple, drained well
2 1/2 cups graham cracker crumbs
In a small sauce pan, dissolve gelatin in milk. Add sugar and egg yolks; stir well. Cook over medium heat until thickened. Set aside to cool to room temperature and beginning to set.
Mix pineapple with cooked mixture. Carefully fold in beaten egg whites and whipped cream. Cover bottom of a 9×13-inch dish with 2 cups of graham crackers crumbs. Spoon mixture into dish on top of graham cracker crumbs.
Sprinkle remaining 1/2 cup of graham cracker crumbs on top of pudding.
Refrigerate several hours or overnight.
Decorate with pineapple and maraschino cherries if desired.
12 servings
Premiums sponsored in partnership with Feedstuffs FoodLink.com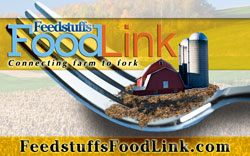 Pampered Chef is sponsoring additional prizes for our winners.