Greater Midwest Foodways Alliance
FAMILY HEIRLOOM RECIPES
Picnics and Family Reunions
Minnesota State Fair
August 17, 2014
Honorable Mention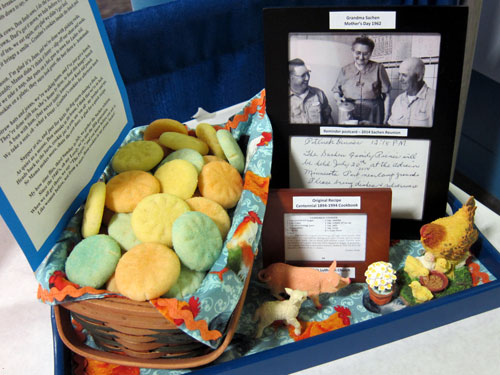 (Image by Peter Engler)
Honorable Mention:
Great Grandma's Cookies
Sharon R Johnson, Columbia Heights, Minnesota
Down on the farm, don't need an alarm, the rooster sounds a bit sickly,
Mama gets us out of bed, Dad's out in the shed, repairing some doohickey.
We rise and shine, it's breakfast time, the jam jar sure is sticky,
Grandma's here today, sits down to say, she'll bake her Mother's cookies!
Bets and Evie milk cows, Don feeds sows, I do the chicken chores,
The hay has grown, Dad's got it mown, we bale before it pours.
At quarter of ten, we eat again, sure glad we didn't get hail,
We sit for awhile, it brings a smile – Grandma's cookies inside the lunch pail.
Dinner at noon, I'm glad it's June, and we're done with picking rocks,
We got all muddy, Mama didn't think it funny – slip off our shoes and socks.
While we take a nap, she puts on a hat, goes to town for Ladies Aid,
Takes cookies on a plate, they sure look great, the best there is – homemade.
Straw hats and jeans, we're walking beans, and I've just got a hunch,
They're done with tea, she's home by three, to feed this hungry bunch.
A bun with ham, (but never lamb), lemonade or Kool-Aid punch,
We take a seat, oh – what a treat – Grandma's cookies for afternoon lunch.
Supper at six, and just for kicks, the dog starts chasing a duck,
As quiet as a mouse, Don sneaks in the house, I think that we're in luck.
Heads back to the barn, cookie jar in arm, ate 'em all- my brother and me,
So Mama makes more, shuts the oven door, is glad for a quick recipe.
My how time flies, third Sunday in July, we gather the Sachen relation,
Since the 1940's, oh my Lordy, we're into the fifth generation.
When we all get there, we say "The Prayer," and you know before you ask it,
Like women before, not from a store, those cookies in my picnic basket!
Honorable Mention:
Great Grandma's Cookies
Sharon R Johnson, Columbia Heights, Minnesota
1 cup powdered sugar
1 cup white sugar
1/2 cup shortening
1/2 cup softened butter
1 cup vegetable oil
2 eggs
2 tsp. pure almond extract
1 tsp. cream of tartar
1 tsp. salt
1 tsp. baking soda
4 1/2 cups all-purpose flour
Mix on low speed in a large mixing bowl the sugars, shortening and butter until light and fluffy. Then add the oil, eggs and almond extract and beat at low speed until mixed in. Add the sifted dry ingredients and continue beating at low speed until well mixed. Cover bowl and refrigerate dough for 1 hour. Roll in 3/4 to 1 inch balls. Dip in white or colored sugar. Flatten with the bottom of a glass that has been dipped in sugar. If possible, use a glass with a decorative bottom. Bake at 350 degrees on ungreased cookie sheet for 8-9 minutes. Let rest on cookie sheet for 2 minutes, and then remove cookies to cooling rack. Store cookies in a covered container.
Yield: Makes 10 to 11 dozen cookies.