Greater Midwest Foodways Alliance
FAMILY HEIRLOOM RECIPES
Picnics and Family Reunions
Indiana State Fair
August 7, 2014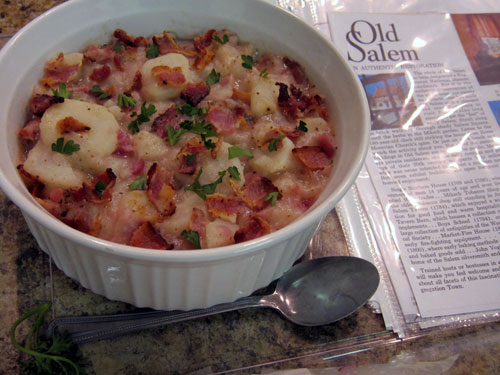 (Image by Peter Engler)
Honorable Mention:
Hot German Potato Salad
Phyllis Hine, Waveland, Indiana
In 1971 took a 3 week trip to Old Salem, North Carolina to find out about my family history. This is what I found out about my family.
In 1753 Johann Jacob Hine came to America from Rhine Valley Germany with his wife. He settled what was called the "Broadbay Settlement" that is the neighborhood of the modern town of Waldoboro, Maine which was part of the colony of Massachusetts.
In 1770 he went to North Carolina with his wife, 3 sons and 3 daughters and settled on a farm in the Moravian settlement called Wachovia.
William Charles Hine son of Johann Jacob Hine served in the Civil War from 1860 to 1865. After serving in the war he brought his family to Whitestown, Indiana in the year of 1866.
The journey being made in a covered wagon with his 4 sons and their household goods. A short time after they arrived in Boone County in 1866 they brought a small farm west of Whitestown.
William's son Edward Alexander Hine was my grandfather and he was born in North Carolina in 1862. He bought a farm outside of Whitestown and raised 10 children, 7 boys and 3 girls. One of the boys, Walter was mydad.  All of the boys were in World War I, came back alive.
My Grandfather was a cattle man and he told stories about shipping cattle from Whitestown to Indianapolis, Indiana to the stock yards by train. I remember my grandfather and I was only 5 when he passed away in 1942.
My dad was also a cattle man and bought a farm in Parke County – Covered Bridge Country. I grew up on a farm showing cattle at the State Fair for 10 years.
The Hine reunion was started in 1921 and there was only 2 years that the reunion was not held. The boys were in the service in World War II. 150 people attended the first reunion held at the old fair grounds in Lebanon, Indiana now called Memorial Park. I have not missed many reunions. At our reunions we always have Hot German Potato Salad. This is an old family recipe. They used to boil there potatoes in a big iron pot outside over a open fire and fry bacon in a iron skillet. They also would have stag suppers and have hot German potato salad and spareribs.
Honorable Mention:
Hot German Potato Salad
Phyllis Hine, Waveland, Indiana
An old family recipe served with spareribs, it's perfect for a stag supper.
Boil 6 medium – sized potatoes in their skins until tender. Peel and slice thinly into bowl. Fry 6 slices bacon until crisp.
Cook in 1/3 cup of bacon fat in the skillet until yellow.
Add 3/4 cup chopped or thinly sliced onion
Mix in 2 tablespoons flour; 1 to 2 tablespoons sugar as desired; 1 1/2 teaspoons salt; 1/2 teaspoon celery seed, if desired; dash of pepper
Stir in gradually – 3/4 cup water; 1/2 cup vinegar
Cook, stirring until mixture boils. Boil 1 minute. Pour over the potatoes. Add the crisp bacon, broken into pieces (save some for garnishing). Cover and let stand until ready to serve. Heat over hot water. Serve in large bowl garnished with pieces of the crisp bacon and mince parsley.
Serves 6