Greater Midwest Foodways Alliance
FAMILY HEIRLOOM RECIPES
Picnics and Family Reunions
Indiana State Fair
August 7, 2014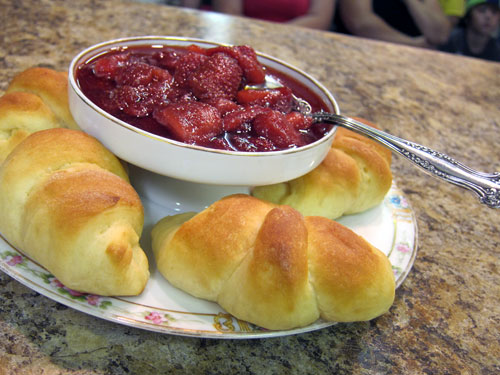 (Image by Catherine Lambrecht)
Honorable mention:
Grandma's Yeast Rolls and Freeze Strawberry Jam
Jennifer Dickie, Greenwood, Indiana
At my age, I have finally figured out that it's more fun to count my blessings and memories than it is to count calories and pounds! That being said I have been blessed to have two wonderful women in my life to teach me the love of cooking and baking. Those women are my mother and her mother.
As for my mother, she is smiling down on me and the Indiana State Fair. She showed me the love of entering the baking contest at the fair. More stories about her in years to come.
My Grandmother was born and raised in Kingman Indiana. Married my Grandfather in 1921, and never left the farm. My Grandfather was a large pig, and grain farmer. During harvest time they had many farm hands and their families living on the farm. My Grandmother was in charge of feeding close to a hundred people a day. She did it by enlisting the help of the farm hands wives. I remember what looked like a cabinet with the handle going the wrong way. It was actually the flour drawer that held 50 pounds of flour. Oh to have that in my kitchen today. Cakes, cookies, pies, bread and rolls were made from the magical draw of flour.
Every Sunday, that we got to go to the farm, my Grandmother would get the dough started for her wonderful rolls before she left for church. By the time we got to her house from the south side of Indianapolis the rolls would be rising perfectly under the worn flour sack towels. My siblings and I always went straight to the kitchen to make sure she hadn't forgotten "The Rolls". After we saw the flour sack towels lying out over mounds of dough on the cookie sheets we knew what to do next. We all ran down to the cellar. (Which scared me every time I went down there). The cellar consisted of four rooms, each one darker that the last one. I was always scared until we got to the last room. Magic again. There were four very large freezer chests. Two freezers were used for meats, one for fruits and vegetables, and the last one for ice cream and strawberry jam.
My siblings and I would fight over first picking out the fullest container and then which one of us got to carry it up. When it came time for dinner at noon, we would wash our hands and roll up our sleeves. The joy of having one of Grandma' s rolls with her freezer jam was worth eating whatever vegetables we had to eat. The warm roll was covered with the jam so that you had to eat it as fast as you could or the jam would run right down your wrist and head straight to the elbow. Perfection!!
My Mother, for years tried to make my Grandmother's rolls but they just weren't the same. While I was still in high school I asked my Grandmother for her recipe for her rolls. She gave me a worn piece of paper with her recipe barely readable. I copied down what I thought to be the perfect yeast roll recipe. I tucked my scrap piece of paper with the recipe on it, into my purse. As I was getting ready to leave my Grandparents house, my Grandmother realizes she had not told me something about the recipe. She informed me to cook part of a small potato in a small pan of water until tender. Use some of the potato water with the milk and add a couple of pieces of potato mashed into to the yeast mixture. She had never told my Mother about add the potato and potato water to recipe.
We always told my Grandmother how much we loved her rolls and jam. All we ever got back from her was, thank you, but they aren't as good as Lana's. We knew Lana well, she was my Grandmother's best friend, but we never tasted Lana's rolls. So to this day whenever the siblings get together, I am asked to bring our Grandmother's rolls and jam. The siblings always complement me on my efforts, but remind me that they aren't as good as Lana's.
So enjoy my Grandmother's rolls and freezer strawberry jam, but remember … They aren't as good as Lana's!
Honorable mention:
Grandma's Yeast Rolls and Freeze Strawberry Jam
Jennifer Dickie, Greenwood, Indiana
Yeast Rolls – Crescents
1 package of yeast
1/4 cup sugar
3/4 tsp. salt
3/4 cup warm milk ( 115 degrees)
3 to 4 pieces of cooked potatoes
2 large eggs (beaten)
4 cups bread flour
1/2 cup melted butter (1 sticks)
1/4 cup warm potato water (115 degrees)
Sprinkle yeast into bowl. Add sugar, salt, mashed potato pieces and lukewarm liquid. Add beaten eggs. Sift flour once before measuring. Add 2 cups of flour and beat vigorously. Add melted butter (lukewarm) and the rest of the flour.
Pour out onto lightly floured surface. Knead lightly. Place is greased bowl, turning the dough over to grease the top. Cover and let rise doubling in size.
Punch down dough and turn out onto lightly floured surface. Divide in half.  Roll each half out into a circle. Cut into wedges like a pie. Starting from wide end, roll to center. Place each piece, point down onto buttered baking sheet. Cover and let rise.
Bake at 400 degrees for 10 minutes or until golden brown. Remove from baking sheet onto wire rack.
Freezer Strawberry Jam
4 cups strawberries
2 cups sugar
Wash, remove stems, and slice strawberries. Place sliced strawberries and sugar into heavy 4 qt. pan. Bring to a boil, then reduce heat enough to keep a slight boil. Let boil for 20 to 30 minutes, or until thick. Remove from heat and cool. When cool place strawberry jam in plastic containers and freeze until ready to use.