Greater Midwest Foodways Alliance
FAMILY HEIRLOOM RECIPES
Picnics and Family Reunions
Iowa State Fair
August 15, 2014
Contestant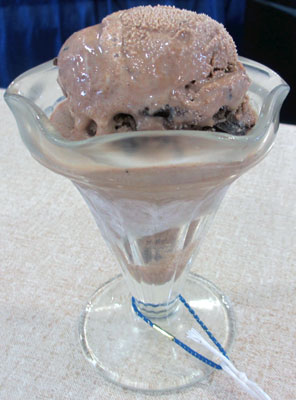 (Image by Catherine Lambrecht)
Grandma's Chocolate Ice Cream
Cheryl Larson, Clarinda, Iowa
This recipe came from my Mom's Grandparents.  They ran a dairy and had great fresh heavycream.  They made up fresh ice cream; They didn't have a deep freeze so they had to eat it all in one day.  (What a shame!)
Over the years my Mom has changed Grandma's basic chocolate ice cream recipe.  We like this one really well.
My Great Grandma made this ice cream.  My Grandma used the same recipe.  My Mom has changed it a little.  I use her version.  Now my son help me make it.
You could say it is a family tradition.
We make up 3 freezers for our 4th of July church booth.  Also we have to make 3 more batches for our sons baseball team booth.  So our freezers are always busy.  You can make it up early.  It tastes better it is has time to ripen.
I hope you like our family's ice cream.
Grandma's Chocolate Ice Cream
Cheryl Larson, Clarinda, Iowa
8 cups heavy cream ( 2 qts)
6 eggs
2-1/2 c. sugar
1 t vanilla
1 t salt
3 boxes Chocolate fudge instant pudding
1/3 c Carnation Malt flavoring
4 to 5 cups milk
1-1/2 c. Whopper Candy (chopped) & choc candy bars chopped
Scald cream and milk and malt mix.
Add sugar and vanilla & salt.
Stir in slowly beaten eggs.  Cool another five minutes.  Now add pudding mix and beat with mixer until smooth.  Pour into cannister and chill.  At least 5 hours.  Overnite is better! Now add candy.   Freeze according to directions.
My Mom's grandparents ran a dairy.  So she helped with the milking.  Making ice cream was a bonus from all the hard work.  This is her basic chocolate ice cream recipe.
I've taken it to the next level by adding the Whopper candies and chocolate malt powder.
I'm using her ice cream dish to serve it in.
My Mom say she remembers Grandma having a whole set of them.  She thinks she was about 8 or 9 years old then so they have to be at least 50 years or older.