Greater Midwest Foodways Alliance
FAMILY HEIRLOOM RECIPES
Indiana State Fair
August 11, 2016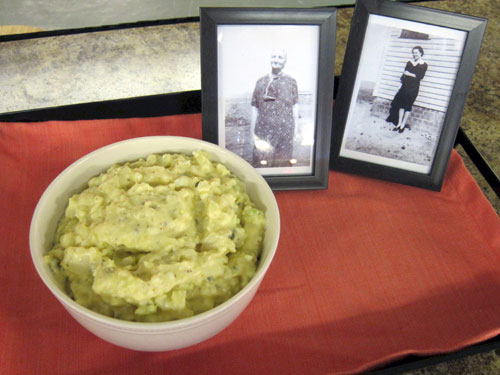 (Image by Peter Engler)
Contestant
Traditional Potato Salad
Deborah Green, Fortville, Indiana
Potatoes: Salad and Otherwise
Because my husband served as pastor of several small churches throughout Indiana in the early years of our marriage, I have attended many pot-luck dinners. One thing I have learned is that all potato salads are not alike! I learned that there were many potato salads that were not reminiscent of the tangy ones of my youth. Long before there was a Food Network that talks about "layers of flavor", my family would savor the potato creaminess, the crunch of celery, the sweetness of the pickles relish and the tangy mustard and dressing of our familiar dish.
My mother taught me to make potato. salad. My mother was born in central Florida in 1921 when the rural areas were still swampy and remote. I've always considered her cuisine to be largely southern-influenced. However, while recently going over some old photographs, I came across one of her paternal grandmother and name sake, Ada Strain. Due to the Depression, my mother's family journeyed from Florida to Carroll County, Indiana when she was 8 years old. For several years they lived with and near her father's family. I realized that my mother's culinary skills were also greatly influenced by her northern Grandma Ada.
Potatoes have been a staple in the American diet since the early 1800's. They are inexpensive, filling and nutritious (even a great source of Vitamin C). My father-in-law would rarely eat potatoes because as young boy during the Depression, they were their only food for days-on-­end. At our house potatoes were most often served boiled, maybe seasoned with a little margarine or bacon grease or mashed. Occasionally, mom would fix them baked, scalloped, or au gratin. Scalloped potatoes were often a dish carried to pitch-in dinners. I remember their yummy aroma filling the car on our way to the events. Sometimes for pitch-ins, picnics and summer gatherings, Mom would prepare a large (probably using at least 10 Ibs.) potato salad.
We also planted several rows of potatoes in our large gardens. I remember Mom and Dad would turn the plants over with a potato fork and we five children would scramble to pick up the new potato and place them in baskets. I didn't mind the work, but I hated the beetles and other bugs that were unearthed with the potatoes.
As we grew up, mom passed down the potato preparation to her 3 daughters. I'm not sure whether our potato Salad is southern, Mid-western or a fusion. No matter, Potato salad is still a favorite of our family and friends today and is often requested for events.
Contestant
Traditional Potato Salad
Deborah Green, Fortville, Indiana
Inqredients:
4 Ibs. (approx.) Potatoes (Russets or other white potatoes)
1 tsp. Salt
1/2 cup Onion, chopped
6
6 Hard boiled eggs, chopped
1 cup celery, finely chopped
1 cup sweet pickle relish
1 cup mayonnaise
1 cup Creamy- style salad dressing (AKA Miracle Whip)
1 Tbs Yellow mustard
1/2 tsp Garlic powder
1 tsp. Celery seed
Directions:
Peel potatoes, quarter and place in a pan. Cover with water and add the salt.

Boil potatoes until fork tender. Drain and return then to the pan. Add the onion to the potatoes, replace the lid for 10 minutes to let the onions steam. (This hint was taught to me by my aunt Elsie Strain when I was about 10 years old.) Remove lid and allow to cool.

Chop potatoes into about 1/2 to 3/4 inch pieces. (Some family member, just mash the warm potatoes.)

Add the egg, relish, and celery.

Pull the potato mixture to the side of the pan, making well in the middle. Put mayonnaise, dressing, mustard, garlic powder and celery seed in this well. Stir these ingredients together and once they are combined begin to blend in the potato mixture.

Transfer to serving bowl and keep it chilled.