Greater Midwest Foodways Alliance
FAMILY HEIRLOOM RECIPES
Picnics and Family Reunions
Minnesota State Fair
August 17, 2014
Contestant
MOLASSES COOKIES
Laura Ann Saxon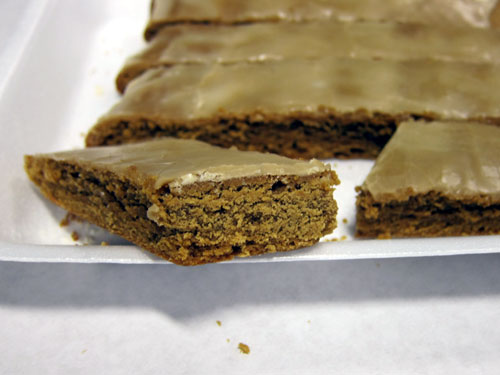 (Image by Peter Engler)
MOLASSES COOKIES
Laura Ann Saxon
This recipe has been passed down throuah many generations (over 100 vears), a special treat for most familv events and alwavs for fishing weekends.
MOLASSES COOKIES
Laura Ann Saxon
1 C. shortening
1/2 C. sugar
1C. molasses
1 C. hot water
5C. flour
1TSP. baking soda
1 TSP. cinnamon
1/4 TSP. ground ginger
1/8 TSP. ground cloves
1/4 TSP. nutmeg
1/2 TSP. salt
1) cream sugar, molasses and hot water
2) mix all dry ingredients together
3) combine both 1&2 beat for 3 minutes @ medium speed.
4) cover and chill overnight
5) flour working surface, form dough into a rectangle,
6) bake @350 (25 minutes) … cool
7) create glaze combining 3/4C. powdered sugar, 1/4C. hot coffee
8) glaze cookies and cut into 3/4 inch slices