Greater Midwest Foodways Alliance
FAMILY HEIRLOOM RECIPES
Indiana State Fair
August 11, 2016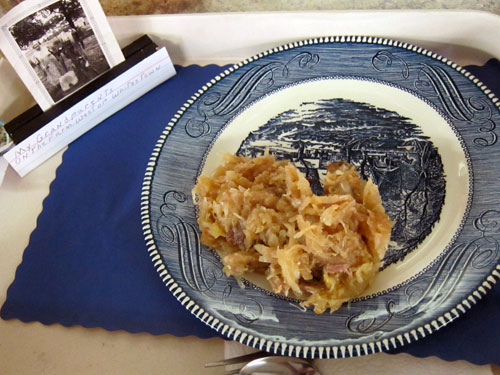 (Image by Peter Engler)
Contestant
Country Pork and Homemade Sauerkraut
Phyllis Hine, Waveland, Indiana
Story – Family History
In 1753 my great grandfather came to America from Rhine Valley Germany with his Wife. He settled what was called the "Broadbay Settlement" that is the neighborhood of the modern town of Waldorboro, Maine which was part of the colony of Massachusetts.
In 1770 he went to North Caroline with his Wife, 3 sons and 3 daughters and settled on a farm in the Moravian Settlement called Wachovia.
One son served in the Civil War from 1860 to 1865. After serving in the war he brought his family to Whitestown, Indiana in the year 1866.
The journey was made in a covered wagon with his 4 sons and their household goods. A short time after they arrived in Boone County in 1855, they brought a small farm west of Whitestown. One of the sons was my grandfather and he was born in North Caroline in 1862. He bought a farm outside of Whitestown and raised 10 children – 7 boys and 3 girls. One of the boys was my Father. My Grandfather was a cattleman and he told stories about shipping cattle from Whitestown to the
Indianapolis Stockyards.
I remember my grandfather and I was only 5 when he passed away in 1942. Picture of Grandparents on the Farm west of Whitestown on tray.
My dad was also a cattle man and bought a farm in Parke County – Covered Bridge Country. I grew up on a farm showing cattle at the State Fair for 10 years.
The Hine reunion was started in 1921 and there was only 2 years that the reunion was not held. The boys were in the service in World War II. 150 people attended the first reunion held at the old fair grounds in Lebanon, Indiana now called Memorial Park.
The favorite German dish of the family was Country Pork and homemade Sauerkraut. My Grandfather did his own butchering and raised big gardens. This was a favorite at family gatherings.
The recipe I used has been passed down 3 generations.
Contestant
Country Pork and Homemade Sauerkraut
Phyllis Hine, Waveland, Indiana
Ingredients
2 pounds bone in pork ribs
1 medium onion chopped
1 tablespoon lard
1 recipe of homemade sauerkraut
1 cup unsweetened applesauce
2 tablespoons brown sugar
1/2 teaspoon pepper
Directions for Ribs: In a Dutch oven, cook ribs and onion in lard until ribs are brown and onion is tender. Remove from heat. Combine remaining i11gredients and pour over ribs. Cover and bake at 350 degrees for 1 % to 2 hours or until ribs are tender.
Homemade Sauerkraut
Ingredients
1 cup water
1 cup white vinegar divided
1/2 cup onion diced
1 head cabbage – cored and shredded
1 teaspoon salt
1/2 teaspoon black pepper
Directions for Sauerkraut: Combine water and 1/2 cup of the vinegar and add diced onion in a pot over high heat. Add shredded cabbage, salt and pepper. Pour the remaining vinegar over cabbage. Cover pot and bring water to a boil. Cook mixture 5 minutes. Stir cabbage mixture and return lid to pot, cook, stirring occasionally until cabbage is tender and wilted. About 15 to 20 minutes.