Greater Midwest Foodways Alliance
FAMILY HEIRLOOM RECIPES
Picnics and Family Reunions
Illinois State Fair
August 8, 2014
Contestant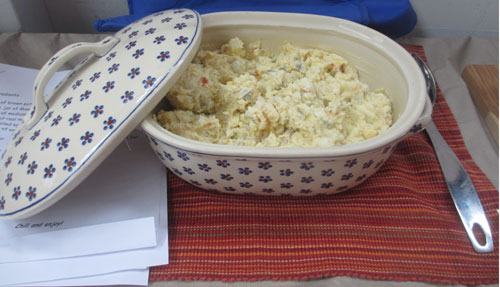 (Image by Catherine Lambrecht)
Dueling Potato Salads
Pam Elliott, Waverly, Illinois
In my husband's family there are 3 potato salad recipes.
Each is a little different. One contains mustard, one contains black olives, and this one contains shrimp.
Two recipes belong to his grandmothers and this one to his great-grandmother, dating back to the 1930's.
Every holiday and birthday celebration the family would get together and each woman would bring their unique potato salad. And of course the conversation always went to which one was "better". Although each recipe is delicious, this one with the shrimp seemed to be the most favorite.
When my husband and I got married, he asked me to make this recipe to take to one of my family gatherings and it was an instant hit! It is now served at all holidays, birthdays, cookouts and sometimes just on a Sunday!
It has always been a favorite traditional recipe in the past, and with our daughters now making it, a family favorite for a whole new generation.
Dueling Potato Salads
Pam Elliott, Waverly, Illinois
Ingredients:
5 lbs of brown potatoes – boiled until soft, peeled and cubed
1 10 oz jar of Manzanilla Olives – drained and chopped
2 cans medium shrimp – drained
2 cups of real mayonnaise
8 hardboiled eggs – peeled and sliced
the juice of one lemon
2 tsp salt
2 tsp pepper
Squeeze the lemon juice over the prepared potatoes (watch out for seeds).
Mix together
Add olives and eggs
Mix together
Add mayonnaise
Mix together
Add the shrimp, the salt and pepper
Mix together gently
Chill and enjoy!